Phillies Rumors and Speculation: Fact or Fiction on the Hottest Talk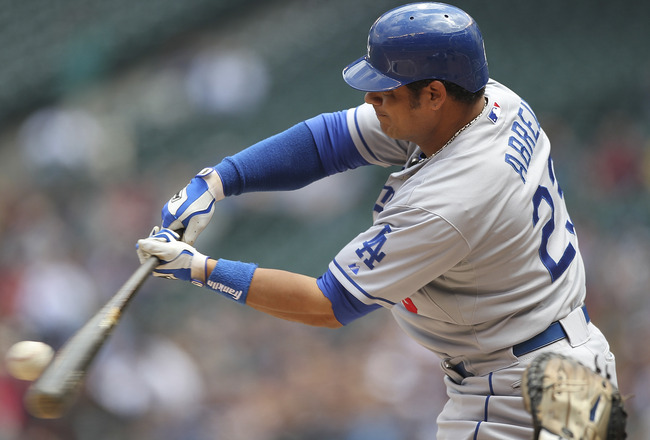 Otto Greule Jr/Getty Images
The Philadelphia Phillies had clear needs coming into the offseason. But anyone who laid out a detailed outline of how they would meet them has already hit the shredder.
Those plans are better served as celebratory confetti once the offseason ends and spring training begins.
The Phillies' biggest need this winter was a center fielder, and with at least five good free-agent options available, many believed they would go that route. Instead, Ruben Amaro Jr. and company swung a trade, sending a member of their starting rotation, Vance Worley, to the Minnesota Twins for Ben Revere.
That's one need filled, one created. After acquiring third baseman Michael Young from the Texas Rangers, the Phillies finally dove into the free agent pool and came up with a pair of pitchers, John Lannan and Mike Adams, to bolster their starting rotation and bullpen, respectively.
But the one player that those without faith in Domonic Brown and Darin Ruf have coveted is still missing—a right-handed, power-hitting corner outfielder. Jim Salisbury of CSN Philly passed along a few quotes from Amaro that leads one to believe that void could close soon.
Will the Phillies add an outfielder? Will they add more minor league depth? Here is a fact-or-fiction roundup of this week's hottest rumors and speculation.
Bobby Abreu: Fiction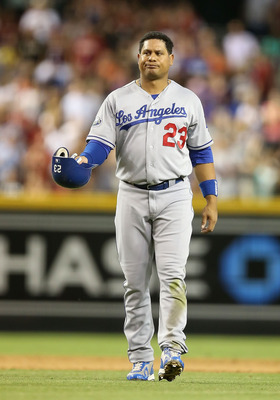 Christian Petersen/Getty Images
While there are still no rumors linking the Phillies directly to Bobby Abreu and a return doesn't seem likely, there could still be a good bit of mutual interest here, as Jon Heyman of CBS Sports reported earlier this offseason that Abreu hopes to continue his playing career.
At this stage, Abreu is no longer an everyday player. But if the Phillies aren't going to find that right-handed, power-hitting corner outfielder, upgrading their platoon situation may be the next logical step.
The 2012 season was one to forget for the veteran outfielder, but Abreu brings a solid, patient approach to the plate and has always hit right-handed pitching well. He'd be an upgrade over Laynce Nix, at the very least.
Michael Bourn: Fiction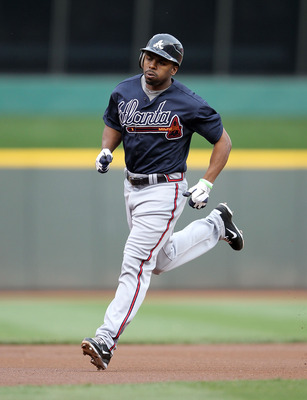 Andy Lyons/Getty Images
One of the biggest surprises of the offseason, at least in my book, is that we're less than a month away from the report date for pitchers and catchers and Michael Bourn, even as a Scott Boras client, is still a free agent.
Where in the world will he sign?
While I wouldn't rule anything out when it comes to Boras, you can probably cross the Phillies off the list. They were hesitant to give up their 16th overall pick in the draft in earlier free-agent pursuits. And unless they're getting a real bargain, they won't pursue Bourn.
One team that could still have interest in Bourn is the Texas Rangers, who are "keeping the lines of communication open," according to Jon Paul Morosi of FOX Sports.
Andre Ethier: Fiction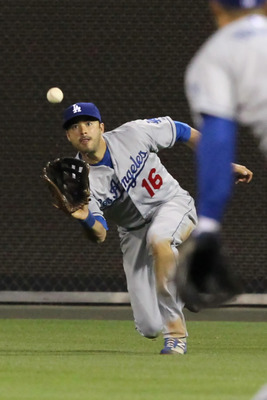 Hunter Martin/Getty Images
If the Los Angeles Dodgers were willing to absorb more than half of Andre Ethier's contract, the Phillies may be interested, but so would a lot of teams. If the Dodgers do eventually move Ethier, it will be to save money, not pay the outfielder to play for another team.
Part of the thinking behind Ethier's speculated availability is that the Dodgers may need to lighten their salary load having invested a lot of money in Matt Kemp and Carl Crawford, as well as pitchers Zack Greinke and Brandon League, and that's not even mentioning Clayton Kershaw.
The fit for the Phillies would be fuzzy, at best. Ethier is a left-handed hitting, expensive outfielder who struggled mightily against left-handed pitching in 2012. The Phillies are already loaded with lefties, including Chase Utley and Ryan Howard, and to an extent, the switch-hitting Jimmy Rollins, who struggled against lefties in 2012.
Earlier this month, a FOX Sports report indicated that the Seattle Mariners are interested in acquiring Ethier.
.
Carlos Gonzalez: Fiction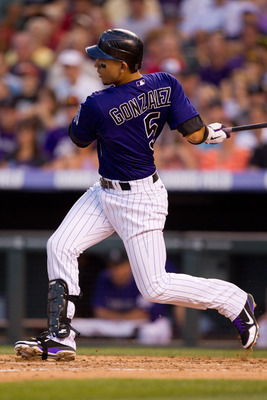 Justin Edmonds/Getty Images
The Colorado Rockies aren't going to be contenders this season, and in a division that includes the Los Angeles Dodgers, San Francisco Giants, Arizona Diamondbacks and up-and-coming San Diego Padres, they may not be in position to claim the NL West throne for at least a few years.
So the obvious speculation here is that they could trade off their elite players and retool a bit. One player who would interest the Phillies is Carlos Gonzalez. But like Andre Ethier, he wouldn't be the best fit.
The Rockies, who would be seeking starting pitching in any deal, are in no hurry to move Gonzalez. They would require any interested team to pick up his salary, something that the Phillies may not be interested in doing given his home and road splits. Last season, he hit .368 in Colorado with 13 home runs and 68 RBI, but only .234 with nine home runs and 27 RBI on the road.
Plus, ESPN's Jayson Stark reported earlier this offseason that teams who had inquired about Gonzalez had been turned away by the Rockies.
Scott Hairston: Fact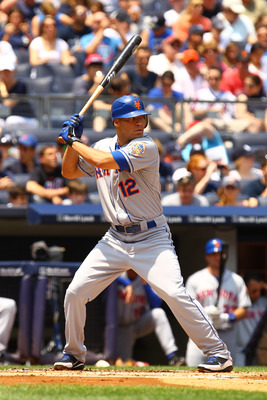 Al Bello/Getty Images
How long until Scott Hairston gets his own hour-long television program to announce his decision? That has to be what he's holding out for, right? ESPN's Jim Bowden reported that he expected a decision from the free-agent outfielder last week, but we're still waiting.
The Phillies, who are targeting Hairston to add right-handed power to their corner outfield situation, have had interest in him throughout the offseason. But earlier this winter, Wallace Matthews of ESPN New York had reported that Hairston was likely going to choose between the New York Mets and New York Yankees.
But he is still on the board, so one could assume that the Phillies remain in the mix. The big question, at least in my mind, is whether he is enough of an upgrade over Darin Ruf or John Mayberry Jr. to be worth his asking price.
My answer is no.
Jason Kubel: Fiction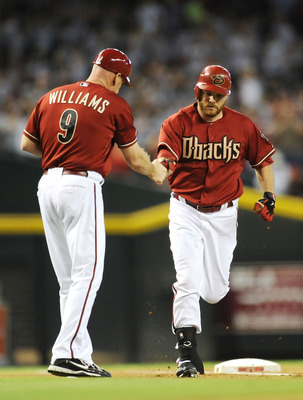 Norm Hall/Getty Images
In theory, this could be "fact." I'm calling it "fiction" because there is more speculation than actual rumors out there.
At first glance, Kubel and the Phillies are not a match. The Phillies have been on the search for a right-handed, power-hitting corner outfielder and Kubel is a lefty who struggles against left-handed pitching.
But that doesn't mean the Phillies wouldn't have interest in him. If they could get him at the right price, Kubel would be an upgrade against right-handed pitching in a platoon situation. He hit 23 home runs against right-handed pitching in 2012.
Will the Arizona Diamondbacks move him? It sure seems that they're intent on moving an outfielder for young pitching. Buster Olney of ESPN has reported that Kubel was almost traded to the Seattle Mariners before they made a deal for Mike Morse.
Kyle Lohse: Fiction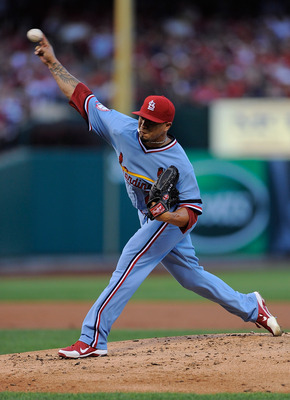 Jeff Curry/Getty Images
In today's game, with front offices relying more heavily on advanced metrics, when your traditional statistics like wins and ERA aren't backed up by more advanced numbers, you aren't going to get the contract you're seeking.
That seems to be Kyle Lohse's situation at the moment, although I'm sure that being represented by super agent Scott Boras has something to do with his availability as well.
Some have speculated that the Phillies could look to steal a quality starting pitcher on the cheap, but Lohse is tied to draft pick compensation and is too much of a risk for the Phillies to surrender their first-round pick.
In fact, the lack of interest in Lohse is somewhat of a surprise. He hasn't been tied exclusively to any one team.
Gerardo Parra: Fiction
Christian Petersen/Getty Images
Fiction
The Arizona Diamondbacks ended the regular season with a glut of outfielders heading into the 2013 offseason, so they've been the target of trade speculation for quite a while, even after dealing Chris Young to the Oakland Athletics.
Then they went and signed Cody Ross to a three-year deal and left us scratching our heads. Something has to give, right?
While Justin Upton and Jason Kubel have been the most talked-about trade options, one player who could appeal to quite a few teams is Gerardo Parra, a top-notch defensive outfielder.
At the beginning of December, Nick Piecoro, Diamondbacks beat writer for AZCentral Sports, wrote this about the D'backs outfield situation:
Rumors continue to swirl around [Justin] Upton, and if the Diamondbacks don't trade him, most observers expect them to trade a different outfielder, whether it be Jason Kubel or Gerardo Parra.
The Phillies could eventually have interest in a player like Parra, but as of now, have not been tied to him through any specific rumor.
Quick Commentary: Outfielders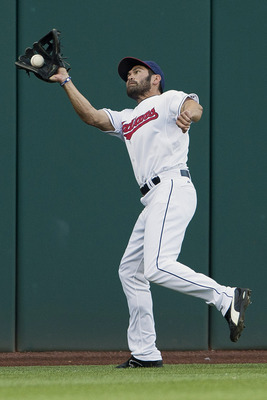 Jason Miller/Getty Images
Johnny Damon, Fiction: Damon told reporters, including Peter Abraham of the Boston Globe, that he wants to play this season, but a career-worst campaign in 2012 and another left-handed bat with below-average defense is not what the Phillies need.
Mark DeRosa, Fiction: It looks like this may be the end of the road for DeRosa, who can't stay healthy. He told ESPN's Jim Bowden that his first choice was to re-sign with the Washington Nationals.
Juan Rivera, Fiction: There hasn't been much news about Rivera since the Los Angeles Dodgers declined his option earlier this offseason. But he could be an interesting bench option for a few clubs on a minor league deal.
Grady Sizemore, Fiction: Earlier this winter, Ken Rosenthal of FOX Sports reported that Sizemore doesn't intend to sign a deal until he is ready to play, which doesn't appear to be any time soon.
Ben Francisco, Fiction: How does that old saying go? "Fool me once, shame on you. Fool me twice, shame on me."
Ryan Sweeney, Fiction: I'm calling this "fiction," but if the Phillies want to create some outfield depth, Sweeney on a minor league deal could be a good idea.
Alfonso Soriano: Fact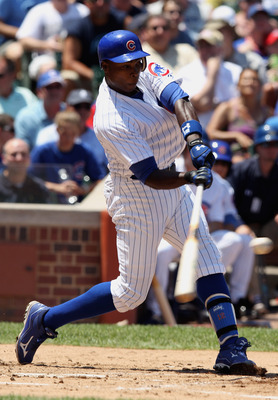 Scott Halleran/Getty Images
There hasn't been much movement on the Alfonso Soriano front. I'm sure the Chicago Cubs are playing chicken with interested teams, waiting to see who will pay the most for his services. But until then, Soriano had some interesting things to say to Carrie Muskat of MLB.com:
I want to stay here and finish my career here and try to win before I retire. I signed here to bring a World Series winner to Chicago. It's been a long time since they won a World Series. That's my dream. I hope to stay here, and when they win, I want to be part of that team.
Meanwhile, one would have to assume that the Phillies still have interest in Soriano, who could be a significant upgrade to their lineup. But the club also seems intent on giving Darin Ruf a shot to win the left-field job, which would be much less likely with Soriano aboard.
Giancarlo Stanton: Fiction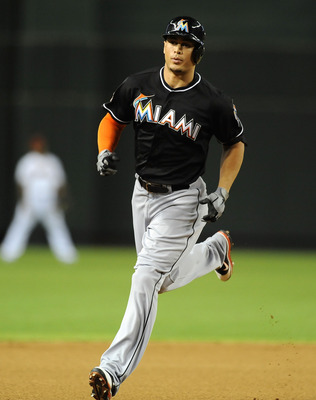 Norm Hall/Getty Images
Pretend you're the Phillies' general manager and put together your best offer to the Miami Marlins for Giancarlo Stanton.
While you do that, allow me to issue the weekly reminder that the Marlins are not going to be trading the affordable, controllable, productive face of their franchise this offseason for anything short of a Herschel Walker-type package, and that may not even do the trick.
Now, back to your offer as Phillies GM. Whatever it was, it's not enough.
The Phillies don't have the quality of prospects to make a deal for a guy like Stanton, who is worth a small fortune. Look at some of the teams that could be interested in Stanton. Seattle and Texas have centerpiece prospects such as Taijuan Walker and Jurickson Profar, respectively, to include in such a deal.
Stanton will not be wearing red pinstripes any time soon. So please end your sports ''bromance.''
Ryan Theriot: Fact
Ezra Shaw/Getty Images
If you're asking me why the Phillies are interested in Ryan Theriot, I can't answer that, but they do have interest in the utility infielder, according to Jon Heyman of CBS Sports.
Theriot, who spent the 2012 season as a member of the San Francisco Giants, didn't have a very good year. He rated below average in most defensive metrics and posted an OPS of just .637, resulting in a season below the replacement level.
The Phillies would likely have interest in Theriot as minor league depth, with Kevin Frandsen and Freddy Galvis already on board.
Justin Upton: Fiction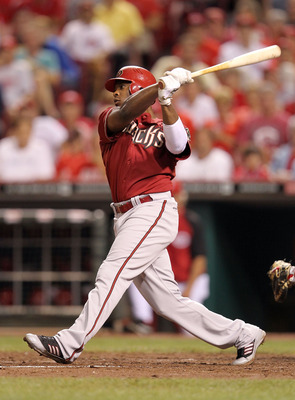 Andy Lyons/Getty Images
This is the sad truth about the Phillies and their hypothetical pursuit of Justin Upton: If they had the pieces to make a deal, they would pull the trigger. Upton is the dream answer to their lack of a right-handed, power-hitting corner outfielder. They just don't have the pieces.
A trade like this is a beast on two fronts. First, any team on Upton's no-trade list should just hang up the phone. Second, the Arizona Diamondbacks are driving a hard bargain, making their discussions with the Seattle Mariners an absolute mess.
But they did, in the end, agree to a trade, only to have it rejected by Upton, according to a FOX Sports report. The Mariners would have sent Taijuan Walker, Nick Franklin, Charlie Furbush and Stephen Pryor to the Diamondbacks for Upton. That's quite a package, including two of the game's best prospects in Walker and Franklin.
The Phillies don't have the blue-chip prospects to swing that kind of deal. Hypothetically speaking, any trade between the Phillies and D'backs for Upton would have to include prospects such as pitcher Jesse Biddle, shortstop Roman Quinn and catcher Tommy Joseph.
Javier Vazquez: Fact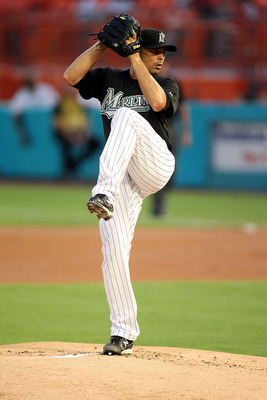 Marc Serota/Getty Images
The Phillies love to have pitching depth. So with glowing reports out of Puerto Rico about Javier Vazquez, he is a name to keep an eye on.
According to Jayson Stark of ESPN, the Phillies have scouted Vazquez, although they are not considered major players at this point.
A contending team could strike gold with a guy like Vazquez, especially as a fifth starter. With John Lannan currently penciled into that role, making a move on a guy like Vazquez could be a good idea.
Brandon Webb: Fact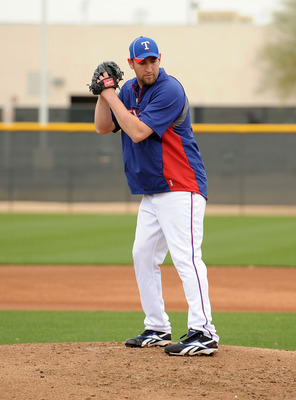 Norm Hall/Getty Images
Brandon Webb would be the low-risk, high-reward pitcher the Phillies talked about looking for earlier this offseason, and Jerry Crasnick of ESPN has reported that they are among quite a few teams interested in his services.
The biggest gamble with Webb is whether he can stay healthy. It's a situation that parallels what the Atlanta Braves did with the injury-prone Ben Sheets in 2012, and that wound up being a solid, low-cost decision.
No team is going to offer Webb more than a minor league deal. But we are talking about a guy who won 22 games in his last full season as a starter. Of course, that was in 2008.
Vernon Wells: Fact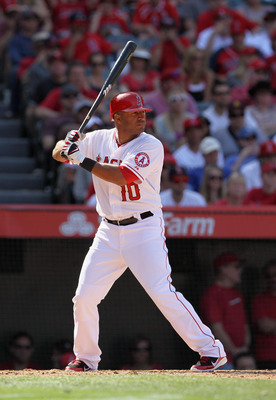 Jeff Gross/Getty Images
The Phillies seem to be in a holding pattern regarding Vernon Wells, as the Los Angeles Angels attempt to maximize his value (or what's left of it). But the interest is still there. With that in mind, however, there haven't been any new developments recently.
Wells would give the Phillies an option. Nothing more, nothing less. There is little about his 2012 season that suggests that Wells could be an everyday outfielder. But the Phillies, who are slated to open with Darin Ruf and Domonic Brown in the outfield, may be willing to take that chance.
Earlier this offseason, Ken Rosenthal of FOX Sports reported that the Phillies were still searching for right-handed hitting outfielders, including Wells.
Delmon Young: Fiction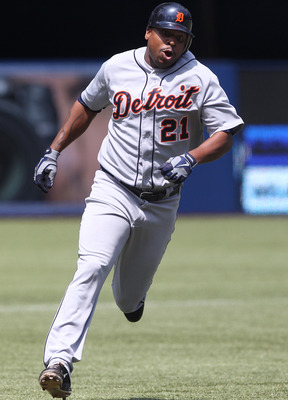 Tom Szczerbowski/Getty Images
Delmon Young is the kind of "fiction" player who could quickly wind up being "fact" for a club like the Phillies, who are seemingly desperate for a right-handed, power-hitting corner outfielder. If he's cheap enough, it could be worth a gamble.
Young, who hasn't received much interest this winter, could be an intriguing option for the Phillies on a minor league deal, but I would be hesitant to offer anything more. National League teams seem concerned about his defense in left field, which is understandable. He is horrendous out there.
But Young did mash left-handed pitching last season, and that's a skill the Phillies need. If they can minimize the risk, why not reap the reward?
Keep Reading

Philadelphia Phillies: Like this team?