Scouting Reports of the 5 Latest New York Mets Invited to Spring Training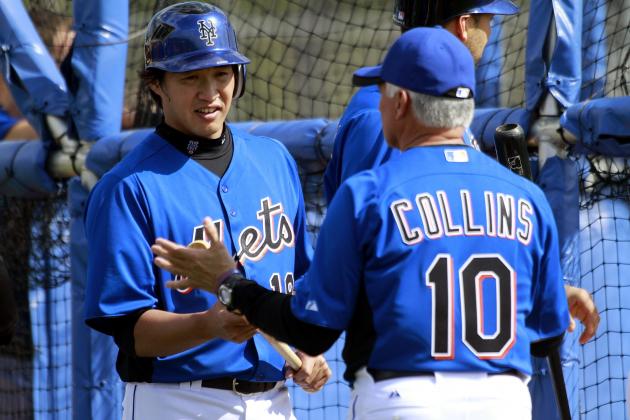 Marc Serota/Getty Images

Spring training, the time of year when jersey numbers like 68, 75 or 83 are commonplace.
Spring training, the time of year when fans are mesmerized by 420-foot bombs, but then have no idea who hit them. Or, they watch a pitcher breeze through the heart of the order by striking out the side, then rack their brains, wondering where the heck did that guy come from?
New York Mets fans won't have to wonder. This slideshow will introduce you to the five latest spring training invitees, some of whom could start the season in Queens.
Begin Slideshow

»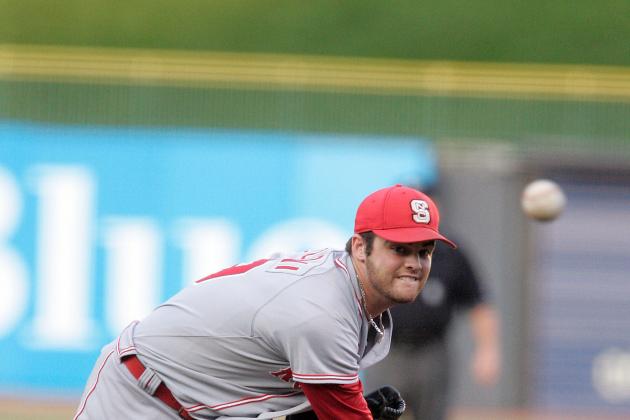 Mark Dolejs-USA TODAY Sports

Mazzoni, 23, is rated by Baseball America as the No. 10 prospect in the Mets' system after the 2012 season, a three-spot jump from the year before.
He was drafted in the second round by the Mets out of North Carolina State in 2011, splitting time in 2012 between High-A St. Lucie and Double-A Binghamton.
In St. Lucie, he went 5-1 with a 3.25 ERA and a 1.26 WHIP. He struck out 48 and walked 16 in 63.2 innings. He struggled in Binghamton, posting a 4.46 ERA , but still managed a winning record (5-3) and a respectable WHIP (1.36). He struck out 56 and walked 20 in 80.2 innings.
He pitched out of the bullpen to start his professional career. According to Baseball America, his fastball was in the mid-to-low 90s as a reliever.
Before the start of the 2012 season, Baseball America wrote, "He profiles as a back-of-the-rotation arm or perhaps a quality set-up man, and he could advance quickly to the big leagues in the latter role."
But the Mets are developing Mazzoni as a starter, a role he's used to from his college days, where his fastball was in the 90 to 94-mph range.
Binghamton is most likely Mazzoni's destination to start the 2013 season.
This 22-year-old Dominican Republic product was rated as the best control pitcher in the Mets' farm system after the 2012 season, where he split time between Low-A Savannah and High-A St. Lucie.
His numbers were nearly identical at the two levels, showing no growing pains in St. Lucie. He went a combined 11-5 with a 2.33 ERA and .94 WHIP, striking out 110 to only 19 walks.
Baseball Instinct's Thomas Belmont scouted Montero and was impressed with the movement of his fastball, which he said is in the 90 to 93-mph range. The movement, which he creates by his sidewinding delivery, tails in on a right-handed hitter.
"While he's getting some premium velocity, it's not the raw velocity that makes his fastball a near plus pitch, it's the movement that he gets," he said.
According to Belmont, his secondary pitches, which need time to develop, include a curveball and a changeup, which dropped into the low 80s.
He had high reviews for his changeup, saying, "It's the pitch that will make him an effective starter as he moves up the ladder. But may also be the pitch that is making him elite level effective at the lower levels of the minors."
One knock on Montero is his size. He's only 6'0'', 170 pounds, which could land him in the bullpen. But Belmont believes the Mets should let him develop as a starter.
In all likelihood, Montero will open the 2013 season where his 2012 season ended, St. Lucie.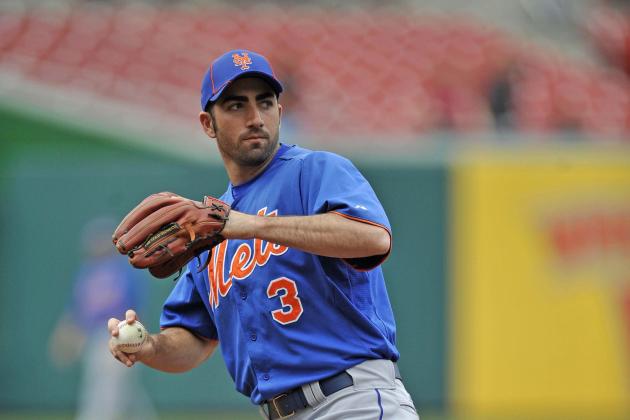 Joy R. Absalon-USA TODAY Sports

Satin, 28, was drafted in the sixth round of the 2008 draft. He had one at-bat in the major leagues and struck out.
The rest of his time was spent in Triple-A Buffalo, where he batted .286 and showed an aptitude to get on base (.396 on-base percentage). Satin also displayed extra-base power, belting 14 home runs, 25 doubles and a triple in 441 at-bats, good for a .462 slugging percentage. He also drove in 60 runs.
Baseball America wrote, "Satin works counts, patiently waiting for pitches he can drive into the gaps. He occasionally shows home run power to his pull side."
Defensively Satin can play first, second and third base, but has only average arm strength and accuracy, according to Baseball America. He mostly played the corners for the Mets.
Satin would fill a similar role as Justin Turner—a righty-swinging pinch-hitter who can play multiple infield positions—and will have to beat him out to make the big league club. Otherwise, Triple-A is likely Satin's destination for 2013.
Centeno, 23, was drafted in the 32nd round in the 2007 amateur draft out of Puerto Rico and served as the backup catcher for Double-A Binghamton in 2012.
As Adam Rubin wrote on the ESPN New York Mets blog, "One talent evaluator also believes St. Lucie backup Juan Centeno has potential."
He batted .285 with a .324 on-base percentage and a .325 slugging percentage. He doesn't have a lot of offensive firepower—no home runs, 12 doubles and two triples in 281 at-bats—but he's very sound behind the plate. He threw out 29 of 41 basestealers in 2012, good for a 41-percent rate, and posted a .991 fielding percentage in 79 games.
He will provide organizational depth at catcher after the Mets traded away Josh Thole and Mike Nickeas, and will start the year in either Double-A or Triple-A.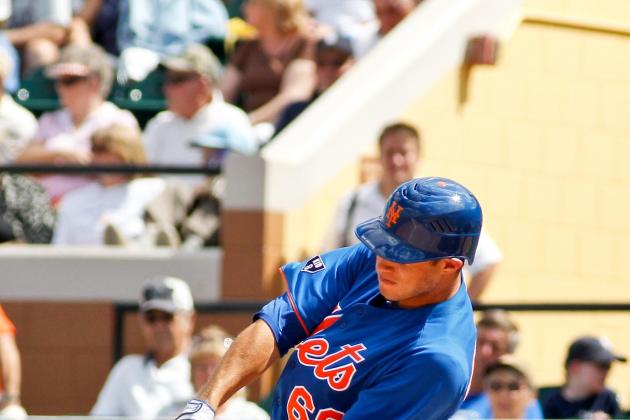 Derick E. Hingle-USA TODAY Sports

Den Dekker, 25, is the most intriguing of the five invitees. He was originally drafted by the Pittsburgh Pirates in the 16th round of the 2010 draft out of the University of Florida.
His 2012 season was a year of mixed results.
He tore the cover off the ball at Double-A Binghamton. In 238 at-bats, Dekker hit .340 with a .397 on-base percentage and a mind-blowing .563 slugging percentage. He had 21 doubles, three triples and eight home runs to go along with 29 RBI.
But he was exposed at the Triple-A level, hitting only .220/.256/.373 in 295 at-bats, striking out 90 times versus 14 walks. Much of his struggles were a direct result of his lack of patience at the plate and free-swinging approach. Despite those poor numbers, he still showed some pop with 10 doubles, four triples, nine home runs and 47 RBI.
But his value truly lies in his defense. He was rated best defensive outfielder in the Mets' system for the past three years (2010-2012), according to Baseball America. He was also rated best defensive outfielder in the Florida State League in 2011.
Baseball America raved about his defensive abilities:
Den Dekker's value is tied to his defensive range and his speed, both of which are plus tools and crucial to the success of any center fielder. He reads balls well off the bat and takes proper routes. He unleashes accurate throws with carry, using average arm strength...
He will compete with the projected starting center fielder, Kirk Nieuwenhuis, for a spot on the Mets' 25-man roster. This will be an interesting battle to watch as spring training unfolds.
Nieuwenhuis and den Dekker are similar players: left-handed hitters, good range in center field, some pop and a tendency to strike out, particularly against left-handed pitching.