The One Thing Each Phillies Player Hopefully Improved This Offseason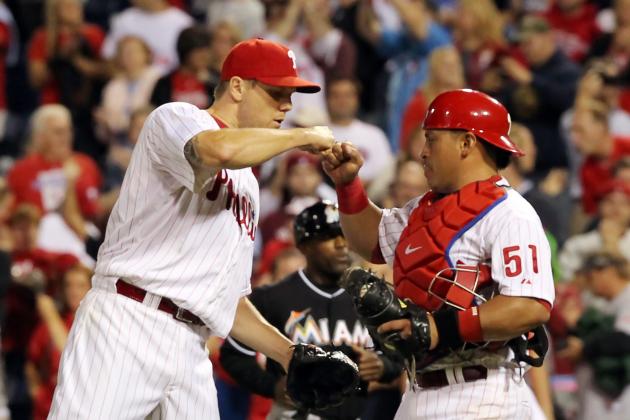 Hunter Martin/Getty Images

It's easy to look back over the 2012 season and assume that there are a lot of drastic changes and improvements to be made for the Philadelphia Phillies, and while there are certainly plenty of question marks, that isn't necessarily the case.
After all, this is a club that addressed a few major concerns this winter by adding players like Ben Revere, Michael Young, Mike Adams and John Lannan. They're looking to keep players like Chase Utley, Ryan Howard and Roy Halladay healthy, which should help them improve.
But this is a game where there is always room for improvement, whether it's a minor tweak to a great player or a huge change for a struggling performer, anyone without an aspect of their game to improve upon is either a legend or a fool.
So as we begin to look ahead to spring training, this slideshow will focus on a specific area of each player's game that could use an improvement in 2013.
Begin Slideshow

»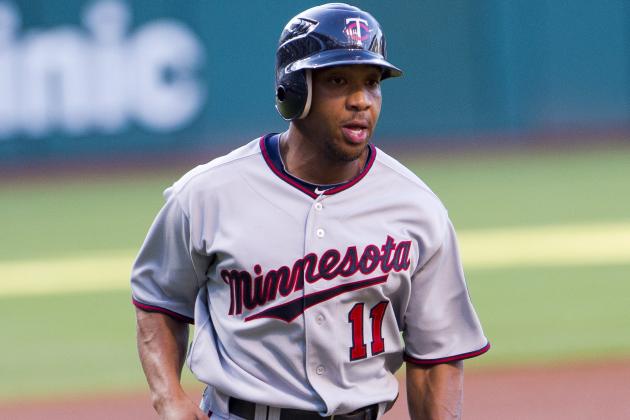 Jason Miller/Getty Images

Improvement: Look at more pitches!
Ben Revere has the speed and contact-oriented approach to be a successful leadoff man for the Phillies, but the one thing that his game is seriously lacking right now is patience at the plate.
But for a man with nearly non-existent power, he sees very few pitches per at-bat—something that could come around to bite him sooner than later. He's going to need to exhaust every possible method of getting on-base at the top of the order and a career 5.4 walk percent isn't going to cut it.
Hopefully, Revere spent the offseason trying to convince himself that he doesn't need to swing at the first fastball he sees in every at-bat.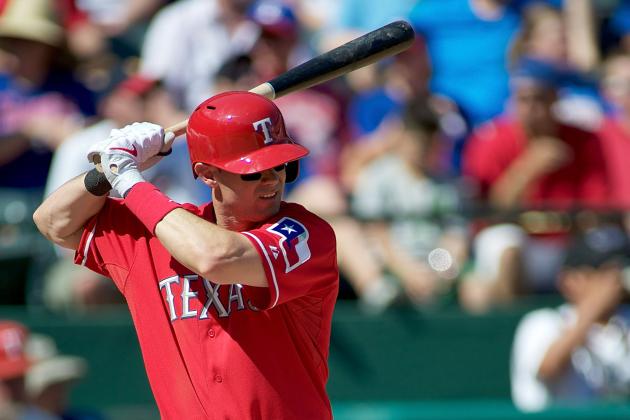 Cooper Neill/Getty Images

Improvement: Taking more repetitions at third base increases his defensive aptitude.
The sad thing about Michael Young's 2012 season, offensively speaking, is that it was bad enough to convince some people that he was at the end of the road, and yet, it was still a better year offensively than the Phillies' third base situation as a whole from '12.
Maybe I'm just an eternal optimist, but I truly believe that Young has at least one more solid offensive season left in that bat. The real question mark is his defense, and it's a huge question mark.
Conventional thinking says that cutting out the extra defensive repetitions (second base, shortstop, first base) will help Young feel more comfortable playing third base, and that makes a good bit of sense. He'll also be on the field more frequently, which should help.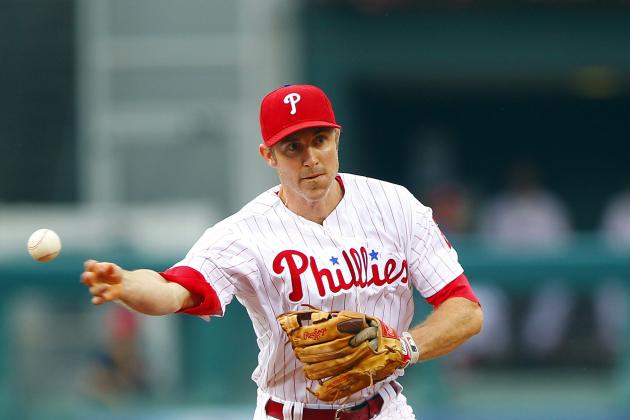 Rich Schultz/Getty Images

Improvement: Find a training regimen that keeps the knees healthy and feeling fresh.
The sheer presence of Chase Utley in the middle of the Phillies' order makes this a better club, so any improvement this offseason is going to have to center on finding a regimen that keeps him on the field for a full season.
With a pair of chronically degenerating knees, is that even possible? Well, it's difficult to say for certain because only Utley knows how his knees actually feel, but after spending time rehabilitating in Arizona last season, he looked healthy by the end of the year.
Assuming that he'll carry over some of those exercises into this offseason, participating in spring training and being ready for Opening Day should be a much more realistic possibility in 2013 than it was in 2012.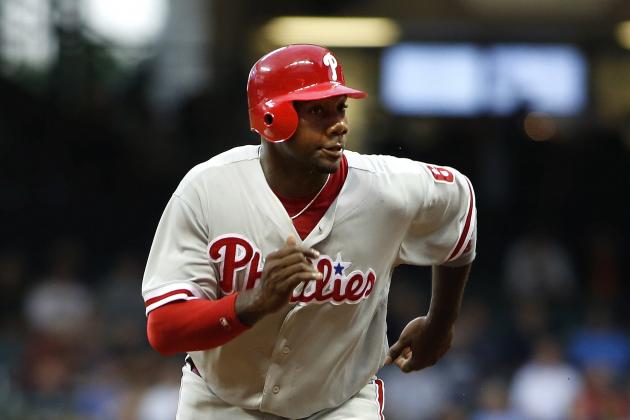 Mark Hirsch/Getty Images

Improvement: Refocus offensive approach.
While there were some aspects of Ryan Howard's game that were just inexcusable last season, part of me is willing to give him a mulligan for 2012. The man was recovering from a serious injury to get back and help this team as quickly as possible, and may have rushed back.
That much was quite clear. He came back in poor physical conditioning and just never had the same approach that had made him a successful power hitter in the past. His strikeout rate ballooned to 33.9 percent and his walk rate dipped to 8.6 percent.
In my opinion, that's the base for his downfall in '12. This offseason, Howard needs to refocus his approach. He needs to improve his discipline against both offspeed pitches and left-handed pitching in general.
Now that he has had a full offseason to prepare both physically and mentally, I think there is some optimism for Howard moving forward.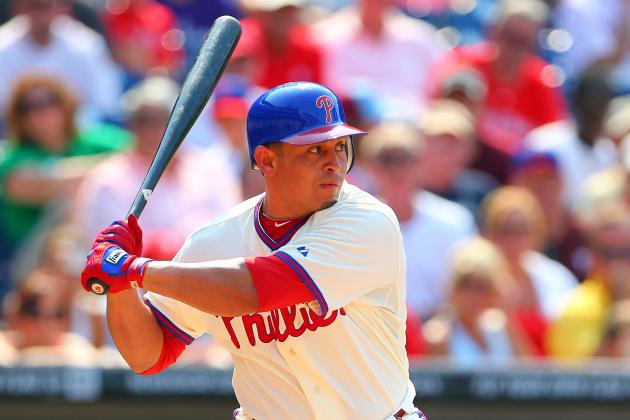 Rich Schultz/Getty Images

Improvement: Prove that his 2012 season was not the result of a banned substance and luck.
I'm going to be writing this about Carlos Ruiz for a while because it may be the single most important aspect to his offseason, not only physically, but to prepare mentally for the upcoming season as well.
By now, everyone knows the story. Ruiz came into the season as one of the game's best defensive catchers and raised more than a few eyebrows by throwing up some of the game's most impressive offensive numbers as well.
Following the season, he received a 25-game suspension to open the 2013 season after not one, but two, positive tests for the banned substance Adderall, which is an amphetamine.
So now, Ruiz really has his work cut out for him. He already had his doubters—myself include to a very, very small extent—that his success in 2012 was the result of a BABip-fueled stroke of luck. Now, he has to prove that he wasn't cheating as well.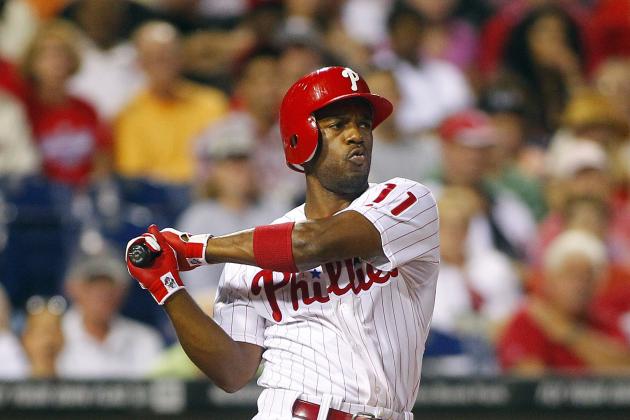 Rich Schultz/Getty Images

Improvement: Show some willingness to accept change and adjust to hitting in the middle of the order.
Having watched Charlie Manuel coach this team for the last eight seasons, the prospect of Jimmy Rollins moving into the middle of the order probably isn't very good, but I'm going to write about it anyway because it makes a ton of sense for this club.
The easy argument is to take a look at Rollins' season. He posted a slash line of .250/.316/.427, a wOBA of .322 and a wRC+ of 101. Looking at those numbers from the perspective of a leadoff hitter, they're all below average (outside of the slugging percentage).
But Rollins didn't necessarily have a bad season. He hit 23 home runs and played elite defense at a position where each of those feats is equally as rare, and that's what made him so valuable in 2012.
Looking at the 2013 season, it's time to play to his strengths. The addition of Ben Revere gives the Phillies options in the leadoff spot, but more importantly, it gives Manuel the option to hit Rollins in the middle of the order.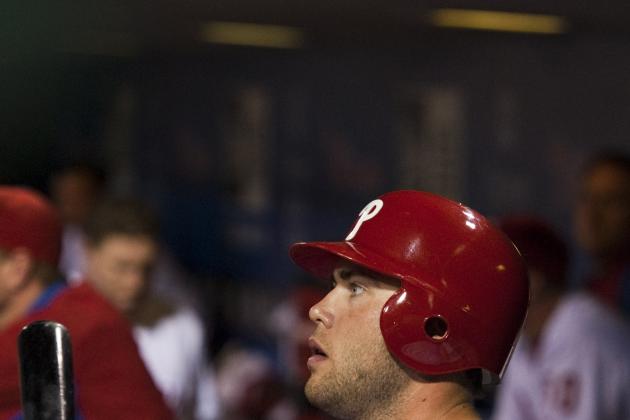 Howard Smith-USA TODAY Sports

Improvement: Refine approach at the plate, but more importantly, come to camp ready to win a starting job.
If you read between the lines, the Phillies are going to give Darin Ruf every chance in the world to leave Clearwater, Florida at the end of March as the club's starting left fielder, and there is no secret as to why—the man showed that he can hit.
When you can hit, teams tend to find ways to get you into the lineup. Ruf had a memorable season in 2012 that has led to his inclusion in the Phillies' top 10 prospects list by many major scouting organizations, including the esteemed Baseball America, which ranks him ninth.
Ruf's limited defense is going to sour his value to some scouts, but there is little doubt about his ability to hit for power, and that's something that the Phillies desperately need in 2013, especially out of a right-handed hitting corner outfielder.
They'll have some options as a fail-safe, but it sure seems as though the Phillies are determined to give Ruf a good chance at winning the left field job. If he can cut back on the alarming strikeout rate that he showed in his brief MLB stint, I personally think that he'll be a-okay.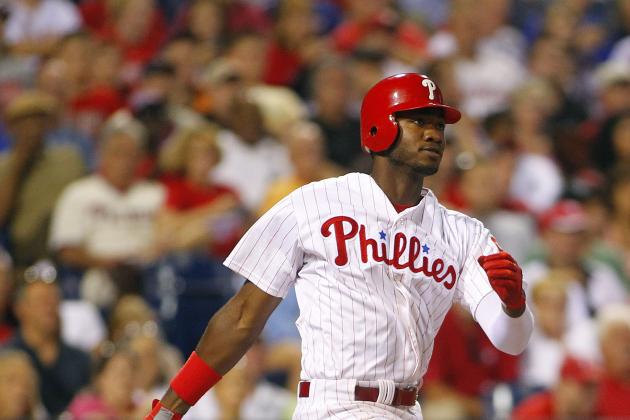 Rich Schultz/Getty Images

Improvement: Stay healthy! Focus on physical conditioning, find consistent at-bats and come ready to win a job in spring training.
While it may not be fair, this may actually be Domonic Brown's last chance to prove himself in a Phillies' uniform before he is run out of town by a mob of angry Phillies' fans, with their torches and pitchforks, having never heard of such a thing as a "sample size." But hey, life isn't fair.
But the excuses are definitely running thin for Brown. He has enough MLB experience under his belt to get a firm grasp on the pitching at this level. Now he needs to produce. In order to do so, he'll need to stay healthy.
A sore knee and a broken hamate have slowed him down early in his career, so working on his physical conditioning this offseason wouldn't be the worst idea. He needs to come into camp both physically and mentally prepared to play right field for the Phillies this season—and not part of a platoon.
In a perfect world, Brown and Darin Ruf are this club's corner outfielders for a long time.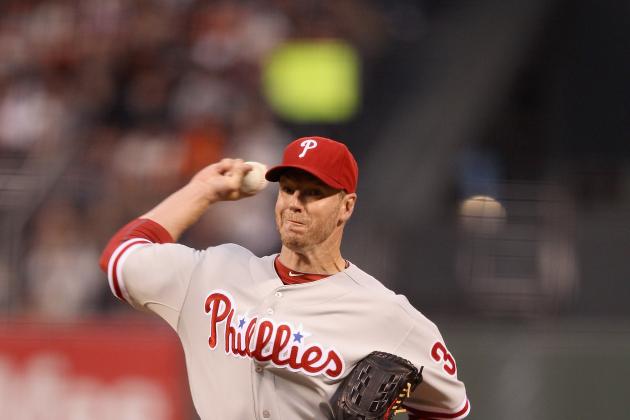 Ezra Shaw/Getty Images

Improvement: Leave 2012 in the past. Focus on physical conditioning this offseason, which should lead to an improvement in pitch selection and command in 2013.
One of the biggest disappointments in baseball last season had to be Roy Halladay, who suffered a Grade 2 strain of the right latissimus dorsi early in the year and was clearly never right throughout the season. The strain forced him to make curious pitch selections and he lacked the command that made him arguably the best pitcher in baseball.
Following a full offseason, Halladay's shoulder health should be much improved. That's step one in returning to his winning ways.
A healthy shoulder gives Halladay the luxury of throwing and locating his cutter more frequently, even if it doesn't have the usual zip he's accustomed to. Off of that he'll be able to work in his secondary offerings which, in better counts, are among the best in the game.
It may be a bit too soon for this bold a statement, but if Halladay is healthy, I don't see much reason that he can't win at least 17 games for the Phillies next season. But again, it's all about his health.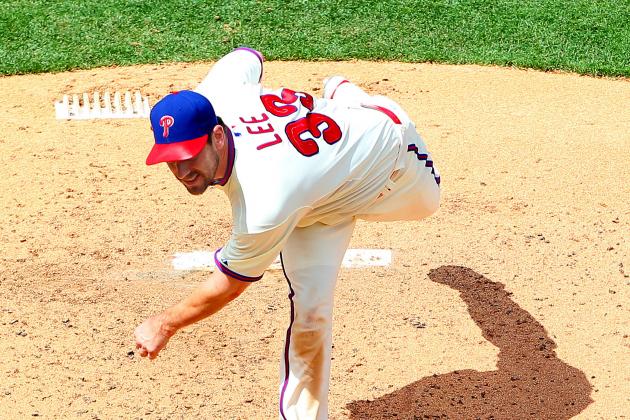 Rich Schultz/Getty Images

Improvement: Cut back on the home runs, but don't forget that 2012 was an excellent year and prepare to repeat.
Cliff Lee finds himself in an interesting position this offseason because guys who went 6-9 the previous season are often trying to figure out what in the world went wrong in their spare time, but not Lee. This starting pitcher had a great year and can blame most of his misfortune on some shoddy luck, a bad bullpen and poor run support.
If there is one thing that Lee needs to focus on this winter, it is devising a plan of attack to keep the ball in the park. His home run rate ballooned quite a bit in 2012 at 1.11 HR/9, up from 0.70 HR/9 the previous season.
But that's a small adjustment for a pitcher of Lee's caliber. The important thing here is to understand that his results from the '12 season are perfectly acceptable. With a much better bullpen and some run support, he could easily win 20 games this season.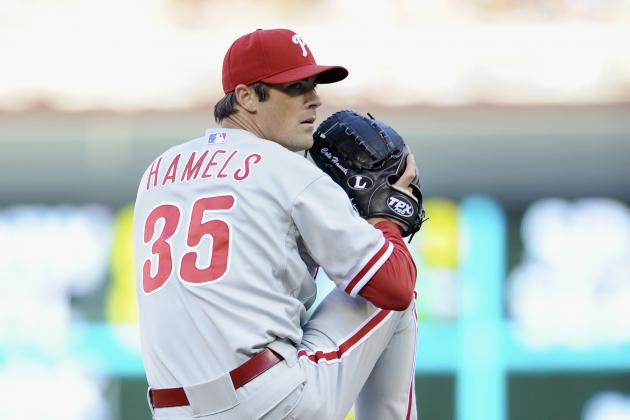 Hannah Foslien/Getty Images

Improvement: Do not come into camp as a health risk!
Jim Salisbury of CSN Philly created a little bit of a panic among Phillies' fans when he reported that Cole Hamels had a bit of a shoulder scare during his throwing program this offseason, although he also reported that Hamels was going to be just fine.
Even if Hamels is feeling better now, one can't help but wonder what's actually going on with that shoulder. With Roy Halladay and Cliff Lee not getting any younger, Hamels is the pitcher that the Phillies really need to be healthy this season.
With that in mind, it's important that Hamels doesn't press the issue here. If you put the pieces together, this is similar to what happened with Halladay last spring, as many noted that he looked injured, but he insisted that he wasn't. He pushed the issue and eventual suffered a bad strain of the latissimus dorsi.
The one thing that the Phillies need out of Hamels right now is honesty. Do not come into spring training as a health risk. Get everything straightened away now and come into camp at 100 percent.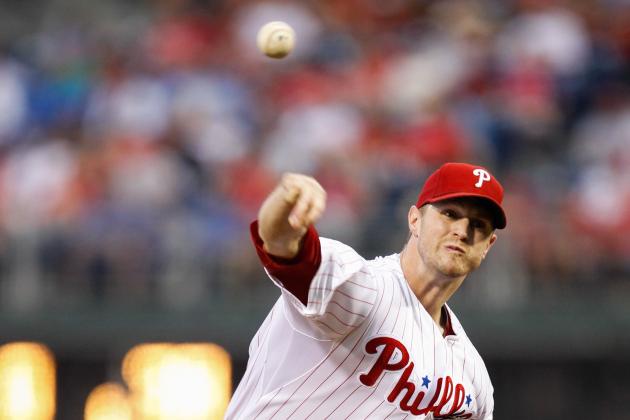 Brian Garfinkel/Getty Images

Improvement: Now with a full offseason to prepare as a starting pitcher, find a way to build on the success of 2012's second half.
The Phillies haven't necessarily been fair to Kyle Kendrick over the last couple of seasons, bouncing him back and forth between the starting rotation and the bullpen, but then again, professional athletes are expected to be able to adapt.
This offseason, however, Kendrick has the luxury of knowing his role heading into spring training—something that was much more obscure to him with the loaded starting rotation that came into camp last season.
For Kendrick, the key to the 2013 season is going to be to build off of his success from last year's second half. He was very good after the All-Star break and needs to refine that approach to be successful over an entire season.
Now, he has a full offseason to prepare.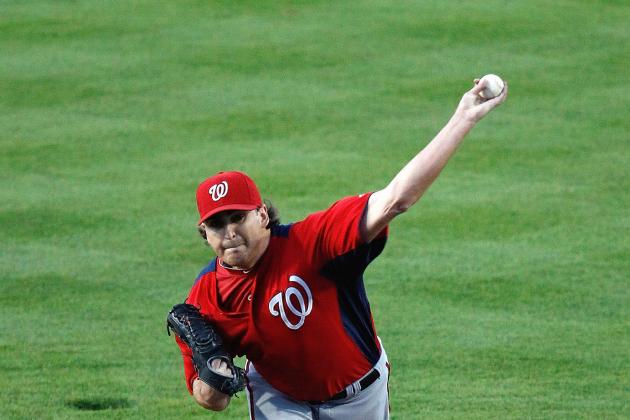 Sarah Glenn/Getty Images

Improvement: Trust your pitches and pound the strike zone.
John Lannan's sample size from the 2012 season was not a large one—just six games. However, in that small span of time, he gave interested clubs a good show by leaving his Triple-A struggles in the minor leagues and impressing for the Washington Nationals.
Fast-forward a few months and he's ready to compete for the Phillies' fifth starter spot, and I do say "compete" because I believe that, although he has the inside track, Lannan landing that spot is no guarantee, with guys like Rodrigo Lopez, Tyler Cloyd and Jon Pettibone coming into camp.
If Lannan wants to secure his spot in the starting rotation, he's going to have to trust his repertoire and pound the strike zone. A pitcher who only strikes out 11.8 percent of all batters he faces can not issue 3.86 BB/9.
Lannan, who has posted a strong 53 percent ground ball rate throughout his career, has to rely on his defense this season if he wants to be successful. Don't get fancy and nibble at the strike zone. Attack it head on and make batters put the ball in play.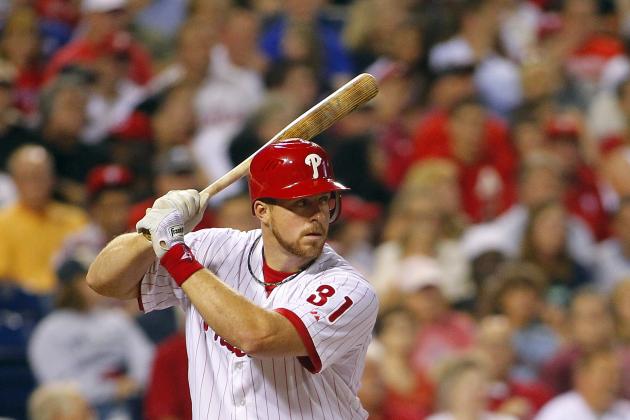 Rich Schultz/Getty Images

Improvement: Learn to be successful as a backup catcher with limited at-bats.
This may not be something that Erik Kratz can necessarily do over the offseason, but preparing to become a backup catcher is going to be an adjustment, one that he should be preparing mentally for already.
Looking back over the 2012 season, Kratz was certainly one of the club's most pleasant surprises. During Carlos Ruiz's stint on the disabled list, Kratz made sure that the Phillies did not skip a beat both offensively and defensively.
It was the month of September, however, that forced me to raise an eyebrow. With Ruiz back and fewer at-bats available, Kratz posted a very mediocre line of .167/.231/.271. But that's part of the job for a backup catcher.
If all goes according to plan, Kratz won't be playing all that much once Ruiz returns at the end of April. He'll need to prepare for that.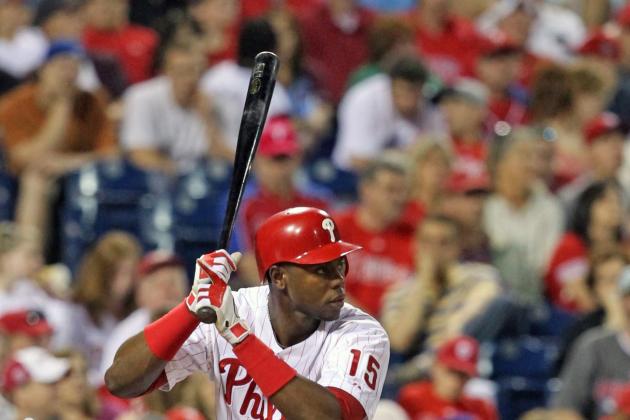 Hunter Martin/Getty Images

Improvement: Better plate discipline, better player?
This is just a hunch, but my gut tells me that the Phillies are comfortable moving into spring training with the realistic possibility that Darin Ruf and Domonic Brown will be their everyday corner outfielders. Both will have to earn it, of course, but that's the way I see this whole situation playing out.
So what does that mean for a guy like John Mayberry Jr., who has been given every chance possible to become an everyday player for the Phillies? Well, he'll still be a valuable bench piece. He plays solid defense at a few positions in a pinch and has always hit lefties well.
After accepting that he's never going to be more than a role player for this club, the next thing for Mayberry to work on this offseason is to improve his plate discipline. His strikeout percent climbed to 23.2 last season while his walk percent dipped to 7.1.
A more patient approach could help Mayberry quite a bit.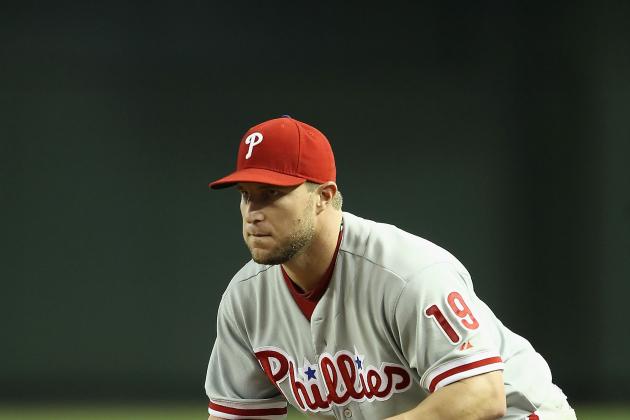 Christian Petersen/Getty Images

Improvements: No gifts this season. Come to camp ready to fight for a job.
Laynce Nix wound up having an abysmal season in 2012, not all of which was his fault. He suffered a severe calf strain early in the season and would wind up missing 50 games and never looked the same at the plate when he returned.
But baseball is a tough sport and there is always someone ready to steal a job, so Nix is going to have to fight for a job this spring with guys like Freddy Galvis and Ender Inciarte in camp.
In a perfect world, I think that the Phillies would like Nix to have a great spring. He gives them a possible platoon option, as well as a powerful left-handed swing off of the bench. However, if he flops, I don't see much of a problem with keeping Inciarte—an above average defender and base runner and left-handed bat—on the roster.
Nix's improvement needs to be widespread, but it all starts with the mindset that nothing is guaranteed in baseball.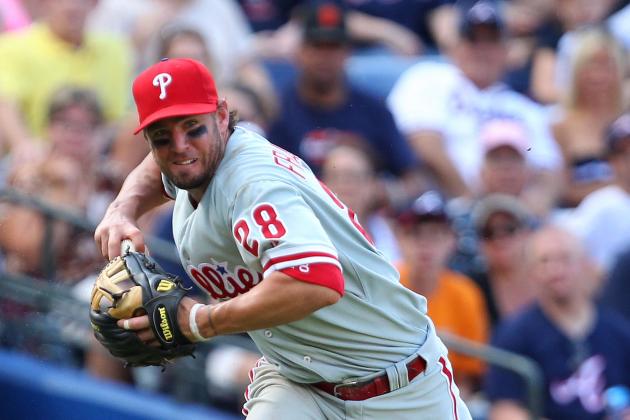 Mike Zarrilli/Getty Images

Improvement: Start preparing now—the Phillies will be looking for a similar approach in a much smaller role.
The Phillies are (health assuming) in a much better position with their infield heading into camp this year than they were last season. May we never forget that the Phillies' Opening Day lineup from 2012 included Ty Wigginton and Freddy Galvis at first and second base, respectively.
If all goes according to plan in 2013, Ryan Howard and Chase Utley will reclaim their respective positions and join Jimmy Rollins and newcomer Michael Young to fill out the infield. So what does that mean for a guy like Kevin Frandsen?
While there is still some debate as to his exact position with the club, I think he'll eventually become the Phillies' "super utility" man. They'll ask him to take a bench role, playing multiple positions and providing a quality at-bat from time to time.
His role, barring an injury, is going to be much smaller this season. Will the Phillies expect Frandsen to bat around .340 again? Of course not. But they will expect him to keep an approach as sharp as it was in '12, in spite of a much smaller role in '13.
Better start preparing now.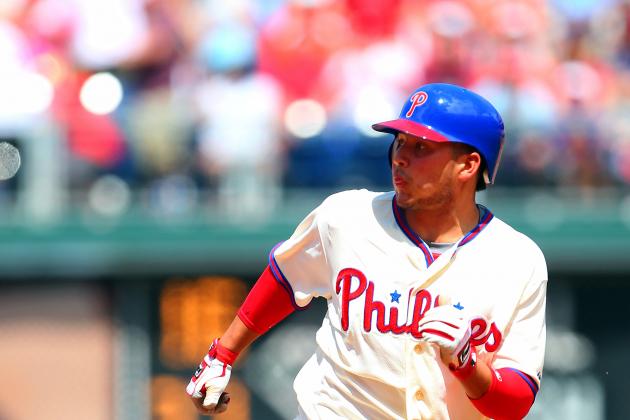 Rich Schultz/Getty Images

Improvement: Keep working on that swing!
Anyone who watched Freddy Galvis play baseball in 2012 knows that his defense doesn't need any work. A lifetime shortstop, Galvis made playing second base at the Major League level with just a month to prepare look like it was all in a day's work.
Of course, anyone who watched him swing the bat last season knows that he still has a long way to go to even be considered an "average" offensive player. Can he even do that? I have my doubts, but with the level of defense that he plays, that isn't a huge problem.
What the Phillies need Galvis to do is get as many at-bats as possible. Even if he is a slightly below average hitter at his best, he plays an elite level of defense—at a premium position, for that matter—that makes him valuable.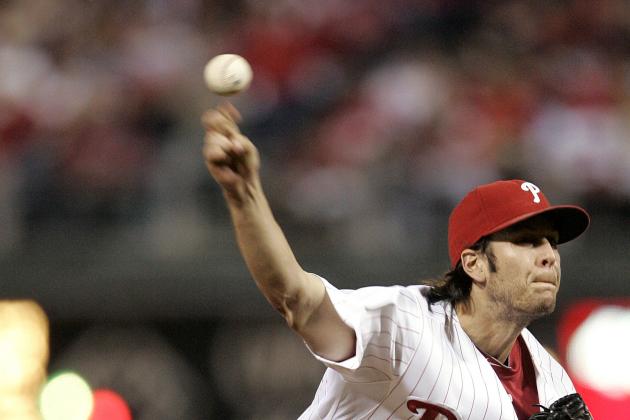 Rich Schultz/Getty Images

Improvement: Location, location, location!
As I've said before, there is no guarantee that this spot even goes to Mike Stutes. There are a lot of relievers in camp for the Phillies this spring and quite a few have a good shot at cracking the roster. For now, he's the guy I'm going with.
Stutes, of course, is recovering from shoulder surgery that forced him to miss most of the 2012 season. In a year where people expected him to step up and become one of the Phillies' better right-handed relievers, that was a major disappointment.
But Stutes can get back on that path if he improves his fastball location. Chalking up his poor performance in '12 to the injury, we can still look back and see that his 4.06 BB/9 mark from 2011 leaves plenty of room for improvement.
One of the last things that a reliever wants to do is put runners on base. If Stutes can learn to command his good fastball and slider combination, he could be a very effective reliever for the Phils in 2013.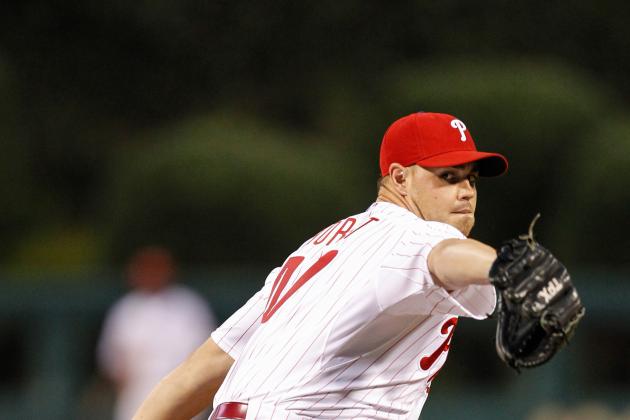 Brian Garfinkel/Getty Images

Improvement: Keep runners off of the base paths!
I don't often like to say (or get the chance to say, for that matter) that a player had a "perfect" season, but holy cow, Jeremy Horst came darn close.
The Phillies picked him up in a trade with the Cincinnati Reds last offseason and optioned him to Triple-A before the season, only to recall him in a small bullpen shakeup, looking for more of an impact out of the 'pen.
Horst had an impact. He posted an ERA of 1.15 and struck out 11.49 batters per nine innings, quickly becoming one of Charlie Manuel's go-to guys late in games.
The one area of concern that Horst has is with his command. It didn't hurt him in 2012, but you never want to walk more than four batters per nine innings. That is something that he can focus on this offseason and bring to camp in '13.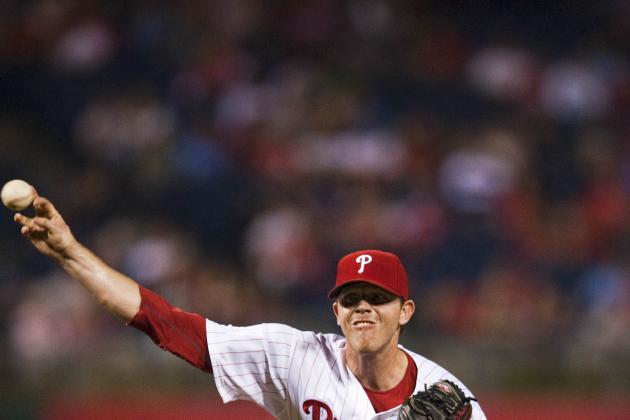 Howard Smith-USA TODAY Sports

Improvement: Use the full, healthy offseason to your advantage!
From a personal perspective, one of my biggest disappointments from the 2012 season was Justin De Fratus' arm injury. In a year where the Phillies bullpen really struggled, De Fratus is a right-handed reliever that really could have helped and made a name for himself.
A year later, he'll get that chance in 2013. While some believe that he'll have to fight for a job and may wind up back in Triple-A, I'm not among them. This is a very good reliever with a potent fastball/slider repertoire that he can command.
What De Fratus really needs is a full, healthy offseason. That's his improvement. He needs to be prepared both physically and mentally to come into camp and show that he belongs in the Phillies' suddenly-stacked bullpen.
Any baseball-related improvements, like command, velocity, etc., will follow.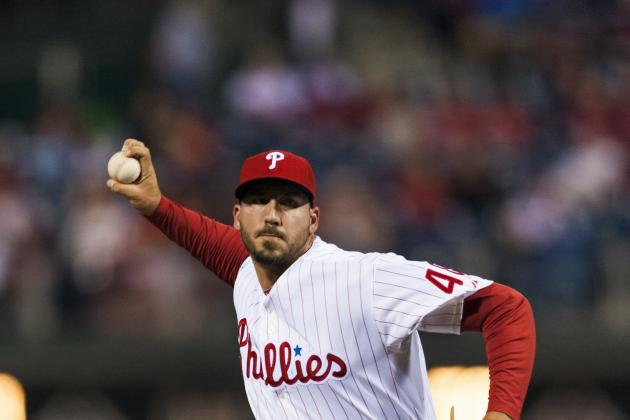 Howard Smith-USA TODAY Sports

Improvement: It's all about mechanics.
Listen. When you're 6-foot-7 and weigh 260 pounds, repeating your delivery isn't an easy thing. Just ask Phillippe Aumont, the Phillies' flame-throwing, right-handed reliever who made hitters look silly and terrified them at the same time with his lack of command.
Pitching mechanics were ultimately the downfall of Aumont as a starter. He has had trouble repeating them throughout his career, but in much shorter appearances, there is certainly hope that he'll have an easier time in 2013.
Keeping those long limbs in check is an excellent starting point for Aumont, who will likely be in the Phillies' bullpen this season. It'll help him control his fastball, slurve and splitter, and if he can control those three pitches, look out. He'll be fun to watch.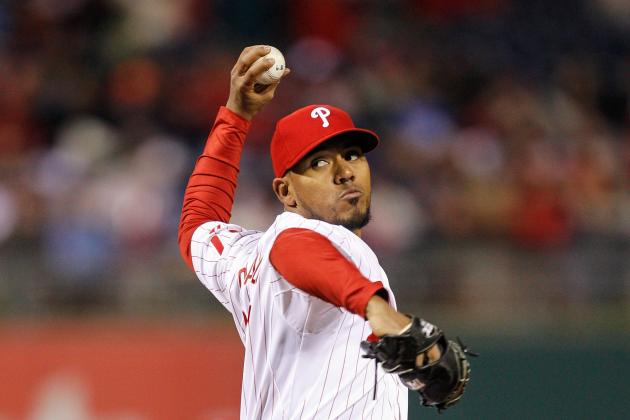 Brian Garfinkel/Getty Images

Improvement: Throw more strikes! Don't be afraid to attack the strike zone.
Antonio Bastardo is another pitcher whose mechanics have a tendency to fade throughout the season. One of his biggest preparations for the season should be to focus on repeating them, which should, in turn, lead to more strikes.
And throwing more strikes could be a huge boost to a guy like Bastardo, especially with his fastball. If he is able to locate that pitch and fool hitters of either handedness with his slider, he rings up the strikeouts with ease, as evidenced by his 36.2 strikeout percent last season.
It's the walk percent that is starting to become troublesome, however. That number was 11.6 percent in 2012, which was the same as the previous year, but in six fewer innings.
If Bastardo is going to face a majority of left-handed hitters this season, he shouldn't be afraid to pound the strike zone with his fastball, because he has the late-breaking slider, to be very effective. If he's used as a left-handed specialist, expect big things out of Bastardo in 2013.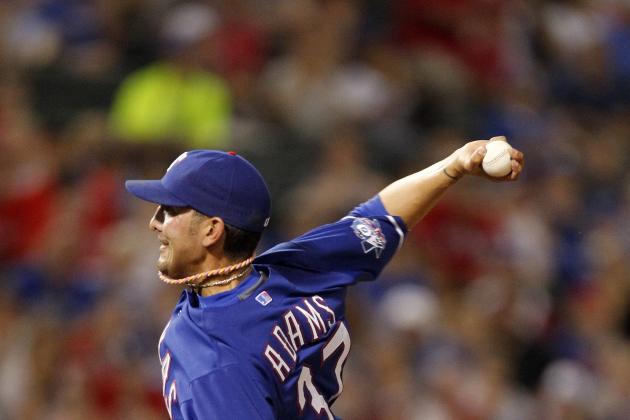 Layne Murdoch/Getty Images

Improvement: Consider 2012 an aberration.
I know what you're thinking. "How is that an 'improvement?'"
If you remove 2012 from the equation and look at Mike Adams' statistics from 2009-11, you're looking at the best setup man in all of baseball. Three straight seasons of sub-two ERA. Three straight seasons with a K/9 mark north of nine. That's impressive baseball.
Adams' improvement this offseason needs to be across the board, and that begins with the mindset that '12 was an aberration. He was suffering from a condition known as Thoracic Outlet Syndrome, which causes arm soreness and finger numbness, among other symptoms, and had a rib removed over the offseason as part of the treatment.
During his press conference with the Phillies, you couldn't help but get the feeling that Adams was already feeling better. The key for him is going to be his health. The Phillies have the bullpen arms to keep him fresh, but this may be the best setup man in baseball.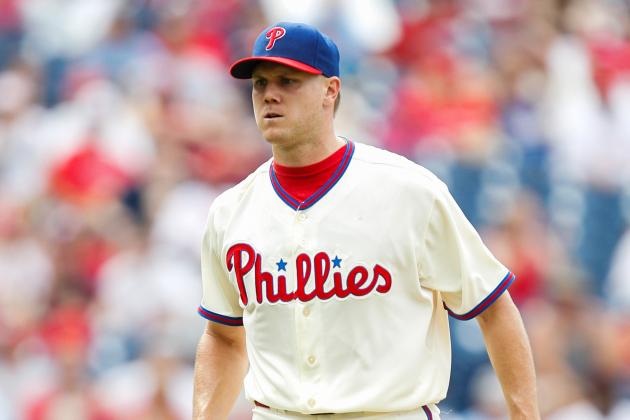 Brian Garfinkel/Getty Images

Improvement: Cut back on the home runs.
For what it's worth, Jonathan Papelbon was as good as advertised last season, so there aren't many improvements to be made here. The Phillies brought him aboard to solidify the ninth inning and he's done just that.
The one number that kind of jumps off the page at you is the home run rate, which more than doubled in 2012. Then again, that wasn't entirely unexpected moving into Citizens Bank Park. Regardless, I think that the club would like to see him scale back that 1.03 HR/9 mark, which was up from 0.42 HR/9 in 2011, his final season with the Boston Red Sox.
But even then, if Papelbon just repeated his performance from '12, it would be a darn good season for the Phillies' closer.