Philadelphia Phillies: What Every Fan Needs to Know About the 2013 Team
Use your ← → (arrow) keys to browse more stories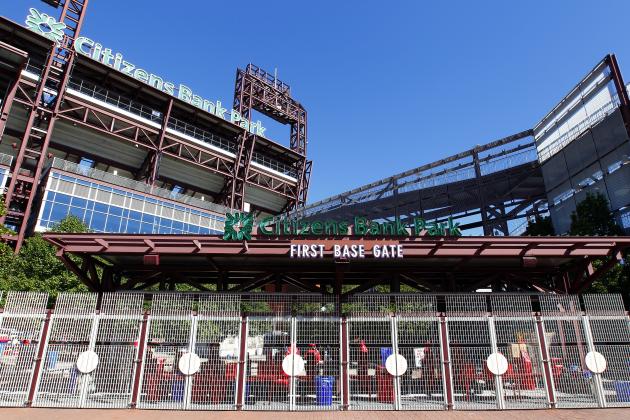 Rich Schultz/Getty Images
Not so far away now.
More than anything, what fans need to know about the 2013 Philadelphia Phillies is that, for the first time in six years, they enter the season as decided underdogs in their own division.
Bovada.lv did the honors recently by releasing its World Series futures. The Philadelphia Phillies are not a darling of the book entering 2013.
The good news is that, per Bovada, the Phillies, at 16/1, have an equal chance to win the World Series as their division rivals, the Atlanta Braves (who unlike the Phillies made the playoffs last season).
The bad news is that Bovada presently projects the Washington Nationals as the National League East's most likely World Series winner at 9/1.
In a related story, the Phillies will need a number of unlikely occurrences to happen simultaneously to have a reasonable hope of making the playoffs.
It was more fun for Phillies fans to watch the team open the season as defending National League East champion for five years running.
On and on the good times went.
The good times, though, are over.
Coming in 2013 are, at best, nervous nights, as the Phillies try to push a roster that is both too old and too young at the same time across the line to a playoff berth—most likely as a wild card.
At worst, the Washington Nationals and Atlanta Braves (winners of 98 and 94 games, respectively) will continue to drive the Phillies down the standings like a stray nail into a board as they did in 2012.
As indicated above, the Phillies have an odd blend of established veterans (some nearing or in the downside of their careers) and young, untested players. The team will need both of those contingents to produce at good to great levels
For the veterans, Roy Halladay will have to bounce back from a pretty poor 2012.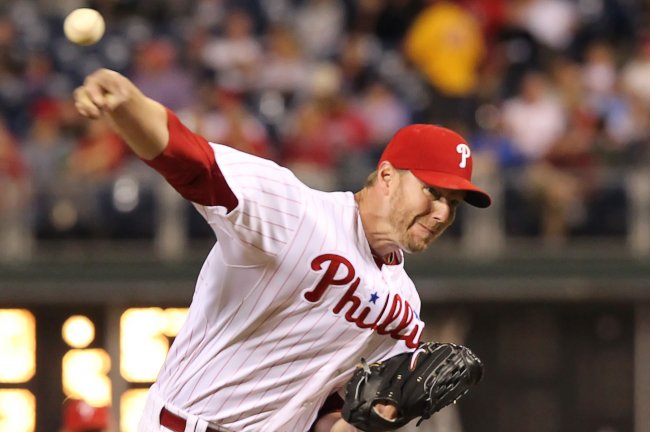 Hunter Martin/Getty Images
Fresh off winning the National League Cy Young Award in 2010 and finishing runner-up in that voting in 2011, Doc posted this line in 2012: 11-8, 4.49 ERA, a half-dozen starts missed and a strikeout-to-walk ratio of 3.67, his worst since 2007.
New third baseman Michael Young is 36 years of age (one year older than Halladay) and coming off a poor season with the Texas Rangers in 2012.
Young hit .277 (with only eight home runs) on a playoff team in a hitters' park surrounded by offensive superstars (Josh Hamilton, Adrian Beltre, Ian Kinsler). Texas was eager enough to move Young that the Rangers are paying $10 million of Young's $16 million salary in 2013.
Halladay and Young will both have to come closer to their career averages than last year's forgettable stat lines if the Phillies are to have a reasonable chance to thrive in 2013.
Ultimately, though, if the Phillies cannot get fully healthy, productive seasons from Howard and Utley, all the RBI doubles Young can muster will never be enough.
As far as the younger players go, the outfield that boasted Victorino, Hunter Pence and Juan Pierre to begin the 2012 season is gone.
And the Phillies are relying heavily on three young, unproven players to put up numbers in their places.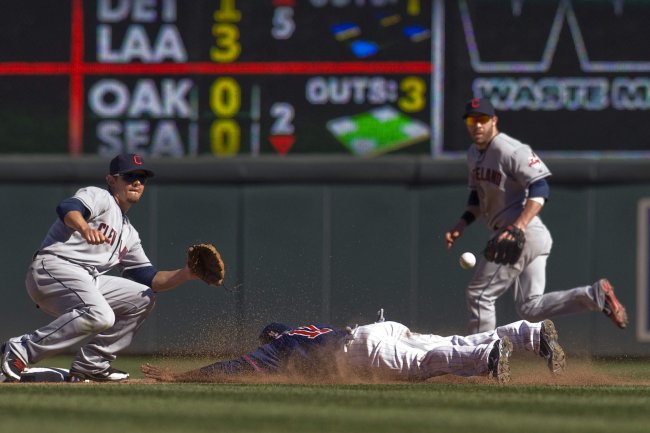 Marilyn Indahl/Getty Images
The Phillies gave up Vance Worley and highly regarded pitching prospect Trevor May to pry Revere from the Minnesota Twins. Revere will start in center field for the Phillies in 2013.
Manuel needs to figure out what to do with a player like Revere—74 career stolen bases, zero career home runs—in a lineup already a bit starved for the long ball.
Darin Ruf is likely to start the season in a platoon in left field. That is a significant jump in level of play for a guy who spent most of 2012 at Double-A Reading.
Finally, there is Domonic Brown. The Phillies are, by necessity, likely to give Brown one last chance to show that he can hit major league pitching and be an effective player at the highest level.
The addition of Mike Adams to the bullpen will take a lot of the onus off the less-reliable relief pitchers behind him, which should keep the Phillies from blowing as many late leads as they did in 2012.
The known quantities are Cliff Lee, Cole Hamels, Jimmy Rollins and Jonathan Papelbon. All of them did their jobs well in 2012; despite that, the Phillies only won half of their games.
For the 2013 Phillies to reverse the trend and get back to the playoffs, the unknown quantities will have do much more than they did last season.
But maybe don't bet on it.