Daniel Cormier vs. Jon Jones Head-to-Toe Breakdown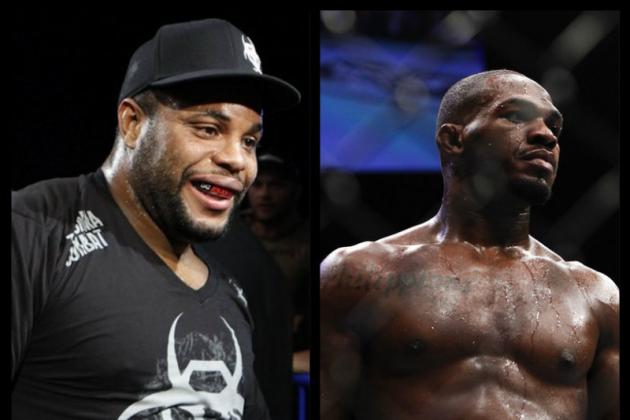 Daniel Cormier and Jon Jones - Esther Lin/MMAFighting
Daniel Cormier is ready to "kick Jon Jones' ass."
After defeating Dion Staring at Strikeforce on Saturday night, the former Olympian wasted little time laying out his entire 2013 itinerary.
"April 20th on FOX, I signed my UFC contract, Frank Mir, you and me, let's do it," Cormier said in his post-fight interview with Strikeforce commentator Pat Miletich. "I'm gonna let Jon [Jones] defend his belt April 27th against [Chael Sonnen], then I'm gonna kick his ass in the fall" (via ESPN).
Cormier was obviously riding a wave of emotions. He had just won a fight on Strikeforce's final card in his old collegiate stomping grounds in the state of Oklahoma.
It was a memorable night for the Strikeforce heavyweight grand prix champ, who extended his unbeaten record to 11-0.
Staring put up a gutsy effort, but he was no match for Cormier's world class wrestling and thunderous ground-and-pound.
With that said, Jones is a completely different animal than anyone Cormier has ever faced. The UFC light heavyweight champ is arguably the most well-rounded fighter in MMA history, and he totes plenty of physical advantages over Cormier.
Does "DC" have what it takes to oust Jones?
Here is a head-to-toe breakdown.
Begin Slideshow

»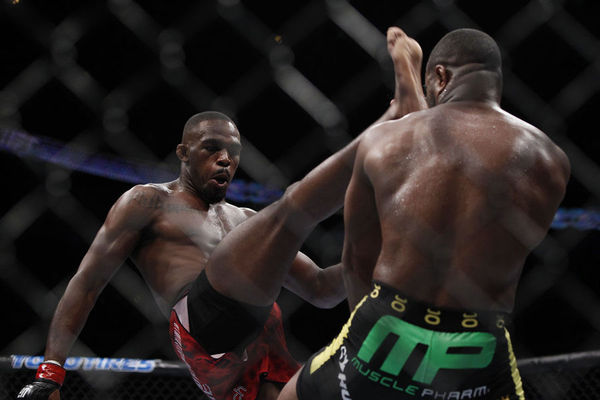 Jon Jones -Esther Lin/MMAFighting
Even though he is a top-five heavyweight contender, Cormier is still a work in progress.
He appeared uncomfortable on the feet against Staring, who is a loopy southpaw.
Instead of using his striking to setup takedowns, Cormier seemed desperate to get the fight to the floor. Staring managed to fend off a few takedowns and scramble back to his feet when on the ground.
Jones is a fantastic striker with the ability to fight from orthodox and southpaw stances. Outside of Anderson Silva and Lyoto Machida, he may be the most unpredictable striker in the UFC.
It's tough seeing Cormier's boxing-heavy offense hang with Jones' well-rounded attack in the standup exchanges.
Daniel Cormier - Esther Lin/Strikeforce
As a former Olympic wrestler, Cormier should have a slight edge in the grappling department, but the gap isn't as wide as some may believe.
While Jones lacks illustrious wrestling credentials, he is quite possibly the best wrestler in the light heavyweight division.
MMA wrestling is completely different from wrestling seen at an Olympic or collegiate level. This is why guys like Georges St-Pierre, who didn't wrestle in school, are able to outgrapple fighters with a world-class wrestling background.
It isn't far-fetched to believe Jones could actually take Cormier down.
Jones is savvy on the ground, and he's always threatening with modified guillotine chokes for anyone brave enough to shoot in for a takedown.
Still, Cormier has rag-dolled men much bigger than Jones.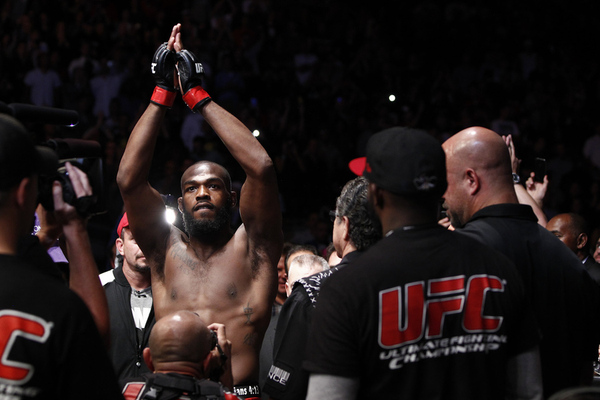 Jon Jones - Esther Lin/MMAFighting
Cormier presents an intriguing matchup for Jones.
He boasts size, athleticism, power and the best wrestling Jones has ever faced in his MMA career.
Even with all of that, it's still tough not to like Jones in this fight.
He'll still enjoy a nice reach advantage, where he can utilize his strikes to keep Cormier at bay.
Even if Cormier snags a takedown, he won't be able to keep Jones on his back. Staring managed to fend off takedowns and escape to his feet multiple times against Cormier.
Jones is just the better athlete and more well-rounded fighter. Cormier could steal a round or two if he can cut off the cage and pin Jones against the fence for extended periods of time.
It'll be a strong effort, but in the end, it won't be enough to stop Jones from walking away with a unanimous decision.