5 Rotation Changes or Trades the Memphis Grizzlies Should Make
Christian Petersen/Getty Images

The Memphis Grizzlies have surged through a five-game winning streak after surviving a rough patch. Still, the Grizz have much to learn from that slide. Lionel Hollins could help the team work out the wrinkles by doing a little more testing with his rotation.
Memphis stonewalls opponents like no other team can, but the offensive play is anything but sure. They're 13th in offensive rating with 105.2 points per 100 possessions and 20th in field-goal percentage at 44 percent.
By the way, the point guard play behind Mike Conley hasn't been impressive. That could bring on a modest trade to bring more efficiency to that spot.
Following are a few changes that the Grizzlies need to make as they approach the second half.
Begin Slideshow

»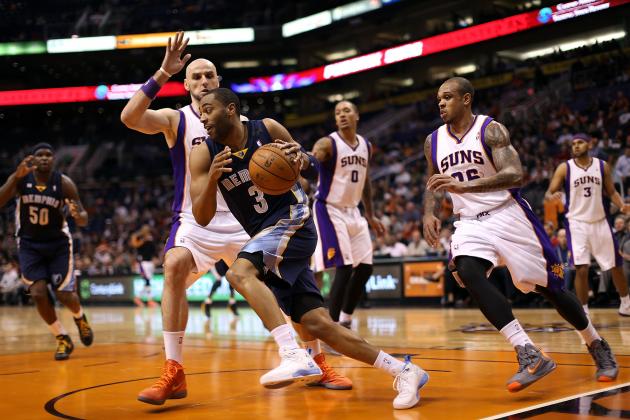 Christian Petersen/Getty Images

The Memphis Grizzlies' second unit isn't the most predictable bunch in the NBA, and it became even sketchier when Quincy Pondexter went down with a sprained left knee. Pondexter had been the leading bench scorer before going down, providing the most consistent punch among the backups.
With Pondexter on the sidelines, the Grizz need a reserve guard to fill in the scoring. They simply can't have Tony Allen (a non-factor on offense with a 16.9 percent usage rate and 96 points produced per 100 possessions) play more like when he put in 40 minutes against the Portland Trail Blazers.
Wayne Ellington needs to pick up the minutes to pick up the scoring. He would demand the ball about as much as Allen, but would bring some much-needed three-point firepower. Ellington knocks down 43 percent of his three-pointers—tops among Memphis shooters.
Ellington has only flexed his dead aim from long range on occasion due to his sporadic playing time. Most recently, he drained six of seven threes en route to a career-high 26 points against the Sacramento Kings on Monday.
The former Minnesota Timberwolf has only received 20 minutes in two of six games since Pondexter has been out, but should get substantive minutes more often. If Ellington were to play more, he'd stretch opposing defenses a bit.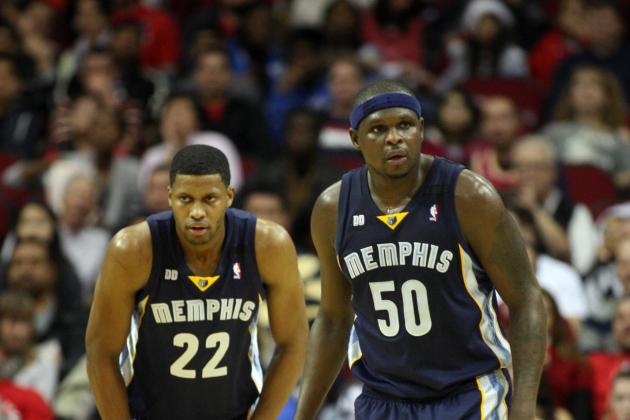 USA TODAY Sports

Rudy Gay is just outside the top 20 in minutes per game with 36.5 per appearance. He doesn't need to be in that race, nor does Zach Randolph. Randolph puts in 35.3 minutes per game. Both players give a little more time than what is necessary.
Randolph is 31 years old and isn't getting any fresher with age. His figures are fine, with 12 rebounds per game and a 50.3 percent field-goal rate. Still, the Memphis Grizzlies won't lose anything and could gain some spacing by giving him a couple extra minutes of rest.
Besides, they need to save him for the stretch run.
Gay hasn't exactly had a banner year. He's shooting 41 percent from the field and averaging just 17.8 points per game.
He's had plenty of inefficient games, including several in which Lionel Hollins has kept him in for long minutes. In eight of the games in which he's shot worse than 40 percent, Gay has played more than 35 minutes.
Having him play such a large portion of the game when he can't hit shots doesn't serve a purpose. In those games, Hollins can't lean on him to the very end, hoping he'll turn it around.
Shifting minutes a bit from the two biggest stars to a couple effective reserves would make the offense a little more efficient, particularly when they're having off nights.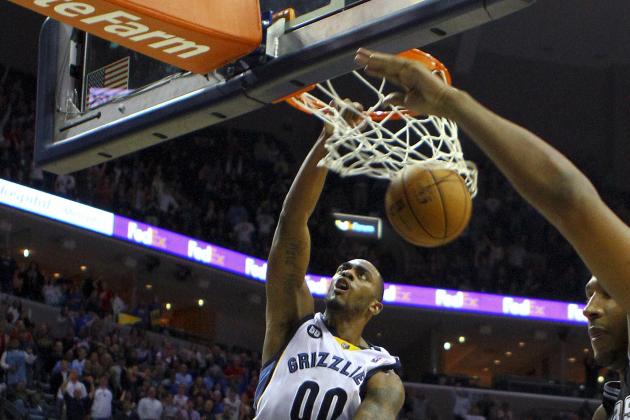 Spruce Derden-USA TODAY Sports

Darrell Arthur didn't have a chance to get his footing early in the season since he broke a leg a few days before training camp started. Nevertheless, he was able to bound back into his role as a rangy shooter after being out a full season before that mishap. Arthur is averaging 6.4 points per game.
He's become a fairly consistent scoring presence. He's been in double digits five times, including three of the last six games. He's only failed to score five points in five of the 21 games since he entered the rotation.
He showed just how potent he can be in the Memphis Grizzlies' overtime win against the San Antonio Spurs on Friday, scoring 14 points and throwing down a dunk to help seal the victory late in overtime. He was noted by 92.9 ESPN Memphis as a key to the victory:
Perimeter shooting at the big spot reason Lionel Hollins stuck with Darrell vs Gasol late.He says that hurts the Spurs (Darrell).

— 929ESPN (@929espn) January 12, 2013
If the Grizz give Arthur a few more minutes each game, they'd be able to stretch opposing defenses in way not possible with Randolph playing an outsized number of minutes.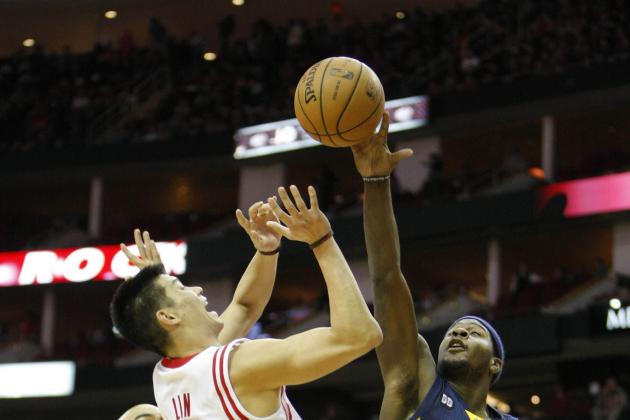 USA TODAY Sports

Josh Selby is approaching the midpoint of his second pro season. He has made tours in the NBDL with the Reno Bighorns and has mostly ridden the bench while hanging around Memphis. Only once has he seen more than 10 minutes as a sophomore.
The guy who showed flashes of brilliance in the summer league needs to get some real action soon. He has the athleticism and scoring capacity to make an impact off the bench. Indeed, he makes his share of mistakes. But he can't get over it by watching.
With Jerryd Bayless struggling, Lionel Hollins wouldn't hurt the team by giving Selby a few games with more than 15 minutes to find out what the Kansas product can do.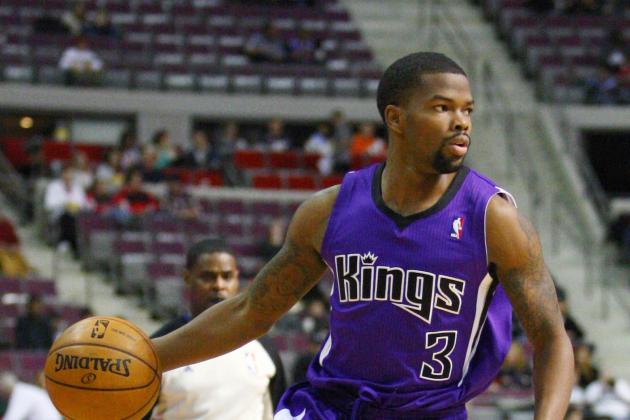 USA TODAY Sports

Jerryd Bayless hasn't shown great effectiveness backing up Mike Conley. Bayless is averaging a mere 5.3 points per game on 37 percent shooting while dishing out 3.3 assists per game. He's producing only 96 points per 100 possessions and turning it over on 20.5 percent of possessions.
The Memphis Grizzlies would do well to send Bayless on his way while acquiring a veteran who can take care of the ball, preferably one with an expiring contract.
Aaron Brooks would be a good pickup. He handles the ball fairly well, holding a15.8 turnover rate. Brooks shoots well, knocking down 46.5 percent from the field and 39.3 percent from three-point range.
His salary is only slightly higher than that of Bayless and he becomes a free agent after the season.
Finding a capable backup for Conley hasn't been easy, but the Memphis decision-makers shouldn't give up. Brooks isn't a traditional point guard, but he would boost the efficiency behind Conley.