NFL Playoffs 2013: Balanced Offense Will Be Key to Teams Seeking Divisional Win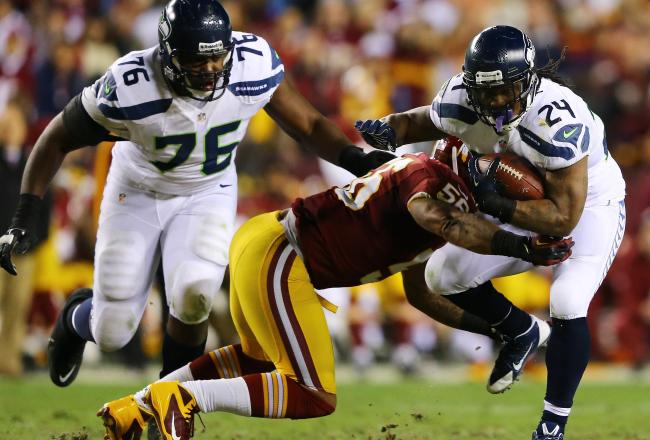 Al Bello/Getty Images
A balanced offense is the key to winning games in the NFL Playoffs. Even with the influx of three, four and five-receiver sets, running the football is paramount to postseason success.
When you think about the 49ers and Texans—the two teams who seemed like conference favorites for the majority of the 2012 NFL season—it is power running that embodies their style and team personality.
These power offenses are complemented by aggressive and physical defenses. But as the graph below shows, it is not only those two teams who played the game this way. In fact, of the eight remaining playoff teams, it seems appropriate to say that six of them were balanced offenses.
Only the Atlanta Falcons and Green Bay Falcons—the NFC's No. 1 and No. 3 seeds—were ultimately reliant on the pass. Let's take a look at some of the things that stand out from the numbers.
| | | | | |
| --- | --- | --- | --- | --- |
| Team | Run Att %/ NFL Rank | YPC/Rank | Rush 1st Downs/Rk | Rush TD/ Rank |
| Atlanta | 37.0 / 28 | 3.7 / 28 | 70 / 29 | 12 / 13 |
| Baltimore | 42.6 / 14 | 4.3 / 13 | 98 / 16 | 17 / 8 |
| Denver | 44.1 / 12 | 3.8 / 23 | 112 / 9 | 12 / 16 |
| Green Bay | 41.6 / 17 | 3.9 / 22 | 85 / 20 | 9 / 25 |
| Houston | 46.6 / 9 | 4.2 / 14 | 114 / 7 | 19 / 4 |
| New England | 43.9 / 13 | 4.2 /17 | 151 / 1 | 25 / 1 |
| San Francisco | 50.8 / 3 | 5.1 / 3 | 128 / 4 | 17 / 7 |
| Seattle | 55.0 / 1 | 4.8 / 6 | 129 / 3 | 16 / 10 |
Statistics courtesy of stats.washingtonpost.com/fb (based on the 16 regular season games)
Seattle, San Francisco and Houston each rank in the top-10 of rushing attempts, while six of the eight rank in the top half of the league (Green Bay almost got there, but came up just a tad short). Those three, and Baltimore, ranked in the top half of the league in yards per carry (and New England had the same number as Baltimore, too).
Interestingly, New England—a team generally thought of as pass-happy—ranks in the middle of the league in rush attempts and first in the two most important categories related to running the football—first downs and touchdowns.
In other words, when New England runs the ball, it is effective doing so. Similarly, Denver—a team with mediocre standard rushing statistics, makes up for those with a commitment to the running game and excellent execution of it in the most important instances.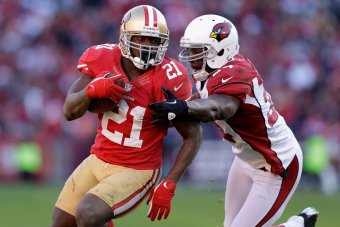 Ezra Shaw/Getty Images
San Francisco and Seattle are the only two teams who ranked in the top 10 in every rushing category here (had Washington advanced, they would have as well). Baltimore is in the middle of the pack in just about every category but touchdowns.
Though Atlanta's metrics are far from impressive, they did manage 12 rushing touchdowns. It is interesting to see a team known as a power running team change its' identity and see their record improve. That said, Atlanta—a 13-3 team—finished the season with an expected win-loss record of 11-5.
In other words, Atlanta is not as good as their record says they are. These rushing statistics—if my premise is correct—prove that.
That is the question, though, what do playoff statistics say about it all? Can the regular season's top teams expect to advance simply because they're good rushing teams? Is the common assertion that "you have to run the football in the playoffs" true?
Last weekend in the Wild Card round, the team that had the leading rusher in each individual game went 3-1. But just looking at last week is not enough evidence to validate this theory. Let's look at past years.
How will the more effective running team do in this weeks' games?
In the 2012 playoffs—a year which was marked by three 5,000-plus yard passers and another, Eli Manning, who came up just short—teams that ran the ball more effectively were 6-5.
In 2011, teams that ran the ball more often—as a rule and more effectively, based on net yards—were 10-1, with the only loss from a more effective running team coming in the Super Bowl, when Pittsburgh out-rushed Green Bay by 76 yards. Interestingly, that game was just one of three that were played in a dome in that postseason.
Going back three seasons to the playoffs of 2010, teams who were more effective running the football went 8-3. Again, the Super Bowl was won by the team who lost the rushing effectiveness battle, but remember that the Saints used a ton of screens in that game, which acted as run plays. It was the teams' most effective play concept in that contest.
Thus we see that historical data proves running the football is largely important, not only for regular season success, but also once in the postseason.
This is not to say that throwing the football is unimportant. But if a team does not commit to running the ball throughout the playoffs, their odds drop significantly. Keep that in mind this weekend.
This article is
What is the duplicate article?
Why is this article offensive?
Where is this article plagiarized from?
Why is this article poorly edited?