Updated Timeline and Checklist for Derrick Rose's Return from Injury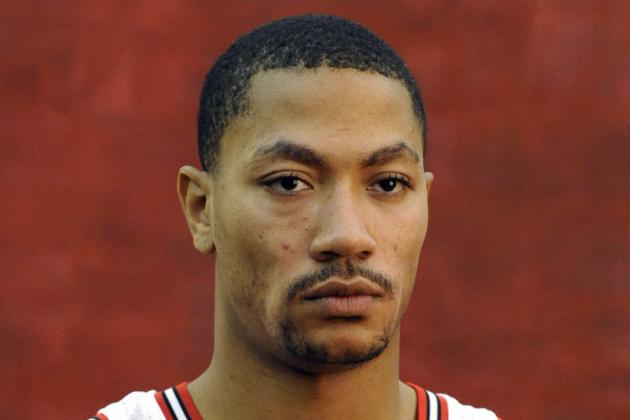 David Banks-USA TODAY Sports

It won't be long before Derrick Rose is finally spotted wearing a Chicago Bulls uniform in a real, live NBA game.
At which point, adidas will have to go back to the drawing board for its next brilliant shoe promotion.
Not that the Bulls and their fans much care about that. They've been dreaming about D-Rose, not just all day, but for months now. The Windy City has been waiting, with bated breath, to see its hometown hero's "Return" ever since his knee buckled in Game 1 of a 2012 Eastern Conference playoff series against the Philadelphia 76ers.
The Bulls have fared remarkably well without him so far in 2012-13. They're 19-13, just a half-game back of the Indiana Pacers for the lead in the Central Division and home-court advantage in the first round of the 2013 playoffs.
But Chicago won't be a legitimate contender in the East unless/until Rose is healthy again. Which brings us to the questions on everyone's minds in Chi-Town: Where is Rose in his recovery right now? What's the next step? And (most importantly) when can the basketball world expect to see the 2010-11 MVP doing MVP-like things for the Bulls?
Let's have a closer look, with an assist from renowned sports performance manager Mackie Shilstone.
Begin Slideshow

»
Derrick Rose has come a long way since April 28th, 2012. It was on that day that Rose's season of leg-related setbacks culminated in a torn anterior cruciate in his left knee.
Since then, he's undergone reconstructive surgery, returned to running (both straight ahead and in figure-eight patterns), engaged in light and stationary on-court basketball activities, gained strength and confidence enough to cut on the wounded knee and started practicing and traveling with the team again.
According to KC Johnson of The Chicago Tribune, Rose has been able to handle "predictable contact" in practice of late, which bodes well for the remainder of his recovery. As Mackie Shilstone explained when I spoke to him over the phone:
If it's typical of the NBA, it's the contact you get when you've got someone coming up behind you and you've got your hand back against them. I call that static isometric contraction. You can imagine, you're dribbling and you're backing into the goal, let's say, or you're trying to hold position and you've got a guy that's leaning and putting his body weight that way...

That's important because the knee or the quad and hamstrings become stabilizers, so they have to hold that static contraction. You've seen the basketball players. He'd have the ball in one hand and the guy's on his back, he's holding his position, getting ready to turn and take jump shot. That's the "practical contact", the physical pressure.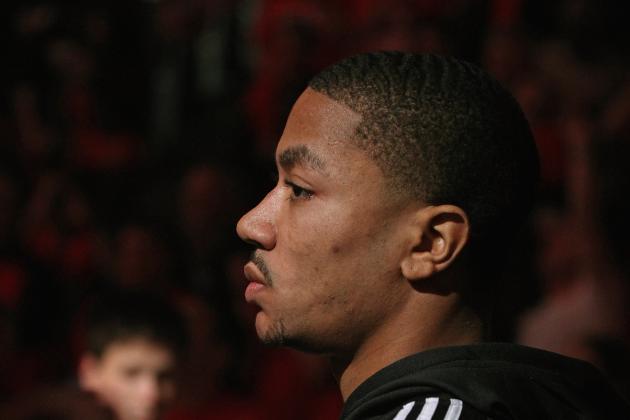 Jonathan Daniel/Getty Images

Before D-Rose is cleared to play, he'll have to prove that he's ready for a full-contact practice. What will the Bulls be looking for before they give Rose the go-ahead in that regard? Post-practice swelling and aching, according to Mackie Shilstone, who added:
Does he have any post-practice complications? Is he experiencing any swelling? Then you put more stress on him. Is he experiencing more swelling? Swelling is the great moderator. It's telling you something's going wrong. Is he experiencing any pain? Is he getting a little bit of chondromalacia (irritation of cartilage) under the kneecap?
If Rose doesn't show such negative signs and doesn't require any additional remedies for discomfort in his knees, he could get the green light to practice fully with his teammates within the next couple of weeks. As KC Johnson of The Chicago Tribune noted on January 8th, New York Knicks guard Iman Shumpert, who suffered a similar knee injury on the same day as Derrick but went under the knife 10 days earlier, has already been cleared for full contact.
Assuming that Rose's return will follow a similar timeline ignores the intricacies involved with each player's particular body, injury and prescribed rehab regimen. However, if the injuries are as comparable as they seem on the surface, Rose could be cleared for full contact within the next week or two.
As Bulls head coach Tom Thibodeau told Joe Cowley of The Chicago Sun-Times, Derrick must show that he can withstand full contact in practice without suffering any setbacks over a significant swath of time before the team's doctors will allow him to play in an actual game.
Of course, that won't come until Rose is allowed to partake in full-contact practice for the first time, which, as mentioned previously, could still be two weeks away.
But, if Rose meets his bodily obligations at each step in due course and without raising any red flags, he could return in time for Chicago's playoff push after the All-Star break, as some, including Nick Friedell of ESPNChicago.com, have predicted all along. The 2013 NBA All-Star Game is scheduled to tip off in Houston on February 17th.
As Mackie Shilstone said of the "check list" to get Rose back on the court:
First of all, how is he moving? If he's standing up and he's not able to get down in a quarter squad, in a guarding position, if he has trouble bending his knees, if he's playing too tall when he should be playing small, then you've got to ask the question of, is he conditioned?...He's got to play somewhat small. If he can play small, how is he handling that? And then, how is his knee tolerating that? Because in order to play small, you have to bend the knee, and in order to do that, you have to have strong quads. It's usually the quadriceps that fatigue. When they get tired, you stand up.

And then, how is he landing? You take a jump shot, you've got to land. Well, it's the landing that's the issue. It's not the jump, it's coming down. And your ACL tears when the knee goes in and the hip goes out, or in other ways.

But typically, it's on a misdirection play. How is he going to handle misdirection? It's called stability and mobility. When the upper body's got to turn and pivot to the right and the knee's going to go left. How is he stabilizing and mobilizing?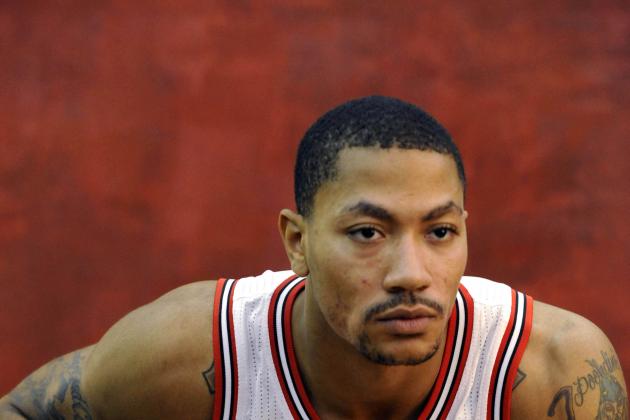 David Banks-USA TODAY Sports

The Bulls won't be completely out of the woods even when they get Derrick Rose back in uniform, though. Said Mackie Shilstone:
Once they get him to the point in saying, "okay, he's a full go", then he's going to be a maintenance project. They're going to put him on the flight line, put him out there in the battle zone, get him shot up like any plane does, and they're going to have to put him back in, land him on the carrier deck, put him down below, patch him up and get him ready to play again tomorrow. The maintenance program is going to be as important as the surgery. They're going to have to maintain him to be ready to go.
Military analogies aside (ones that Rose, an aeronautics enthusiast, would probably appreciate), Rose's recovery will be rendered moot if the Bulls don't take the proper precautions with their superstar after he returns from injury. His progress will have to be monitored carefully and the reins must be kept tight in the early going until he's back up to speed.
To be sure, with the way the Bulls have handled Rose so far, there's every reason to believe they'll proceed with extreme care upon his return. Likewise, there's at least some cause to think that Derrick might come back stronger than ever, particularly given recent developments in the world of sports medicine. Added Shilstone:
Based on Adrian Peterson, I'd say yes. I mean, Adrian Peterson goes from surgery to nine yards short of the single-season record in rushing, and he's being hit in the legs. So, yeah, there's an incredible opportunity for him. I think he's going to be a good example of this...

Many times in rehab, the athlete is working harder than he's ever worked in his life. But you may be missing one point—this is a make-or-break situation. There's a lot of research on the psychological side of being injured as an athlete. It either makes some or it breaks some, and it does so because of the fact that they're vulnerable, they're vulnerable mentally. It becomes a turning point for them. It makes them either emotionally stronger or emotionally weaker. And if Derrick Rose comes back and does well, then he's an emotionally stronger one, and that will make him a better player, especially in the mental aspects of the game, because so much of the game is the mental side.

I think the mental side, in this case, may be one of the most important factors in his rehabilitation. Has he matured mentally from being a superstar to being damaged goods? Could he handle that mentally? And then, coming back, if he's a stronger man, then everything else is going to take care of itself.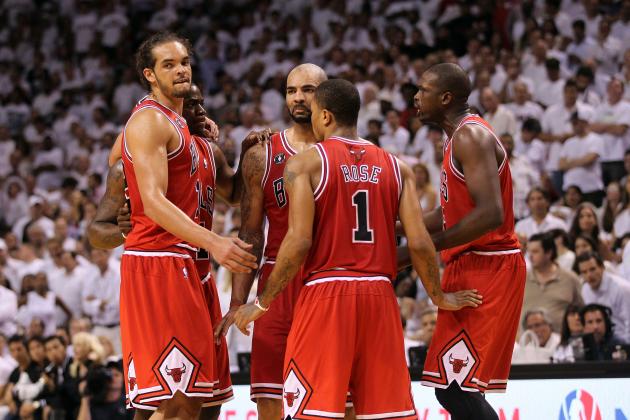 Mike Ehrmann/Getty Images

If current time estimates hold, the Bulls will have 30 games remaining when Rose returns until the start of the postseason in mid-April. That doesn't leave many opportunities for Chicago to re-acclimate to a Rose-centric system on the court.
It's crucial that Derrick does not rush back simply to assuage those concerns, but time is of the essence and Rose will need as much of it as he can muster. He'll need time to get himself into proper playing shape to gain confidence in putting pressure on his reconstructed knee while playing at full speed, and to adjust to whatever physical limitations await him now and into the future.
As for the Bulls, they'll also need the leeway to familiarize themselves with Rose once again. They've gotten used to life without Derrick, playing 32 games without him last season (including five in the playoffs) and now 33 and counting in 2012-13. Without a ball-dominant guard to fill Rose's shoes, the Bulls' have leaned heavily on the frontcourt of Joakim Noah, Carlos Boozer and Luol Deng.
And those three have delivered—be it individually, as a unit, or in some two-man combination—from night to night. It won't be easy for them to simply cede their touches and make way for a new reality.
Then again, they've seen what D-Rose can do and likely won't have any qualms with rolling out the proverbial red carpet for Chicago's favorite son.