Rehab Checklist for a Healthy Derrick Rose NBA Return This Season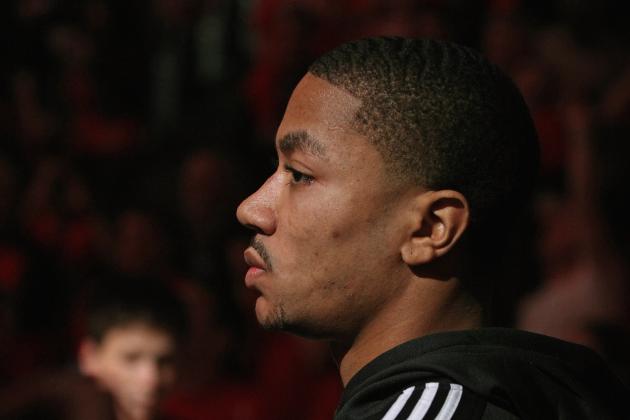 Jonathan Daniel/Getty Images

Derrick Rose's road to recovery remains as long and winding as the one that led the Beatles to your door, though the Chicago Bulls don't figure to leave him waiting once he gets there.
Bulls head coach Tom Thibodeau revealed on Monday that Rose, the 2010-11 NBA MVP, had recently begun cutting on his surgically-repaired left knee:
Thibodeau said @drose began cutting in the last week. "Everything is going according to plan." #Bulls #TheReturn

— Chicago Bulls (@chicagobulls) November 12, 2012
That expansion of activity represents a massive step forward in Rose' return from a torn left ACL, which he suffered during the first game of Chicago's first round playoff series against the Philadelphia 76ers in late April. As sports kinesiologist Zig Ziegler noted shortly after Rose's knee buckled, the injury itself was likely the end result of stresses imposed by other lower body ailments through which Rose had suffered during the 2011-12 season.
Despite the severity of Rose's initial diagnosis, Thibs and the Bulls remain confident that their superstar point guard will be back in action in some form or fashion this season. According to Aggrey Sam of CSNChicago.com, Rose may be reunited with the Bulls for their visit to the Staples Center to play the Los Angeles Clippers on Saturday, November 17th. Rose lives in nearby Santa Monica and has been conducting his rehab from there.
But D-Rose's cameo in the locker room and on the sideline would be little more than a tease for a team that desperately needs a playmaker of his caliber. Before that time comes, Rose will have to meet many a milestone, a couple of which he's already hit, albeit with many of the most important ones yet to come.
Begin Slideshow

»
Before you can run, you have to walk, and before you can play basketball, you have to run.
By all accounts, Derrick rose is both walking and running, and has been since at least mid-August.
Or, in shoe terms, since adidas started running commercials and webisodes about Rose's recovery.
According to Mackie Shilstone, a renowned sports performance manager who's worked with over 3,000 professional athletes (including Steve Francis and Baron Davis) and with whom I spoke over the phone, such would indicate that Rose has long since proven that his knee can bear weight and withstand the rigors of running in a figure-eight pattern.
Shortly thereafter, Rose set foot on a basketball court for the first time since surgery, albeit in a stationary capacity:
Feels good to be back in the gym... twitter.com/drose/status/2…

— Derrick Rose (@drose) August 15, 2012
Those on-court activities likely included shooting and, perhaps, a bit of dribbling. Later that month, Sam Amick of SI.com reported that Rose was "expected to take part in some light on-court activity soon..." That would seem to indicate that Rose would add running and more extensive movement to his basketball activities, though still without cutting on his surgically-repaired knee.



As mentioned earlier, Rose began cutting again just last week. Said Bulls coach Tom Thibodeau of Rose's progress (via Nick Friedell of ESPNChicago.com):
"He's doing great. You have to be patient with it. He's been very diligent, he's in every day. He's moving along. He started cutting, he's been shooting for a while now, he feels pretty good so we just have to be patient."
This is a huge development for Rose, especially in light of his preferred playing style prior to tearing his ACL. Rose puts tremendous pressure on his legs whenever he changes direction on the way to the basket, most notably with his "patented" jump stops.
In fact, it was on a jump stop that Rose suffered the injury in question. Unless/until Rose regains full confidence in his ability to cut on his knees effectively and without fear, he'll struggle to create awe-inspiring shot attempts like the one seen above.
The next big step on Rose's road to recovery is clearance from team doctors to engage in on-court activities involving contact during practice. Such can include (but isn't limited to) participating in team-wide drills, practicing and running plays, and engaging in limited scrimmages, be they two-on-two, three-on-three, four-on-four, or some other modified form of play besides five-on-five activities at or near full speed.
Whatever the case may ultimately be, Derrick Rose can't be Derrick Rose if he can't physically handle contact on the court.
There's plenty of work to be done before then, though. Said Mackie Shilstone:
"He's going to have to get back into the ability to play low. Now, I don't mean 5'5, but he's going to have to withstand the ability to bend his knees and play down low. When I define "low", I mean they have to be able to bend their legs and challenge the quads.

"And he's going to have to be on a solid program to preserve his hamstrings. Hamstrings are going to be very critical for him, for any ACL. He's also going to have to go through hard-core motor re-education, re-learning movement patterns."
Shilstone also mentioned that Rose's full-speed basketball activities will likely be limited until he's cleared to move from mostly rehabilitation work (with an element of performance) to mostly performance and prehab (i.e. injury prevention) training.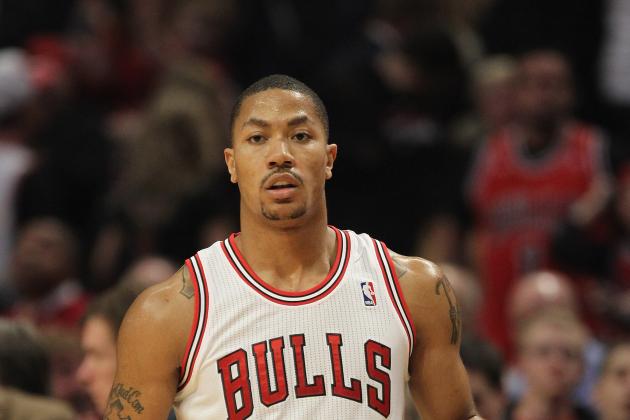 Jonathan Daniel/Getty Images

Once Derrick has proven that he can handle a measure of physicality within a game-like context, he figures to be granted clearance by the Bulls' doctors to test hit mettle during five-on-five scrimmages. That way, Rose can familiarize himself with the feeling of orchestrating and competing against a full squad before he's thrown back into live NBA game action.
As Shilstone adds, it'll be imperative for the Bulls coaching staff to keep a close eye on the day-to-day swelling in Rose's knees:
"What I want to know is, how am I going to get myself into trouble so I can figure out how I'm not going to be in trouble? I want to anticipate where trouble's going to come.

"He could still have swelling. How much swelling is going to be acceptable? How much swelling is acceptable? So you're going to need to measure the knee, and they're going to have been doing that. They're going to need to measure both knees, and they're going to measure it after practice, and they're going to see if there's consistent swelling. And if one day, the swelling is above the norm, then they're going to have to back off. Slowly but surely, you're managing the inflammation."
Only when the Bulls are pleased with D-Rose's performance in scrimmages (and his physical fitness thereafter) will they allow him to take the court in an NBA game.
On Monday, Thibodeau claimed that Rose was "exactly where he should be," which, barring any significant setbacks, would presumably put him on pace to return around the All-Star break in mid-February.
Added Shilstone, who's had no contact with Rose in this matter but has dealt with similar injuries in athletes on numerous occasions:
"I think they're doing everything right. If they say he's ready to go, then that was their schedule, but it's going to be Mr. Rose earning his way there. You can say everything you want, but the human body tells you everything. How does he handle pain? How does he handle emotional pain? Is the body responding?

"The thing that's going to set him back is continued swelling, and then what is acceptable swelling. That's what's going to control it. Among other performance variables and criteria of rehab plan, swelling or a lack of swelling will dictate quite a lot of the formula."
Assuming there are no setbacks and Rose returns within the next three months, he'd have approximately two months of regular-season ball with which to re-acclimate himself to the NBA in preparation for Chicago's likely playoff push.
Not to mention two months of fans, coaches, fellow players and observers within the world of hoops to keep an eye out for flashes of Derrick's former on-court brilliance.