Sign, Tag, Walk: What to Do with Each of Oakland Raiders' 2013 Free Agents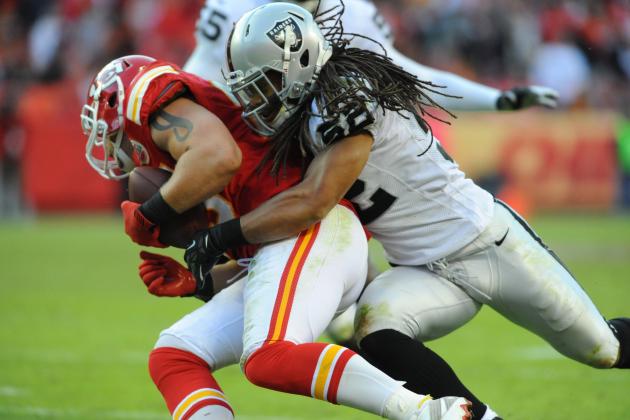 Denny Medley-USA TODAY Sports

The first thing that the Oakland Raiders will need to take care of in the 2013 NFL offseason is the status of their own free agents.
The Raiders have 17 unrestricted free agents, and while the team struggled significantly in 2012, they would be better suited to bring more of them back than not. Oddly enough, the ones that they likely will not be bringing back are their most tenured veterans, but the tight salary cap situation plays a big part in that.
Here is a breakdown of what the Raiders should do with each of their 17 free agents this offseason.
Begin Slideshow

»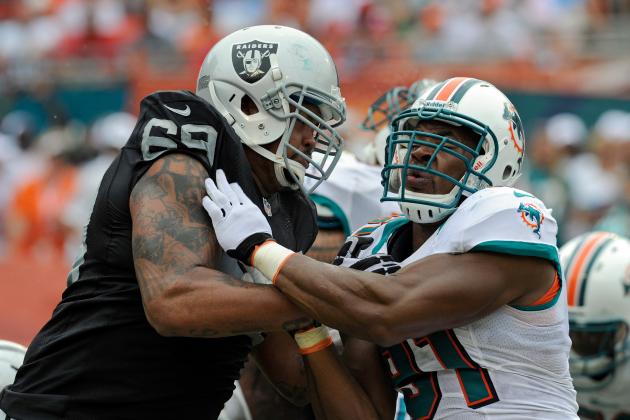 Steve Mitchell-USA TODAY Sports

Khalif Barnes is coming off a year in which he missed most of the season with a groin injury. When he did return, he continued to struggle against speed rushers off the edge.
For the Raiders, RT is likely the number one area to upgrade on the offensive line. With his age, Barnes likely will not be retained as a starter, and will therefore explore free agent options.
Returning to the Raiders remains a possibility, but likely only as a backup lineman.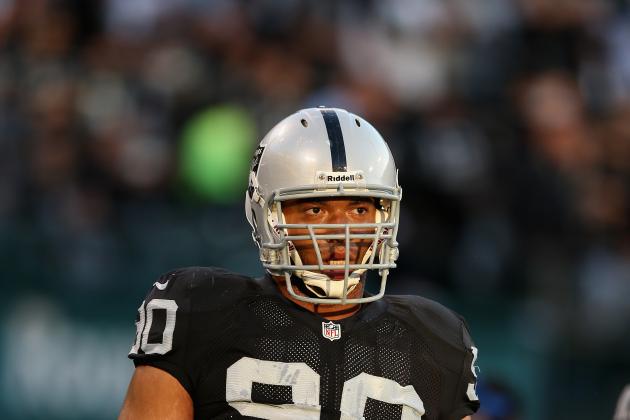 Ezra Shaw/Getty Images

The Raiders could look very different on the interior defensive line in 2013. Richard Seymour's contract voids this offseason, and Tommy Kelly's contract makes him a candidate for release as well.
In light of which, the Raiders can ill afford to lose Desmond Bryant. Bryant possesses good pass rush ability inside, and has continued to get better with more and more playing time.
Should the Raiders switch to a 3-4 front, Bryant could flourish as a DE. Either way, we can expect re-signing Bryant to be a priority for Reggie McKenzie this offseason.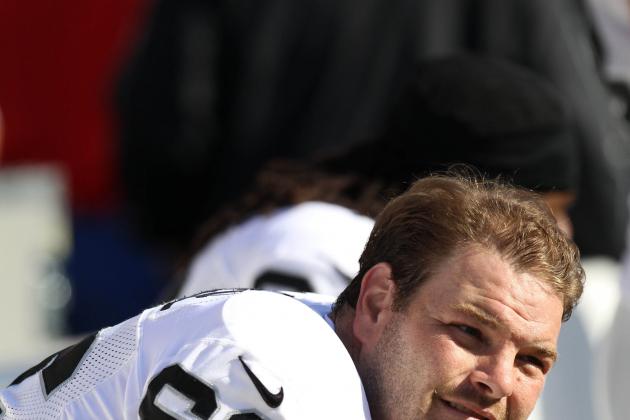 Mitch Stringer-USA TODAY Sports

Cooper Carlisle has quietly become one of the longest tenured players on the current Raiders roster. With his contract expiring this offseason, he may not be much longer.
With Greg Knapp out as offensive coordinator, so too may be the zone blocking scheme. If so, Carlisle's likelihood of being retained decreases that much more.
Turning 36 prior to the start of next season, the Raiders could opt for younger options as they rebuild up front.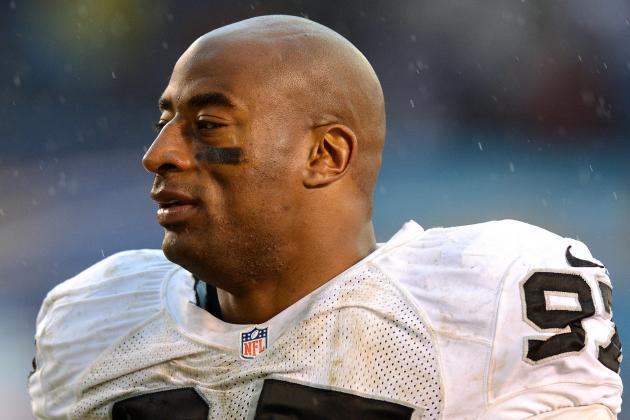 Jake Roth-USA TODAY Sports

While Andre Carter may opt to look elsewhere with his free agent status, the Raiders should at least explore opportunities to resign him.
Once Carter got going, he was easily the most disruptive and productive pass rusher the Raiders had. By season's end, he had unseated Matt Shaughnessy for the majority of playing time at RE.
Not only can he play end, but Carter is quite capable of playing rush linebacker in a 3-4 should the Raiders go that route as well.
In an offseason where the Raiders could move on from several veterans, Carter is one that they should work to bring back.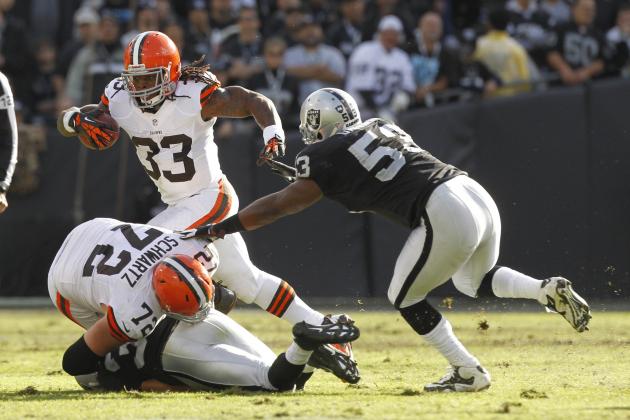 Cary Emondson-USA TODAY Sports

Lost in the drama of the Rolando McClain situation was the solid play that Omar Gaither brought when he signed and took over the starting MLB spot.
While he may not be the flashiest of linebackers, Gaither did his job and made all the plays he was supposed to. The difference that made in the middle, and especially in the running game, was obvious from the start.
He very well could have earned himself a starting spot on this team in 2013. If nothing else, the Raiders would be extremely comfortable having him as a backup as well.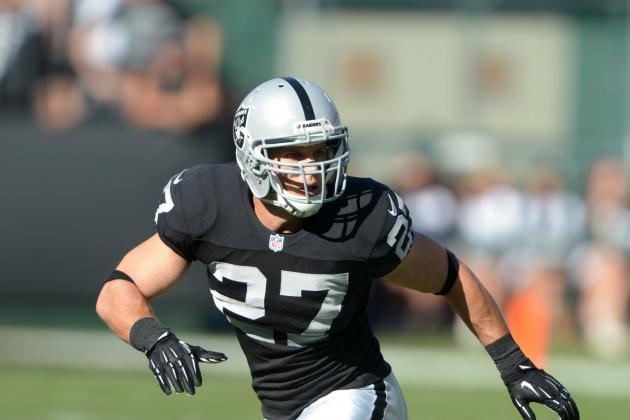 Kirby Lee-USA TODAY Sports

Matt Giordano has been a veteran leader on this defense for several seasons now, and the Raiders would be wise to bring him back in a backup role at safety.
This season, he was pushed into the starting lineup when injuries at CB forced Michael Huff into spot duty there. While Giordano struggled at times, much like the rest of the defense, he still has value in the depth and leadership that he brings.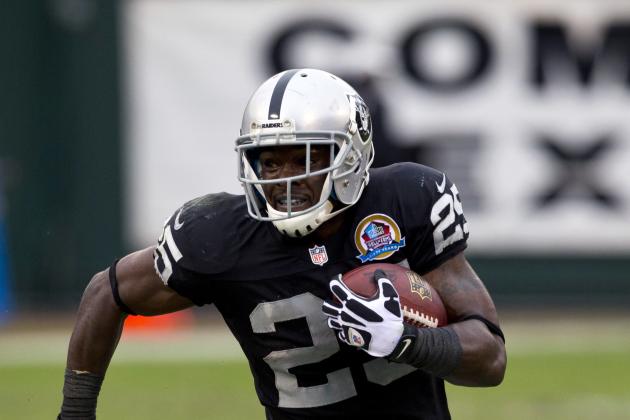 Jason O. Watson/Getty Images

Acquired last offseason in a trade with the Carolina Panthers, the Raiders were quite excited about the playmaking ability Mike Goodson brought to the offense. Before he suffered a high ankle sprain that slowed his season, Goodson was really starting to come into his own.
Goodson not only brings depth to the running back position, but contributes significantly on special teams as well. Especially considering Darren McFadden's injury struggles, we can expect the Raiders to make an effort to re-sign Goodson this offseason.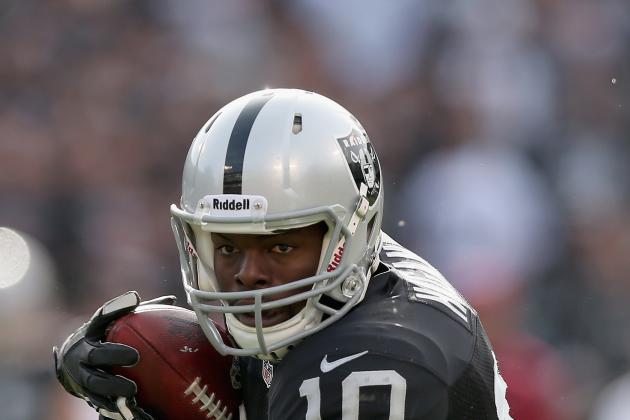 Ezra Shaw/Getty Images

Derek Hagan has been in and out of the Raiders organization the past few seasons. While he has had some good games here and there, he likely won't be retained next season.
Hagan got some significant playing time due to injury early on in 2012, but when the rest of the receivers got healthy, he did not see the field very often.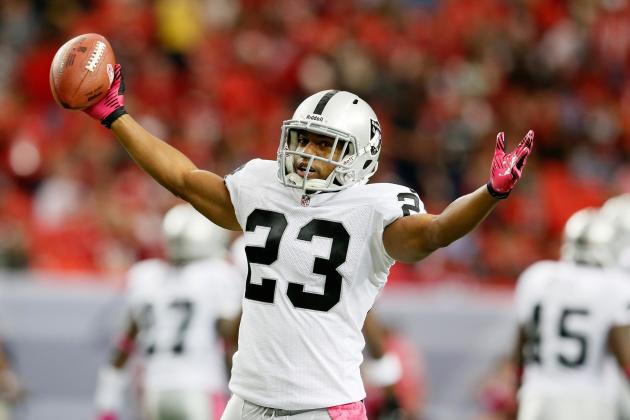 Kevin C. Cox/Getty Images

Joselio Hanson was brought in on a one-year deal at the beginning of last season, and played quite well as a nickel corner.
Hanson possesses the ability to match up with quicker slot receivers inside, and flashed some impressive play-making ability throughout the season.
Nickel corners are extremely hard to find in the NFL, and the Raiders should make resigning Joselio Hanson a priority before free agency hits.
USA TODAY Sports

One of the longest tenured Raiders, along with Sebastian Janikowski, Shane Lechler's time in silver and black may now have come to an end.
There is no doubt Lechler is one of if not the best punter of all time, but the cap-strapped Raiders cannot afford to pay him anything near the $4 million salary he has held over the past four years.
Considering which, along with a young Marquette King waiting in the wings, Lechler will likely test the free agent market and be playing elsewhere in 2013.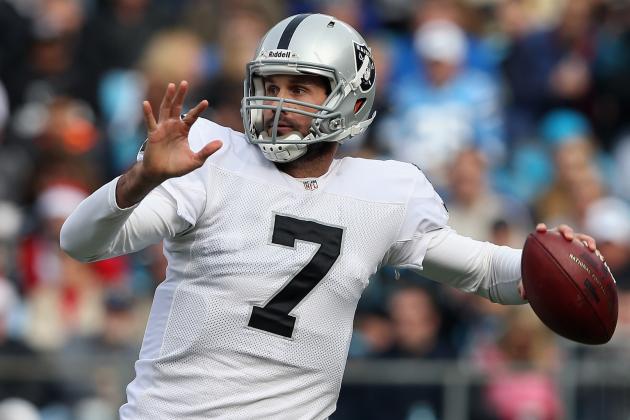 Streeter Lecka/Getty Images

While Matt Leinart is a solid backup option, much of the reason he was brought in for this past season was his comfort and familiarity with Greg Knapp's system.
With Knapp no longer the Raiders' offensive coordinator, and Terrelle Pryor showing promise in his Week 17 start, Leinart is unlikely to be retained.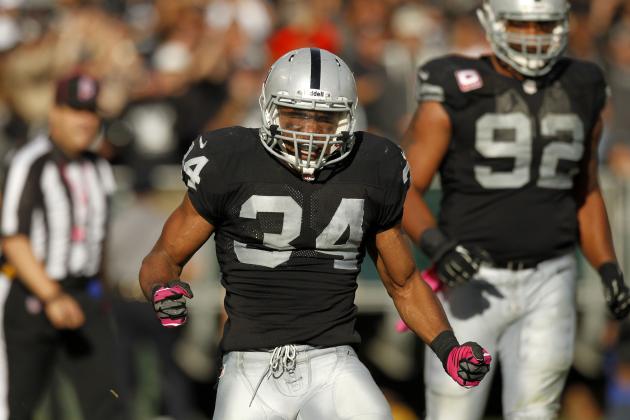 Cary Emondson-USA TODAY Sports

Mike Mitchell has improved with every season in the league, and may be looking for a starting job next season. With Tyvon Branch in the fold, that won't happen in Oakland, so he could be looking to explore his options elsewhere.
However, if Mitchell is open to a role similar to the one he has held over the past few seasons, his special teams and depth value at safety make him a player the Raiders should definitely try to resign.
Cary Emondson-USA TODAY Sports

A breakout season could not have come at a better time for Brandon Myers. Having put up some impressive numbers in the passing game, Myers could be rewarded with a decent contract on the open market.
The Raiders will have to try resigning him before he hits free agency, as the bidding process could very well put him out of their price range.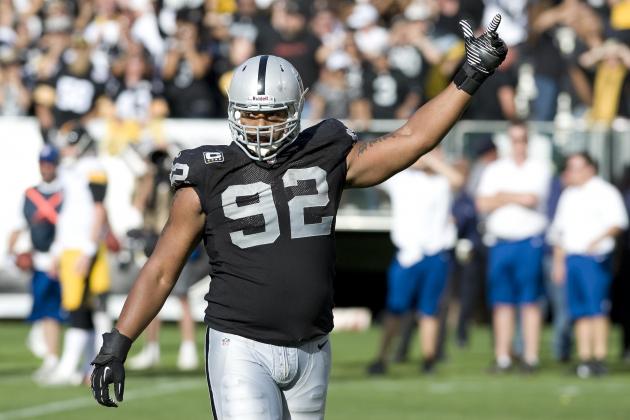 Ed Szczepanski-USA TODAY Sports

Since coming over in a trade from New England, Richard Seymour has brought solid play and leadership on defense. However, he just hasn't been on the field enough, and that was especially the case in 2012.
Considering his age, and the contract he will no doubt receive on the open market, it is extremely unlikely that Seymour would be back with the Raiders in 2013. His contract voiding gives them a chance to save some money, and move in a younger direction with their rebuild on the interior defensive line.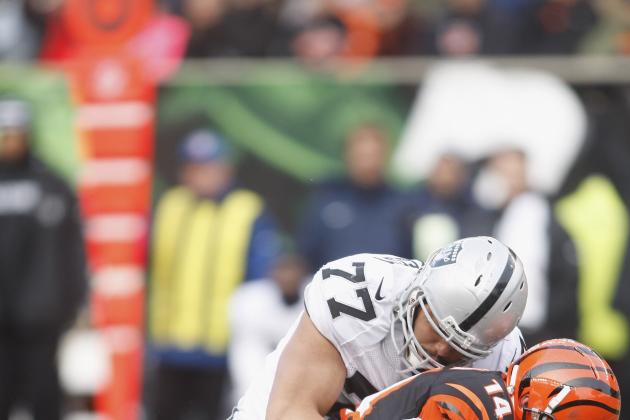 John Grieshop/Getty Images

Matt Shaughnessy was again productive against the run in 2012, but still struggles to generate much of a consistent pass rush from his defensive end spot.
Should the Raiders move to a 3-4, like they very well could do under DC Jason Tarver, Shaughnessy's size and strength could have him better suited as an end that system.
Before he hits the open market, the Raiders should make a point of bringing Shaughnessy back. He has yet to reach his full potential and could still turn into a very productive player in the right system and position.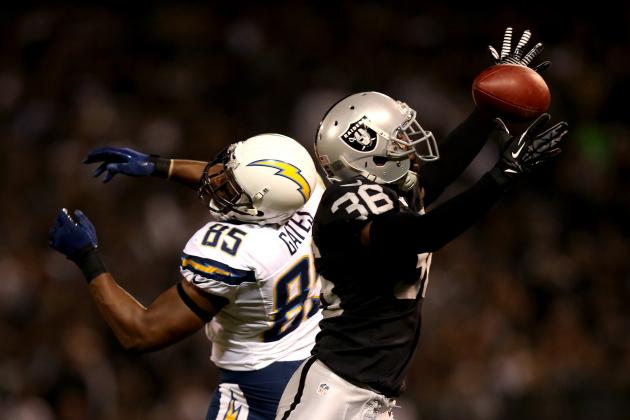 Ezra Shaw/Getty Images

Shawntae Spencer didn't get a chance to show what he could do with the Raiders this year, as a foot sprain ended his season very early on.
While he will be 31 next season, Spencer would bring depth, if nothing else, to a position that may need it more than any other on this team.
We can expect the Raiders to address the cornerback position once again in the offseason, both through the draft and free agency. Resigning Shawntae Spencer would likely come at a low cost, and having veterans in a young secondary can always help.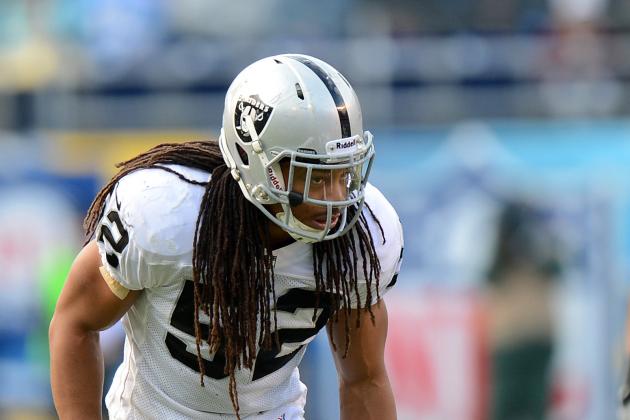 Jake Roth-USA TODAY Sports

Resigning Philip Wheeler should be the highest of priorities on Reggie McKenzie's offseason list.
Wheeler was by far the Raiders' best player on defense all season long, and seemed to flourish as more of a downhill linebacker in the Raiders' system compared to the Cover-2 he played in Indianapolis.
Philip Wheeler has shown that he is a player this defense can build around moving forward, and is well deserving of a multi-year contract. We can expect Reggie McKenzie to make a significant effort to sign him to which before he gets to the open market.