Power Ranking the Best Tight Ends Remaining in the NFL Divisional Round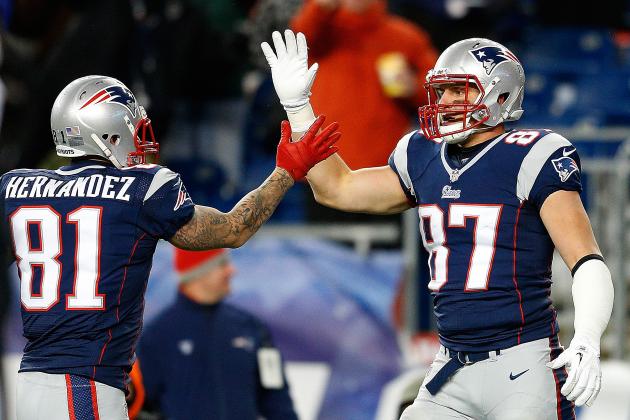 Jim Rogash/Getty Images
The New England Patriots boast two of the best tight ends in the NFL.
Tight ends have taken the league by storm over the past few seasons, so it should come as no surprise that some of the league's best will be on display in the divisional round of the playoffs.
From future Hall of Famer Tony Gonzalez to steady veteran Owen Daniels to the New England Patriots' dynamic duo of Rob Gronkowski and Aaron Hernandez, there'll be no shortage of tight end talent.
While the evolution of the position values athleticism and pass-catching skills, the ability to block can't be overlooked. Guys like Gronkowski and Gonzalez are the complete package and earn high marks for their versatility.
Check out my power rankings for the best tight ends remaining as divisional round action kicks off Saturday.
Note: This list includes both starters and backups who play significant roles for their team.
Begin Slideshow

»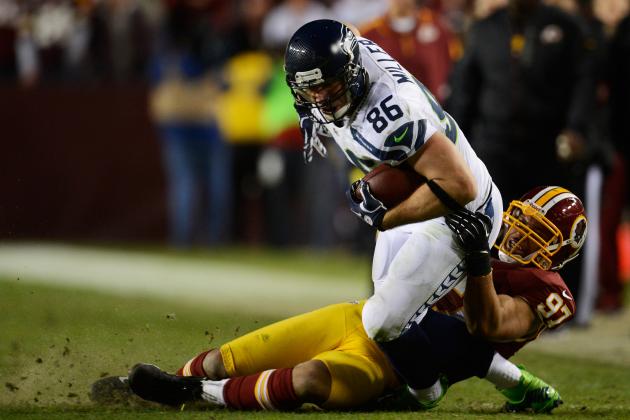 Patrick McDermott/Getty Images
Zach Miller hasn't been as productive in Seattle as he was in Oakland.
Prior to signing with the Seattle Seahawks in 2011, Zach Miller was one of the more productive pass-catching tight ends in the league.
However, after catching 226 passes and 12 touchdowns in four seasons with the Oakland Raiders, the sixth-year veteran has totaled just 63 catches and three touchdowns in two seasons in Seattle.
The 6'5", 255-pounder lacks great speed to make plays after the catch, although he does have steady hands. Miller certainly isn't a bottom-of-the-league tight end, but with so many strong candidates on this list, he checks in as the weakest starter.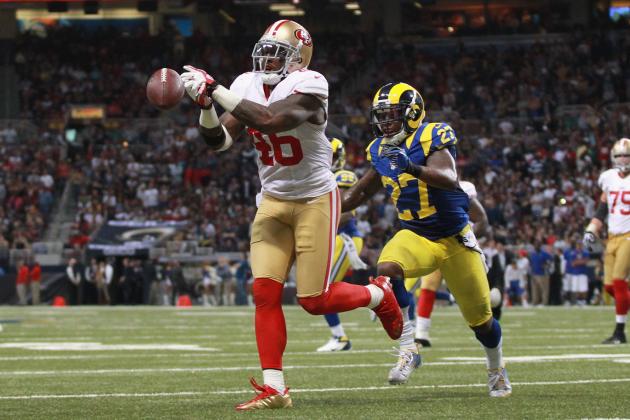 Dilip Vishwanat/Getty Images
Delanie Walker has struggled to catch the football this season.
If not for his excellence as a blocker, Delanie Walker would rank last on this list.
The athletic backup to Vernon Davis is often used as a blocker, which has helped make up for his awful hands in 2012.
His baseline stats of 21 catches for 344 yards and three touchdowns aren't terrible on paper, but delve deeper and you'll realize just how unreliable the seventh-year veteran is.
According to Michael Renner of Pro Football Focus, Walker has the worst drop rate of any tight end in the NFL. Luckily the 49ers happen to have an elite starter in Davis, but Walker simply can't be counted on in the passing game.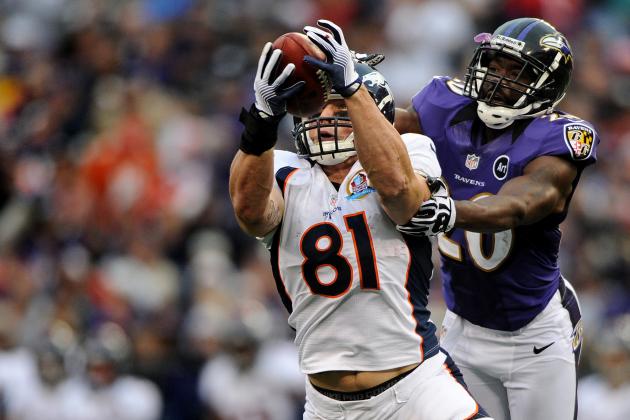 Patrick Smith/Getty Images
Joel Dreessen just isn't a big-play threat.
Peyton Manning doesn't count on Joel Dreessen to make big plays—and for good reason.
The former Houston Texan snagged 41 catches in 2012, but his yards-per-catch average experienced a sharp decline for the third consecutive season. Since topping out at 14.4 in 2010, Dreessen's YPC slipped to 12.6 in 2011 and bottomed out at 8.7 this year.
Dreesen's five touchdowns help make up for his lack of big-play ability, but he's clearly a player on the decline.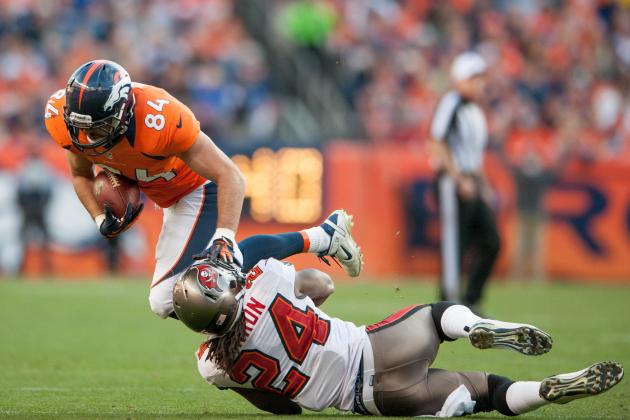 Dustin Bradford/Getty Images
Jacob Tamme is the better of the Broncos' tight end duo.
After a year of separation, Peyton Manning and Jacob Tamme picked up right where they left off in Indianapolis in their first season in Denver.
In Manning's last full season with the Colts, the future Hall of Famer found a new favorite target in Tamme, who racked up 631 yards on 67 catches in 2010.
When Manning moved to Denver, Tamme joined his former teammate and has responded with 52 receptions for 555 yards and a pair of touchdowns. He'll never be confused as a complete tight end, but the 6'3", 236-pounder is a reliable weapon for one of the league's leading MVP candidates.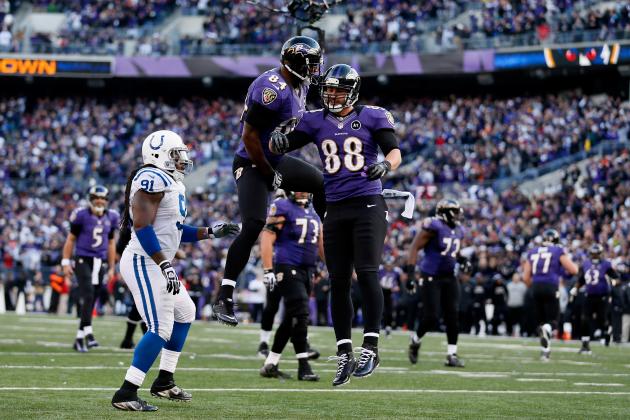 Rob Carr/Getty Images
Dennis Pitta has shown flashes of Pro Bowl ability in his short career.
Dennis Pitta did his best Todd Heap impression in 2012, racking up 669 yards and seven touchdowns on 61 receptions.
Selected in the fourth round back in 2010, Pitta has improved his numbers every year and has filled the steady pass-catching role that Heap played for the Ravens for a decade.
The third-year BYU product uses his 6'4", 245-pound frame to box out defenders and find open holes in the defense. With 4.68 speed and solid strength, Pitta emerged as one of the better all-around tight ends this season. He's a trusted weapon for Joe Flacco and should be a frequent target against the Denver Broncos on Saturday.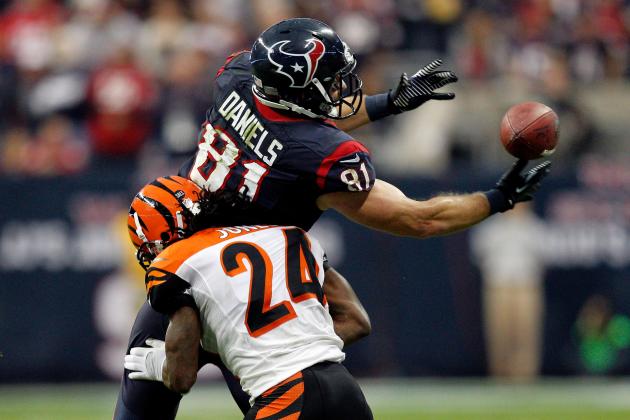 Bob Levey/Getty Images
Owen Daniels is still a top-10 tight end.
Injuries have sapped Owen Daniels of some of his explosiveness, but the longtime Houston Texans tight end still put up big numbers for one of the premier teams in the AFC.
Despite posting his second-lowest yards-per-catch average of his career (11.5), Daniels posted career-highs in targets (103) and touchdowns (six), while racking up 62 catches for 716 yards.
At 6'3", 249 pounds, the seventh-year veteran isn't the strongest run-blocker, but he's not afraid to throw his body around.
That's cost him some playing time in recent years, but Daniels is clearly the Texans' second-best receiving option behind Andre Johnson.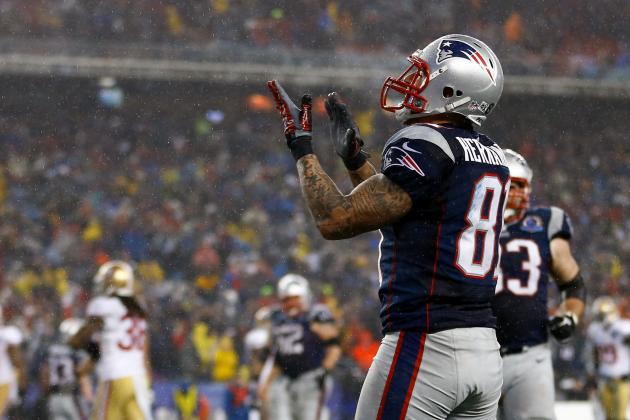 Jared Wickerham/Getty Images
New England's Aaron Hernandez is a premier receiving threat.
If this list only took pass-catching skills into account, New England's Aaron Hernandez might just earn the top spot.
Blessed with rare speed, quickness and run-after-the-catch ability, the former Florida Gator star is one of the top matchup nightmares in the NFL.
An early-season ankle injury prevented Hernandez from matching his 2011 totals of 79 receptions for 910 yards and seven touchdowns, but the third-year pro still racked up 51/483/5 in five games.
With Rob Gronkowski back in the lineup, Hernandez should only find more room to operate as the Patriots host the Houston Texans in the divisional round this Sunday.
Jared Wickerham/Getty Images
Vernon Davis is still one of the most complete tight ends in the NFL.
After averaging 67 catches, 890 yards and nearly nine touchdowns over the last three seasons, Vernon Davis' 2012 line of 41/548/5 doesn't look so great. But let me warn you folks: This guy is still one of the best talents in the game.
A once-in-a-generation athlete for the position, Davis has rare speed and strength for any player, let alone a tight end.
The 6'3", 250-pounder has developed into a tremendous blocker, but is more renowned for his highlight-reel pass-catching ability. Davis fell victim to a quarterback change in San Fran, but he hasn't lost a step as a player.
Just ask the New Orleans Saints what happens when Davis suits up in the playoffs.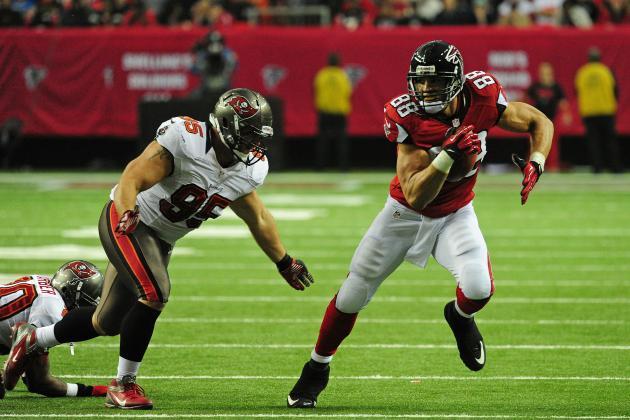 Scott Cunningham/Getty Images
Tony Gonzalez is the second-leading receiver in NFL history.
Few people truly appreciate the greatness that is Tony Gonzalez.
The 13-time Pro Bowler revolutionized the tight end position during his 16-year journey to earning the No. 2 spot on the all-time receptions list.
After a tremendous career with the Kansas City Chiefs, Gonzalez made his way to Atlanta in 2008, where he's been a reliable target during Matt Ryan's development.
Although he's failed to average better than 10.9 yards per catch in his Falcons career, the 6'5", 247-pounder is so savvy when it comes to running routes that he's managed to remain a legitimate Pro Bowl talent even at age 36.
Whenever Gonzalez hangs 'em up, the game will have lost an all-time great.
Jared Wickerham/Getty Images
Rob Gronkowski is the best tight end in the game.
Rob Gronkowski just isn't built like other human beings.
Checking in at 6'6", 265 pounds with 4.68 speed and incredible strength, the two-time Pro Bowler is far and away the best player at his position.
Unfortunately for opposing defenses, he's only going to get better.
Gronk is a tenacious run-blocker, and the only thing he smashes harder than opposing defenders is the ball when he does his signature touchdown spike.
As the premier all-around tight end in the game, Gronkowski easily earns the top spot on this list and will be a massive headache for the Texans in the divisional round.