5 Reasons the Philadelphia Phillies Would Be a Perfect Fit for Justin Upton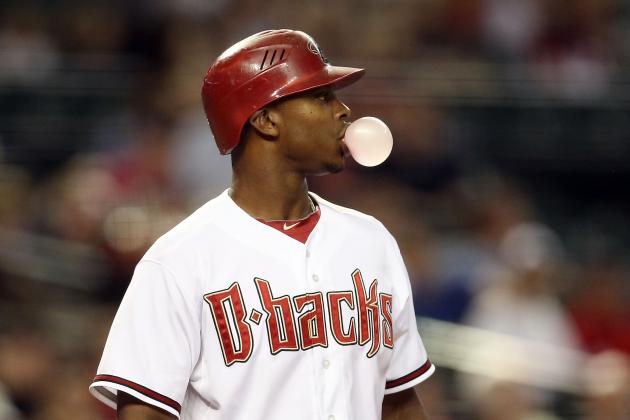 Christian Petersen/Getty Images

As the offseason has progressed, the Philadelphia Phillies have done a pretty nice job of filling their needs. They have acquired a center fielder in Ben Revere, a third baseman in Michael Young, a veteran set-up man in Mike Adams and a fifth starting pitcher in John Lannan. Overall, the offseason has been a success for the Phils, though it's been strange to see it go by without any marquee or high-profile moves.
However, the Phillies do still have one need, and that's a corner outfielder. So far, they have not had any luck in finding one, and as of now, the Phillies would be going with platoons in either corner consisting of Domonic Brown, Darin Ruf, John Mayberry, Jr. and Laynce Nix.
That's not exactly encouraging.
If the Phillies do want to make any big moves that would also take care of the corner outfield hole at this stage of the offseason, their best target should be Justin Upton of the Arizona Diamondbacks. Upton, who has been involved in the rumor mill for quite some time now, has been placed on the trading block following the D'backs' signing of Cody Ross to a three-year deal.
Are the Phillies necessarily the perfect fit for Arizona in a trade? No.
But is Upton the perfect fit for the Phillies? Absolutely, and here are the five reasons why.
Begin Slideshow

»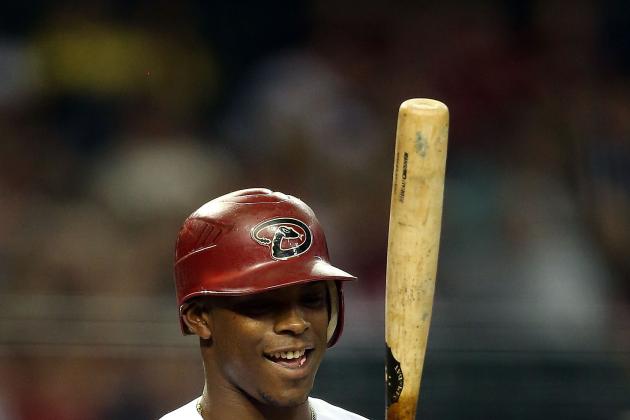 Christian Petersen/Getty Images

Ever since Jayson Werth turned to the dark side and signed a seven-year contract with the Washington Nationals before the 2011 season, the Phillies have lacked an optimal right-handed bat.
Sure, Werth was far from the best player out there, as he had a tendency to immerse himself in hot or cold streaks at any given time, but his defense was valuable to the Phils and his bat from the right-side of the plate was incredibly handy.
The Phillies tried their best at replicating the bat they lost in Werth when they acquired Hunter Pence from the Houston Astros at the 2011 trade deadline. Pence was not a bad player, especially down the stretch in 2011, but his awkward hitting and throwing mechanics that made him a fan favorite also made him an inconsistent hitter. Paired along with his declining defense, the Phillies decided that he was not the answer and, just after acquiring him, the team traded him to the San Francisco Giants.
Entering the 2013 season, the Phillies' biggest right-handed threats at the plate are Michael Young and Darin Ruf, and unfortunately, it's unclear what the Phils are going to get out of either one. Young could hit as high as .300, as could Ruf, but they could also both bottom out and bat closer to .250.
Carlos Ruiz could also hit at least .280, but his 25-game suspension to start the season means one less impact right-handed bat at the start of 2013.
That's where Upton comes in. Upton, a right-handed batter, has a career .278 batting average and has batted at least .280 in each of the last two seasons. His OBP has also been at or above .355 each of the last two years as well, which would be fantastic for a Phillies team that struggles to get on base at times.
Upton's right handedness is quite useful for the Phillies in more ways than one, as it splits up the lefty-heavy batting lineup for manager Charlie Manuel in addition to providing some pop from the other side of the plate.
Upton offers more than just batting average, though.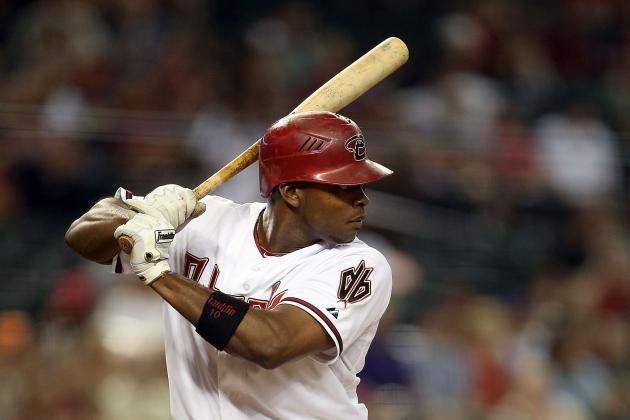 Christian Petersen/Getty Images

When the Phillies lost Werth, as I mentioned on the previous slide, they didn't just lose a right-handed bat. Werth was the Phillies' lone right-handed power source, and when he signed elsewhere, it created not only a hole in right field, but it also took some key right-handed power out of the lineup as well.
That is another reason why Pence was acquired by the Phillies in 2011. To a degree, he provided some nice pop, as he hit 11 home runs in two months with the Phils in 2011, and then hit 17 home runs in the first four months of 2012, which led the team. However, for a true power bat, those numbers don't suffice, and given Pence's build and prior production in his career, it was foolish for the Phillies to expect him to become a home run-hitting slugger.
Justin Upton would be a great fit for the Phillies in this regard. The only drawback, however, is that Upton is limited by his potential as opposed to consistency. In 2011, Upton placed fourth in the NL MVP voting, due in large part to the 31 home runs that he hit that year. Upton seemed to have lost his power stroke in 2012, though, when he hit just 17 home runs, which is more prototypical of what the Phillies had with Pence.
By no means is 17 home runs a bad total come the end of the season, but for a player like Upton—who was coming off a career year—it was a bit disappointing.
The good news is that it's clear that Upton has 30-home run potential, and maybe all he needs to unleash it once again is a change of scenery—perhaps a hitter's ballpark like Citizens Bank Park would be a great fit.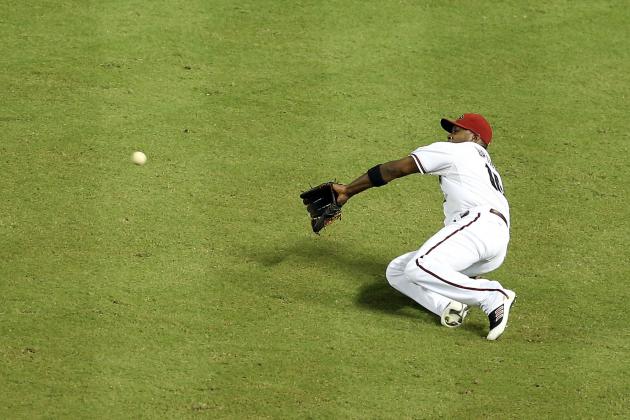 Christian Petersen/Getty Images

Maybe "dynamic" is not exactly the right word, but just go with it. I'm also going to assume that, for the purposes of this slideshow, Justin Upton made the catch depicted in the photo.
I'm not going to make this entire slideshow about reminiscing about Jayson Werth and how Hunter Pence was not an adequate replacement, but for this particular slide, the comparison applies once more. I do promise that this is the last time that they are mentioned, though, so hopefully that will entice you to read the remaining slides.
But I digress.
Werth's best asset for the Phillies during his tenure manning the right field wall at Citizens Bank Park was his defense. He always had a great read on the ball, and while he didn't always make the flashiest dive, he made sure he didn't need to most of the time. Werth always reached the ball in time and prevented run opportunities for the opposition in addition to having a cannon for an arm.
Pence had a very nice arm, despite his odd throwing mechanics, but his glove was lackluster. It passed in 2011, but as 2012 rolled along, Pence was a huge disappointment on defense, allowing runs seemingly more often than preventing them. The one miscue he made that still is fresh in my mind is when he tripped after failing to get a good read on the ball, resulting in it landing just a bit to his right. It also ended up being an extra-base hit for the opposition.
As for Upton's arm, I'll be honest that I don't know much about it—though I've heard nothing but good things. His overal defense, though, has been terrific. The 2012 season was not his best, as his UZR/150 last year was -2.1. But his UZR/150 in 2009-2011 was at least 6.8, maxing out at 8.1 in 2008. That's pretty reliable as long as Upton can replicate it once again.
Upton's defense would be welcomed on the Phillies, as none of their platoon options are considered to be consistently good defenders. It would also give the Phillies flexibility elsewhere in the outfield knowing that they have a reliable glove manning right field once again.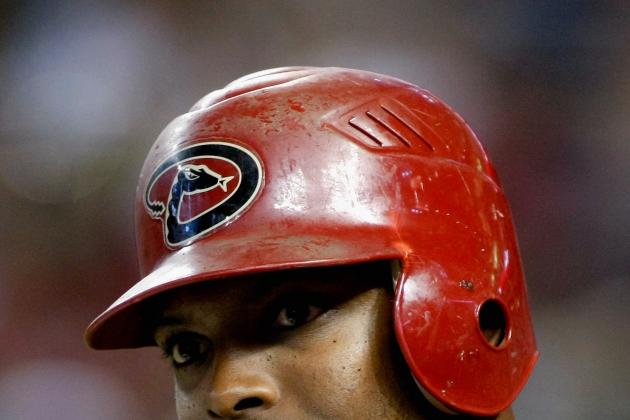 Ralph Freso/Getty Images

One of the Phillies' biggest priorities in recent years has been to make the team younger. Last year, the Phils fielded the second-oldest team in the league with an average player age of 30.1 years old. There's definitely room for improvement there.
The Phillies jumped on the opportunity to get younger in center field by trading for Ben Revere, who is just 24 years old. In addition, John Lannan is only 28 years old, and each of Darin Ruf (26) and Domonic Brown (24) are young guys as well.
The bullpen is also comprised of young pitchers, which further aids the Phillies' cause in bringing in more youth.
The best way to bring more youth to Philly, however, would be by trading for Justin Upton. At just 25 years old, Upton still has plenty of time to enter his prime, and may do so sooner rather than later. Considering that he's just a year older than Revere and Brown—and a year younger than Ruf—Upton would not just be a superb option for the Phils, but he would be the best option.
The biggest drawback in trading for Upton is that the Phillies would have to sacrifice youth to get youth. Chances are that Jesse Biddle would have to be involved in a trade for Upton, and while that would upset many Phillies fans (myself included), it would lead to obtaining youth at a position where it is needed much more. As sad as it would be for Biddle to never get his chance to toe up the rubber for his hometown Phillies, having Upton in right field would be a dream come true as well.
Would the Phillies be willing to trade Biddle for Upton? Probably not, but that remains to be seen.
Unless the Diamondbacks relent and allow the Phillies to trade someone along the likes of Ethan Martin or Jonathan Pettibone instead—both of whom have much lower ceilings—acquiring Upton and his youth would come at a hefty price.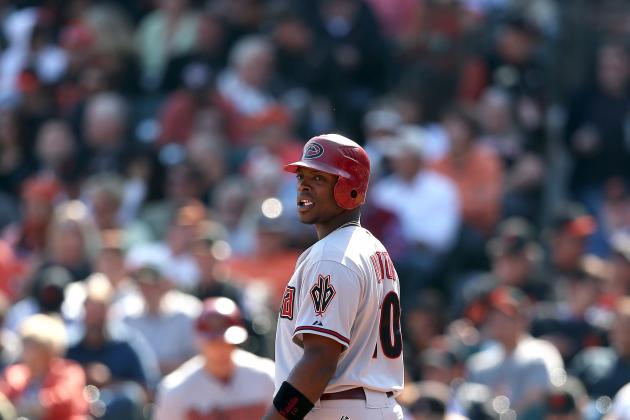 Ezra Shaw/Getty Images

The most notable of the Phillies' recent woes has been their immense spending and its implications.
Before GM Ruben Amaro, Jr. took the reins, never before had the words "luxury tax" been associated with the Phillies, let alone most other teams than the Yankees. However, when you make big, expensive moves like acquiring Cliff Lee, Roy Halladay, Roy Oswalt, Hunter Pence and Jonathan Papelbon, it's going to get you somewhere.
Over the last few seasons, the Phillies have been right up against the $178 million luxury tax threshold. While they have yet to surpass it, the only thing preventing them from doing so is finding a way out of it at the trade deadline. When the Phillies acquired Oswalt and Pence, the Houston Astros chipped in some money. To avoid it in 2012, the Phils shipped off players like Pence, Shane Victorino and Joe Blanton.
As of now, the Phillies have yet to hit the $178 million threshold and have a decent amount of cap space left before they hit this mark. Could that mean that a less expensive player is still in the cards?
Upton's biggest perk for the Phillies is his cost control. The bad news is that he's not necessarily cheap, as he's due $38.5 million for the next three years. The good news is that the Phillies would have Upton under control for three years before he becomes a free agent. Plus, the deal is pretty back-loaded, which the Phillies usually seek in their own free-agent contracts.
Luxury tax-wise, Upton could possibly push the Phillies over the $178 million threshold for 2012, and that's a bit of a problem. However, in the rare event that Phillies owners David Montgomery and Bill Giles allow the team to surpass the threshold, Upton would be the player for whom the Phillies should make an exception.
He's a solid all-around player who's not overpaid by any means, and he would bring a new kind of energy to the Phillies. He's the best option available, and all that's left to do is figure out how to pry him away from Arizona.