5 Reasons Why Carles Puyol's Return Will Win Barcelona Trophies in 2013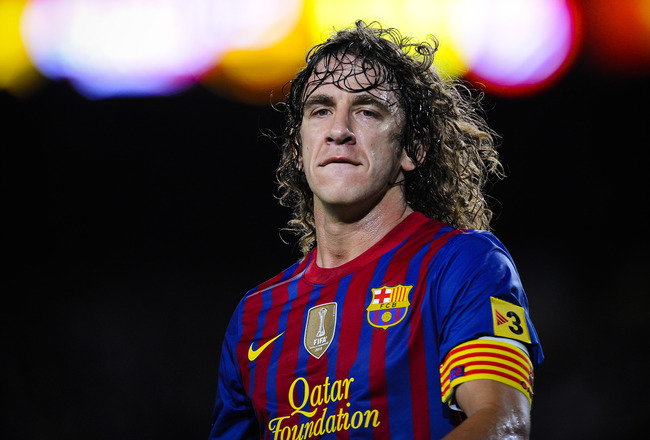 David Ramos/Getty Images
As long as Carles Puyol is patrolling the back, Barcelona can remain the club to beat in every major competition.
Puyol's elbow injury was one of the more gruesome of the season. It was particularly maddening as well considering he was just getting back from a knee ligament injury.
You have to give Puyol credit, though. His dislocated elbow was supposed to keep him out until sometime in December. Instead, he returned in mid-November
Getting injured has become a bit of a trend for the Spanish centre-back. He appeared in only a total of 40 La Liga matches between the 2009/10 and 10/11 seasons.
At 34 years old, Puyol's best days are behind him. You watch him and see that his talent is starting to erode with age.
However, he still remains an integral part of the Barca starting lineup and a very solid defender. With Puyol lined up in the back four, Barcelona will get back to winning trophies at the end of the year.
1. Continuity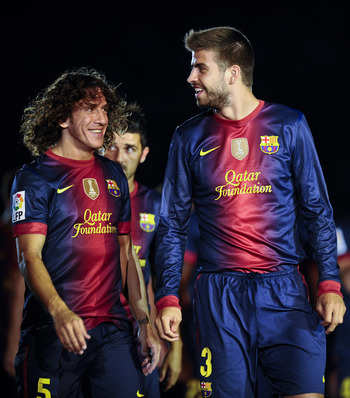 David Ramos/Getty Images
Carles Puyol and Gerard Pique together make up one of the best centre-back combos in the world. They have the kind of partnership that can only be forged with years of experience.
A manager can't simply slot in a different player and expect his back four to hit on all cylinders immediately. This isn't a game of FIFA.
The four defenders don't work independently of one another. If one player is out of position, then the entire unit suffers.
For instance, three defenders could all be in the correct offside line. The fourth guy, however, plays the striker on, not realizing where the offside line was. The striker runs at the keeper and finishes for the goal.
There needs to be communication between the back four and the goalkeeper in order to shore up that end of the pitch. With Puyol a fixture in the lineup for so long, the trio of he, Pique and Victor Valdes can communicate in a way no one else on the pitch can, save for Xavi and Andres Iniesta.
2. The Health of Gerard Pique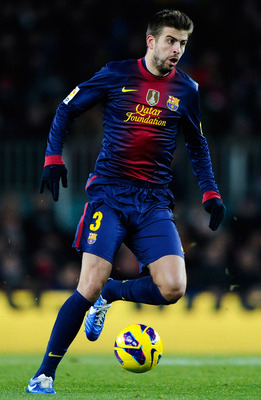 David Ramos/Getty Images
At times, Gerard Pique hasn't looked like himself.
His relationship with singer Shakira is always good for tabloid fodder, and some have blamed that for a lack of focus at times.
That's complete rubbish.
Much like Carles Puyol, Pique has struggled for fitness over the last couple of seasons. He suffered a foot injury back in September and has been limited to 12 La Liga appearances this season. Last year, Pique started fewer than half the club's league fixtures, making 17 starts and coming off the bench five times.
Pique, when he's on form, can be the best centre-back in the world. When he's out on out of form, the entire Barca defense suffers.
Having Puyol in the lineup can blunt some of that impact.
3. Other Immediate Options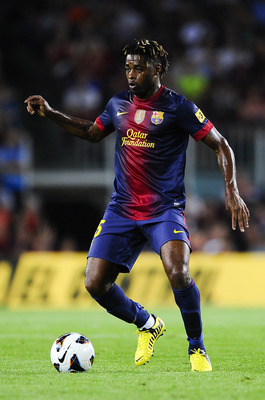 David Ramos/Getty Images
Alex Song was bought over the summer to provide some depth in the midfield but probably more importantly in the defense.
Much like the club did with Javier Mascherano, Barca wants to use Song more in the back four.
He had played a little centre-back at Arsenal. However, it was nowhere near the amount that he has been at Barcelona, and it shows.
While he was very good in defensive midfield, Song always liked to get forward at Arsenal, which was often to the club's benefit, but could leave them exposed at the back.
Song has a high learning curve this year. Not only must he master the Barca style of the play, he must adjust to La Liga and how different it is from the Premier League. Then you throw in becoming a more natural defender.
Mascherano has settled into the position much more. You almost forget that he was one of the best defensive midfielders in the world while at Liverpool.
Still, you don't want the club to have to count on him as the full-time centre-back.
4. Overall Lack of Depth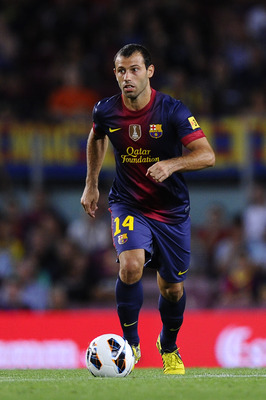 David Ramos/Getty Images
Behind Gerard Pique and Carles Puyol, Barcelona are extremely thin at centre-back. As already mentioned, Javier Mascherano and Alex Song struggled together with the two Spaniards out of the lineup.
Marc Bartra is a natural centre-back and deserves some more time in the lineup, but at 21 years old, he's the future, not the present.
But the loss of Puyol and Pique made the lack of centre-back replacements readily apparent. Manager Tito Vilanova continued throwing defensive midfielders in the center of defense to at times poor results.
Nobody could have imagined that Barca would have surrendered four goals to Deportivo La Coruna. The 3-2 win over Sevilla also show Barcelona's fragility at the back.
It's extremely hard for a team to win a European trophy with only two real recognized centre-backs. That's why Pique and Puyol's health is of the utmost importance.
5. Inspiration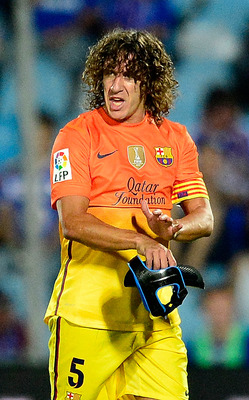 Gonzalo Arroyo Moreno/Getty Images
There's a reason Carles Puyol wears the captain's armband. It's a testament to Puyol as a player that in a team that includes Gerard Pique, Andres Iniesta, Xavi and Lionel Messi, he's the one the manager looks to to be the leader on the pitch.
Any club would be much worse off by not having its regularly recognized captain.
No other player in the club can inspire his teammates more than Puyol. Xavi, Iniesta and Messi are great, but they don't have the mentality to get in their teammates' faces when need be like Puyol can.
If you're still in doubt as to Puyol's importance to the club, look at the fact the club extended his contract to 2016. He's going to be 35 years old at the end of the season, and yet Barcelona felt the need to give him a long-term deal.
Keep Reading

FC Barcelona: Like this team?