Liverpool: What Daniel Sturridge Will Bring to Reds' Forward Line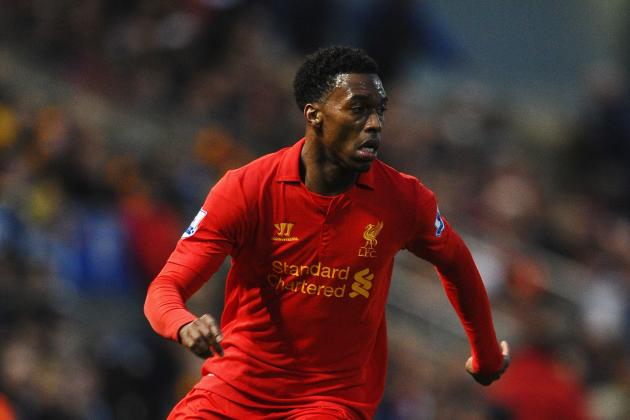 Laurence Griffiths/Getty Images

On Jan. 2, 2013, Daniel Sturridge was unveiled as Liverpool's latest signing and their first of the January transfer window after rumors had linked him with a move to Anfield since last summer.
After watching his teammates impress against Sunderland that afternoon, he was given his debut in a Red shirt by manager Brendan Rodgers in an FA Cup third-round tie away at Mansfield Town four days after he signed.
Scoring merely seven minutes into his Liverpool debut, Sturridge impressed for the best part of an hour before being replaced by Luis Suarez, his soon-to-be strike partner in a mouthwatering front three also featuring hot prospect Raheem Sterling.
What makes this potentially one of the most exciting forward lines in England?
Let's take a look at six things that Daniel Sturridge brings to the Anfield table—and, as usual, let us know your thoughts in the comments below.
Begin Slideshow

»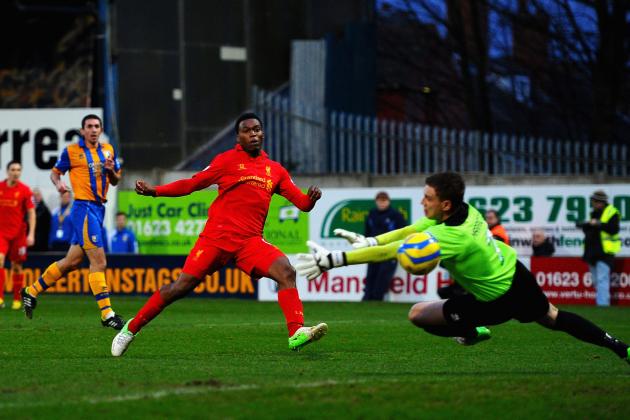 Laurence Griffiths/Getty Images

First, let's look at Sturridge's individual attributes.
Pace, trickery and finishing are arguably the attributes that fans and pundits most look forward to when looking at his addition to the forward line, as Liverpool have been crying out loud for more pacy players capable of turning a match in a flash.
Sturridge provides this option in abundance. In his half-hour performance against Mansfield, Sturridge offered a glimpse into the pace and finishing that he has.
Jonjo Shelvey's excellently timed through-ball was the key to Sturridge's goal. But the awareness and turn of pace that Sturridge showed to get on the end of the pass—and his calm, confident opening of his body to sidefoot his shot—was extremely encouraging. Especially considering his history as a winger for ex-club Chelsea.
Of course, the Mansfield game also showcased his trickery as he tormented the Stags defenders time and again. All throughout his career at Manchester City, Chelsea and on loan at Bolton, he has shown himself to be one of England's most threatening attacking players with the tricks up his sleeve.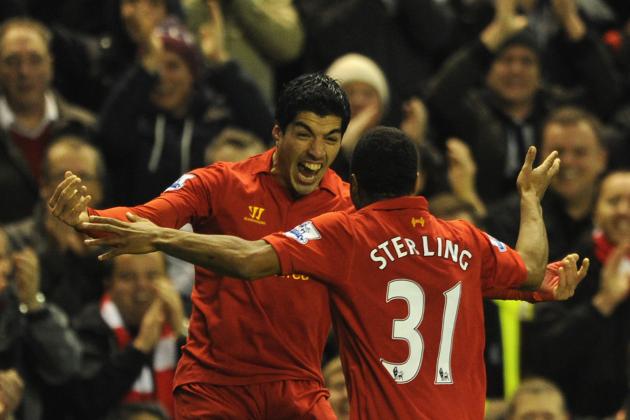 Chris Brunskill/Getty Images

These tricks will equip him to be a perfect part of an interchangeable Liverpool forward line.
Raheem Sterling has greatly impressed since becoming a regular starter under Brendan Rodgers this season. While he started on the left wing cutting in on his favored right foot, he has of late been used on the right, and he tends to drift between flanks during a match.
With Sturridge's attributes, he too can be used on both flanks. He offers a handy option on the right wing, moving inside on his left foot or going past full-backs on the left flank.
As Sterling matures and improves his finishing, he will increasingly be able to offer Brendan Rodgers the option to move him central as a main attacking fulcrum, a position that Sturridge will be eager to take up at Anfield.
Together with Luis Suarez's well-known bag of tricks, pace and versatility, the dream scenario for Reds fans would be to see a fluid and dynamic "3S" partnership that will continually drag opponents wide, deep and confuse them positionally as a constantly evolving forward line.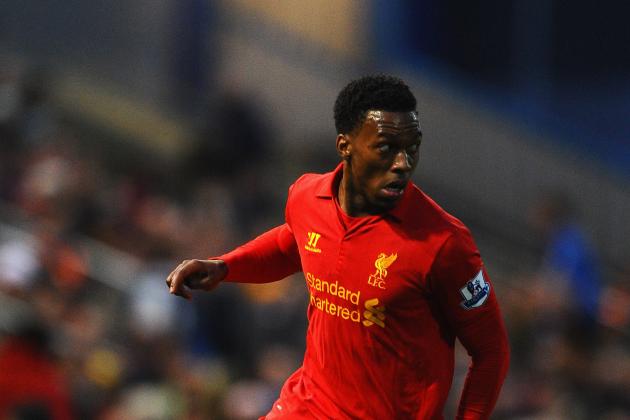 Laurence Griffiths/Getty Images

An important component of such a flexible forward line would be Sturridge's tendency to run directly at opposition defences and his running off the shoulder. That is where he differs from Sterling and Suarez and thus offers the most promise.
Suarez's constant desire to be involved in the play as a creator, as well as his impressive work-rate haranguing defenders and tracking back for possession, sees him constantly drop back into the midfield. Sterling, meanwhile, has displayed a maturity beyond his years, sticking to his tactical instructions and helping reclaim possession when Liverpool are without the ball.
This is where Sturridge comes in.
With his piercing and direct runs off the shoulder of the last defender, he creates panic in the opposition defence, which will automatically need to assign a player to keep his eyes on Sturridge's runs.
Even if he were deployed on the flanks, Sturridge would be able to fulfill his wishes to be played as a central striker as the furthest player forward.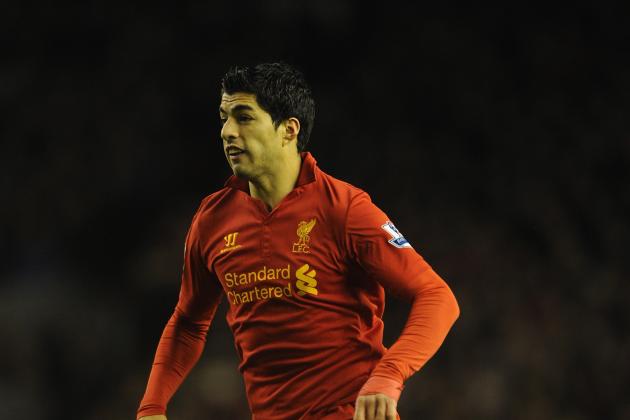 Chris Brunskill/Getty Images

This option allows the team to make use of Luis Suarez in more ways as well.
As Liverpool's incumbent central striker, Suarez has enjoyed a prolific—if not outstandingly clinical—season leading the Reds' line so far. There is a point to those arguing against Rodgers' reported consideration of switching his position with Sturridge (Guardian).
However, there is merit to this.
Your columnist has long called for Suarez to be deployed on the flanks or as a second striker rather than an out-and-out striker. Even though he has recently been used as a false nine out of necessity due to Liverpool's injury troubles up front, he remains a formidable prospect as a creator arriving late in the box if need be.
Freed of his burden as one of the few Reds capable of notching goals on a regular basis, Suarez would be free to take up a roaming attacking role, drop deep to be involved as he wished and drift wide and change positions with both Sterling and Sturridge.
A Luis Suarez with the license to attack as he wishes would be an even more exciting prospect still.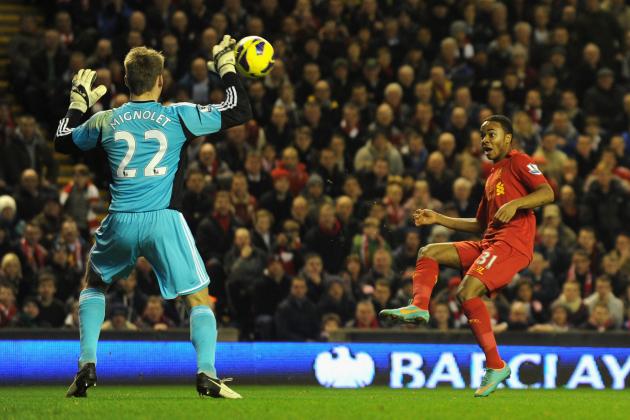 Chris Brunskill/Getty Images

A key feature of Suarez dropping deep as a false nine (or moving central as a creator or second striker) would be that his pure ability demands attention, and thus his presence would drag defenders out with him.
Into that space they vacate would be Raheem Sterling, who fully exploited the opportunity to open the scoring against Southampton in Liverpool's first game of 2013, assisted by none other than a dropped-back Suarez playing him through.
Lest we forget, Sterling stabbing deep with a diagonal run beyond Suarez was also the play that saw the then-17-year-old grab his first senior goal against Reading back in October.
Now Sturridge will be able to do the same.
If one Raheem Sterling doing the damage weren't worrying enough for opposing defenders and coaches, try doubling that with Sturridge capable of taking advantage. Whether it be Sterling or Sturridge making a run past Suarez—or both crisscrossing paths doing so—Liverpool's attacking threat on the counterattack will be greatly increased.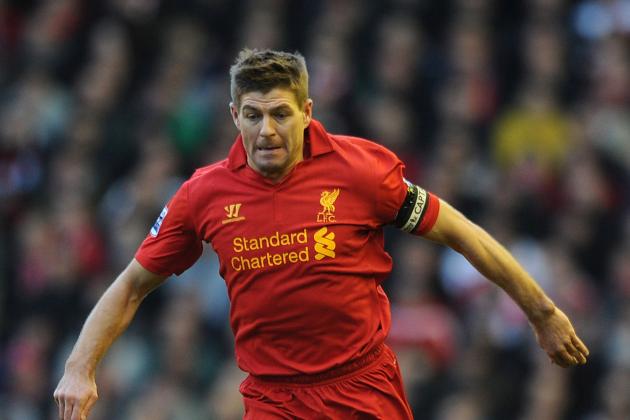 Chris Brunskill/Getty Images

But it's not just about the forward line for Liverpool; their burgeoning midfield also has an important role to play in Brendan Rodgers' system.
And with Sturridge's arrival, Rodgers will be able to pick and choose his midfield options and tailor his setup to the opposition.
In Steven Gerrard, who has stormed back into form in recent weeks, Rodgers has one of the best long passers in the English game. Any counterattack with Gerrard at the base and a pacy striker at the top would be a fearsome prospect.
We have seen glimpses of Jordan Henderson's first-touch passing abilities. Jonjo Shelvey supplied the defence-splitting through-ball in the build-up to Sturridge's debut goal against Mansfield. Joe Allen is famous for his short and crisp passing.
With all four players capable of playing central midfield and further forward in a more attacking role, Rodgers has plenty to choose from.
On paper and in theory, Daniel Sturridge could be an arrival that rejuvenates the Liverpool attack. Liverpool fans—and Brendan Rodgers himself—will be desperate to hope that rings true.
Picking an All-Time Best Liverpool XI
For extensive coverage on the Premier League, please check out my Bleacher Report writer's profile and my weekly roundup of English football on SoccerWithoutLimits.com.
Follow me @theredarmchair.