Breaking Down Jurgen Klinsmann's U.S. Roster for the January Camp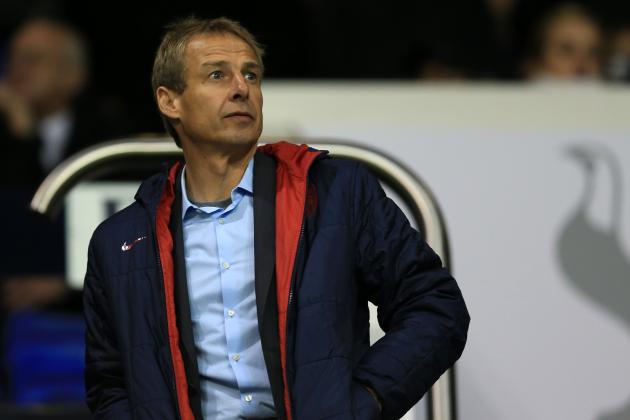 Richard Heathcote/Getty Images

On Sunday, Jurgen Klinsmann and U.S. Soccer announced the 25-man roster for the January camp. (via official site)
The 25 players include: Tally Hall, Bill Hamid, Sean Johnson, Steven Beitashour, Tony Beltran, Matt Besler, A.J. DeLaGarza, Omar Gonzalez, Connor Lade, Alfredo Morales, Justin Morrow, Jeff Parke, Kyle Beckerman, Alejandro Bedoya, Brad Davis, Mix Diskerud, Brad Evans, Benny Feilhaber, Joshua Gatt, Graham Zusi, Juan Agudelo, Will Bruin, Edson Buddle, Eddie Johnson and Chris Wondolowski.
Here's a breakdown of the roster.
Begin Slideshow

»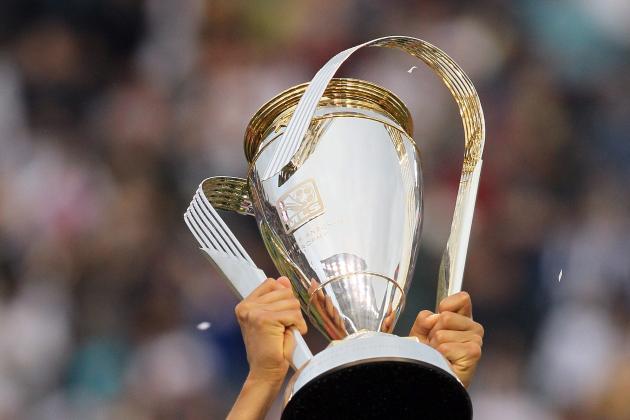 Victor Decolongon/Getty Images

Of the 25 players called in, several seemed fairly obvious, none more so than Matt Besler and Omar Gonzalez.
With depth at the center-back position a major question mark for the USMNT, Besler and Gonzalez simply had to be called in.
Besler was the 2012 MLS Defender of the Year and helped lead a very stingy Sporting Kansas City defense this past year.
Gonzalez was the 2011 MLS Defender of the Year, the 2012 MLS Cup MVP and was a major part of the LA Galaxy's midseason turnaround this year.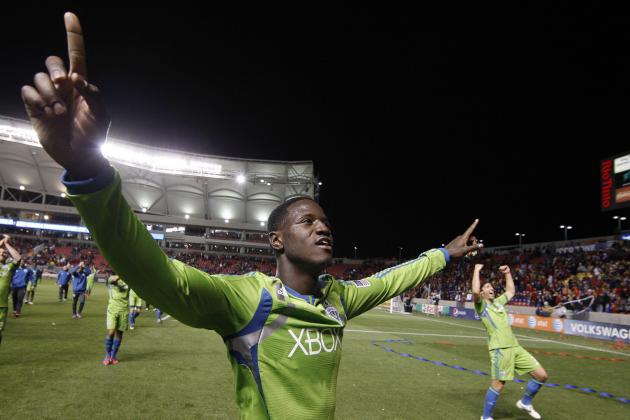 George Frey/Getty Images

Tally Hall, A.J. DeLaGarza, Will Bruin, Eddie Johnson, Graham Zusi, Brad Davis and Chris Wondolowski all earned their call-ups with solid performances in Major League Soccer over the past year.
Hall was outstanding for the Houston Dynamo in their MLS Cup playoff run this fall.
DeLaGarza, although only 5'9", has been one of the most solid center-backs in MLS for the past few seasons.
Bruin had an outstanding sophomore campaign for the Dynamo this year and was especially strong in the 2012 playoffs.
Johnson had a career year for the Seattle Sounders this year and was excellent for the USMNT in their October qualifiers.
Zusi turned two solid appearances in last January's USMNT friendlies and a solid 2012 MLS season into USMNT call-ups for the September and October World Cup qualifiers where he performed very well.
Davis has been one of the most consistent performers in MLS over the last half decade and had an excellent 2012 campaign with the Dynamo.
And Wondolowski had a career season with the San Jose Earthquakes in 2012, tying the MLS record in goals scored in a single season.
Of this group, Eddie Johnson and Graham Zusi are the only players with an inside track to the hexagonal rosters.
While the rest of this group may have earned their way into the January camp, most, if not all, are unlikely to surpass any of the more entrenched players at their respective positions.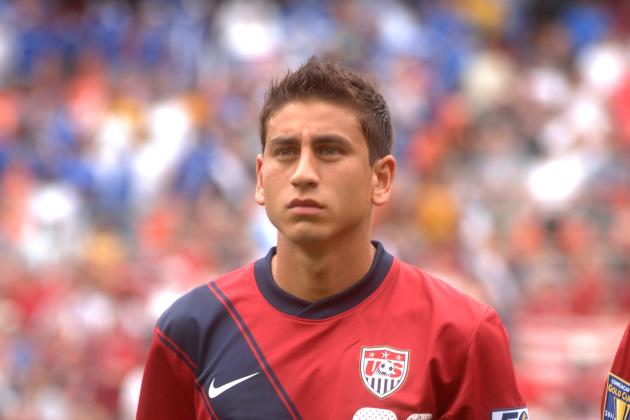 Mitchell Layton/Getty Images

There were four European-based players who got the call-up including Alejandro Bedoya, Mix Diskerud, Josh Gatt and Alfredo Morales.
Bedoya, an old Bob Bradley favorite, had a resurgence of his career with Helsingborg this fall.
And the U.S., especially sans Landon Donovan, is thin at the outside midfield position and could use the depth Bedoya could provide at the position.
Diskerud and Gatt have both enjoyed solid seasons abroad, were both called in for the U.S. camp for the Russia friendly and were both pretty obvious choices.
Morales' call-up, however, is a little more interesting.
While the other Americans, like Joe Gyau and John Anthony Brooks, who play in the Bundesliga 2 were not called up, Morales was.
Morales has not made a single appearance for Hertha Berlin in Bundesliga 2 this season and has been relegated to playing for their reserve side in the Regionalliga, so far.
Obviously, Hertha did not think Morales was important enough not to release for this camp. It could be a chance for the Peruvian-German-American player to turn his year around.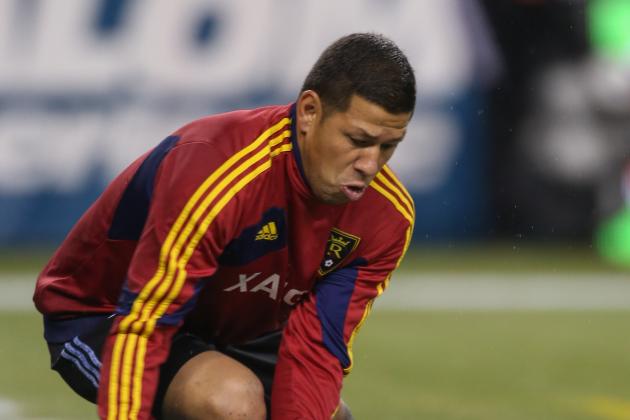 Otto Greule Jr/Getty Images

While there were more than a few notable exclusions from the roster, a number of them were due to injury.
Nick Rimando, who, with Brad Guzan, is the most likely to back up Tim Howard in the hexagonal, is out with a shoulder injury.
Chris Pontius, who enjoyed a particularly strong 2012 MLS season scoring 12 goals, is still not at 100 percent after injuring his groin in the MLS playoffs.
And Brek Shea, a Klinsmann favorite, is still recovering from foot surgery.
Chris Brunskill/Getty Images

The commentators on Fox Soccer, where the roster was first announced, indicated that Jermaine Jones and Maurice Edu may still join the roster.
Jermaine Jones and Maurice Edu could be additionanal callups per @robstoneonfox. #usmnt

— Jeff Carlisle (@JeffreyCarlisle) January 6, 2013
Jones is out for the next few weeks due to his four-game suspension, but he is still unlikely to join the squad.
His suspension ends before the friendly at the end of the January camp, and he also has a new coach to impress at Schalke after Huub Stevens left before the winter break.
Maurice Edu, who has seen a grand total of 10 minutes for Stoke City since transferring in August, seems more likely to join the camp as his prospects for first-team action with Stoke are small, at best.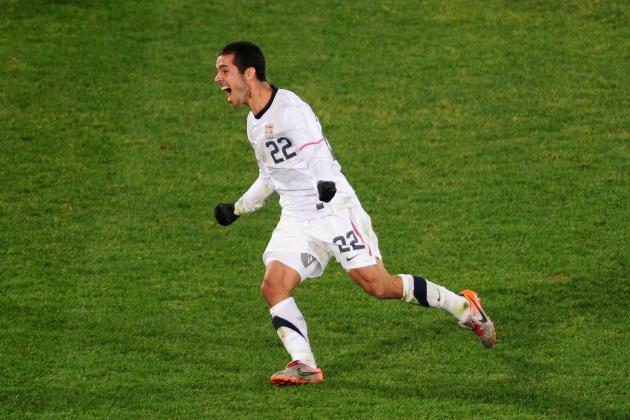 Stuart Franklin/Getty Images

Several players, while unlikely to crack the roster for the hexagonal, have proved they are, at least, worth a look.
While it would be a shock if Steve Beitashour, the San Jose Earthquakes right-back, made the hexagonal roster over players like Steve Cherundolo, Michael Parkhurst or Timmy Chandler, Beitashour did have a solid 2012 in MLS.
Benny Feilhaber, another player who was a consistent favorite of Bob Bradley, has not impressed on the club level in quite awhile. However, he has shown in the past that he has boatloads of natural ability and can help the USMNT when playing at his best.
Juan Agudelo, who has recently been training abroad with Celtic and West Ham, endured a terrible 2012 campaign with Chivas USA. However, Agudelo has too much talent not to make this roster.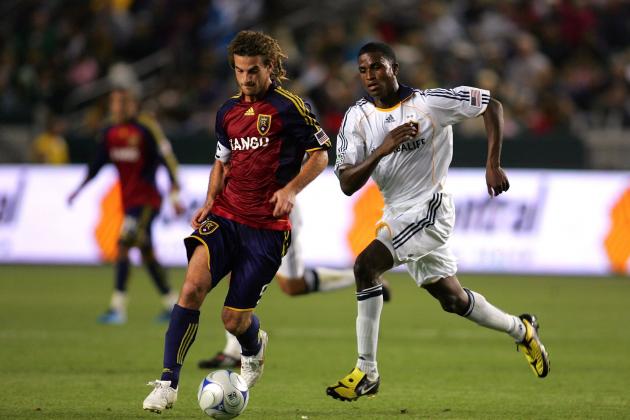 Victor Decolongon/Getty Images

Anytime the U.S. is forced to build a roster primarily of MLS-based players (21 of the 25 players called in are from MLS), there is going to be a lack of depth.
However, with the hexagonal approaching in February, this camp should be about identifying the players who might legitimately help the U.S. in World Cup qualifying.
And, at least nine of the players called in, have little to no chance of making that happen.
Perhaps, Klinsmann wanted to call in enough players so he could run full-field scrimmages. But, other than that, one has to wonder how many of these players have legitimate chances to ever put on a U.S. jersey in a serious game.
The players least likely to make an impact in this camp, or at all for the U.S. in the future, would include Tony Beltran, Justin Morrow, Jeff Parke, Brad Evans, Edson Buddle, Kyle Beckerman, Connor Lade, Sean Johnson and Bill Hamid.
Edson Buddle, who struggled this season for the LA Galaxy, has also had enough chances to prove he is not in serious contention to play for the USMNT again.
And, to think Buddle has any chance of beating out Clint Dempsey, Herculez Gomez, Eddie Johnson, Terrence Boyd, Jozy Altidore, Juan Agudelo or even Will Bruin or Chris Wondolowski for a forward position is just plain crazy.
Kyle Beckerman is another confounding choice. While he is a solid MLS holding midfielder, he has repeatedly proven he is over his head in the international game. Including him on the roster simply takes up the place of a more deserving player.
Connor Lade is another player who seems out of his depth. While Lade showed some potential during the 2012 MLS season, he looked completely outmatched once the playoffs rolled around.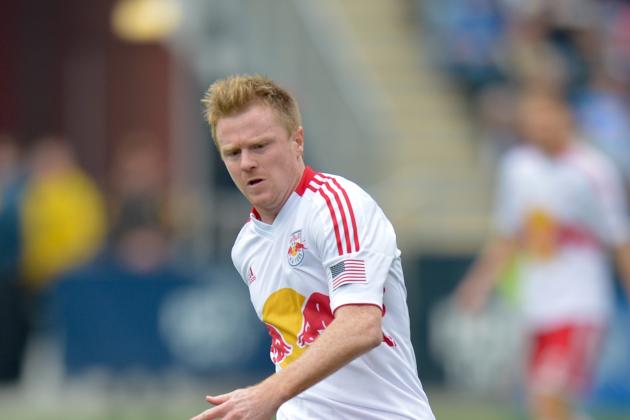 Drew Hallowell/Getty Images

As with any roster, the exclusions bring about as many questions as those who made the roster.
At goalkeeper, Steve Clark, who was the 2012 Norwegian Goalkeeper of the Year, has as much, or more, potential as Bill Hamid or Sean Johnson. Dan Kennedy and Luis Robles are also probably better choices than Hamid or Johnson.
Both Hamid and Johnson have potential, but both were also far too inconsistent with their clubs in 2012.
In terms of defenders, Austin Berry, who won 2012 MLS Rookie of the Year honors, has shown the potential to become a very solid center-back. Considering this is the USMNT's weakest position, why isn't he being given a look?
Clarence Goodson has struggled with the USMNT in his last few appearances and may have finally played his way off the roster permanently. However, if that is true, why were Edson Buddle and Kyle Beckerman included as they have also repeatedly proved they are not quality internationals?
While depth at outside-back is not as dire as it was just 18 months ago, Sean Franklin, Kofi Sarkodie and Corey Ashe enjoyed solid MLS campaigns in 2012. Franklin, Sarkodie and Ashe also look to have bigger upsides than several of Klinsmann's choices at outside back.
In the midfield, Freddy Adu, who many believe still has plenty to offer, seems to deserve (or not deserve) a spot just as much as Benny Feilhaber.
Nick Deleon had an outstanding 2012 MLS campaign and has a much bigger upside than many of the midfielders Jurgen Klinsmann called in.
Other omissions in the midfield include Conor O'Brien, who enjoyed a standout season in Denmark and Dax McCarty who was solid this year with the New York Red Bulls. Surely, both O'Brien and McCarty deserve a look more than Kyle Beckerman.
At forward, C.J. Sapong, while unlikely to make any of the hexagonal rosters over the next year, has as much or more ability and upside than Edson Buddle.
Follow me on Twitter @AmerTouchline
Follow me on Facebook www.facebook.com/AmericanTouchline