Detroit Red Wings Roster: A Look at Their Depth Chart for 2013 NHL Season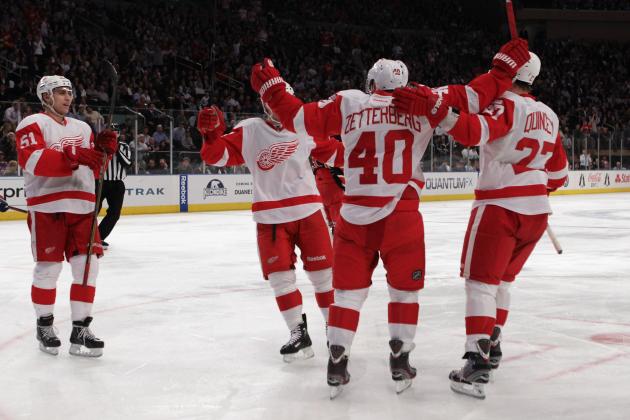 Bruce Bennett/Getty Images

The Detroit Red Wings will take the ice within the next two weeks, but before the season starts, the Red Wings need to finalize their roster.
The next two weeks are made even more interesting because of the unsettled questions surrounding the team, of which there are plenty.
Who makes the cut? Who will see the most minutes this season?
All those questions and more will be answered shortly.
Here is how the Red Wings depth chart should look for the shortened 2012-13 NHL season.
Begin Slideshow

»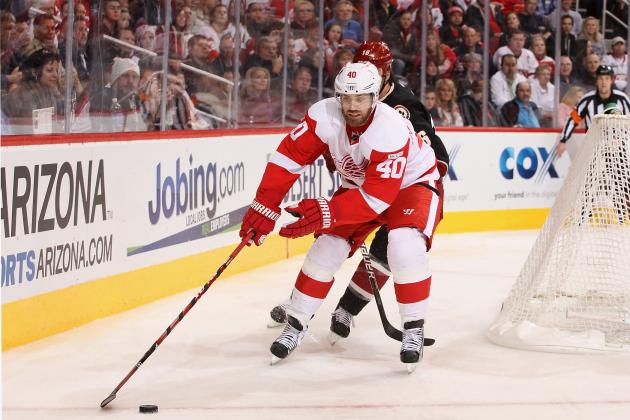 Christian Petersen/Getty Images

Henrik Zetterberg is a great fit at either left-wing or center. Like most players, Zetterberg excels when playing on the same line as Pavel Datsyuk.
The difference between Zetterberg and other players in the Red Wings organization is his superstar level of play that he brings to the table.
The Swede put up just 69 points in 82 games last year. That was his lowest point total since the 2006-07 season.
Playing with Datsyuk on a consistent basis allows the Red Wings to have a solid one-two punch on their top line.
Zetterberg also won 49.1 percent of the faceoffs he took last year, meaning that he can step in and win a fair share of the draws if Datsyuk gets waved out of a faceoff.
Pavel Datsyuk is a joy to watch as a player.
The skill, creativity, skating and stick work put him in a class of his own as far as dynamic players in the NHL go.
Add in Datsyuk's 56.2 percent faceoff winning percentage and the 34-year-old Russian superstar should be a lock for the first line center position.
Datsyuk is a great player, but his work ethic is what truly separates him from the pack.
While hockey fans could rave about Datsyuk's creativity with the puck, he also works just as hard on defense as he does on his offense.
His efforts pay off, as he turns his defense into offense, usually by taking the puck away from a player on the back check.
Datsyuk had 97 takeaways last year, but has had as many as 144 takeaways in a season before.
There are two things that are needed to be an effective, dominant first-line forward.
First, a player must be able to score or put up numbers offensively.
Second, the player must be able to get to the net.
Damien Brunner does both of these things at a level that has not been seen in a long time outside of the NHL.
His 57 points in 33 games are three away from his personal best of 60 (which came in 45 games) last year in the Swiss-A League.
Brunner provides some much needed offense on the Red Wings first line, as Johan Franzen was not producing on a consistent basis last season.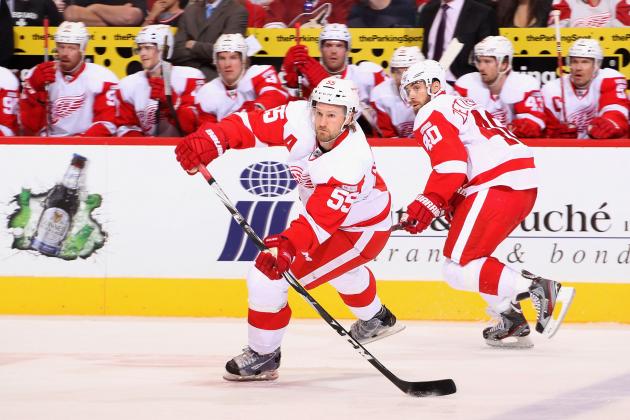 Christian Petersen/Getty Images

After the retirement of Nick Lidstrom, Niklas Kronwall is the No. 1 defenseman for the Red Wings.
The problem for the Red Wings is that Kronwall isn't a threat to put up big time offensive numbers because he dedicates himself to the defensive side of the game.
Kronwall had 15 goals (seven power play markers) and 36 points last season, but that was while playing first line minutes.
This puts his upper limit in points somewhere in the area of 25 points in a shortened season.
Putting Brendan Smith as Kronwall's defensive partner makes things interesting, as Smith has tremendous offensive upside.
Smith had seven points in those 14 games and had 15:37 of ice time per contest last season.
Don't think for a second that fans have seen the best that Smith has to offer in the 14 games that he played last season, as he did not play top line minutes.
More minutes for Smith should (theoretically) produce more points for the young Brendan Smith. Penciling him in for 30 points this season (a shortened season) isn't out of the question and it would be a substantial step for him moving forward.
Jonathan Daniel/Getty Images

Jimmy Howard has a daunting task ahead of him: playing hockey without Nick Lidstrom helping him keep pucks out of the net.
Howard's play will ultimately dictate how well the Red Wings do in the season and if they will make the playoffs for the 22nd straight season.
Howard put up a 35-17-4 record last season with a 2.13 GAA and a 92.0 save percentage to go with six shutouts.
Those numbers could fall a little bit in the absence of Lidstrom, but if the Red Wings can play even better as a team defensively, Howard could still put up some excellent numbers.
He has shown his ability to win the regular season games (putting up 109 regular season victories in the past three seasons), but has failed to help the Red Wings advance past the second round in the postseason (with a 13-15-1 playoff record) since he took over the starting job in 2009-10.
His ability to stay healthy will be paramount to Detroit's success, as the Red Wings took a dive after his injury in the beginning of February last season.
If he can stay healthy, the Red Wings have as good a chance as any to go far in both the regular season and the postseason.
If a player leads your team in goal scoring, as Johan Franzen has over the past two seasons, it might raise some concerns when I suggest that he moves to the second line from the first line.
The reason Franzen should be on the second line is that, although he is a premiere scorer, he doesn't quite fit the mold of a first line forward in his skating ability.
When on Detroit's second line, Franzen would also create matchup problems for the opposition, as the opposing team might forget about Franzen when they try and scramble forwards together that could contend with the Red Wings' first line of Henrik Zetterberg, Pavel Datsyuk and Damien Brunner.
The thing about Johan Franzen is that when teams "forget" about him and don't gameplan to stop him, he hurts them in big ways, as the video above shows.
Franzen is a great player when given the chance, and he will get far more "chances" of that sort on the second line while playing against slightly less talented players than he would face while playing on the first line.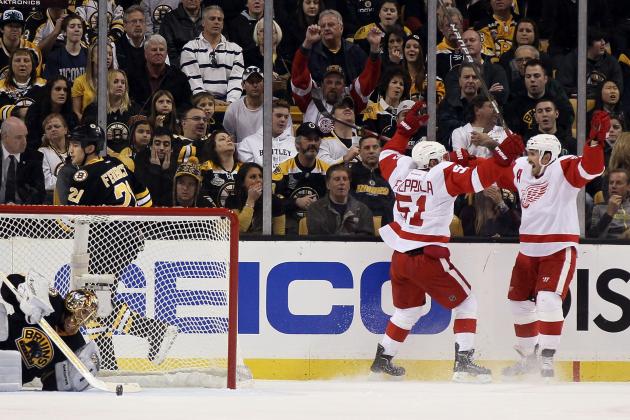 Elsa/Getty Images

Valtteri Filppula had himself a career season last year, as he had career highs in goals (23), assists (43), points (66), plus-minus (plus-16) and shooting percentage (16.0 percent).
Filppula had his career year one season before he was scheduled to be an unrestricted free agent (via CapGeek.com).
If Filppula hopes to make more money in his next contract, he will have to show two things.
First, Filppula will have to show that he has recovered from the knee injury he sustained a couple months ago playing in Finland (h/t Detroit News).
Second, if Filppula has recovered, he will need to show that he can play at a similar level to last season in terms of point production.
There's no reason to doubt that Filppula could make a full recovery from this knee injury and resume playing at a high level.
The Red Wings need Filppula (and his 51.7 faceoff winning percentage) to return to his second line center position in time for the start of the season.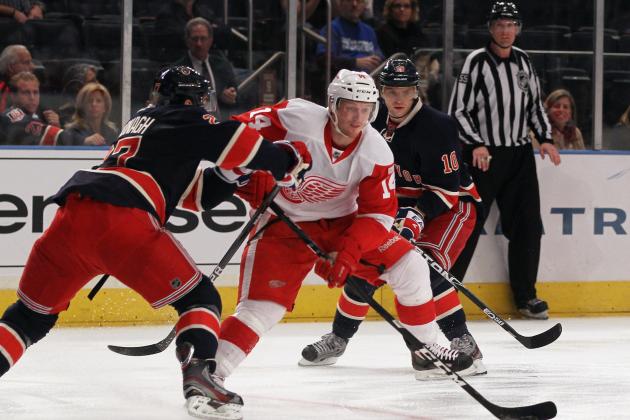 Bruce Bennett/Getty Images

Gustav Nyquist will finally have a chance to shine this season in the NHL.
Nyquist has a nose for the net and has 32 points in 33 games this season in the AHL. Nyquist's leadership and scoring talents have propelled the the Red Wings' AHL affiliate, the Grand Rapids Griffins, to the top of the AHL's North Division with a 20-10-1-2 record.
Nyquist needs to play in the top-six group of forwards for the Red Wings, as he is a big part of the future for the team. If Nyquist plays on a line with talent like Johan Franzen and Valtteri Filppula, he should be on his way to becoming a dominant forward in the NHL in the coming seasons.
Although the Red Wings could benefit from players like Daniel Cleary or Todd Bertuzzi on the second line, the fact of the matter is that Nyquist needs to get as much ice time as possible in order to effectively grow and mature into his future role as an offensive juggernaut for the Red Wings.
Gregory Shamus/Getty Images

The Red Wings' biggest question marks in this short season are undoubtedly on their blue line. The Red Wings have seven defensemen for the coming season, but they lost the best defenseman of the modern era when Nick Lidstrom retired at the end of last season.
Although there are question marks on the Red Wings blue line, Jonathan Ericsson has improved a substantial amount since he signed his three-year, $9.75 million deal in the 2011 offseason.
Ken Holland made a bold move in signing Ericsson for the dollar amount that he gave him, as it was an extremely large amount of money for Ericsson's talent level at the time.
Ericsson has improved significantly in his own zone since signing that contract and most of that improvement has come in front of his own net, clearing loose pucks.
If Ericsson can create some chemistry with Ian White, the Red Wings defense will greatly improve overall, and their chances for postseason success will increase exponentially.
Ian White should be able to provide the offense for this defensive pairing.
White put up 32 points last season, with 10 of those coming on power play assists.
His chemistry with Ericsson will not only make or break this second pairing, but it will also determine how sturdy the Red Wings defense is as a whole.
White is a little bit faster than Ericsson, but the two need to work together to ensure that pucks get cleared properly and bodies get moved away from the front of the net.
Ian White had a plus-23 last season, but he and Ericsson will both have to work on their giveaways (32 and 42, respectively) if this team is to go anywhere this season.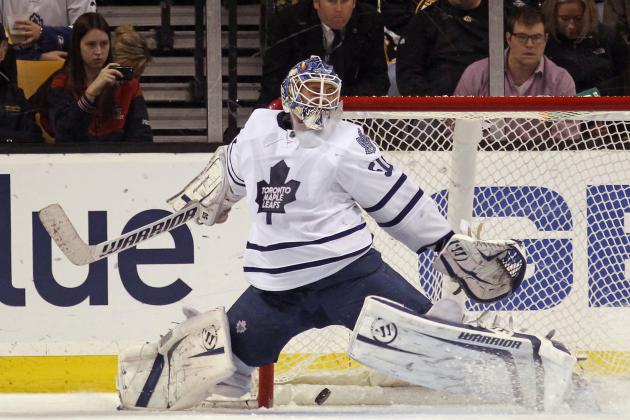 Bruce Bennett/Getty Images

There is nothing that stands out about Jonas Gustavsson's numbers last season: a 17-17-4 record, a 90.2 save percentage and a 2.92 GAA.
Yawn.
Oh that's right, he played for the Toronto Maple Leafs last year, and the Red Wings are a little bit more sound defensively than the Maple Leafs were.
It also should be noted that Jim Bedard, Detroit's goaltending coach, has had a little bit more success with goalies than Toronto's former goalie coach, François Allaire.
Gustavsson should get his fair amount of starts, but with a shortened season, that could only be about 10-15 games.
Gustavsson will get his turn to play and he will now be playing for a better team, but the bottom line for Gustavsson is that he must play in the best way that he can and focus on stopping pucks.
The Red Wings will take care of the rest.
Todd Bertuzzi is one of the all-time great power forwards in the NHL history.
But Bertuzzi, who turns 38 next month, should not be logging the first line minutes that he once played in Vancouver.
This doesn't mean that he can't still be a solid option on the third line, however.
The thing that the Detroit Red Wings have lacked over the past few seasons is size on their bottom six forwards.
With Bertuzzi playing the third line left-wing spot, the Red Wings have someone who knows how to use his size and skill to create matchup problems for the opposition.
Bertuzzi is not shy about throwing his body around—as evidence by his 96 hits last year—and he can also score when need be, as he put up 38 points last year. He will need to both hit and score effectively to be an asset to the Red Wings this year.
Two things stick out about Darren Helm when critically looking at his game: he is a great penalty killer and he has a great motor.
Both of these are attributed in the above video.
Throw in the fact that Helm also has a 51.9 faceoff winning percentage and has lightning fast speed, and the Red Wings are set at the third line center position.
Helm has never had the quality linemates that could spring him for a career season, but with Todd Bertuzzi and Mikael Samuelsson (who will be discussed on the next slide), Helm could be in a position for a breakout season in terms of points-per-game.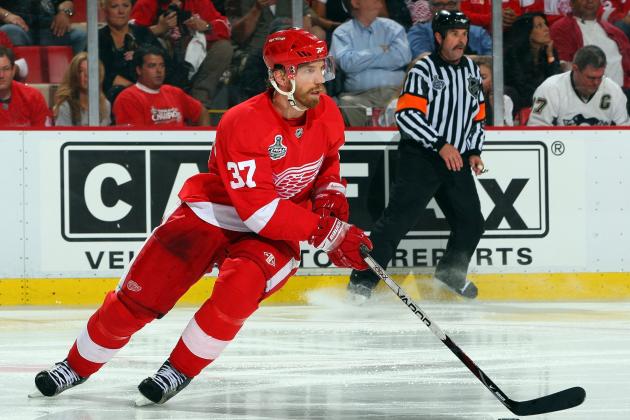 Jim McIsaac/Getty Images

It is good to see Mikael Samuelsson back in a Detroit Red Wings uniform.
Unfortunately for Samuelsson and Red Wings fans, he is not the same Mikael Samuelsson who put up 40 points with the Red Wings in 2008-09 and then walked into the sunset of free agency.
Samuelsson did put up 28 points in 48 games with the Florida Panthers last season, but it will be interesting to see if he can find the shooting touch (13 goals in 48 games) that he had last season.
At the age of 36, Samuelsson should not be relied upon to play top-six forward minutes, as he could still likely play a role on the power play as a right-handed shooter.
Limiting Samuelsson's minutes to keep him fresh for the power play will be the key to a resurgent power play during this shortened season.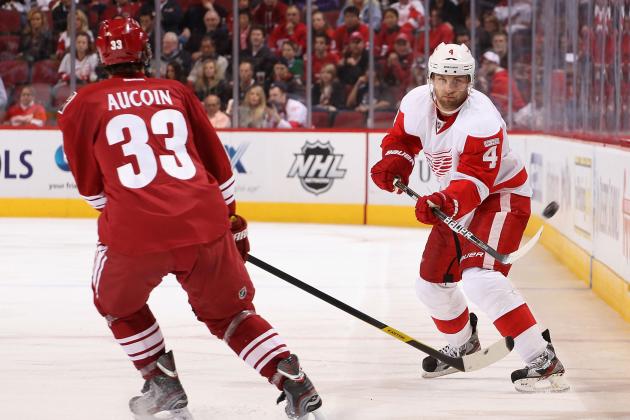 Christian Petersen/Getty Images

Jakub Kindl needs to play this season, and he needs to be in the roster on a regular basis.
Kindl put up 13 points last year in 55 games, but was never really a sure choice to be in the lineup, as he was sometimes the odd-man-out with Detroit's seven defensemen.
Kindl can make a difference this season for the Red Wings, but only if he is a full-time starter.
He has put on a bit of weight over the past couple seasons and he is now 216 pounds. This makes him a better force in front of his own net.
Kyle Quincey is a different story all together.
While Kindl has shown improvement, Quincey needs to be much better than he was last year with the Red Wings.
Quincey must find his offense quickly, as he had just three points in 18 games with Detroit after being acquired at the trade deadline from the Colorado Avalanche in a three-way trade (h/t Edmonton Journal).
The obvious question is: can the Red Wings justify playing and keeping Kyle Quincey if he cannot play at an offensive level greater than last season?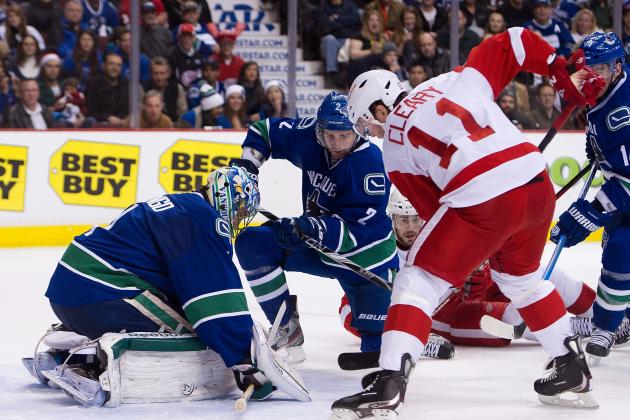 Rich Lam/Getty Images

Daniel Cleary's 33 points in 75 games marked his lowest point total since his first season with the Red Wings in 2005-06.
His 12 goals last season also marked the lowest goal total he has had since 2005-06.
At 34 years of age, Cleary is in the final year of his contract with the Red Wings, and this year might be the final season that he plays in Detroit.
Unless Cleary can display something in training camp that he did not display for the majority of last season, Cleary will likely be on the fourth line for his final season in Detroit.
This isn't necessarily a bad thing, it just means that he will be limited in his ice time—unless Mike Babcock feels that he can successfully roll four lines efficiently.
Cleary had 90 hits last year. This will be a big part of his game if he is looking to get involved either offensively or defensively on the fourth line.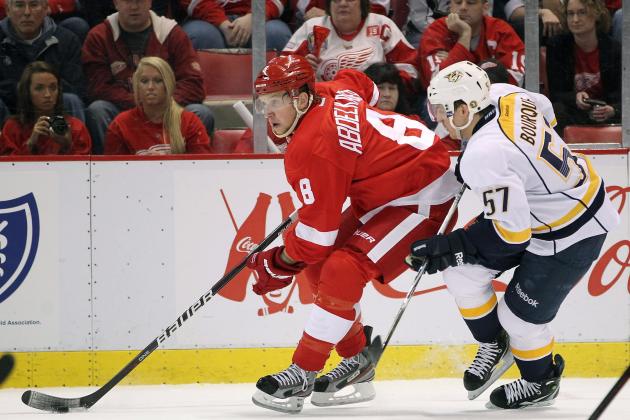 Gregory Shamus/Getty Images

In his second full season with the Red Wings, Abdelkader set career highs with eight goals, 14 assists and 22 points.
But in order to play the fourth line center position, Abdelkader needs to be able to get involved physically as well as be able to dominate the faceoff dot.
Abdelkader succeeds in both of these categories as his love of hitting saw him put up 148 hits last season, and his faceoff winning percentage last year was 52.9 percent.
The Red Wings have something special in Abdelkader, and this season will show exactly what Abdelkader can do, as he should be fresh and ready to go.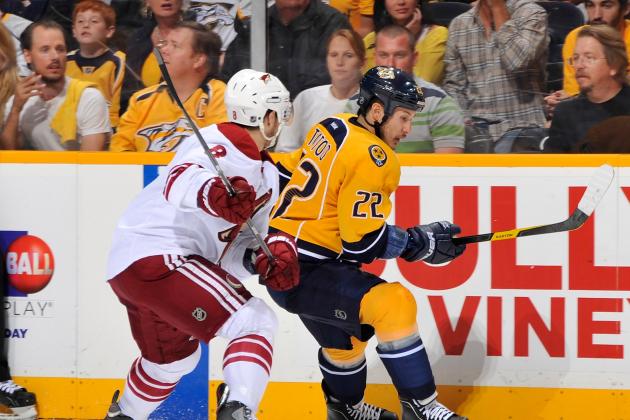 Frederick Breedon/Getty Images

If there ever was a player cut out for the fourth line, it is Jordin Tootoo.
Tootoo is not afraid of anybody and he will not hesitate to start something with anyone, and had 30 points in 77 games last year while averaging just 13:09 per game.
Tootoo also amassed 151 hits last season, meaning that Red Wings fans can expect a lot of energy created by the Cleary-Abdelkader-Tootoo line.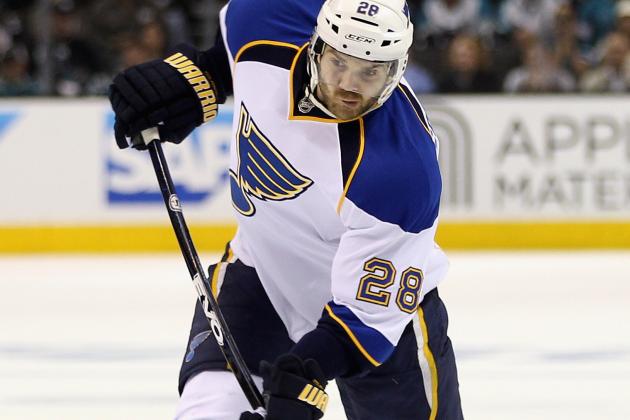 Ezra Shaw/Getty Images

Carlo Colaiacovo should be the seventh defenseman for the Red Wings.
He's a solid option for a a second or third pairing on defense, but he was brought in just before the CBA expired, which means that he is more of an insurance player (h/t the Edmonton Journal).
Although some might disagree, it is important to actually see what Detroit's young defensemen in Jakub Kindl and Brendan Smith can do in full NHL seasons.
Colaiacovo will get a shot if it appears that any one of the six defensemen in front of him are not pulling their weight or are not excelling in the eyes of head coach Mike Babcock.
He is a solid player who is able to log 19 minutes a game, like he did last season, but the Red Wings need to actually find out what they have in Jakub Kindl and Brendan Smith first.
This will mean decreased playing time and games for Colaiacovo.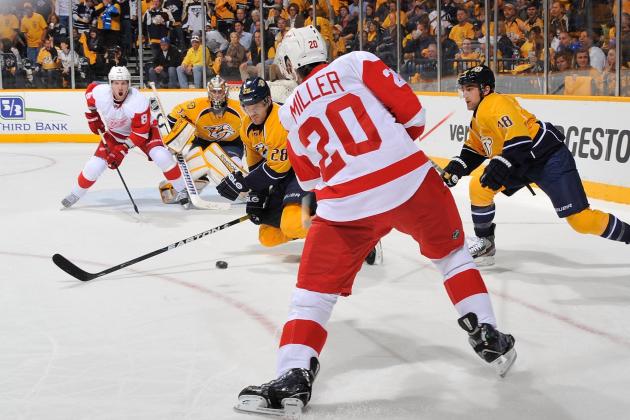 Frederick Breedon/Getty Images

It is hard to find a spot for Drew Miller in the Red Wings lineup, despite Miller's solid statistics from last year.
With 14 goals (four game-winning goals) and 25 points last season to go along with 77 hits, 66 blocked shots and a plus-17 takeaway difference, Miller seems like he would be a shoe-in as a starting forward.
But Miller is listed by NHL.com at only 178 pounds.
This means that Miller is fairly undersized to play a bottom-six forward role. Miller does not quite have the talent to play as a top-six forward role either, where his size wouldn't be such an issue.
Miller is a solid player and the Red Wings will be hard pressed to exclude him from the starting lineup on a regular basis. He could still be involved in 20-25 regular season games, but he is undersized as a whole, and size comes to the forefront in the playoffs.
Frederick Breedon/Getty Images

Cory Emmerton is another prospect that will get a good look in the brief training camp.
Unfortunately, I don't see him being in the starting lineup unless the Red Wings suffer an injury or two, as the Red Wings are just too deep at the forward position.
Emmerton had six goals and 10 points in 71 games last season, so one could make the argument that he will get to play a substantial number of games.
But he is listed as a "center" on his player page on NHL.com, meaning that he should be able to engage himself physically on the third or fourth line.
Again, Emmerton (37 hits) is bested physically by Justin Abdelkader (148 hits) and Darren Helm (97 hits), and both Abdelkader (52.9) and Helm (51.9) had higher faceoff winning percentages last year than Cory Emmerton (48.2).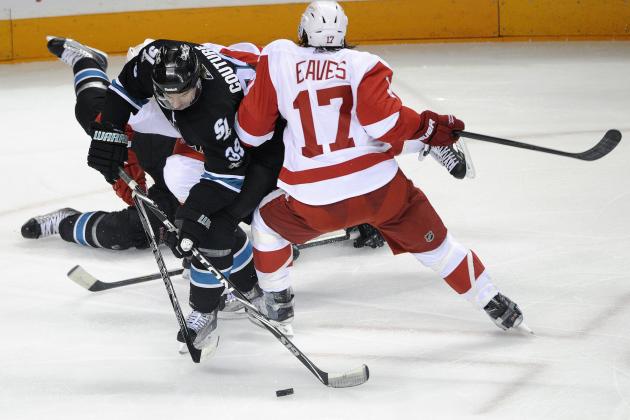 Thearon W. Henderson/Getty Images

Patrick Eaves did not play hockey for the Detroit Red Wings in 2012.
Eaves suffered (warning: the video is slightly graphic) this gruesome injury playing the Nashville Predators in November of 2011 and has been dealing with a concussion since then.
Eaves is a tremendous asset on the penalty kill, but it seems as though his condition has not changed much from September of 2012—when the season was supposed to start—to now.
Ansar Khan of MLive.com tweeted that:
Patrick Eaves skated, said he has good days and bad days. The headaches are fewer and further apart, but not certain to be ready for camp.

— Ansar Khan (@AnsarKhanMLive) September 4, 2012
This past Monday, Ted Kulfan of the Detroit News wrote that Eaves is still not cleared to play, so there's a good bet that he'll start the season on injured reserve.
For more article updates, Follow @isaacesmith91