Toronto Blue Jays 2013: How the Jays Match Up Against Top AL Contenders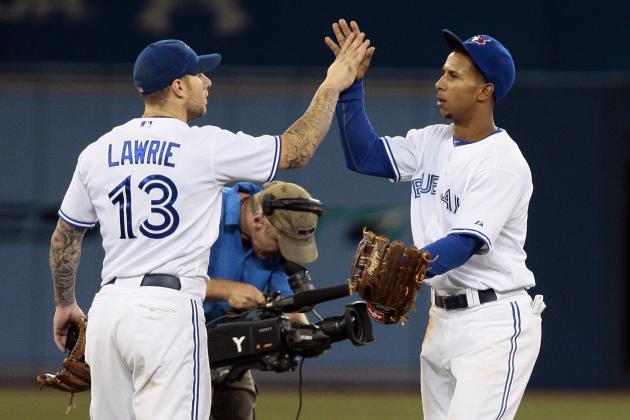 Abelimages/Getty Images

The Toronto Blue Jays are officially part of the discussion.
The American League is crowded with top-level teams, and now the Blue Jays have to be included in that list. After adding two Cy Young-talented pitchers in R.A. Dickey and Josh Johnson, an above-average inning eater in Mark Buehrle and adding talent at the top of their lineup in Jose Reyes and Melky Cabrera, the Jays are a legitimate threat.
Looking through each team's projected lineups, using MLBDepthCharts.com as a reference, there are several teams that could conceivably represent the junior circuit in the 2013 World Series.
Last year's AL champs, the Detroit Tigers, have added Torii Hunter through free agency and Victor Martinez will be back after missing 2012 to injury.
The New York Yankees are always part of the conversation, the Los Angeles Angels added the best free-agent hitter available, the Texas Rangers won 93 games despite their unbelievable collapse and the Tampa Bay Rays had the best pitching staff in baseball in 2012.
If Alex Anthopoulos and the new look Blue Jays want to make some noise in 2013, they'll have to deal with these five teams—and the Orioles and Athletics mind you—all year long.
Here's a look at how the Jays' new rotation, lineup and bullpen match up against the top AL contenders.
Begin Slideshow

»
Leon Halip/Getty Images

Starting Rotation
1. CC Sabathia
2. Hiroki Kuroda
3. Andy Pettitte
4. Phil Hughes
5. Ivan Nova
Sabathia and Kuroda had spectacular seasons in 2012. Both threw more than 200 innings and were models of consistency and effectiveness.
Phil Hughes won 16 games while posting a less than impressive 4.23 ERA. However, he had a very strong 1.265 WHIP and seems ready to breakout.
Andy Pettitte was great in 12 starts in 2012, but Yankee fans should be somewhat concerned heading into 2013 with a 41-year-old third starter.
The Jays have five 200-plus innings starters and have less concerns from top to bottom.
Edge: JAYS
Lineup
1. Ichiro Suzuki
2. Derek Jeter
3. Robinson Cano
4. Mark Teixeira
5. Curtis Granderson
6. Kevin Youkilis
7. Eduardo Nunez
8. Brett Gardner
9. Chris Stewart
The Yankees may have one of their weakest starting lineups in recent memory. They just don't seem as dangerous as years past.
However, Robinson Cano is still one of the best hitters in all of baseball, Ichiro hit .322 after being traded to New York and Mark Teixeira is due for a rebound.
In fact, it almost seems that the Yankees are a better team without Alex Rodriguez in the lineup.
While the Yankees have a very solid mix of average, speed and power, the Jays have the same.
Edge: WASH
Bullpen
Mariano Rivera (CL)
David Robertson
Boone Logan
David Aardsma
Clay Rapada
David Phelps
Mariano Rivera is a roll of the dice. Yes, Yankee fans, he'll go directly to the Hall of Fame and he's the greatest closer ever to the play the game, but for no other reason than he's a 43-year-old coming off of a significant injury, he's a gamble.
Luckily for the Yankees, David Robertson has been an absolute strikeout machine and is more than capable of stepping in should Rivera falter. Boone Logan and Clay Rapada were both effective in 2012 but struggle with control occasionally.
Edge: YANKEES
Final Word
The Yankees won 95 games last year and they are fielding a very similar team in 2013. There's no reason to expect the Yankees to win less than 90 games, but they've thrown their eggs into an aging basket.
They have an above-average rotation that will feature 38-year-old Kuroda and 41-year-old Andy Pettitte.
The Bronx Bombers no doubt have talent, but they're not the intimidating force that they were in years past.
The Jays meanwhile, don't have a weak link in their starting rotation or starting lineup.
Edge: JAYS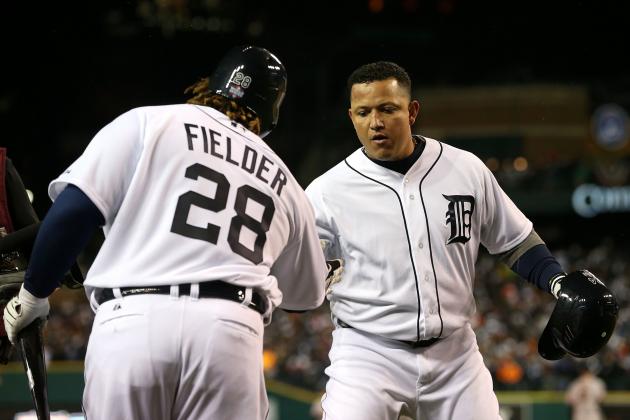 Ezra Shaw/Getty Images

Starting Rotation
1. Justin Verlander
2. Doug Fister
3. Max Scherzer
4. Anibal Sanchez
5. Rick Porcello
The Tigers have one of, if not the strongest, starting rotations in all of baseball. Justin Verlander is still the best starting pitcher on the planet, and any team that can throw him on the mound every five games is dangerous.
Doug Fister is a consistent, reliable No. 2 who sports a career WHIP of 1.180. Scherzer strikes out a ton of batters, almost matching Verlander's totals in far less innings, and Sanchez is as good of a No. 4 starter as you're going to find. Porcello is a clear step down but threw a solid 174 innings in 2012.
The Jays starters certainly match up in terms of talent. However, the curse of talent may be revealed in the Tigers experience and consistency and how Dickey, Johnson and Buehrle adjust to the AL East.
Edge: TIGERS
Lineup
1. Austin Jackson
2. Torii Hunter
3. Miguel Cabrera
4. Prince Fielder
5. Victor Martinez
6. Andy Dirks
7. Jhonny Peralta
8. Alex Avila
9. Omar Infante
The Tigers scored 726 runs in 2012, good for sixth in the American League just ahead of the Blue Jays.
They've added Torii Hunter, who had arguably his best offensive season last year, and Victor Martinez, whose .303 career batting average will certainly help in the middle of the lineup. Add that the Tigers were second in the AL in OBP last year, and the math points to that run total going up.
The Jays run total will most certainly go up from 2012, but not as high as Detroit's.
Edge: TIGERS
Bullpen
Bruce Rondon (CL)
Joaquin Benoit
Phil Coke
Octavio Dotel
Al Alburquerque
Brayan Villarreal
Duane Below
After the Jose Valverde implosion, the Tigers are rolling with rookie Bruce Rondon as their closer for 2013. Manager Jim Leyland seems to think he's ready, and if Rondon has the stuff, rookie closers can often take hitters by surprise.
Coke was the reluctant closer in Detroit's playoff run, Benoit struck out 84 batters in 71 innings in 2012 and Brayan Villarreal showed he belongs in the major leagues.
The real question mark is Rondon and whether he can anchor the Tigers bullpen. Either way, this is a stronger group than the Jays have.
Edge: TIGERS
Final Word
The Jays are good, but the Tigers are better. Detroit, after going to the World Series last year, has added two .300 hitters in Hunter and Martinez and have a deep, consistent rotation. The Jays have the potential to be better than the Tigers—much better—but until that actually happens, Detroit will be the stronger side.
Edge: TIGERS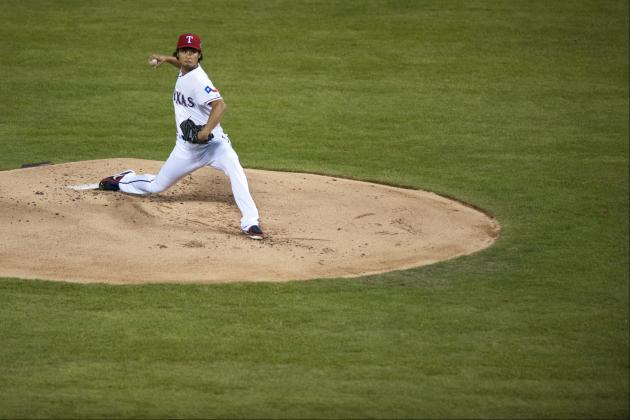 Cooper Neill/Getty Images

Starting Rotation
1. Yu Darvish
2. Derek Holland
3. Matt Harrison
4. Alexi Ogando
5. Martin Perez
Yu Darvish had a strong rookie year in 2012, winning 16 games and throwing just under 200 innings. He'll be counted on, with Matt Harrison, to anchor the Rangers rotation.
Harrison has emerged as a very strong starter, and looks to be the Rangers most reliable starter.
Holland is a third starter at best and Ogando and Perez made only seven starts between the two of them in 2012.
The Jays are much deeper, more talented and experienced.
Edge: JAYS
Lineup
1. Ian Kinsler
2. Elvis Andrus
3. Lance Berkman
4. Adrian Beltre
5. Nelson Cruz
6. David Murphy
7. AJ Pierzynski
8. Mitch Moreland
9. Leonys Martin
Post-Josh Hamilton, the Rangers lineup is still a strong group. Adding Lance Berkman is a step forward even if the former All-star had an array of injuries in 2012. Ian Kinsler needs a bounce-back year and the Rangers would love Adrian Beltre and David Murphy to repeat their 2012 campaigns.
While the Rangers are deep, they've lost the .930 OPS of Hamilton and the Jays look like the more dangerous group.
Edge: JAYS
Bullpen
Joe Nathan (CL)
Jason Frasor
Robbie Ross
Josh Lindblom
Tanner Scheppers
Coty Woods
Michael Kirkman
Joe Nathan was just as good as he's ever been in 2012, saving 37 games, posting a 2.80 ERA and a 1.057 WHIP. Robbie Ross had a strong rookie year and former Jay Jason Frasor is a reliable setup man. From there, the Rangers bullpen drops off as Lindblom, Scheppers, Woods and Kirkman are all average at best.
Edge: JAYS
Final Word
The Rangers will struggle to replace Josh Hamilton's output even with Berkman stepping in. Texas' pitching depth has come back to haunt them, as Ogando and Perez moving to the rotation weakens their bullpen.
The Jays clearly have a stronger rotation and have the offense to compete with the Rangers.
Edge: JAYS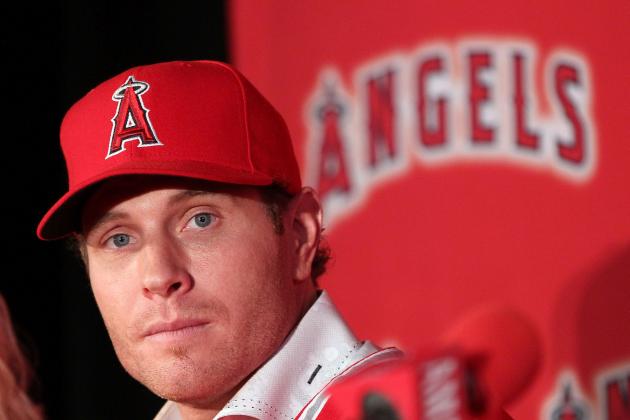 Victor Decolongon/Getty Images

Starting Rotation
1. Jered Weaver
2. C.J. Wilson
3. Tommy Hanson
4. Jason Vargas
5. Joe Blanton
When healthy, the Angels have a hugely talented set of starting pitchers. Jered Weaver is a consistent CY Young contender and having him backed up by Wilson, Vargas and Hanson speaks to the Angels' depth.
However, the key words here are "when healthy." Weaver, Wilson and Hanson all had injuries last year, some more serious than others.
The Jays also have injury concerns with their starting rotation, but Toronto's depth just outmatches the Angels'. From one through five, the Jays simply have stronger starters.
Edge: JAYS
Lineup
1. Mike Trout
2. Erick Aybar
3. Albert Pujols
4. Josh Hamilton
5. Mark Trumbo
6. Howie Kendrick
7. Alberto Callaspo
8. Chris Iannetta
9. Peter Bourjos
The Angels have one of, if not the most dangerous, lineups in all of baseball. Adding the powerful yet seemingly inconsistent Josh Hamilton gives the Angels yet another former MVP who will scare opposing pitchers.
To put it simply, the Angels have four 30 home run hitters in Trout, Hamilton, Pujols and Trumbo and round out their lineup with the always consistent Howie Hendrick and two solid contact hitters in Callaspo and Aybar.
The only break for pitchers is at the bottom, where Bourjos and Iannetta might be their only question marks.
Edge: ANGELS
Bullpen
Ryan Madson (CL)
Ernesto Frieri
Sean Burnett
Kevin Jepsen
Scott Downs
David Carpenter
Jerome Williams
The Angels bullpen draws a few similarities to the Blue Jays. Both teams had closers miss the majority of the 2012 season. Ryan Madson tore a ligament in his right elbow and Sergio Santos endured season-ending shoulder surgery after only a few appearances last season.
The Angels added the very effective Sean Burnett from the Nationals, and he'll fit in nicely alongside Ernesto Frieri and Scott Downs as a potential setup reliever. That being said, the Angels bullpen struggled in 2012, ranking well below average in ERA, WHIP and save conversions.
The Jays, meanwhile, have a patchwork bullpen at the moment and really are in the same boat as the Angels in terms of statistics.
Edge: WASH
Final Word
While the Jays clearly have the stronger starting rotation, the Angels have a slightly more dangerous lineup with more consistent hitters. As good as Edwin Encarnacion was in 2012, he's still not at the same level as Pujols or Hamilton. This one's too close to call.
Edge: WASH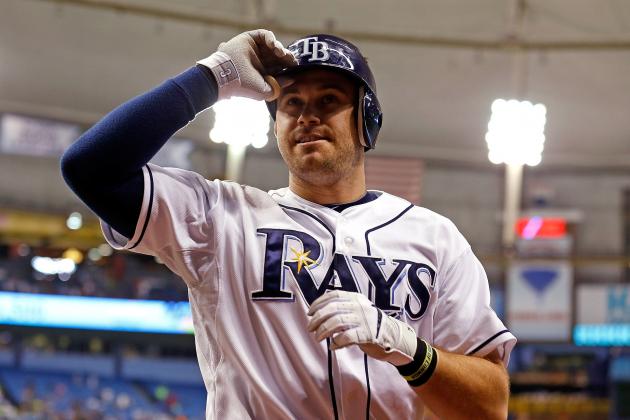 J. Meric/Getty Images

Starting Rotation
1. David Price
2. Jeremy Hellickson
3. Matt Moore
4. Jeff Niemann
5. Alex Cobb
The Rays, despite trading James Shields to the Royals, still have a spectacular rotation.
The anchor of the staff, David Price, is a routine Cy Young candidate. Although Jeremy Hellickson's innings pitched per start dropped in his second full year, he's a strong No. 2. Matt Moore is a breakout candidate, as highly talented prospects usually improve in the important statistics in their sophomore years. Jeff Niemann will be an experiment as he adjusts back into a starter's role, and Alex Cobb is a serviceable fifth.
The Jays have less star power but more depth.
Edge: WASH
Lineup
1. Desmond Jennings
2. Yunel Escobar
3. Ben Zobrist
4. Evan Longoria
5. Matt Joyce
6. Ryan Roberts
7. James Loney
8. Sam Fuld
9. Jose Molina
The Rays lost Carlos Pena's 19 home runs and .197 batting average and replaced him with James Loney's .249 average from 2012. At the top of the Rays order, both Jennings and Escobar are big question marks as their combined OBP was a hideous .614. Even with Evan Longoria healthy, he and Ben Zobrist will have trouble creating runs without anyone on base.
Compounding the loss of BJ Upton, the Rays offense looks like it will take a step back in 2013.
Edge: JAYS
Bullpen
Fernando Rodney (CL)
Joel Peralta
Jake McGee
Roberto Hernandez
Brandon Gomes
Cesar Ramos
Dane De La Rosa
The Rays, unlike the Blue Jays, have a clear and seemingly unstoppable closer in Fernando Rodney. Here are his stats from 2012: 76 appearances, 74.1 innings pitched, 0.60 ERA, 76 strikeouts, 15 walks, and a 0.777 WHIP. Those are overwhelmingly impressive stats from the Rays closer.
Joel Peralta and Jake McGee both had K-rates above 11 in 2012, and former All-Star starter Roberto Hernandez adds some much needed depth. The Rays bullpen is a strong, deep unit.
Edge: RAYS
Final Word
The Rays made a great trade with the Royals, adding some nice prospects in return for Shields, but as a result, they gave up a part of their No. 1-ranked rotation. It will be interesting to see if the Rays can pitch their way to a 90-win season again, and even though it's a definite possibility, the Jays look to have a more balanced offense.
Edge: JAYS