Swansea City vs. Arsenal: 6 Things We Learned from Thrilling FA Cup Draw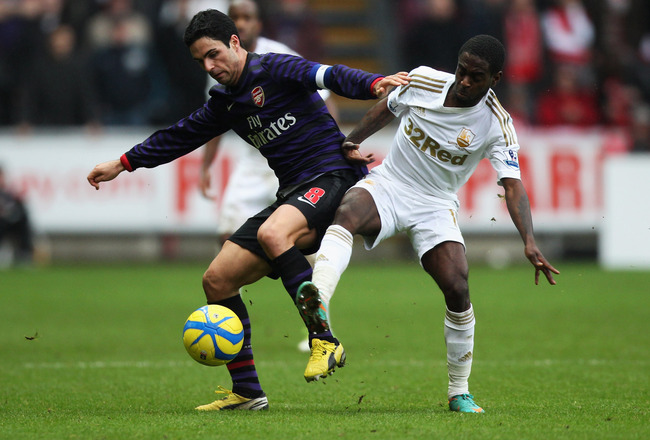 Ben Hoskins/Getty Images
In a breathless FA Cup third-round tie, Arsenal and Swansea battled to an action-packed 2-2 draw.
All four goals came in the second half.
With almost his first touch after coming on as a substitute, Michu put Swansea ahead. Then, after some scintillating play that demanded a goal, Lukas Podolski struck a great equalizer for Arsenal.
A minute later, Kieran Gibbs scored the pick of the bunch with a powerful volley from a delicate Olivier Giroud chip over Swansea's defense. But the Gunners could not hold on. Lax defense allowed Danny Graham to equalize a few minutes before the end of regular time and force a replay.
It's tough to make sense of such a batty match, but let's try to whittle it down to six things we learned.
Theo Walcott Should Not Be Taking Set-Pieces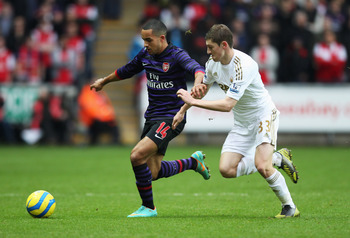 Ben Hoskins/Getty Images
Perhaps the most surprising part of a match that gave us a lot to think about was the fact that a certain Theo Walcott is now taking set-pieces for Arsenal.
And this was no League Cup side. In the first half, with the ball about 25 yards away from goal and slightly to the right of center, Mikel Arteta, Santi Cazorla and Lukas Podolski stood over the ball.
Yet Walcott, who everyone knows is in the side for his pace and finishing ability, is not a set-piece specialist. Predictably, he drilled the ball into the feet of the players in Swansea's wall, and Arsene Wenger was furious.
He repeatedly took corners, too, brushing Arteta off and delivering some very poor balls into the box. If Bacary Sagna had not leapt to head the ball back into play before Lukas Podolski's equalizer, it would have gone straight out of play.
Arsenal Still Have a Lot to Do Defensively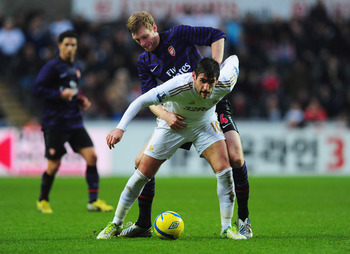 Stu Forster/Getty Images
Despite the fact that Arsenal dominated Swansea for much of the second half, the Gunners were to come from behind, and threw their lead away when they had worked so hard for it.
Immediately after Michu came on, he exploited Arsenal's defense like a poacher does. Taking a long ball in stride, he saw that Laurent Koscielny and Per Mertesacker were scrambling, chipped the ball calmly over both, and slotted the ball past Wojciech Szczesny.
After Arsenal thrillingly went 2-1 up, they imploded as they so often do. A rare Swansea attack nearly produced a goal, but Danny Graham made sure that the Gunners paid for conceding a corner.
But he should not have. Mikel Arteta failed to close Graham down at the near post when he found a pocket of space in a threatening area, and that's why Arsenal have to replay this fixture.
That lack of defensive continuity and tendency to make mistakes at crucial moments has greatly hindered the Gunners in the past, and obviously continues to do so.
Arsene Wenger Needs to Use His Substitutes Better
Stu Forster/Getty Images
Down 1-0 going into the final 10 minutes of the match, and with Alex Oxlade-Chamberlain and Tomas Rosicky at his disposal, Arsene Wenger had made only one change: Lukas Podolski for Aaron Ramsey.
And it was a good one; the much-maligned Ramsey deserves plaudits for a great game, but Podolski's direct style was perfect when Arsenal needed to take the game to Swansea.
The German scored, Arsenal went ahead a minute later, and all seemed to be going well.
But nothing was altered thereafter. With Thomas Vermaelen and Francis Coquelin sitting on the bench, Arsenal grew more feeble at the back in the game's dying minutes, and Danny Graham struck to force a replay.
It's easy, of course, to second guess and play "Monday morning quarterback," to use an American expression. Still, one cannot escape the feeling that Arsenal would have had an easier time scoring and holding firm at the back if Arsene Wenger had made more than one change.
Arsenal Need a Michu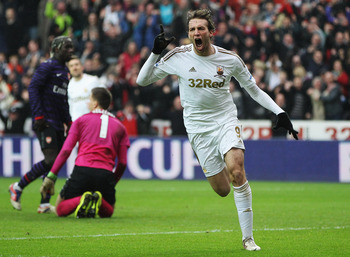 Ben Hoskins/Getty Images
Michael Laudrup put Michu into the game in the 56th minute. In the 58th minute, he put Swansea 1-0 up in spite of the chokehold that Arsenal seemed to have on the game.
That's the type of impact substitution that earns a team a win or draw when they should draw or lose. And Arsenal's lack of such a player might be why Arsene Wenger only made one change.
When Michu came onto the pitch, he almost certainly caused a touch of nervousness in Arsenal's defense. With a lethal display against the Gunners little more than a month ago, they know about the impact the Spaniard can have on a game.
He was always lurking on the bench, ready to save the day if Swansea needed him. And which Arsenal player can we say that about?
Certainly none that were on the bench today. Not one was a natural striker. That's why Arsene Wenger needs to strengthen his thin corps of strikers before he reinforces any other area during this transfer window.
Finishing Was the Difference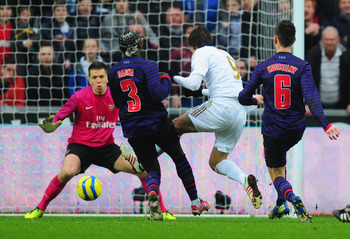 Stu Forster/Getty Images
Despite the fact that they ran rampant for much of the second half (match commentator Martin Tyler couldn't help laughing multiple times at Swansea's ineptitude), the scoreline says that the two teams were level.
Why? Let's take a look at the stats. Swansea scored on 25 percent of their total shots; Arsenal scored on 13 percent. Swansea scored on 40 percent of their shots on target; Arsenal scored on 22 percent.
Despite 54 to 46 percent possession advantage for Arsenal—and many more threatening stretches when they had the ball—the Gunners were simply less efficient than their opponents.
If they had capitalized on more golden opportunities or gotten a couple more shots off under duress (which those statistics do not reflect), Arsenal would have won this game; possibly by more than one goal.
Instead of finding moments to succeed, the Gunners found moments to fail.
Arsenal Will Not Be as Lucky in the Replay
Stu Forster/Getty Images
This article might sound a bit negative and lachrymose, but in truth, Arsenal put in a mostly excellent performance. Though fans often complain about a lack of incisiveness, especially against Swansea, the Gunners played a consistently aggressive, up-tempo style with reasonable success.
But they should have finished the job when they had the chance.
How many times will Arsenal be able to benefit from Swansea's incredibly sloppy and harried play during the second half? How many more times will the Gunners face the Swans without a healthy Michu in the starting lineup?
Almost certainly, we will see a very different Swansea effort when the two sides meet again. Arsenal had their chance: Playing some of their most exciting football of the season, Swansea were on the ropes, mere minutes away from being beaten.
But they blew it. The Gunners will have to do even better against a team that has recently been their kryptonite with more tired legs and weary minds.
If Arsenal really want to make a run for their last real chance of silverware this season, they have not started their quest very well.
Keep Reading

Arsenal: Like this team?