Dakari Johnson Commits: Does Kentucky Now Have the Best Recruiting Class Ever?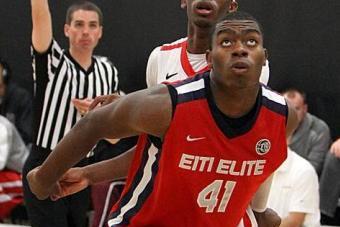 Courtesy 247 Sports

I feel like I've said this a lot lately: Kentucky landed another 5-star recruit. This time it was center Dakari Johnson (via ESPN), who recently reclassified to the Class of 2013.
John Calipari's 2013 class is simply unbelievable. He has racked up four 5-star players, one 4-star and one 3-star (according to ESPN). It's been getting better and better, and now we have to ask if it is truly the best in history.
It all started with the Harrison twins: Andrew and Aaron Harrison committed to the Wildcats early on, signing on Oct. 4 on ESPNU.
The Harrison twins are certainly the best package deal in history. The two 6'5" guards have incredible size, speed and talent, and they will immediately make up arguably the best backcourt in college basketball next season.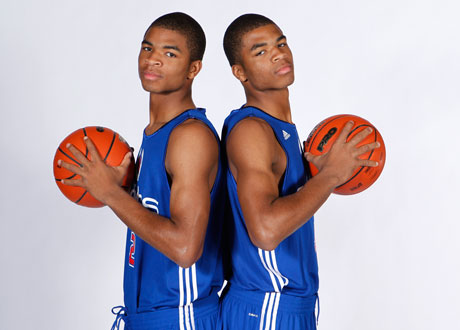 Courtesy Max Preps
These two 5-star recruits are both Top Five players according to the ESPN 100 list, with Andrew ranking third and Aaron ranking fifth. Their ability to pass, shoot and play defense makes them both elite players, but what makes them the best package in history is their natural chemistry.
Open up the floodgates.
Exactly a week after the Harrison twins committed, SG James Young also pledged his allegiance to the Wildcats. The 5-star shooting guard can also play wing, and at the time, he was the No. 5 player in the country (before Andrew Wiggins reclassified to the Class of 2013).
Young is the No. 2 shooting guard in the country behind Aaron Harrison, but at 6'6" he will likely play wing for the team.
With a brand-new perimeter made up entirely of 5-star recruits, Kentucky will be one of the best three-point shooting teams in the country next season and will be tough to keep up with in transition.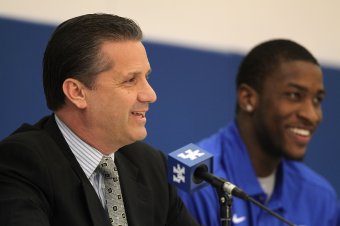 John Calipari has a history of bringing in elite recruits, but not like this.
Andy Lyons/Getty Images
If that wasn't enough for you, the team then went out and landed an elite power forward in Marcus Lee.
Lee's decision looked like it could have gone either way between California and Kentucky, but the athletic 6'9" big man who ranks No. 18 nationally according to Rivals chose Calipari and Co.
The Wildcats desperately needed a big man or two to join Derek Willis inside (the school's first commit and only non-Top 100 recruit), and Lee answered the call.
While he might not have the body to bang inside against true big men in the SEC next year, he has incredible athleticism and will be a threat in transition and along the perimeter.
These guys originally made up a group that was guaranteed to finish the year as the No. 1 class, and I even went so far as to say that there is a good chance that the Wildcats will go undefeated next season.
It was thought that they might have made up the greatest recruiting class of all time, but now that Johnson has joined, we need to take a closer look.
Johnson is a 6'10", 250-pound center who was a Top Five recruit in the Class of 2014 who recently reclassified.
Johnson brings something to the table that no other Kentucky recruit in the Class of 2013 does—the ability to play inside. Thanks to his incredible size, Johnson can bang down low with any big man in the country.
Note that these highlights are from more than two years ago, and Johnson has grown considerably since then.
Playing against older guys his entire career, you would expect Johnson to struggle at times. However, despite playing up a grade for most of his career, he has always been the most dominant player on the court, backing down defenders and finishing inside.
Johnson is not a sensational shot-blocker like Anthony Davis or Nerlens Noel, but he is much better in the paint on both ends of the court. He is not as athletic as those two, but he is exceptional in the half court.
Johnson really completes the class. The team has an incredible perimeter, an athletic power forward who will fit nicely into the system and a big-bodied center who can man the paint.
That raises the question: Is this the best class in history?
The short answer—yes.
Is this the greatest recruiting class in college basketball history?
With three of the top six recruits, the No. 1 center and two talented power forwards, the class could potentially win a national championship by itself. The only other recruiting class that could have done that is the Fab Five, and yet Michigan's incredible recruiting class pales in comparison to Kentucky's 2013 class.
While the Fab Five was made up of five All-Americans, the fact that Kentucky brings in the No. 1 point guard, the No. 1 and No. 2 shooting guards and the No. 1 center makes this class much better.
The question is no longer if this is the best recruiting class ever, but just how far will it take Kentucky?
An undefeated season is not out of the question.
This article is
What is the duplicate article?
Why is this article offensive?
Where is this article plagiarized from?
Why is this article poorly edited?

Kentucky Wildcats Basketball: Like this team?