Philadelphia Eagles: Grading Each Player's Performance in 2012 (Offense)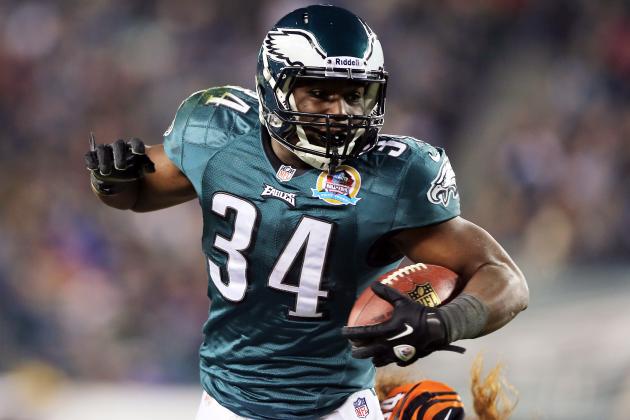 Elsa/Getty Images

The Philadelphia Eagles have finally concluded their dismal season, falling 42-7 to the New York Giants in the final game of Andy Reid's tenure with the Eagles.
After a promising 3-1 start, the Eagles lost 11 of their next 12 to stumble to last place in the entire NFC. The Birds' 4-12 mark is the worst record since Reid took over as head coach in 1999.
Not one player can be held responsible for the miserable campaign, but disappointing performances from many of the top stars on the team contributed to the awful year. Reid has already been fired, meaning the new head coach will have to carefully evaluate each of the 53 players to see which guys deserve to come back in 2013.
As part one of this three-part series, I'll evaluate the offensive players on the Eagles (players must have appeared in at least 50 snaps). Part two will cover the defense, while part three will handle the special teams and coaching staff.
Begin Slideshow

»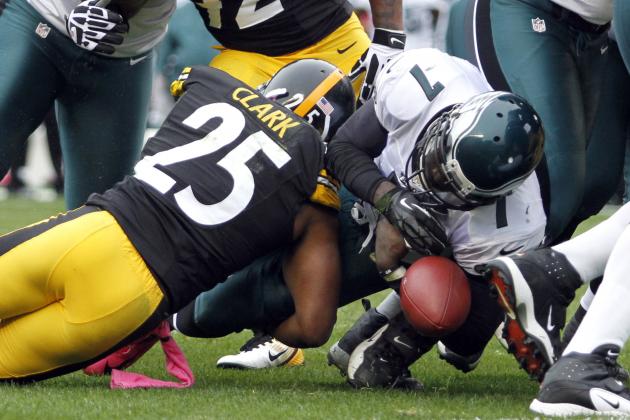 Justin K. Aller/Getty Images

The Eagles expected much more out of their $100 million man than what they got. After playing like an MVP candidate in 2010, Vick struggled mightily in 2011. His interceptions were up, his fumbles were up and he missed three games due to injury.
Vick was unofficially placed on the hot seat for 2012 when the Eagles drafted quarterback Nick Foles in the third round of the NFL draft. The Eagles won three of their first four games under Vick despite a slew of turnovers, as the team took advantage of three game-winning drives from No. 7.
But the turnovers continued, and Vick's inability to protect the football cost the Eagles a handful of games. He lost a fumble at the goal line against Pittsburgh. He failed to recognize an obvious corner blitz against the Arizona Cardinals and was hit for a fumble return touchdown. And he was eventually concussed behind a makeshift offensive line that sidelined him for a handful of games.
By the time Vick was healthy, rookie Foles had beaten him out for the job. Vick's prove-it performance in Week 17 was vastly disappointing, as he led the Eagles to just seven points and turned the ball over on the opening drive.
Vick finished the season with a 58.5 completion percentage, 11 touchdowns, nine interceptions, 10 fumbles and just a 79.2 passer rating. Since joining the Eagles, it was his worst completion percentage, lowest passer rating and QBR and highest sack percentage.
Grade: D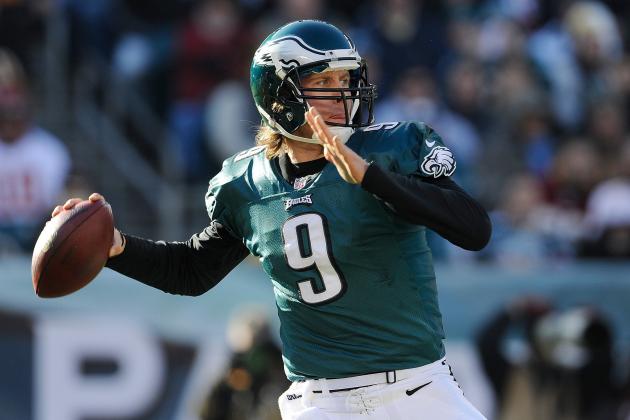 Patrick McDermott/Getty Images

Factoring in that Nick Foles was a third-round rookie playing behind a limited offensive line, he played very well. Foles played most of his games without star wide receiver DeSean Jackson or All-Pro running back LeSean McCoy, and he was regularly forced to throw the ball 40 times per game.
Foles' 60.8 completion percentage is the fifth-best mark for any rookie quarterback in league history. He threw six touchdown passes to five interceptions (the same total A.J. Feeley posted in six appearances back in 2002). And Foles' passer rating and QBR compare favorably to that of Vick.
But Foles did his work with less talent around him, and he's had less experience in the league. He turned in some fine moments, like the last-second walkoff touchdown pass he threw to wide receiver Jeremy Maclin in the corner of the end zone against Tampa Bay. And he nearly led another comeback in Week 16 against the Washington Redskins, playing through a broken hand.
Grade: B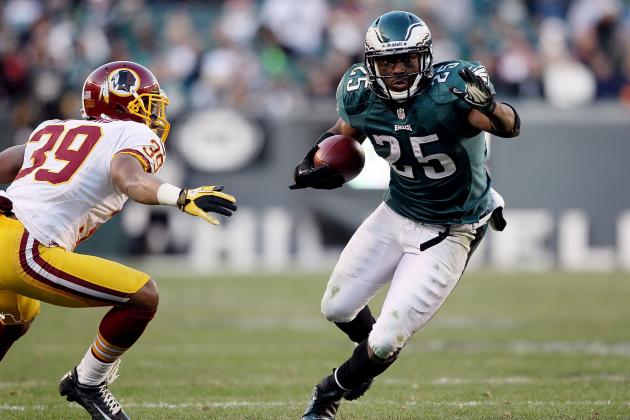 Alex Trautwig/Getty Images

LeSean McCoy's stats won't wow anyone. He went from 1,309 rushing yards, 20 total touchdowns and 4.8 yards per carry to 840 rushing yards and five total scores on 4.2 yards per carry.
Even his fumbles went up, as he coughed the ball up four times in 2012 compared to just once in 2011. Then again, 2011 was an all-time great season, and it's difficult to live up to that billing.
McCoy was also playing behind a depleted offensive line that lost four starters, three to season-ending injuries. He was playing with a rookie quarterback and without DeSean Jackson for much of the season, meaning teams could focus solely on McCoy as the lone offensive threat.
McCoy often had to create plays if he wanted to gain yardage, and there's no telling how good his numbers would have been if he had been playing with Jason Peters or Todd Herremans.
Grade: B+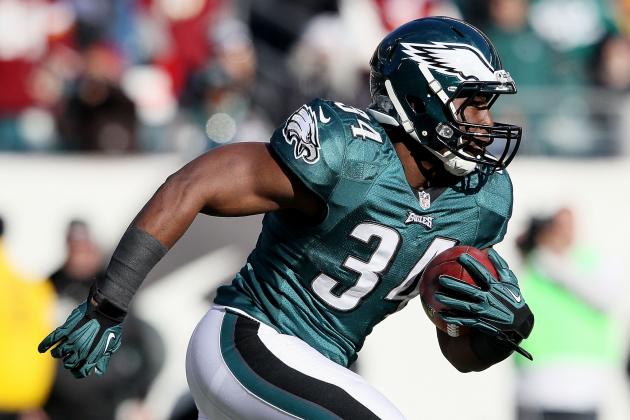 Alex Trautwig/Getty Images

What a roller-coaster season for the rookie seventh-round pick Bryce Brown. After playing in a very limited role, Brown broke out for 178 yards and two scores against the Carolina Panthers on Monday Night Football. He followed that with 169 yards and two more touchdowns against the Dallas Cowboys, giving strong hope for a star two-headed running back system in 2013.
Brown's success derailed though, as he gained just 76 yards on his next 40 carries. That's a waiver-wire-caliber 1.9 yards per carry. His inability to hold onto the football (four lost fumbles in just 128 touches) will keep him on the bench if he doesn't improve.
Still, the Eagles have to be pleased with the potential their seventh-round pick showed them.
Grade: B+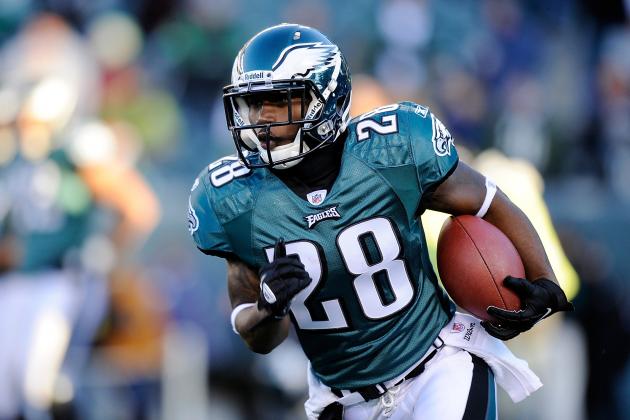 Patrick McDermott/Getty Images

The fact that Dion Lewis couldn't even get on the field for most of 2012 is perplexing. When Lewis did play, he seemed to make plays every time he touched the ball.
Lewis finished at 5.3 yards per carry and a touchdown on 13 rushes, giving hope that the Eagles can use him again in 2013.
Grade: B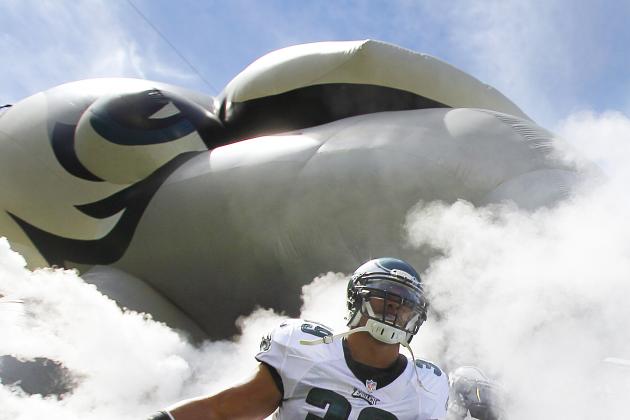 Rich Schultz/Getty Images

As a seventh-round pick in 2011, the Eagles have to be very pleased with what they saw from Stanley Havili. He paved the way for McCoy and Brown and was thought of as a potential Pro Bowl candidate early on.
Grade: B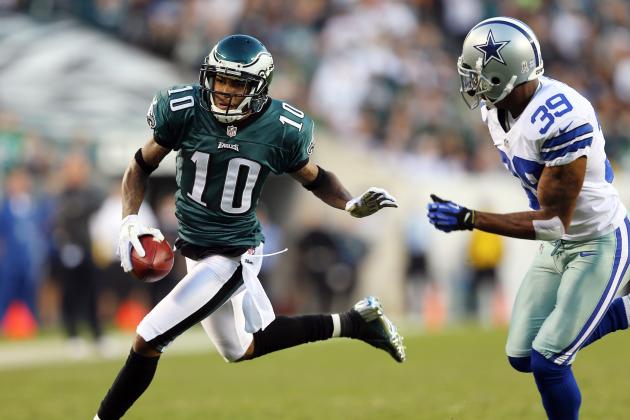 Elsa/Getty Images

What a strange season for DeSean Jackson. Back in 2009 and 2010, he racked up 50-yard touchdown catches like he was playing practice squad players.
He hasn't been the same weapon as of late. Blame it on the offensive line and the shoddy play from both quarterbacks if you want. Two touchdowns from Jackson is a disappointing total, even though he only played 11 games.
The 700 receiving yards isn't a bad total, as it projects to another 1,000-yard season for the Birds' No. 1 receiver.
Grade: B-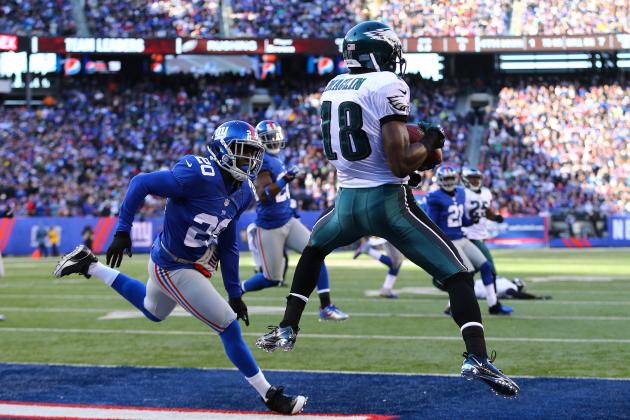 Al Bello/Getty Images

Jeremy Maclin has managed to play four seasons as a fairly productive first-round receiver without ever totaling 1,000 yards in a year. And that's in a passing offense.
That's surprising, and Maclin has yet to have the breakout campaign he should have. He manages to disappear at stretches, and the Eagles may be better off with a bigger receiver that can make plays in the red zone.
Still, Maclin led the team with 69 receptions, 857 yards and seven touchdowns. He was much more efficient down the stretch when rookie Nick Foles was throwing to him, and that bodes well for the future.
Grade: B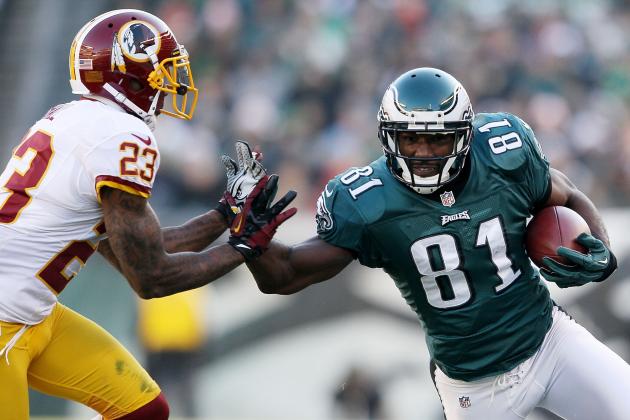 Alex Trautwig/Getty Images

Jason Avant is one of the more consistent, reliable slot receivers in the NFL. He caught 53 passes for 648 yards, although it was surprising that he didn't catch a single touchdown pass.
Avant has terrific hands, and his penchant is coming up with big catches on third downs. That's what makes him so valuable to the offense.
Grade: B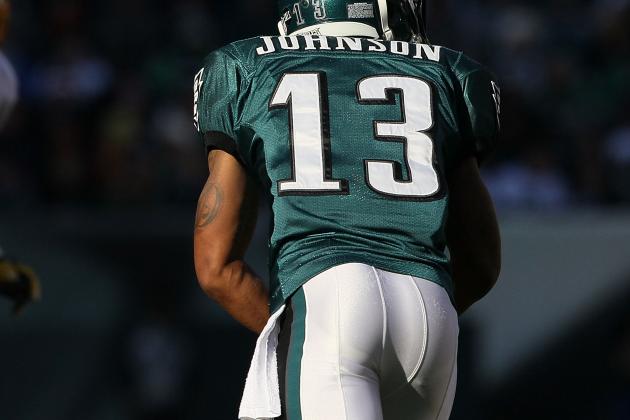 Alex Trautwig/Getty Images

Damaris Johnson went from a camp long shot as an undrafted rookie free agent to the team's fourth receiver. He caught 19 passes for 256 yards, and he showed some hope that he can be a playmaker in the future.
Johnson is made in the mold of Jackson and Maclin, meaning he lacks size and the ability to go across the middle. The 2013 season will be a big year for Johnson to show what he can do with a full year of Nick Foles.
Grade: B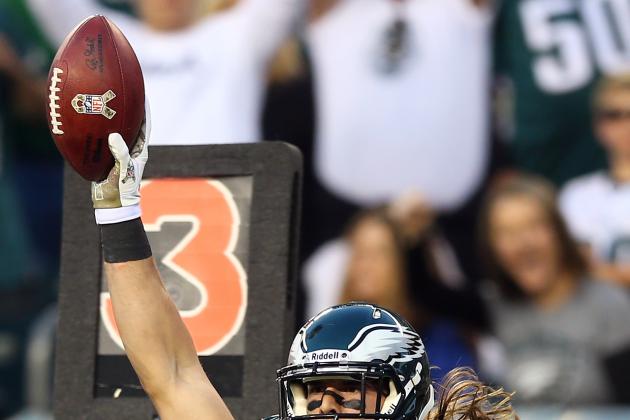 Elsa/Getty Images

Riley Cooper isn't quite the red zone threat the Eagles thought he would be when they selected him in the fourth round of the 2010 NFL draft.
Twenty-three catches for 248 yards and three touchdowns is a respectable total, though. Who would have thought Cooper would catch as many touchdowns as Jackson, Avant and Brent Celek combined?
Grade: B-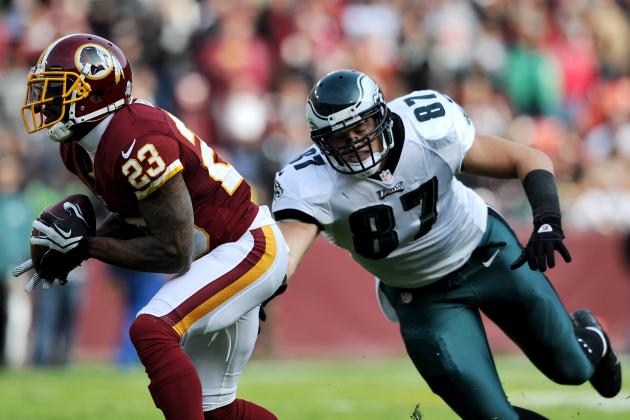 Patrick Smith/Getty Images

Brent Celek was largely a disappointment in 2012. He finished with solid receiving numbers (57 catches for 684 yards). But the Philadelphia Eagles need more red-zone production out of Celek, especially with their lack of a big-time receiver.
Celek finished with only one touchdown grab, and that's not enough. He also dropped six passes, which was tied for fifth-most among tight ends.
Grade: C+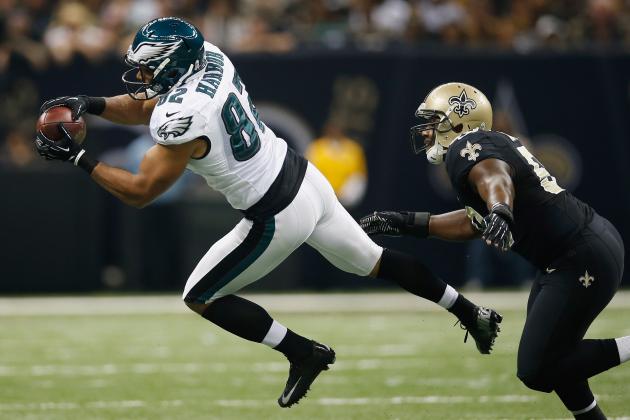 Chris Graythen/Getty Images

Clay Harbor is a solid backup tight end to Celek, although he could probably post better receiving numbers if the Eagles used him more.
Harbor finished with only 25 catches for 186 yards and two touchdowns, although that's because he was frequently asked to stay in and block.
Grade: B-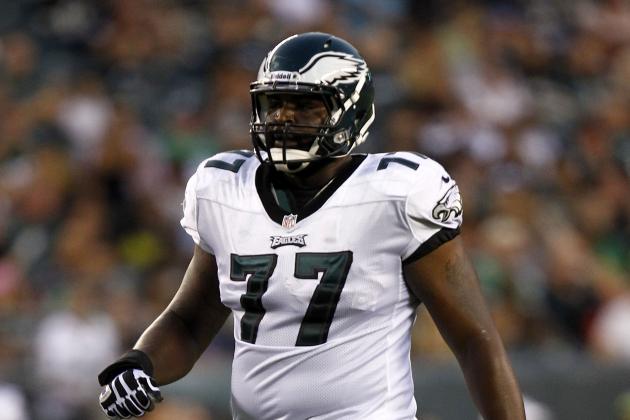 Jeff Zelevansky/Getty Images

The Philadelphia Eagles thought they had themselves at least a league-average tackle in Demetress Bell, who, ironically, was Jason Peters' replacement in Buffalo.
Instead, Bell turned in arguably the worst season by an Andy Reid free-agent acquisition since Stacy Andrews in 2009. Bell showed no desire to play football, getting benched halfway through 2012. He allowed three sacks and 21 quarterback pressures in nine games.
He committed a ridiculous nine penalties. And he gave way to King Dunlap, who is nothing more than a seventh or eighth lineman on any NFL team.
Grade: F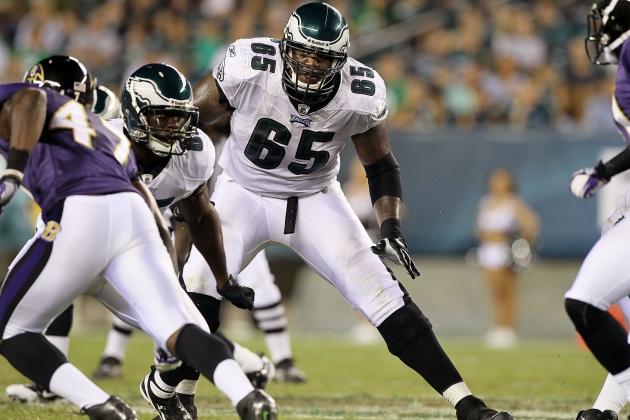 Jim McIsaac/Getty Images

King Dunlap is what he is.
He's a career backup who has no business starting for any NFL team. He's probably not quite as bad as people think, but Dunlap didn't help the situation on the Eagles offensive line.
Grade: C-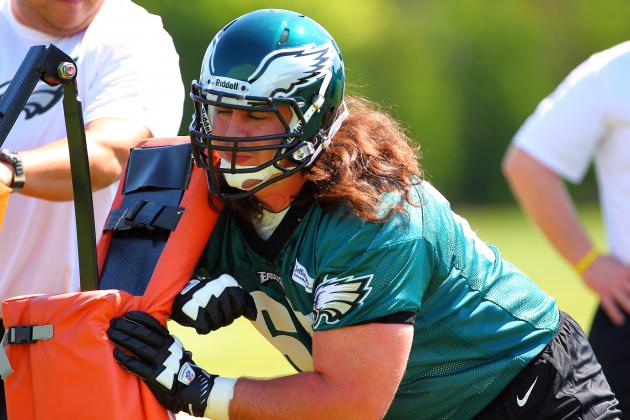 Rich Schultz/Getty Images

It's a difficult situation for a fifth-round rookie like Dennis Kelly to be thrust into a starting role like he was. Kelly struggled as a guard, but that's to be expected for a 6'8" player moved inside.
Kelly may have a future with this team, and he will return in a backup role in 2013.
Grade: C+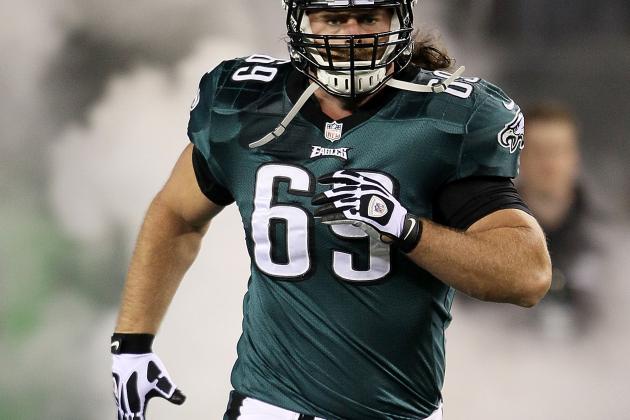 Alex Trautwig/Getty Images

What a simply phenomenal season by Evan Mathis. He was a relative unknown when the Philadelphia Eagles signed him before 2011, and he's turned in two outstanding campaigns.
Mathis was at his best this past year, and a case could be made that he's the best guard in the NFL. Mathis was more than deserving of a Pro Bowl selection. He's a terrific run blocker and pass blocker, and he filled in very well with both Jason Peters and Jason Kelce sidelined.
Grade: A+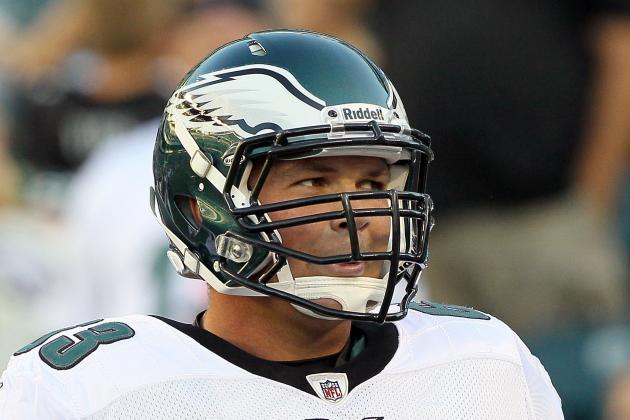 Jim McIsaac/Getty Images

Danny Watkins is well on his way to becoming one of the biggest busts in franchise history. Then again, 2010 first-rounder Brandon Graham had a rough start before turning his career around. The best hope for Watkins is that a new offensive line coach and new head coach can bring out the best in him.
Watkins was so bad in 2012, though, that he was a healthy scratch down the stretch. He gave way to veteran Jake Scott, who was signed off the street and immediately plugged into the starting lineup.
Grade: F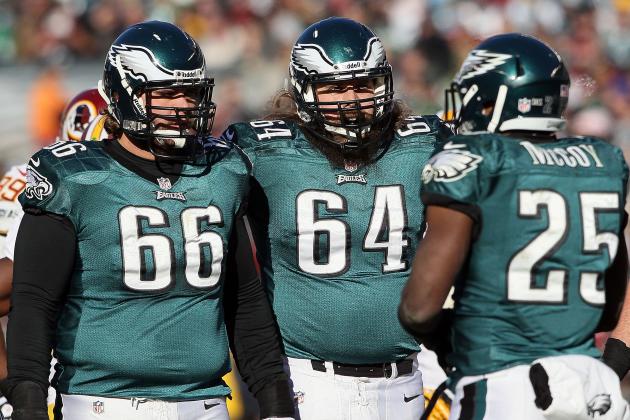 Alex Trautwig/Getty Images

Jake Scott certainly showed some growing pains during his half a season with the Eagles. But the fact that he was able to start over Watkins right away was an instant upgrade to the team. Scott committed seven penalties in as many games, but he could provide solid depth to the 2013 squad.
Grade: C+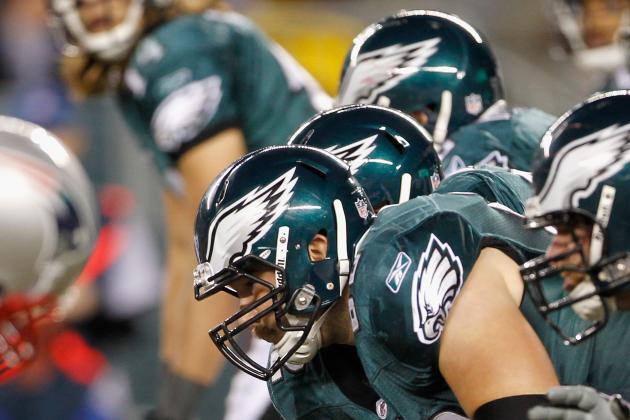 Rich Schultz/Getty Images

Jason Kelce played just one full game and part of another before he suffered a season-ending knee injury. He was playing at a very high level, though, as the leader of the Philadelphia Eagles offensive line.
Grade: B+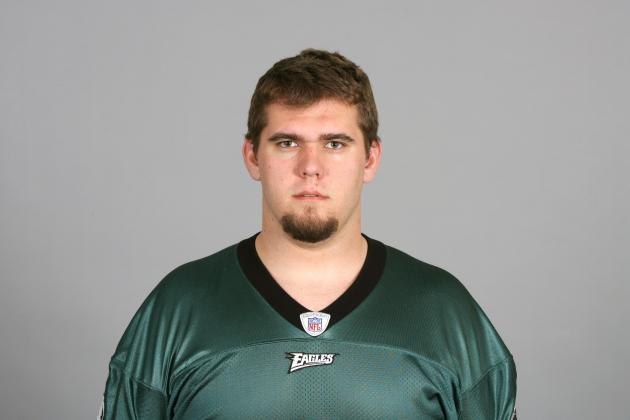 Handout/Getty Images

Dallas Reynolds struggled in his first year with the Eagles after spending the previous three seasons on the practice squad. That's fairly typical of a backup forced into a starting situation, though, and Reynolds performed about as well as any other backup would as a full-time starter.
What was concerning about Reynolds, though, were his struggles in getting the snap count down, and the result was several snap miscommunications.
Grade: D+