Breaking Down Cody Zeller's NBA Potential and Draft Stock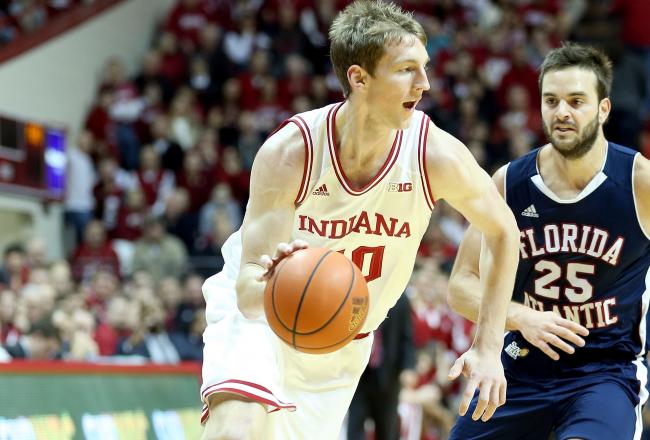 Andy Lyons/Getty Images
Cody Zeller possesses one of the most polished offensive skill sets of any NBA prospect in the country. He's the centerpiece of an Indiana program that will be competing for a national championship, and a strong candidate to gets looks from teams selecting at the very top of the draft.
Zeller has a number of strengths and weaknesses that will be magnified under the microscope as conference play gets underway.
Offensive Polish and Scoring Instincts
Zeller's offensive post-game is extremely advanced for a kid his age. With his back to the basket, Zeller has excellent footwork that allows him to create separation turning over either shoulder. Turning over his right shoulder, he sports a high release to keep from being contested, or he uses his left hand to finish depending on the defender's positioning.
He has a quick first step for a 6'11'' center, which makes him tough to guard at the high post, and dangerous on the low block. His touch and hands within 10 feet of the rim are as soft as a baby's bottom, so anytime he gets his shot off there's a good chance it's going in.
One of the unteachable attributes Zeller brings to the table is his top-shelf scoring instincts. Zeller is able to recognize when he needs to pump-fake, use a power dribble or go right up. His counter moves on the interior make him unpredictable with the ball in his hands, which is why he shoots 62 percent on the 16.6 points he averages a game.
Physical Tools
At 6'11'' he's got typical size for an NBA center with above-average athleticism and nimble feet. Zeller does lack strength, but his mobility and high basketball IQ allow him to navigate around stronger defenders and finish around them.
His foot speed and grace are a big reason why he's capable of playing face-up basketball, not something most centers his size are accustomed to. His agility allows him to elude defenders on his path to the hole while moving at full speed.
Zeller's mobility is also a huge plus in the strengths category. He gets himself at least one or two easy baskets a game just beating his man down the floor for an uncontested layup in transition. Teams that play uptempo will love what Zeller can offer in the full-court game.
Weaknesses
Though exceptionally-skilled offensively, Zeller lacks range as a face-up jump shooter. Rarely do you see Indiana run a pick-and-pop for him to stick an 18-footer, which eliminates an avenue for points and limits his scoring opportunities.
One of the major weaknesses that can hold him back in the draft is the minimal pressure he puts on opposing frontcourts as a rebounding presence. He only averaged 6.6 boards as a freshman, and while he's improved that number to 8.1 as a sophomore, he still looks vulnerable anchoring the defensive glass.
Below is an example of his lack of aggressiveness around the rim:
Defensively, Zeller isn't an intimidating force, averaging 1.2 blocks as a freshman and 1.3 as a sophomore. With his size and mobility, a block a game is just inevitable, but defending the post and protecting the rim are two areas where Zeller needs to improve.
Draft Stock and NBA Outlook
Because of Zeller's ability to add a coveted dimension of scoring to a prospective team's offense, he'll get looks from general managers drafting in positions one through 10.
Where Should Cody Zeller Go in the 2013 Draft?
Since we haven't seen that visible improvement from his freshman to sophomore year, his draft stock isn't as high as it was during the summer. There are a lot of similarities between him and Brook Lopez as one-way finesse scorers who aren't a factor under the boards.
But in a draft with few sure things, Zeller's reliability and high basement won't allow him to slip out of the top echelon of the draft. He'll be battling Alex Len in June for the best offensive center honors in the 2013 NBA draft class.
This article is
What is the duplicate article?
Why is this article offensive?
Where is this article plagiarized from?
Why is this article poorly edited?