New York Yankees: 7 Things We Want to See in 2013
Jonathan Daniel/Getty Images

The New York Yankees did plenty right in 2012. They won 95 games and another AL East Division championship.
They led all of baseball in home runs and finished second in runs scored.
Despite countless injuries to the starting rotation and bullpen, the Yankees posted a team ERA under four, placing the Yanks among the top half of the league.
In many teams' books that would be one successful season. In the Bronx anything short of a World Series victory is a massive failure.
The 2012 Yankees were a good-but-not-great team and had plenty of areas that needed improvement.
Each season the page turns and fan bases look to see if the changes have been made to advance further.
For Yankees fans, there are several areas of the game—as well as players on the team—that they want to see improve in 2013.
Begin Slideshow

»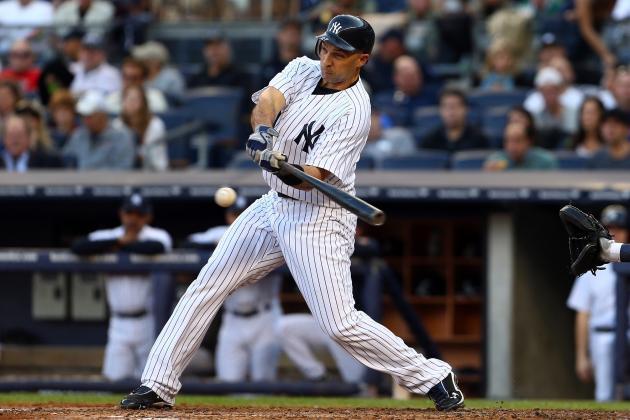 Alex Trautwig/Getty Images
With Ibanez gone someone needs to step up to the plate in the clutch.
When the Yankees are going right, coming up with a clutch hit is as frequent as blinking an eye.
2012 was a boom-or-bust season for the Yankees. They struggled hitting with runners on for most of the season.
The Yanks finished in the bottom half of the league with a .256 BA with runners in scoring position. That number sunk to .228 with two outs.
If it weren't for Raul Ibanez's postseason heroics, the playoffs would have been an even greater failure than they already were.
During the postseason the Yankees batted only .196 with runners in scoring position.
That is a number that will have to improve in 2013 if the Yankees plan on having any significant success.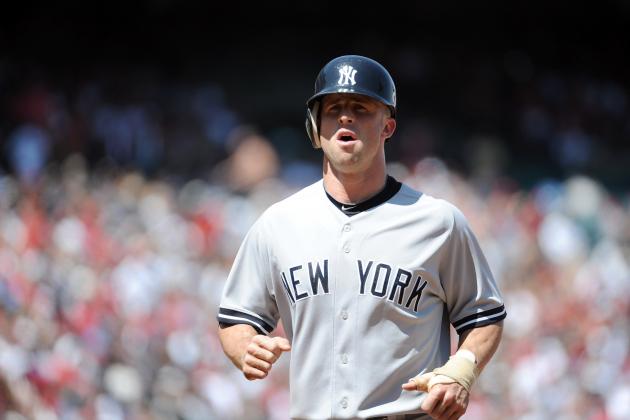 Harry How/Getty Images
A healthy Brett Gardner adds a dimension to the Yankees that was lacking last season.
The New York Yankees have never been known for their base-stealing abilities. But they have at least always had a threat.
In 2012, they did not.
However, 2013 has the potential to see a style of baseball not often found in the Bronx.
With the return of Brett Gardner from injury and the re-signing of Ichiro Suzuki, the Yankees can now feature two players with the ability to steal over 40 bases each.
Mix in players like Derek Jeter and Curtis Granderson, who can swipe in the 20 range, and the lineup will feature a threat in all spots in the order.
The speed the Yankees can feature will open up the offense and allow Manager Joe Girardi to attempt more hit-and-runs and squeeze plays.
Getting runners in scoring position via the stolen base will also aid the sluggers in the lineup, giving them more opportunities to knock in runs.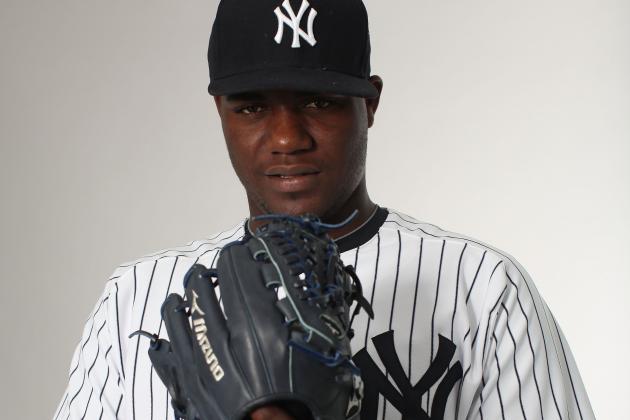 Nick Laham/Getty Images

Yankee fans are still waiting for Michael Pineda to throw his first pitch in pinstripes.
That should come in 2013, but it will come later than originally anticipated.
In an interview with Ian O'Connor on ESPNNewYork 98.7 FM (per ESPNNewYork.com), General Manager Brian Cashman said he expects Pineda to be back sometime around June.
Pineda was acquired prior to the 2012 season in a trade involving top prospect Jesus Montero.
Pineda is only 24 and is filled with talent, and could be a great addition to the Yankee rotation late in the season.
Andy Pettitte and Hiroki Kuroda are not getting any younger and CC Sabathia has had his run-ins with injuries.
A potential live arm coming along in the dog days of the summer would be a pleasant boost for a team expected to be in contention.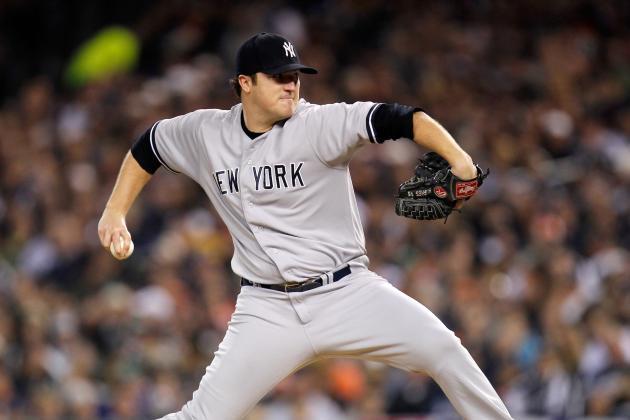 Gregory Shamus/Getty Images

Phil Hughes can take a lot of positives from his 2012 campaign.
He made a career-high 32 starts and won 16 games. He increased his K-rate by two while decreasing his ERA by over a run-and-a-half from 2011.
Without a doubt, Hughes can build off of last season. His biggest problem was keeping the ball in the ballpark.
The Yankees have been waiting patiently for the 26-year-old to reach the potential scouts raved about when he was in the minors.
Hughes is entering the prime of his career and a strong 2013 could go a long way in keeping Hughes in pinstripes long after veterans like Pettitte and Kuroda are gone.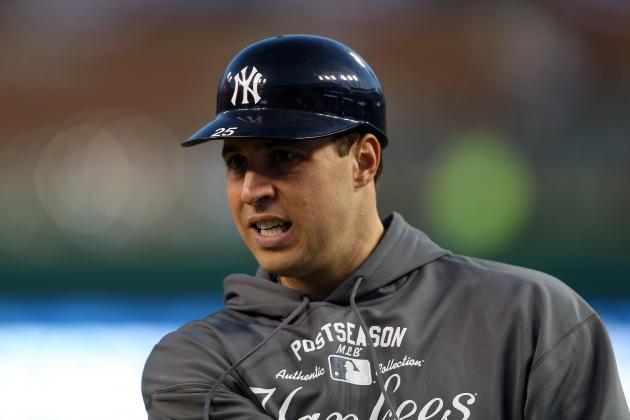 Leon Halip/Getty Images

If there was one Yankee not named A-Rod who would like to forget 2012 it would be Mark Teixeira.
Teixeira finished the season with career-lows in home runs and RBIs. He also missed 39 games due to injury.
It was the first time since 2007 that he hadn't played in at least 150 or more games.
Entering 2013, fans can believe one of two options: Either last season was a one-year fluke or the beginning of a downward trend for a player on the wrong side of 30.
The injuries Tex suffered and battled through had to slow down his overall performance.
One bright spot heading into next season is the the performance he had in the 2012 playoffs.
While the rest of the lineup not named Jeter suffered to get even a hit, Teixeira batted .281 and walked eight times in 32 at-bats.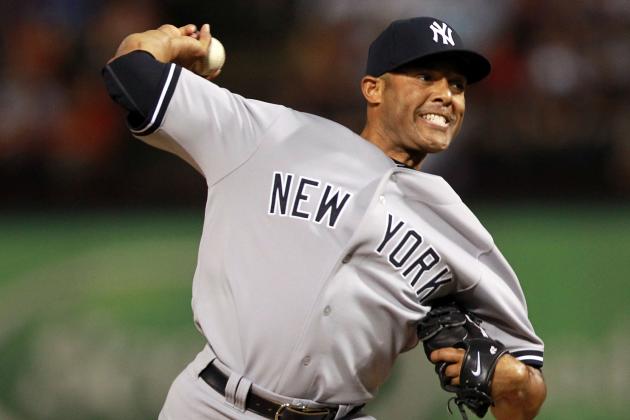 Ronald Martinez/Getty Images

2013 marks the return of the best closer in baseball history. Last season was probably going to be Mariano Rivera's final season in baseball.
That is before his season was cut very short following a knee injury that required surgery.
Rivera declared he would not retire and pitch again determined to finish his career on his terms.
The 43-year-old signed a one-year, $10 million deal to return in 2013. Rivera expects to be ready for the start of the season.
His presence on the mound is second in importance to his presence in the clubhouse. Rivera is an all-time great and his return to the team should motivate the club all season.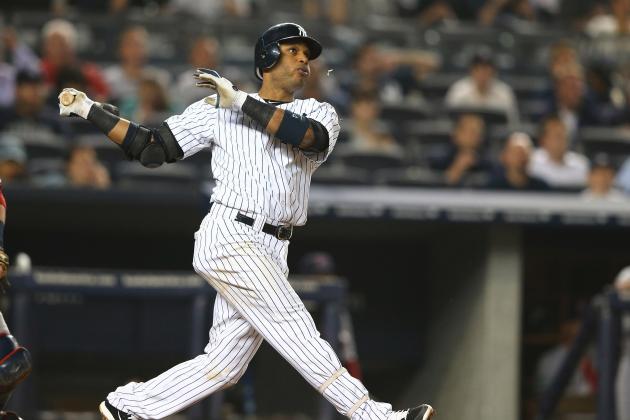 Al Bello/Getty Images

Robinson Cano is the best player on the Yankees.
He has been for at least the last two seasons, if not three.
Cano might not be a Yankee once 2013 ends. That is the reality the Yankees face if they can't come to an agreement or don't want to with the 30-year-old All-Star.
According to the Daily News, the likelihood of this happening is high with Scott Boras being Cano's agent and the recent motion by ownership to decrease payroll.
Cano has finished in the top six in MVP voting in each of the last three seasons.
With this being a contract year for Cano, expectations will be even higher.
It is time for him to prove his value to the Yankees and not only carry them deep into the postseason but also elevate his game and be considered one of the best players in all of baseball.
If he does that, there is no possibility the Yankees let him walk.