NASCAR: The 8 Best Owners in Sprint Cup Today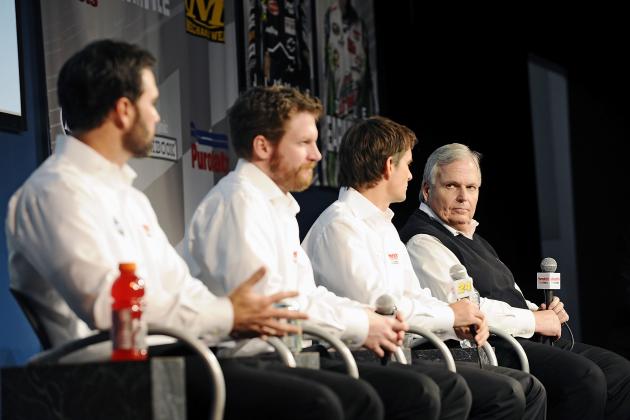 Jared C. Tilton/Getty Images
Rick Hendrick has arguably the best driver lineup in Sprint Cup today, with (from left) Jimmie Johnson, Dale Earnhardt Jr., Jeff Gordon and Kasey Kahne (missing from photo).
It's easy to pick the best team owners in NASCAR; they're the ones whose teams (or most of them) make the Chase for the Sprint Cup season after season.
This past season, Roger Penske and Michael Waltrip moved up into the exclusive club of the best owners in NASCAR. Penske finally won his first Sprint Cup championship after nearly 40 years of trying. Waltrip was recognized for having Clint Bowyer and Martin Truex Jr. not only make the Chase but also to have Bowyer finish a close second to Penske driver and Cup champ Brad Keselowski.
We look at the top eight team owners today, but there is a caveat. The last three have struggled in recent years—and could potentially struggle again in 2013.
Begin Slideshow

»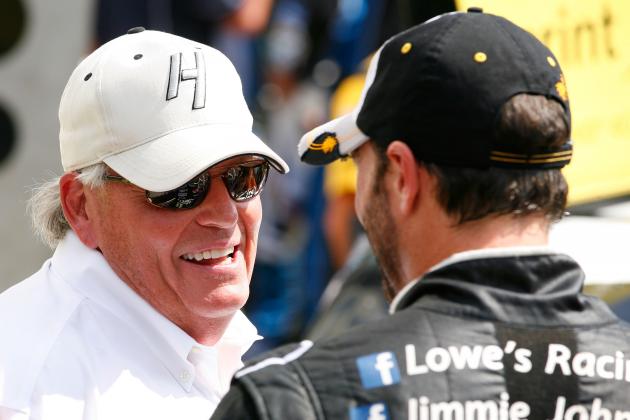 Tyler Barrick/Getty Images

Without question, Joseph Riddick Hendrick III is the top active team owner in Sprint Cup today. While Richard Petty and Richard Petty Motorsports/Petty Enterprises may have more all-time wins (287), Hendrick has been the most successful owner of the modern era of NASCAR.
Hendrick-owned teams have won 209 races, with the 200th coming this past May at Darlington. He also has been at the helm for 10 Sprint Cup Championships (five from Jimmie Johnson, four from Jeff Gordon and one from Terry Labonte), one Nationwide Series title and three Camping World Truck Series crowns.
When success and excellence in NASCAR is mentioned, Rick Hendrick is the standard by which it's measured.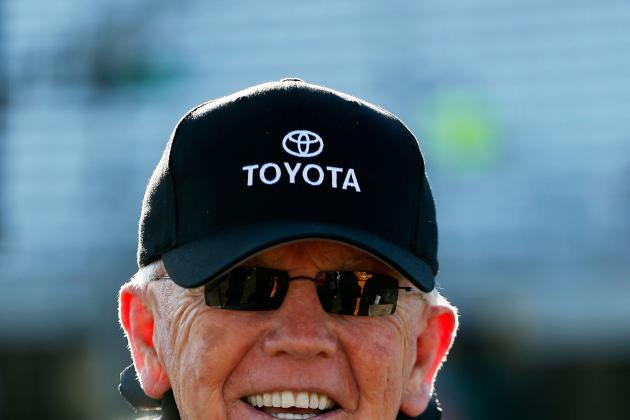 Jamie Squire/Getty Images

The NFL coach-turned Sprint Cup team owner is a legendary figure in both sports.

On the Cup side, he has earned three championships (2000 with Bobby Labonte, 2002 and 2005 with Tony Stewart), as well as three Nationwide Series crowns (2008, 2009 and 2010).

His teams have also won an even 100 Sprint Cup races and have finished in the top 10 in nearly half of the team's 1,514 overall starts.

Even before he was a Super Bowl-winning football coach, Gibbs was first and foremost a gearhead and racer, dating back to his teens.

Gibbs is especially known for his patience, tolerance and religious conviction. He's not only a great team owner, he's also a great man.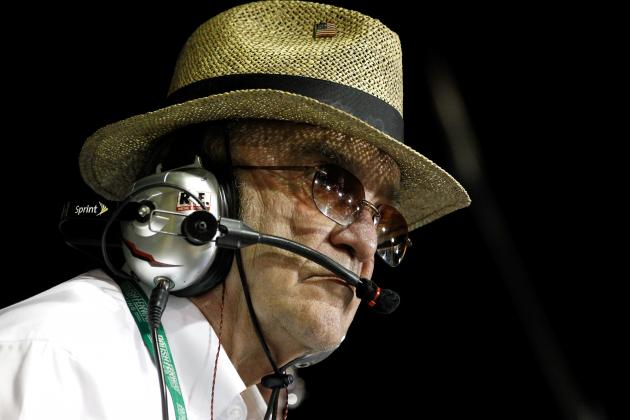 Tom Pennington/Getty Images

It's pretty certain that Jack Roush, the so-called "Cat in the Hat," bleeds Ford blue—or at least he likes to say he does. And with Ford backing primarily in the Cup series, Roush-owned Cup teams have won 130 races, two Cup championships (Matt Kenseth in 2003, and Kurt Busch in 2004) and eight runner-up showings in the final standings of a season.

Roush is arguably the most technically in-tune owner in the sport. When reporters ask him a simple question like, "How do you think your car ran today?," Roush can launch into a 10-minute diatribe that has most members of the media wondering afterward, "What did he say?"

Once the proprietor of as many as five Cup teams at one time—which eventually prompted NASCAR to limit team owners to only four—Roush now fields just three teams in the sport's premier series, with Carl Edwards, Greg Biffle and newcomer Ricky Stenhouse Jr. (replaces Kenseth, who will race for Joe Gibbs Racing in 2013).

Even though he placed two of his three drivers in the Chase in 2012—Edwards surprisingly missed it after coming just one point away from winning the 2011 Cup crown—Roush endured somewhat of an off-year. Look for a rebound from Roush Fenway Racing in 2013.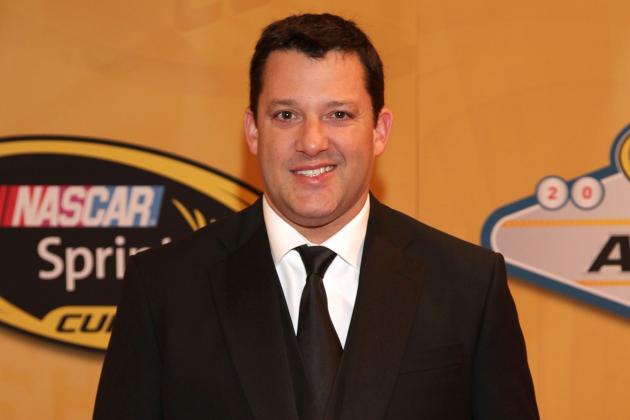 John Gurzinski/Getty Images

Tony Stewart got the ultimate Christmas present that every driver dreams of at the end of 2008 when team owner Gene Haas offered him a 50 percent stake in what would become Stewart Haas Racing.

Stewart has been the figurehead while Haas has been the money man, and that combination has worked well. In just four seasons, SHR has combined for 17 wins, 69 top fives, 135 top 10s and has won one Sprint Cup championship (Stewart in 2011).

Things are going to get a lot more interesting in 2013 as Danica Patrick makes her full-time Sprint Cup debut driving for SHR. And then in 2014, Kevin Harvick will join up with one of his best friends in the business, Stewart, to make SHR a four-car team.

To see how much SHR has achieved in such a short period of time truly is amazing. But we get the feeling that the best is still yet to come.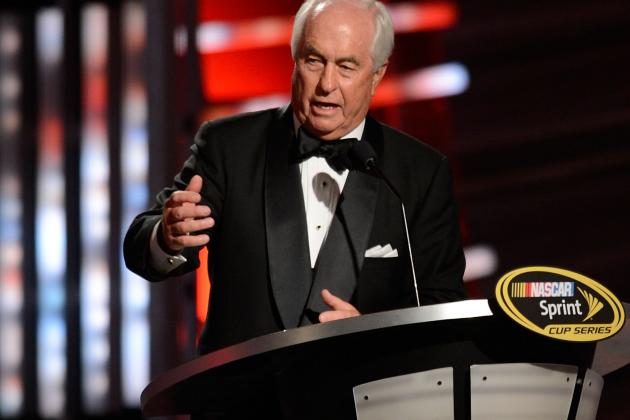 Jeff Bottari/Getty Images

Roger Penske has won an incredible 15 Indianapolis 500 races, as well as 12 championships as an Indy Car team owner.

And finally, after nearly 40 years of trying, along with 73 wins and nearly 1,400 starts, the silver-haired billionaire finally won his first NASCAR Sprint Cup Championship as a team owner in 2012 with Brad Keselowski behind the wheel.

"The Captain" commands respect both in the business boardroom and on the racetrack. Needless to say, when Penske talks, people listen.

Even with the switch from Dodge (which has taken its stock car racing program on indefinite hiatus) to Ford cars and motors in 2013, we see Penske Racing once again leading the way.
In fact, it should be an interesting rivalry between Penske and Jack Roush, particularly since Penske will be purchasing most of the motors for his Cup cars from Roush and genius motor builder Doug Yates.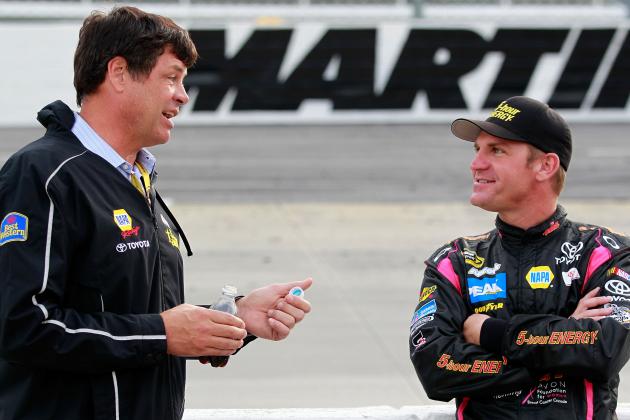 Geoff Burke/Getty Images
"Now Clint, remember when you called me the worst driver in NASCAR?"
When Michael Waltrip announced in 2006 that he would form his own race team in 2007, many people reacted the same way they do when they watch Waltrip crack a joke on many of his appearances on TV: They laughed at him.

But with a knack for securing high-dollar sponsorships, Waltrip and business partner Rob Kaufmann have built, perhaps, one of the best up-and-coming Cup organizations in the business.

Waltrip also believes in forgiving and forgetting. In 2008, Clint Bowyer called Waltrip "the worst driver" in NASCAR. Four years later, Waltrip hired Bowyer when he lost his ride with Richard Childress Racing, and together, the pair mounted an effort that saw Bowyer finish a career-best second to Brad Keselowski in the 2012 Sprint Cup Championship.

Waltrip also has seen steady improvement in Martin Truex Jr., who also made the Chase in 2012. He also threw a lifeline to veteran Mark Martin to run a part-time schedule in 2012 (Martin will do the same in 2013) and also Brian Vickers, who will likely drive a fourth car full-time for MWR in 2014.
And even though MWR has just five wins since its formation in 2007 (including three by Bowyer this past season), look for a lot more wins in 2013—not to mention potentially winning its first Sprint Cup Championship, as well.
At this rate, who knows, maybe Michael may convince brother Darrell to come out of retirement and race for him, as well.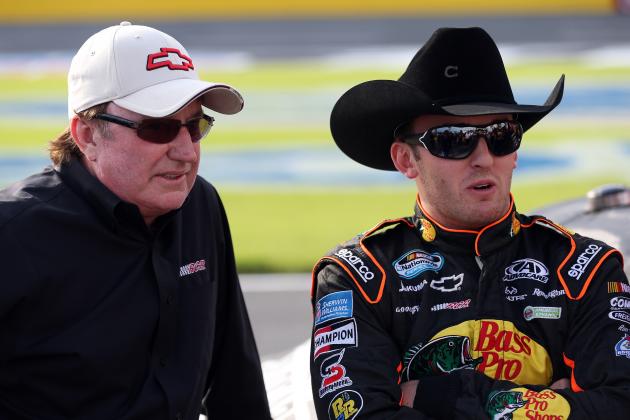 Streeter Lecka/Getty Images
Richard Childress and grandson Austin Dillon.
NASCAR is a sport of ebbs and flows, of success and difficulty, and that has been the roller coaster Richard Childress Racing has endured over the last decade.

One year, the organization is up, and seemingly the next year, it's down.

Childress has won six Cup championships, all with the late Dale Earnhardt, as well as 101 career Cup races. But after a great season in 2008, when drivers Kevin Harvick, Clint Bowyer and Jeff Burton finished fourth, fifth, sixth, RCR has seen a significant downturn.

Perhaps, the most telling stat of all: RCR has not won a Cup championship since Earnhardt's last in 1994. That's not the kind of 20-year anniversary any team owner wants to celebrate, particularly such a fierce competitor as Childress.
Harvick is leaving at the end of 2013 to join Stewart Haas Racing. Burton's future, given the rough going he's had since 2008 (17th, 12th, 20th and 19th), remains cloudy. Paul Menard has finished 17th and 16th respectively in his two seasons racing for RCR.

While a rebound is always the hope, there's a possibility we may see more of the same from RCR in 2013. And if that happens, don't be surprised if Childress cleans house heading into 2014.

That will also be a very pivotal year, as it's expected Childress's grandson, Austin Dillon, will ascend to the Cup series to drive the famous black No. 3 Chevrolet that the late Dale Earnhardt drove to six of his seven Cup crowns.

And after Austin is brother Ty Dillon, who will likely move up to the Cup series in 2015 or 2016.

While the recent past and potentially the near future may not look good, there's still lots of hope for optimism in the RCR camp going forward from 2014.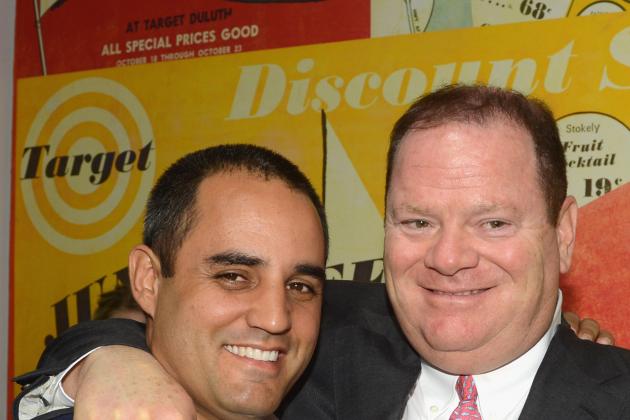 Andrew H. Walker/Getty Images
A fist is a good source of motivation, don't you think?
Somehow, we question if Earnhardt Ganassi Racing belongs in a "best owners" category.
Ever since Chip Ganassi took some of his Indy Car winnings and bought a majority share of Felix Sabates' organization in 2000, success has been few and far between.
Even merging with Dale Earnhardt Racing to form EGR has done virtually nothing to improve the fortunes of what had previously been known as Chip Ganassi Racing With Felix Sabates.
EGR has switched from buying motors from Earnhardt Childress Engines to purchasing them from Hendrick Motorsports for 2013. Further, this could be a very pivotal year for Childress's two Cup drivers, Jaime McMurray and open-wheel holdover Juan Pablo Montoya.
Ganassi is one of the most competitive owners out there, and when he saw long-time Indy Car and NASCAR rival Roger Penske beat him to a Cup crown in 2012, it had to fry Ganassi.

How bad has it been for the Chipster in Cup competition: 724 career starts, just six wins (just two by Montoya) and zero Cup championships.
Look for McMurray and Montoya to either improve greatly in 2013, lest the Chipster tells them to hit the road at the end of the season, regardless of Ganassi's legendary loyalty to his drivers.
Follow me on Twitter @JerryBonkowski