2013 End-Year Stat Projections for Every Phillie If They Make No Impact Moves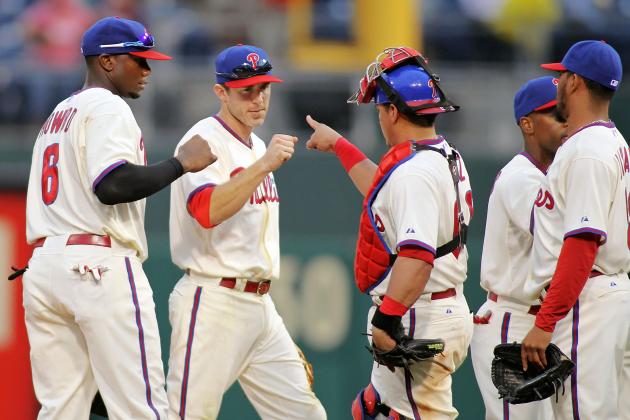 Len Redkoles/Getty Images

It may not have gone as planned, but the Philadelphia Phillies spent the offseason addressing most of their major concerns. They overhauled the coaching staff and added several key roster pieces, including Ben Revere, Mike Adams, Michael Young and John Lannan.
With a corner outfield that represents an obvious upgrade over what the Phillies already have in-house proving to be elusive, the roster that you see today is likely to be what the Phils march out on Opening Day.
So, now that most of the questions about who will make up the 2013 Phillies have been addressed, it's time to take a look at whether this club is going to be able to keep pace with the Washington Nationals and Atlanta Braves.
This list, which will attempt to be as accurate as possible in projecting statistics, is not going to be a wish list of unreachable plateaus for members of this roster. If a bold number is thrown up there, it will be with indication and good reason.
So without any further ado, here are the numbers you can expect out of this Phillies club, assuming they don't make any major moves through the rest of the offseason.
Begin Slideshow

»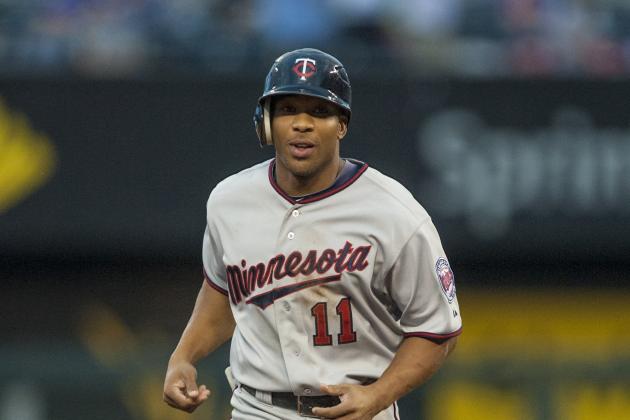 Tim Umphrey/Getty Images

Projection: .285/.330 /.345, 1 HR, 50 SB
Coming into the 2013 offseason, the top priority for the Phillies was to add a center fielder. With at least five good options available on the free agent market, that didn't seem like a problem, until they started coming off the board one by one and it became apparent that none would wear red pinstripes in 2013.
So the Phillies moved on. They took a risk and sent pitchers Vance Worley and Trevor May to the Minnesota Twins in exchange for center fielder Ben Revere.
It's a move that is easy to like from a Phillies' perspective. They traded a middle-of-the rotation starter (Worley) and a top prospect who could well wind up being a reliever (May) for a center fielder with upside and years of control.
Here's what we know about Revere. He is going to take a lot of swings and put the ball in play. He should hit for a solid average, but he'll be at his best when he is on the basepaths making things happen with his speed. As many as 50 steals shouldn't be out of his reach over a full season's worth of plate appearances.
Revere is also going to play above-average defense in center field, despite the fact that his arm will draw comparisons to Juan Pierre.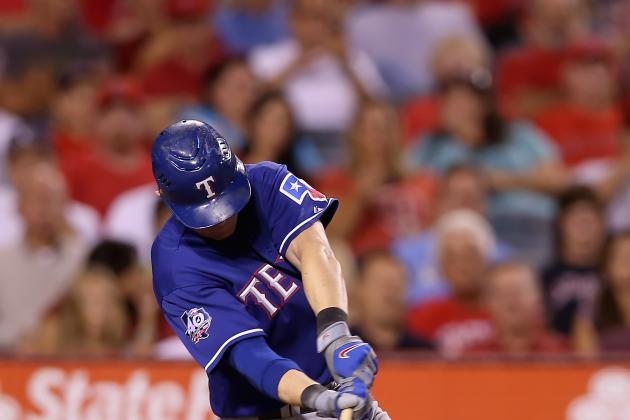 Jeff Gross/Getty Images

Projection: .285/.335 /.410, 10 HR, 0 SB
Third base has been an incredibly difficult position for the Phillies to fill since the trade of Scott Rolen. They've run out players like David Bell, Abraham Nunez, Pedro Feliz and Placido Polanco, none of whom have had much success.
Now Michael Young is going to get his turn.
The Phillies, who have long had interest in Young, finally pulled the trigger on a trade over the offseason. He is coming off a career-worst year. But the Phillies have reason to believe that they can fix him. They'll offer him the opportunity to play every day at a single position and hope that his newly found comfort defensively helps him rebound at the plate as well.
I don't see much reason to believe that he can't do just that. Across the board, Young posted abnormally low numbers in 2012. You're not going to get the player who was considered a top talent in his prime years, but he'll be an upgrade over Polanco.
Alex Trautwig/Getty Images

Projection: .290/.385 /.510, 25 HR, 15 SB
Here's where things get interesting. The obvious "first question" with Chase Utley is, "Can he stay healthy?" History says that the answer is no. Utley has dealt with a myriad of injuries since the 2009 season, highlighted by a pair of chronically degenerating knees.
Looking back at the 2012 season, however, we saw a different Utley. We saw a second baseman who didn't want to sit on the bench, a second baseman whose knees seemed to get stronger through the last few months of the season.
A lot of that has to do with Utley (and the Phillies) getting a handle on his condition. He trained with a specialist in Arizona during last season and came back looking much better than in his short season in 2011.
It's just a hunch, but I think that Utley plays close to a full season in 2013. As long as he is on the field, he is one of the most valuable players on this roster. I know that people will disagree, but if Utley is healthy, you will see it reflected in the numbers.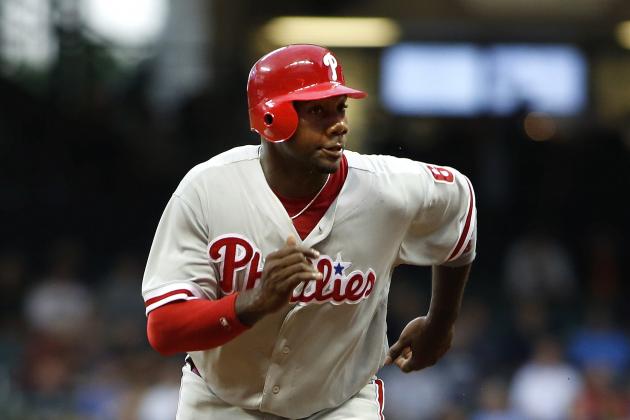 Mark Hirsch/Getty Images

Projection: .255/.350/.520, 35 HR, 0 SB
Earlier in the offseason, I wrote a "bold predictions" slideshow in which I stated that it was possible for Ryan Howard to hit 40 home runs this season. I still believe that to be true. While the safer bet is for him to hit 30-35 home runs, he could easily have 40 if a few things go right.
First, Howard needs to be healthy. Last season, he was recovering from a partially torn Achilles tendon. At the end of the year, he broke his toe. It's hard to get back into the swing of things when you can't stay on the field.
But throughout the offseason, Phillies general manager Ruben Amaro Jr. has reported that Howard is in much better physical shape. That's a big first step.
Second, he'll need to be more aggressive against left-handed pitching. 2012 was just an abysmal season for Howard, topped by his dreadful .604 OPS against lefties. Part of the struggle was a lack of comfort on his weakened feet.
He'll need to cut back on strikeouts, especially against left-handed pitchers, and stay on the field to be successful.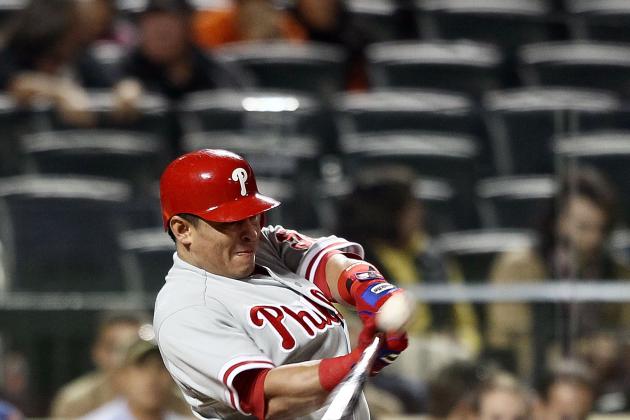 Alex Trautwig/Getty Images

Projection: .305/.380 /.480, 15 HR, 3 SB
Could Carlos Ruiz's 25-game suspension actually be a blessing in disguise for the Phillies? It seems like an awful thing to say given the circumstances. But over the last few seasons, Ruiz has been beaten up by the time September rolls around.
I'm projecting what would constitute as a "normal" season for Ruiz, mainly because I expect him to be healthy once he returns at the end of April.
Now, what can we expect out of Ruiz. That's an interesting discussion. Was the use of Adderall directly enhancing his performance? Was his abnormally high BABip an indicator of regression?
Here's what I think. Ruiz made some significant strides at the plate last season. He had one of the club's best approaches and collected hits like it was nobody's business. Do I think he was lucky? A bit. There's no denying that.
However, I also believe that it would be unreasonable to say that he can't have another very good offensive year in 2013.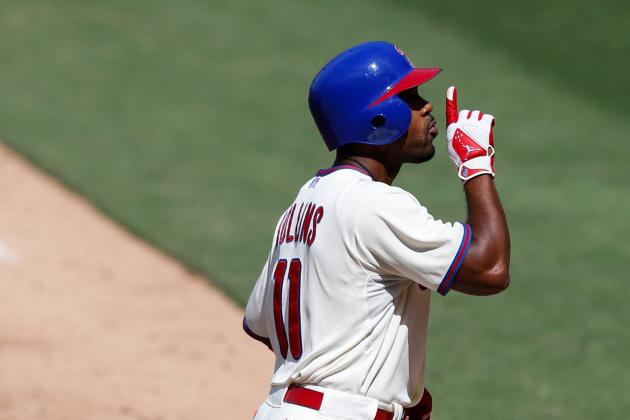 Brian Garfinkel/Getty Images

Projection: .260/.325/.410, 20 HR, 30 SB
At this point in his career, Jimmy Rollins is much better suited to hit in the middle of the order for the Phillies. The addition of contact-oriented hitters like Ben Revere and Michael Young gives manager Charlie Manuel options.
The obvious reason for Rollins to hit around sixth in the order is his power. He has averaged 19 home runs per season over the last seven years, and the Phillies, who could likely wind up platooning both Domonic Brown and Darin Ruf in the outfield, will find little power in their everyday lineup outside of Ryan Howard.
Putting Rollins in the middle of the order solves a lot of those problems. He is not going to be a patient, on-base player at this stage of his career. Stick him in the middle of the lineup and let him swing away. If worst comes to worst, you can always move him up and Revere down.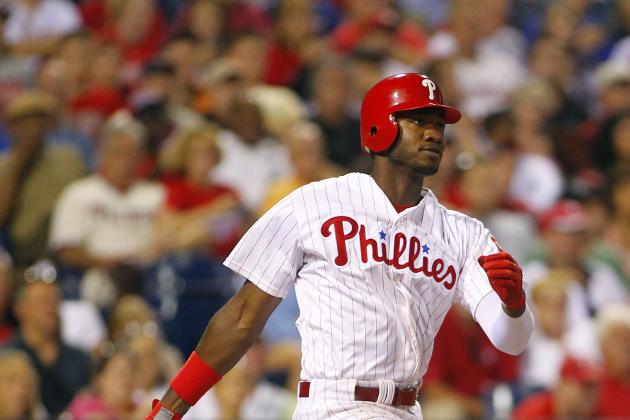 Rich Schultz/Getty Images

Projection as Platoon Player: .280/.355 /.470, 10 HR, 5 SB
I'm putting an asterisk on some of the following players because we don't know how much playing time they'll receive. As of this moment, we are operating under the assumption that Domonic Brown, Darin Ruf, John Mayberry Jr. and Laynce Nix will be part of a pair of corner-outfield platoons.
Would it surprise me to see that change in spring training? Absolutely not. In fact, in that bold predictions slideshow I linked to on the Ryan Howard slide, I also made the prediction that Brown and Ruf will have everyday jobs at some point during the season. It could be right out of spring training for all we know.
With that being said, the projection you see above is for about 350 plate appearances and a majority of his at-bats coming against right-handed pitching. At the end of the season, we finally saw Brown tap into that raw power and drive the ball out of the ballpark, which should be a positive indication that he is turning the proverbial corner.
So what can you expect if Brown is an everyday corner outfielder? He has a very consistent approach. Facing more left-handed pitching will obviously drop his slash line some, but he could essentially double his home runs and stolen bases.
Projection as Full-Time Player: .270/.345/.440, 20 HR, 10 SB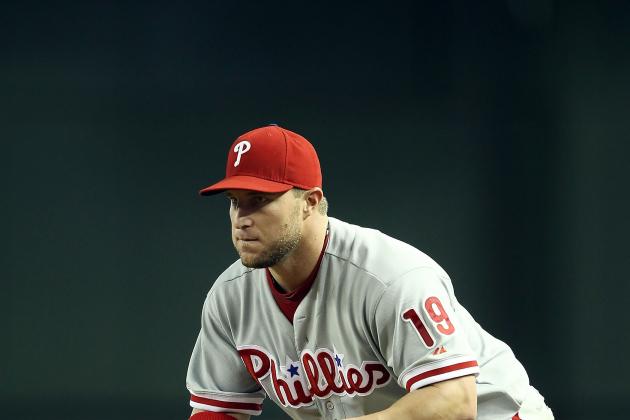 Christian Petersen/Getty Images

Projection as Platoon Player: .255/.300 /.440, 5 HR, 0 SB
Let me preface this by saying that I don't believe Laynce Nix making this club out of spring training is a sure thing. With John Mayberry Jr. and Michael Young capable of playing first base in a pinch, Nix is going to have to show that he can still be a major source of left-handed power in a limited role.
Allow me to rephrase: If the Phillies are going to value defense out of this position, why not hand the job to Rule 5 pick Ender Inciarte? You know what you're going to get out of him offensively (next to nothing in 2013), but he is exponentially better defensively.
Again, I'm still operating under the assumption that the Phillies will open the season with a pair of outfield platoons (Domonic Brown/Darin Ruf and Nix/Mayberry) because that is where most of the speculation lies.
But what happens if Nix flops in spring training? Keeping Inciarte, who adds major elements of defense and speed, may be the better option. That's why this slide has an asterisk. A lot can change between now and Opening Day.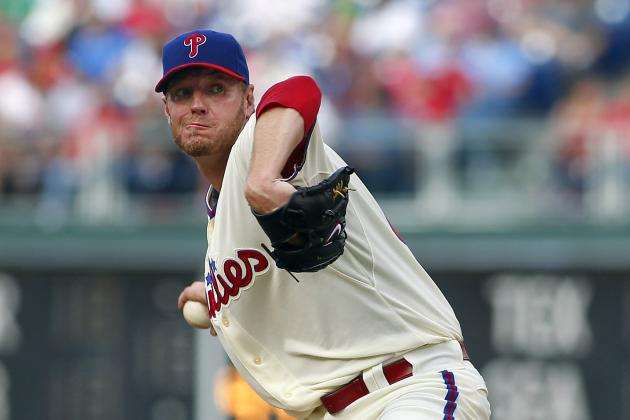 Rich Schultz/Getty Images

Projection: 17-6, 3.05 ERA
The base of any Roy Halladay projection for the 2013 season depends on your school of thought. You can determine said school by answering one of the two following questions. Do you believe that Halladay's 2012 season was an aberration caused by injuries, or do you believe that Halladay's 2012 season was the beginning of the end of a great career?
Personally, I belong to the former school of thought. Listen, Halladay's best years are probably behind him. The man is 35 years old and has been pitching in the MLB for 15 years. Father Time is bound to catch up eventually.
The biggest knock against Halladay last season was the noticeable drop in fastball velocity that never recovered. It is a worrisome trend. Halladay's famous cutter averaged 91.1 mph when he first came to the Phillies in 2010. By last season, it was down to 88.8 mph. But can a guy like Halladay still pitch with a cutter that sits in the high 80s? Of course.
In my opinion, the biggest worry about Halladay from 2012 was the health of his shoulder, which led to a very strange pitch selection. Take a look at this chart, filled with information from FanGraphs.
| | | | |
| --- | --- | --- | --- |
| | Use in '10 | Use in '11 | Use in '12 |
| Four-seam Fastball | 21.2 percent | 26.6 percent | 0 percent |
| Two-seam Fastball (Sinker) | 24.5 percent | 15.6 percent | 20.3 percent |
| Cutter | 26.4 percent | 24.9 percent | 40.2 percent |
| Split-Fingered Changeup | 0 percent | 0 percent | 13.9 percent |
| Curveball | 17.1 percent | 17.1 percent | 23.9 percent |
| "Straight" Changeup | 10.6 percent | 15.5 percent | 1.8 percent |
If you want to see the difference in Halladay, look no further than pitch selection. In 2010, he won a Cy Young Award by balancing out his pitch selection. He used a variety of fastballs and dazzled with a good curveball and changeup.
By 2011, he had started to phase out the sinker. He threw more changeups and the results were positive.
Last season, his pitch selection was, frankly, a bit odd. The number that jumps out is the lopsided use of the cutter, which some people believe is a result of a lack of movement on the four-seam fastball.
He also nearly abandoned the straight changeup in favor of the "split-fingered" changeup, and had success with that. Another oddity is the heightened use of the curveball, which is best used more sporadically.
A healthy shoulder should ease some of the tension of throwing his variety of fastballs and allow him to use his "out" pitches (curveball and split-fingered changeup) more sporadically. I think you can expect big things out of Halladay in 2013.
Hunter Martin/Getty Images

Projection: 20-8, 3.15 ERA
Here's a heads-up: I'm projecting a lot of decisions for the Phillies' starting pitchers for two reasons. The first is that I think this lineup is going to score a lot of runs. The second is that I think this bullpen is going to be very, very good.
That should bode well for Cole Hamels, who could finally win 20 games in 2013. The long and short of it is that Hamels is becoming a better pitcher with each passing season. His fastball/changeup combination has turned him into one of the game's elite starters.
He'll use that combination to rack up plenty of strikeouts. And as long as he continues on his path, I don't believe that a 20-win season is all that outrageous a prediction.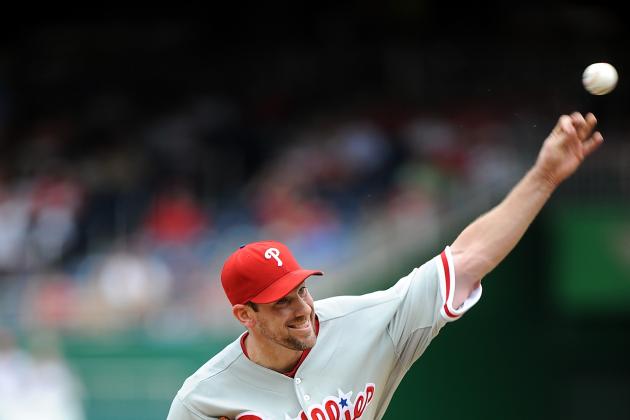 Greg Fiume/Getty Images

Projection: 20-6, 3.10 ERA
Sure, Cliff Lee's 6-9 record from the 2012 season looks puny in hindsight and without background information. But can you imagine the kind of numbers he would have put up with a bit of run support and a solid bullpen? It looks as though we'll get the chance to find out in 2013.
Having upgraded both of those areas, there can't be any excuses for Lee in '13. Ben Revere and Michael Young bring a contact-oriented approach to the lineup, while Revere brings speed and defense as well. Domonic Brown and Darin Ruf should see more playing time. Ryan Howard and Chase Utley are healthy. This is a club that will score runs.
It's the bullpen that may be the biggest improvement, however. Jonathan Papelbon was as good as advertised in 2012, but now he'll have support, with Mike Adams bringing some stability to the eighth inning. Justin De Fratus, Phillippe Aumont and Antonio Bastardo are just a few of the other names to consider.
What does that mean for Lee? It means more run support and a better bullpen to finish off quality starts. Sounds like a winning season for a man who hasn't posted an ERA above 3.20 since 2009.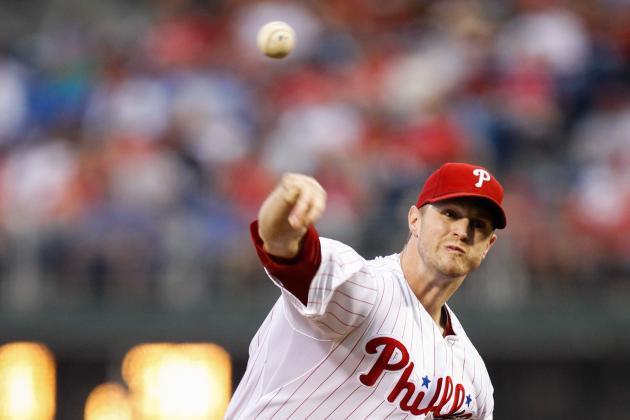 Brian Garfinkel/Getty Images

Projection: 12-8, 3.85 ERA
Kyle Kendrick had an interesting 2012 season that has made projecting his 2013 statistics difficult. After all, this is a pitcher who hasn't made a "full season's" worth of starts since 2010 and opened last season in the bullpen.
Initially, his move back to the starting rotation in the midst of injuries was unimpressive. But following the All-Star break, something clicked for Kendrick. In 12 starts (and 19 games total) Kendrick went 9-4 and posted an ERA of 2.87.
Now, it would be unreasonable to say that Kendrick can repeat that kind of success over a full season. But it certainly leaves us wondering what changed from the first half. The honest answer is that Kendrick was just pitching better.
Here are a few statistics that illustrate the difference between the first and second halves of Kendrick's '12 season:
| | | | | |
| --- | --- | --- | --- | --- |
| | IP | H | BB | AVG |
| First Half | 81 | 90 | 30 | .288 |
| Second Half | 78.1 | 64 | 19 | .218 |
Kendrick saw his best results when he was pounding the strike zone. He did this by moving away from his sinker, which has a tendency to run right over the heart of the plate when he doesn't have a feel for it, and mixing in more cutters, changeups and sliders.
So, what can you expect out of Kendrick in 2013? I think the answer is much of the same. His batting average on balls in play should come up quite a bit from the second half of 2012, but he was pitching very well when the season ended.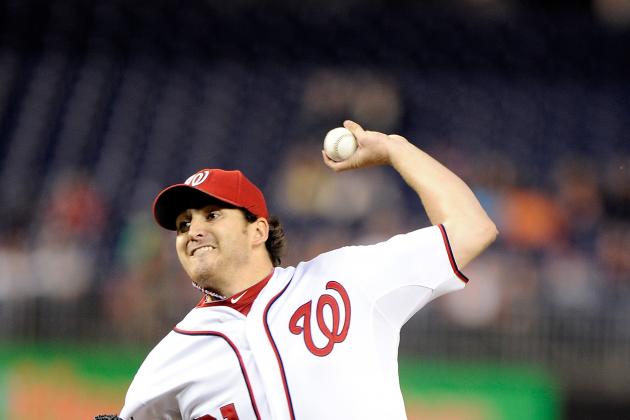 Greg Fiume/Getty Images

Projection: 9-9, 4.25 ERA
At the beginning of the 2012 season, John Lannan became the odd man out. After being named the Opening Day starter in 2011, Lannan was sent to Triple-A to open the '12 season after manager Davey Johnson settled on a starting rotation of Stephen Strasburg, Gio Gonzalez, Jordan Zimmerman, Edwin Jackson and Ross Detwiler.
The Nationals attempted to trade Lannan at various points throughout the season, but were unsuccessful. He finally had his chance at redemption late in the season when the Nationals went through with their plan to shut down Strasburg.
And it was an interesting decision. Sure, the Nationals were safely in first place, but Lannan had gone 9-11 with a 4.30 ERA in Triple-A Syracuse. Needless to say, he didn't convince anyone that the Nats had made a mistake in demoting him.
But when Lannan returned to the MLB, he opened a few eyes. He made just six starts, but went 4-1 with an ERA of 4.13.
One team that was obviously interested in him this offseason was the Phillies, who would eventually sign him to a one-year, $2.5 million contract with incentives to boost the deal to around $5 million. That's not a bad deal for a No. 5 starter who has spent most of his career getting shelled by the Phils.
To be successful, Lannan is going to have to induce the ground ball. Throughout his MLB career, Lannan has never posted a ground-ball rate of less than 50 percent, including a 56.9 mark in his brief stint last season. He's not going to overpower anyone, so Lannan will need to pound the strike zone and get hitters to roll over on his pitches. The Phillies will also need to play good defense behind him.
At most, the Phils found themselves a solid fifth starter. At worst, Lannan tanks and moves into the bullpen, pitching in a role similar to the one that Kyle Kendrick filled in '12.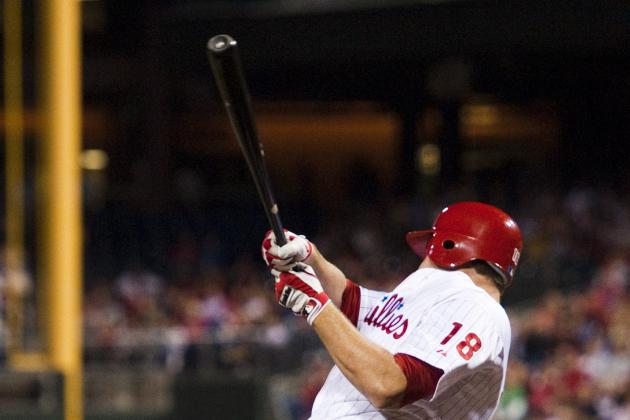 Howard Smith-USA TODAY Sports

Projection as Platoon Player: .290/.355/.560, 10 HR, 0 SB
I'm going to be completely honest, I'm taking a shot in the dark with this projection for Darin Ruf. Remember, as a platoon player, I'm only looking at his projection as a player who receives a majority of his at-bats against left-handed pitching. And if there was one thing that Ruf did at every level last season, it was mash left-handed pitching.
Now, does that mean that he's going to step into a larger role at the MLB level and pick up where he left off in 2012? I don't think so. Then again, go and watch some video of his at-bats against left-handed pitchers last season. Where are the "slow hands" that people talk about? Where is the poor plate discipline?
They're not there. You have to imagine that, at his worst, Ruf is a first baseman playing out of position who destroys left-handed pitching. He's going to be a below-average left fielder who likely opens the season in a platoon anyway.
So, what happens if Ruf shows, be it during spring training or at a later date in the season, that he can handle right-handed pitching, too. What happens if he surprises people and plays an average left field? I've always believed, especially with Charlie Manuel as manager, that there is hope that Ruf becomes an everyday player.
In the event that he reaches that level, here is what his projection looks like:
Projection as Everyday Player: .260/.320 /.475, 25-30 HR, 0 SB
Mike McGinnis/Getty Images

Projection as Platoon Player: .270/.315 /.470, 10 HR, 3 SB
The Phillies have given John Mayberry Jr. every chance to prove that he can be an everyday player, and each time he has come up short. Now, the Phillies should be willing to cut the cord and let him play in a role that better suits his talent.
There is nothing wrong with being a platoon player. In fact, Mayberry hits left-handed pitching quite well. Over each of the last few seasons, he has more than proven that he can hold his own against lefties. The problem is that right-handed pitchers have a tendency to make him look silly.
Part of the onus is on Charlie Manuel. Granted, he didn't have many options in 2012, but trotting Mayberry out against right-handed pitchers shouldn't even be an option in 2013. Mayberry can be a solid part-time player. His days of being a regular are over.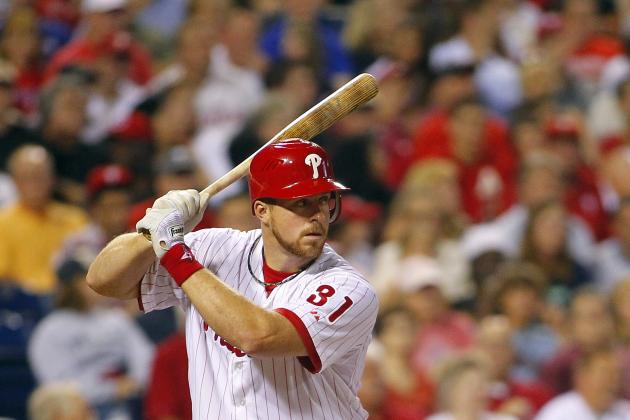 Rich Schultz/Getty Images

Projection: .250/.310 /.480, 8 HR, 0 SB
Projecting at-bats for the backup catcher is one of the more difficult things about a slideshow like this, especially when the situation comes with unique circumstances, as the Phillies' catching depth early in the season will. With Carlos Ruiz suspended, Erik Kratz will be the starter in April.
With that being said, if all goes according to plan, Kratz won't be playing much outside of giving Ruiz the occasional day off. So don't expect Kratz to receive an absurd number of plate appearances this season.
He'll be a decent backup catcher. He showed last season that he can play good defense in a pinch and hit for some power from the right side of the plate. I just wonder if he'll be able to stay sharp with a lack of playing time.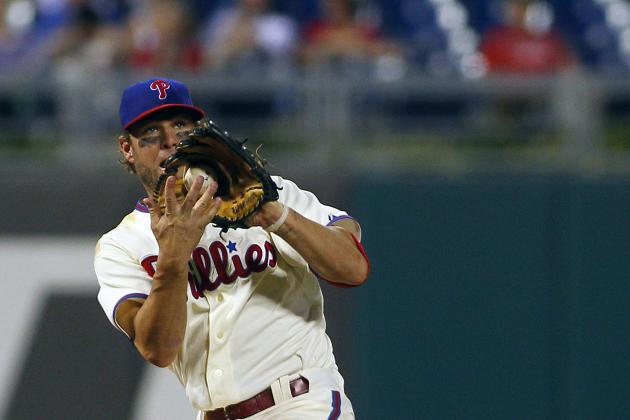 Rich Schultz/Getty Images

Projection: .280/.320 /.380, 2 HR, 0 SB
There's no doubt that Kevin Frandsen was impressive in his brief stint as the starting third baseman for the Phillies last season, to the point that some fans were upset to see the club acquire Michael Young to take over in 2013.
Trust me. It's a good decision. Frandsen was undoubtedly impressive in 2012, but there are big signs of regression. He is much more suited to play a part-time role as a super utility player.
This will allow the Phillies to maximize Frandsen's value. He is capable of playing three defensive positions on the infield (second base, third base and shortstop) and showed that he can provide a quality at-bat and hit for contact.
If it comes down to Frandsen versus Freddy Galvis for the final spot on the bench, I think it makes a lot more sense to send Galvis back to Triple-A. This way, he receives a full season's worth of plate appearances while Frandsen holds down the fort.
In the event of an injury, Galvis is only a phone call away.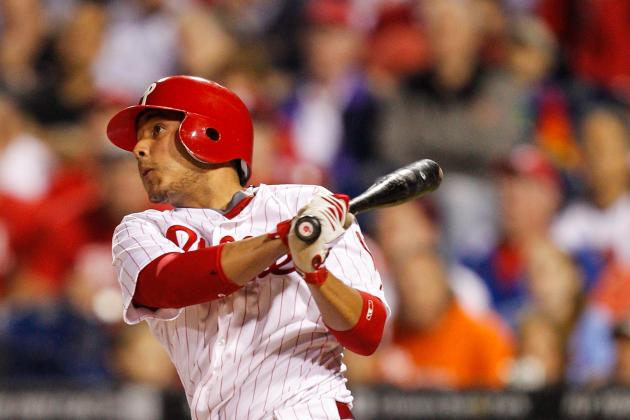 Brian Garfinkel/Getty Images

Galvis' Projection: .240/.280 /.360, 3 HR, 0 SB
A lot can change between now and the conclusion of spring training, but with the way that the current roster is constructed, it sure looks as though the Phillies' final bench spot will come down to Freddy Galvis and Rule 5 pick Ender Inciarte.
Truth be told, neither is a great selection because each can use more minor-league seasoning. In Galvis' case, he was not ready to hit MLB pitching last season, and I just don't see him making some kind of miraculous stride in that regard in 2013.
With Chase Utley's future up in the air, why not send Galvis to Triple-A and let him play second base this season? Is he more valuable to the Phillies as a super utility-type player, or should they send him back to the minors with the hope that he'll develop a better approach at the plate?
Inciarte's Projection: Not Enough Information
I'd like to make a projection for Inciarte, but the truth is that I would just be guessing. Here is what we know about the Phillies' Rule 5 pick: He's in the same situation as Galvis.
Inciarte is going to earn his keep by playing above-average defense and utilizing his speed, both of which are considered "plus-plus" by scouts. He has good range in center fielder and a strong arm, giving him all the makings of a top-notch defensive center fielder.
The real problem is that he can't hit. Well, that's not fair to Inciarte, who put up solid minor-league numbers in High-A last season, the highest level of his professional career. The assumption is that he can't hit MLB pitching.
Sound familiar? The Phillies faced a similar decision with Galvis last offseason.
So unless they add another bench player before the start of the season, which is entirely possible, the Phillies will likely have to decide where they want their above-average defense: In the infield or the outfield.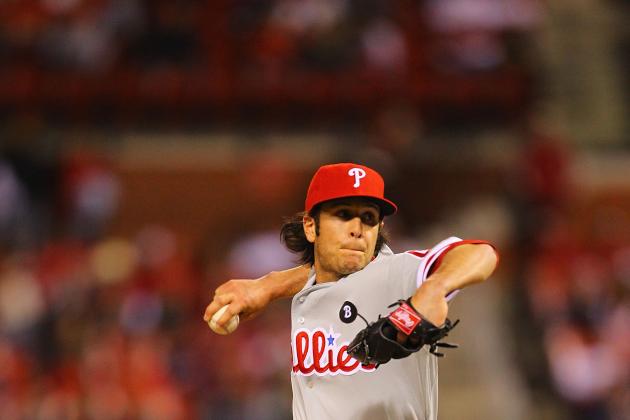 Dilip Vishwanat/Getty Images

*Quick Note: I'm not projecting wins and losses for relievers, because too many variables are involved to project an accurate result. Instead, I'll project games pitched, ERA and saves.
Projection: 35-40 G, 3.85 ERA, 0 SV
The Phillies are likely to come into spring training with few positions up for grabs. Looking around the club, we know that the possibility exits for both corner outfield spots to be had, but they'll both likely wind up being platoons.
The other big battle could be in the bullpen, especially if guys like Tyler Cloyd and Jon Pettibone come into camp and show that they can either be better in the rotation than John Lannan or better in the bullpen as a long reliever (which should really only pertain to Cloyd).
Right now, I'm giving the last spot in the bullpen to Mike Stutes because I think he has some of the best upside of guys not named Jonathan Papelbon, Mike Adams, Antonio Bastardo, Justin De Fratus, Phillippe Aumont or Jeremy Horst.
Of course, Stutes is also coming off severe shoulder injury that forced him to miss most of the 2012 season. It wouldn't surprise me if he opened the season in Triple-A before returning to the MLB.
The Phillies have also shown a desire to carry a reliever who can throw multiple innings. If not Stutes, guys like Mike Schwimer and B.J. Rosenberg are names to consider. Other relievers include Jake Diekman, Raul Valdes, Joe Savery, J.C. Ramirez and Mauricio Robles.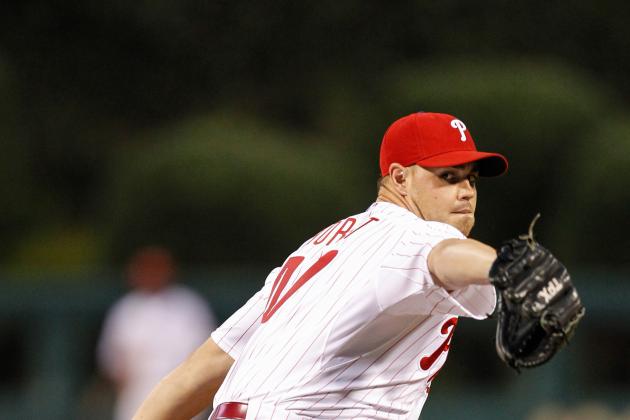 Brian Garfinkel/Getty Images

Projection: 40-50 G, 3.05 ERA, 0 SV
One of the more interesting projections on this list has to be Jeremy Horst, who was sensational for the Phillies last season. Given the depth of their bullpen, especially as far as right-handed relievers are concerned, there shouldn't be much of a need for Horst to face right-handed hitters next season.
That isn't to say that Horst can't pitch to right-handed hitters, because he handled them and made doing so look easy last year. But with a bullpen that could feature right-handed relievers Mike Stutes, Phillippe Aumont, Justin De Fratus, Mike Adams and Jonathan Papelbon, guys like Horst and Antonio Bastardo give manager Charlie Manuel and pitching coach Rich Dubee a ton of flexibility as left-handed specialists.
With that in mind, you could see Horst make a ton of appearances this season, or you could see him fade away and lose out to guys like Jake Diekman and Raul Valdes. It sounds kind of insensitive, but relievers, especially "specialists," can be a crap-shoot at times.
Looking over Horst's 2012 season, it doesn't look like he'll be doing much fading away, however. The chances of him being as good as he was last season are slim. But he has all of the tools to be a good left-handed specialist.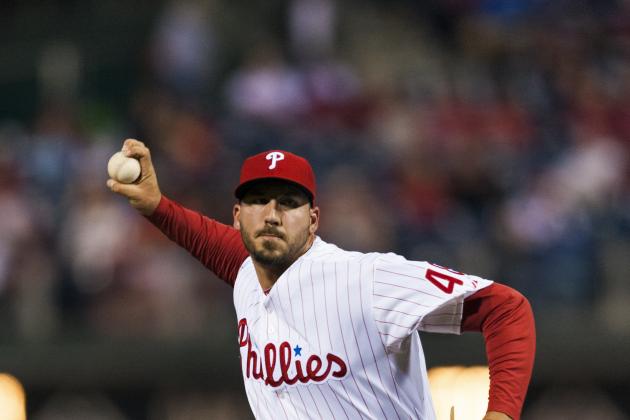 Howard Smith-USA TODAY Sports

Projection: 60 G, 3.20 ERA, 0 SV
Phillippe Aumont has the tendency to be something of a "wild card." I don't think anyone is going to question his "stuff." Making his debut last season, Aumont showed off his wicked repertoire of pitches, consisting primarily of an electric fastball with a ton of movement, a knee-buckling slurve and a disappearing splitter.
The man has "future closer" written all over him. Of course, the only way that any of those pitches are effective is if Aumont can control them, something he hasn't exactly been able to do.
That's why his goal for the season should be to pound the strike zone. Chances are, he'll have to make a mistake to leave a pitch in the middle of the plate. Every one of his offerings has enough movement to start out as a strike and quickly move out of the strike zone.
It's that kind of potential that has scouts drooling over his ceiling as a future closer. He got the chance to wet his feet in 2012. With Jonathan Papelbon and Mike Adams working the later innings, he can continue to develop as a good middle reliever.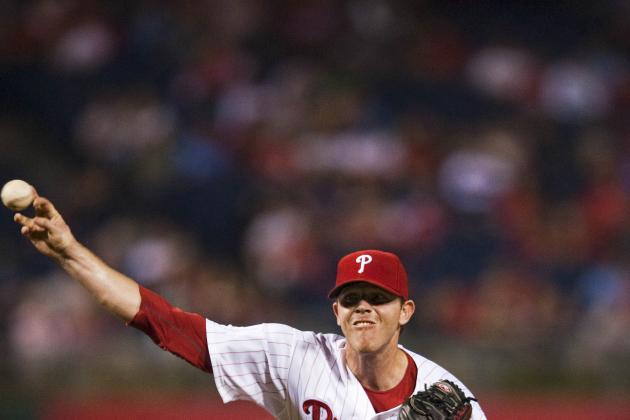 Howard Smith-USA TODAY Sports

Projection: 65 G, 3.10 ERA, 0 SV
With Phillippe Aumont showing off his crazy repertoire and Justin De Fratus missing the first half of the season with an injury, it doesn't come as much of a surprise that De Fratus is flying a bit under the radar this offseason. But if I had to offer up a prediction, it's that he makes his mark on the bullpen this season.
Of the Phillies' young relievers ready to make an impact, De Fratus has the best command. You saw that at the end of the 2012 regular season when he settled in and became more comfortable.
De Fratus has the ability to locate his fastball, which sits comfortably in the low 90s, to set up a very good slider and make right-handed hitters look silly. He has the natural "stuff" to get left-handed hitters out as well.
I like De Fratus to be one of the most consistent relievers this season, meaning, I think that he is going to pound the strike zone and get the job done. With guys like Mike Adams and Jonathan Papelbon handing the eighth and ninth innings, it could well be De Fratus who gets the call to face tough right-handed batters in the seventh.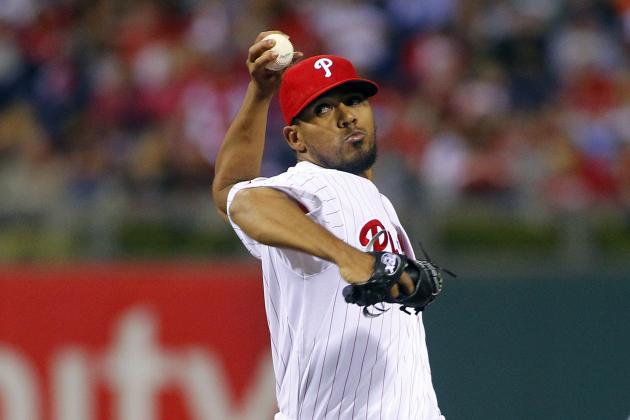 Rich Schultz/Getty Images

Projection: 80 G, 2.70 ERA, 1 SV
The addition of Mike Adams gives the Phillies' bullpen a big boost, but one of the biggest benefactors of his addition may be Antonio Bastardo. Now, with the eighth inning under control, Charlie Manuel has the option to use Bastardo as a left-handed specialist in the late innings, a role that he could excel in.
As a result, I think that you'll see Bastardo appear in more games this season, but log a similar number of innings. He'll be tasked with facing tough left-handed hitters and not trying to retire the side. For a guy without a significant "out pitch" against right-handed batters, that could be a good thing.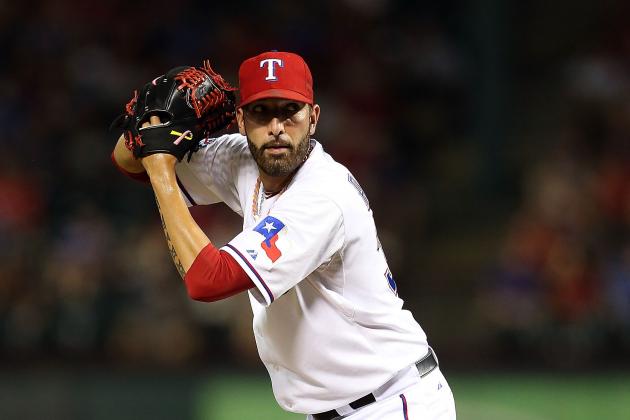 Ronald Martinez/Getty Images

Projection: 70 G, 2.60 ERA, 2 SV
One of the Phillies' biggest offseason priorities was to acquire an eighth-inning setup man to pitch in front of Jonathan Papelbon. After a failed attempt to trade for Houston Astros' closer Wilton Lopez earlier in the offseason, the Phillies signed the best setup man available, Mike Adams.
The big question with Adams is whether he is healthy. He had surgery over the offseason to correct a condition called Thoracic Outlet Syndrome, which causes numbness in the fingertips and discomfort in the shoulder, among other maladies.
But Adams insists that he is healthy and will be ready to start the season, suggesting at his introductory press conference that his arm was feeling fine. If that's the case, he'll give the Phils' bullpen a huge boost.
Looking over statistics from the last three seasons, having the Adams from 2010 and 2011 could give the Phillies one of the best bullpens in baseball.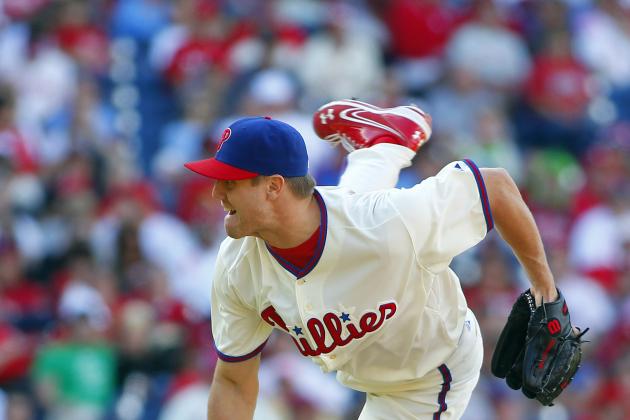 Rich Schultz/Getty Images

Projection: 70 G, 2.50 ERA, 45 SV
Sure, the Phillies overpaid for Jonathan Papelbon, but it may be time to leave that argument in the past. They signed him to be one of the best closers in the game and a consistent arm in the ninth inning, and Papelbon certainly lived up to his end of the bargain in 2012.
Looking at his statistics, there is little reason to believe that you should prepare for some kind of drastically different season in 2013. His strikeout and walk rates were very good, but in line with his career norm. The home run rate was actually up a bit, but that was expected with the move to Citizens Bank Park.
All of Papelbon's advanced, sabermetric statistics suggest that his '12 season was not a fluke, but a dominant performance by an elite closer, and the good old "eye test" tends to agree.
Personally, I'm interested to see what Papelbon can do with a healthy team and improved bullpen in front of him this season.