Missing Pieces New York Yankees Could Still Land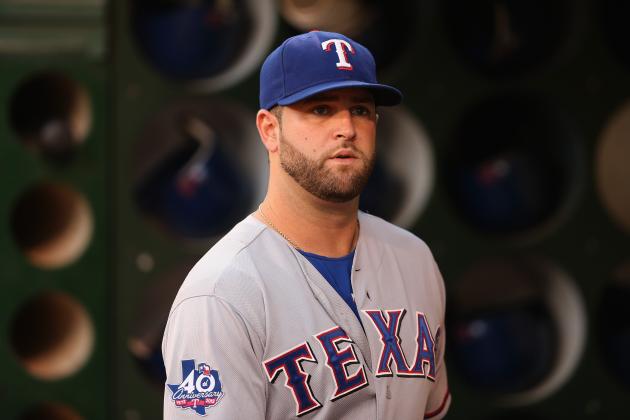 Ezra Shaw/Getty Images

It's late in the MLB offseason, and with many of the key free agents already finding homes, there are still some players available that the New York Yankees could sign in order to patch their remaining holes.
For the Bombers, this is exactly the time to strike for some of the top free agents still available. Waiting this long benefits New York, as prices will begin to come down for the players who have continued to hold out for more money.
With the Yanks' 2014 payroll situation, they are looking for short-term solutions that won't cost them much, and at this point in the offseason, the Bombers should be able to find those solutions.
Let's take a look at some of the players still available who could help the Yanks in 2013.
Begin Slideshow

»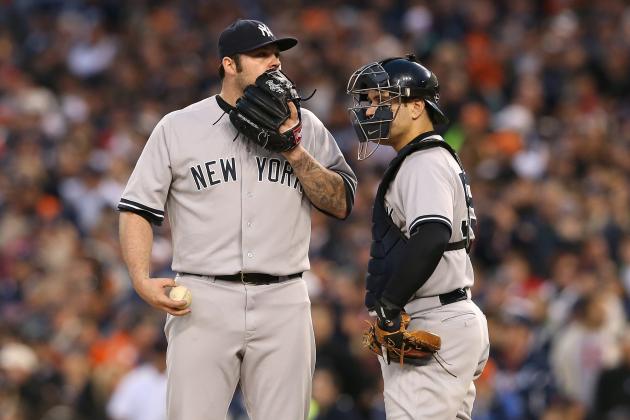 Leon Halip/Getty Images

When Russell Martin flew the coop and joined the Pittsburgh Pirates, the Bombers' new No. 1 need quickly became catcher.
A.J. Pierzynski was a possibility for New York, but he ended up signing elsewhere, as he never drew much interest from general manager Brian Cashman.
As it stands, the Yanks could use any combination of Francisco Cervelli, Chris Stewart and/or Austin Romine to get the job done.
But those aren't exactly All-Star-caliber players, and New York will be inclined to continue to look for a catcher who can be the starter ahead of the three backups they currently have.
Let's take a look at who the Yanks could turn to at this point.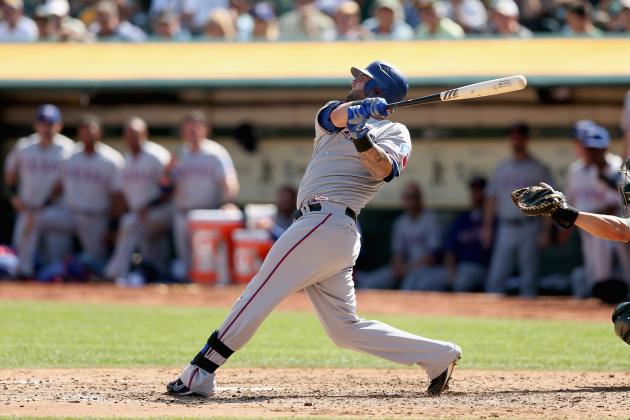 Ezra Shaw/Getty Images

Napoli enjoyed a solid season with the Texas Rangers in 2012. Napoli hit .227 with 24 homers and 56 RBI playing both catcher and first base for Texas last season.
While his average isn't exactly great in the least bit, Napoli would still be an improvement in that department for the Yanks, plus his offensive production would be an upgrade for New York.
But if the Yanks want to make this deal, it will take a bit of help from their rival, the Boston Red Sox. General manager Ben Cherington seemingly reached a deal early in the winter with Napoli, but since then that deal has hit a snag.
Peter Abraham of the Boston Globe has the info on Napoli and the Sox's latest contract talks and why they have hit a snag:
Free agent Mike Napoli agreed to contract terms with the Red Sox back on Dec. 3, accepting three years and $39 million to be the team's primary first baseman.

Red Sox general manager Ben Cherington acknowledged that a deal was in place that day and happily talked about Napoli's strengths as a player.

Nearly four weeks later, Napoli remains a free agent because of a pre-existing hip injury. The Red Sox want contract language that protects the team in the event of a debilitating injury.
Napoli's injury, as mentioned by Abraham, is certainly a concern for any team willing to sign the backstop, but it could work out to the Yanks' advantage if they were to sneak in and sign him.
With the market dwindling down to a few solid players left, Napoli might find only one-year deals available to him now that the injury is known. That's where the Yanks could step in and offer Napoli a lucrative one-year deal that is far and above better than the rest.
It's doubtful the Yanks would sign Napoli to a multi-year deal with his latest physical problems, but the longer Napoli is on the market, the better the chances are that that could happen.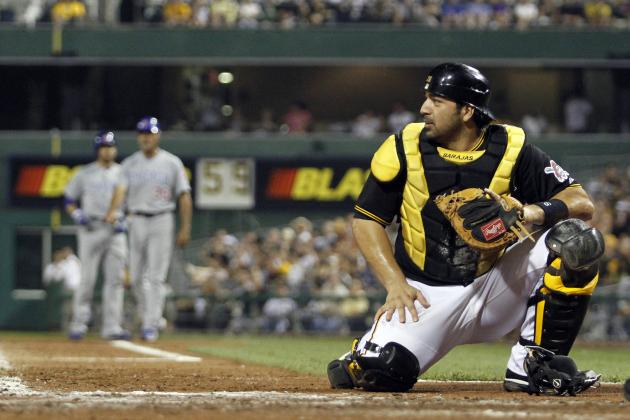 Justin K. Aller/Getty Images

Barajas is the second-best option the Yanks have left on the free-agent market as far as catchers are concerned.
Barajas spent 2012 with the Pittsburgh Pirates, and while he is a downgrade as far as offensive production is concerned (11 homers, 31 RBI), his average is about the same as what the Yanks had behind the plate last season (.206) and his defense could be seen as a plus.
Now that the Pirates have signed the Yanks former backstop, Russell Martin, the team isn't looking for a catcher anymore, and that could make Barajas a top choice for Cashman and company.
The Yanks haven't been linked to Barajas at any point this season, but don't rule them out as the team continues to look for a catcher.
Barajas isn't a flashy name by any stretch, but he is a serviceable catcher and the perfect stopgap to give the Yanks another year to figure out a long-term solution. Besides, he is still a better option than what the Yanks have now. It's just a matter of how content Cashman is with his current catchers.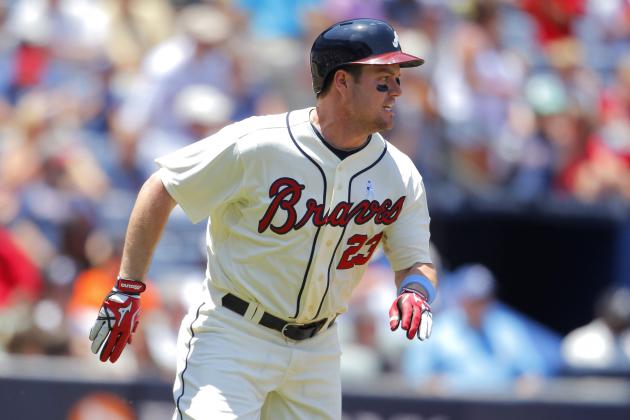 Todd Kirkland/Getty Images

The Yanks recently signed outfielder Matt Diaz (per David Waldstein of the New York Times) to a minor league deal, but those types of deals are often perfect indicators that said player is no certainty.
New York doesn't need any more question marks than it already has, so it's likely the Bombers are still looking for more help. Diaz is a nice bat and has great numbers against left-handers throughout his career, but the Yanks would prefer some more power in their outfield.
Let's take a look at a hitter with some pop who could fill the void.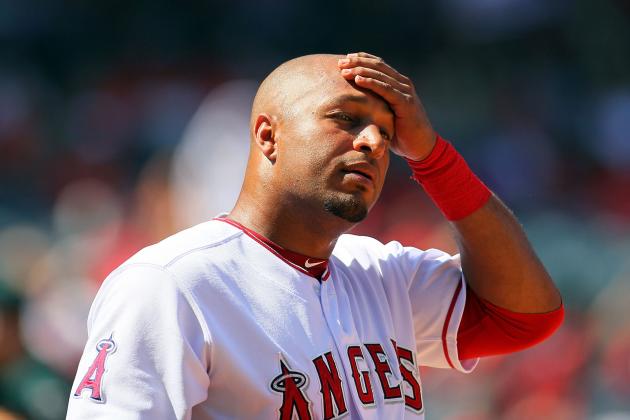 Victor Decolongon/Getty Images

As was expected, nobody thought the signing of Diaz was the Yanks' last move for an outfielder.
Ken Rosenthal of FOXSports.com (via Twitter) echoed those sentiments:
Matt Diaz to #Yankees on minor-league deal, according to @feinsandnydn. Seriously doubt search for RHH OFer ends there.

— Ken Rosenthal (@Ken_Rosenthal) December 26, 2012
Earlier in December, the Yanks and Los Angeles Angels of Anaheim were in talks to possibly bring Wells to the Bronx, also per Ken Rosenthal of FOXSports.com (via Twitter).
The #Angels' preference with their outfielders - and how it could involve #Yankees. Story: msn.foxsports.com/mlb/story/los-…

— Ken Rosenthal (@Ken_Rosenthal) December 15, 2012
But the deal has hit a stalemate since and nothing has gotten done. That is likely a result of the two teams involved being unable to come to terms about how much of the money the Angels are willing to pick up.
Wells is still owed over $40 million over the next two seasons, so that will be a major issue for New York. The Bombers' 2014 payroll plans will certainly not involve Wells' enormous contract, so the Yanks will be looking for the Angels to pick up most, if not all of it.
The Angels have spent a ton of money this offseason, so it remains to be seen if they'd be willing to meet the Yanks' demands. However, there is quite the logjam in the outfield in Anaheim, so the Angels would prefer not to have Wells on their bench as an unhappy benchwarmer for the 2013 season.
Who will blink first? Nobody can tell for sure, but don't expect Wells to be with the Angels next season, and he remains the best option the Bombers have to fill the void in the outfield.