5 Bold Predictions for the Philadelphia 76ers in 2013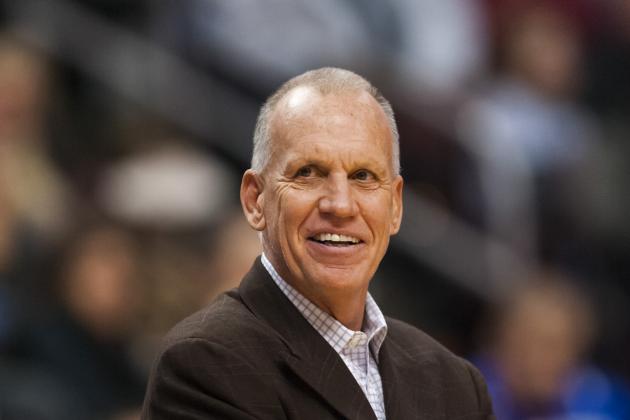 USA TODAY Sports
Why is Doug Collins smiling? Perhaps because he knows what the future may hold.
Sylvia Browne, I am not.
Nostradamus? Can barely spell it, much less emulate him.
I couldn't even tell you where Mayans come from.
So it's safe to say that soothsaying is not my specialty and although I possess many desirable traits, psychic powers are not in the repertoire.
But basketball, I know. And the Sixers I know quite well.
And let's just say I have a hunch. Call it a "Sixers-sense."
Maybe it's just a pipe dream, wishful thinking or perhaps simply indigestion from all the holiday feasts, but who am I to poo-poo the possibility of precise predictions (or even astute alliterations)? I mean, if I was able to seamlessly incorporate "poo-poo" into a respectable sports column, I must be onto to something, right?
Well, if not, it's always fun to speculate. And if I'm wrong with any (or all) of my bold Sixers' predictions for 2013, let's just chalk it up to holiday heartburn.
Begin Slideshow

»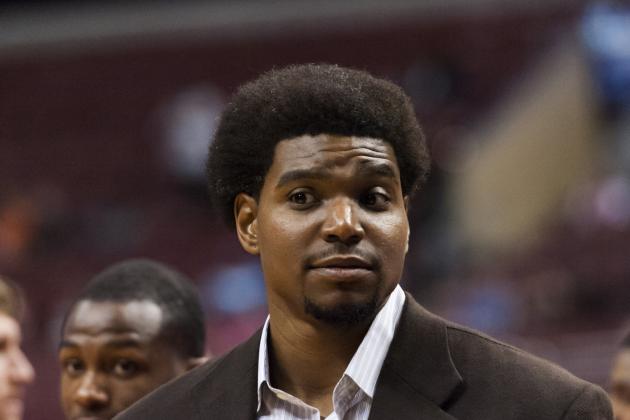 Howard Smith-USA TODAY Sports

Man, for a guy who hasn't played any organized basketball for close to a year, Andrew Bynum has sure gotten a lot of print hasn't he? To date, the verdict is still out if and when his knees will heal and thus if and when he will suit up for the Sixers.
My crystal ball (or maybe it's cubic zirconia) says it will be a matter of when. And the when will happen this season.
Bynum's latest health assessment occurred earlier this month and although the prognosis was hazy, progress was indicated. And for someone considered, when healthy, one of the elite centers in the game—in a league currently at a pittance at that position—and gearing up for free agency, it would behoove Bynum to make some sort of appearance on the court.
So he will, after the All-Star break, and squeeze in about 25-30 appearances, average his standard double-double and show enough to his new employers to be worthy of a contract extension.
This will also set off a butterfly effect of sorts, as the next couple of predictions will indicate.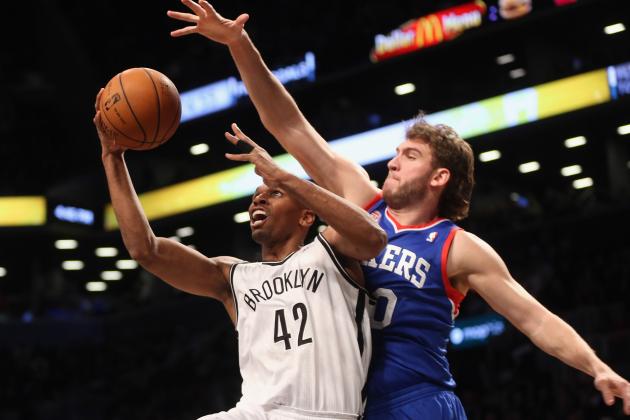 Bruce Bennett/Getty Images

Bynum's presence on the floor will help the Sixers far beyond his own production. It will allow coach Doug Collins to finally put his "twin towers" experiment that he opined aloud about in the preseason to the press. This consists of playing Bynum and Spencer Hawes together in the starting lineup.
And it makes perfect sense.
If it's possible for someone standing at 7'1" to be undersized as a center, Hawes is that guy. Always reluctant to loiter in the paint and more comfortable taking jumpers outside the perimeter or making a backdoor pass, Collins can finally exploit his strengths and provide him with a size advantage at the 4 and no longer worry about exposing him as a defensive liability at the 5.
But wait, there's more! Thaddeus Young—already the most consistent producer on the team—and Evan Turner slide from the 4 and 3 to the 3 and 2, respectively, thus creating similar advantages and eliminating similar weaknesses that Hawes himself has faced.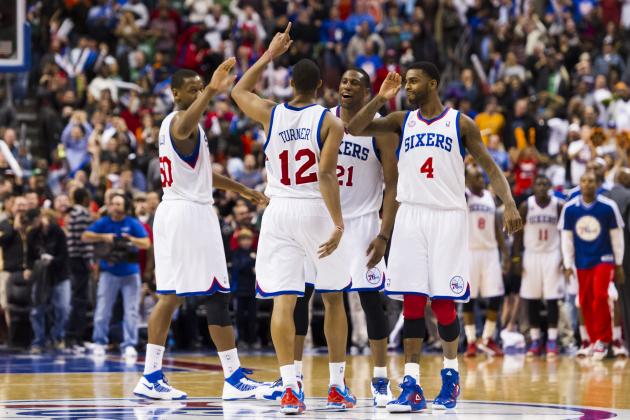 USA TODAY Sports

If (or should I say when) Bynum returns and plays at least close to what his track record suggests, and the likes of Thad Young, Turner and Hawes adapt to their more natural positions, the outlook—and potential ceiling—for this young squad changes dramatically.
Instead of sinking deeper into the abyss of NBA's "have-nots," the Sixers will be able to utilize their new-found size and versatility to squeeze into the playoffs and then, yes, even steal a round, most likely at the hands of the Indiana Pacers, Atlanta Hawks or even the New York Knicks, who seem to be built more for the regular season.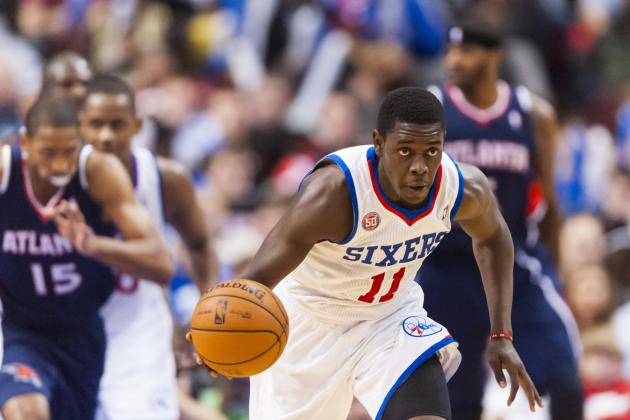 USA TODAY Sports

Okay, this may not be a very "bold" prediction considering how well Jrue Holiday has played so far, but it's also not a foregone conclusion either. Remember, he currently plays in a conference that hails an abundance of talented point guards.
True, two of them—Derrick Rose and John Wall—have yet to play a single minute this season and another, Deron Williams, is having a bit of a down year, but the All-Star coach gets the final say on the reserves and who knows what Eric Spoelstra will do considering that he's done quite well in Miami without a true point leading the way.
That said, could he decide to keep just two point guards on the team and have LeBron James serve as the third? Could a possible losing record at the break make it tough to justify adding Holiday?
Nah. He'll be there.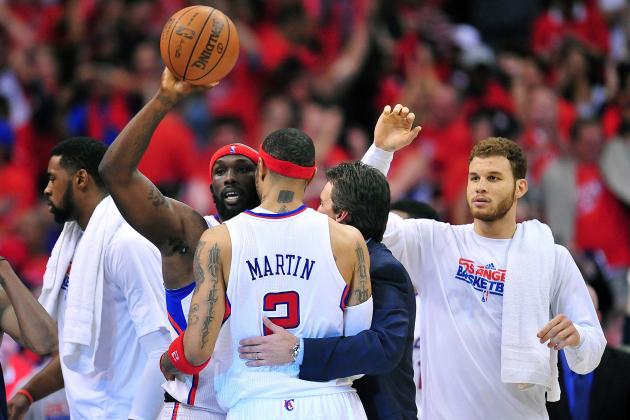 Gary A. Vasquez-USA TODAY Sports

With or without Bynum, the Sixers will need to add depth at the center and/or power forward positions. Unless, of course, you're okay with one of the biggest busts in NBA history (Kwame Brown) and a rookie currently embedded in the NBDL (Arnett Moultrie) filling those holes.
If not, stay tuned for a welcome party for a veteran big, either via a mega deal (Al Jefferson?) or a smaller but still notable pickup from the free-agent scrap heap (Kenyon Martin?) before all is said and done.