Who Must Stay, Who Must Go for the New York Giants?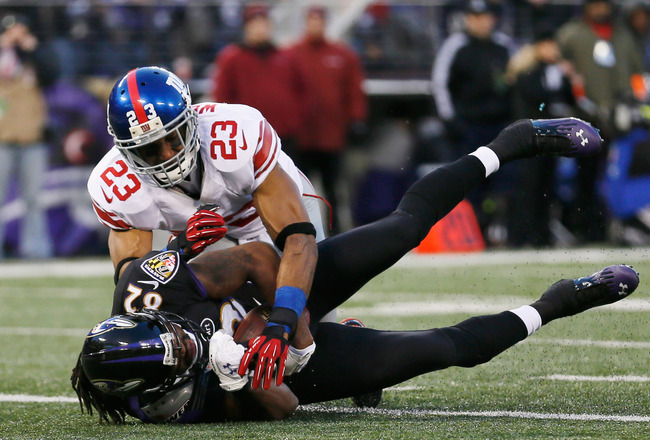 Cornerback Corey Webster (23) had a rough 2012.
Rob Carr/Getty Images
In the final week of the 2011 season, the New York Giants took a windy MetLife Stadium, needing to knock off a bitter division rival for a shot at the playoffs. Big Blue thumped the Dallas Cowboys by a 31-14 final, claiming the NFC East and embarking on a subsequent Super Bowl run.
In the final week of the 2012 season, much was the same. New York trumped the Philadelphia Eagles 42-7, finishing with a 9-7 record for a second consecutive year.
Yet this time around, it's the Giants who are caught in the aftermath of "Black Monday," rather than the fervor of the postseason.
New York's 2012 is marred by what ifs, leading to what should be a busy offseason this winter. Football's towering rate of turnover, coupled with the pressure of playing in the country's largest market, sets the stage for the departure of many key Giants.
Who must stay in Giants blue, and who should be on his way out? Check out the verdicts on some hotly contested personnel.
RT David Diehl: Must Go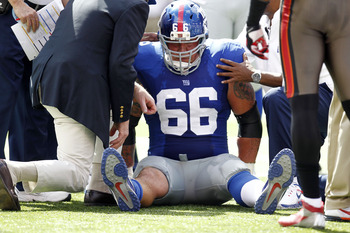 Jeff Zelevansky/Getty Images
There's no downplaying Diehl's importance to the franchise.
With 10 years of playing time for the G-Men, Diehl has lined up at both guard and both tackle spots. His versatility and general reliability have warranted a favorable reputation among fans.
Until 2012.
Following a DWI charge, Diehl struggled to stay healthy and failed to protect the edge when active. Diehl was particularly poor in pass blocking and still sits on a hefty salary for next year.
The Giants will be looking elsewhere for a tackle, be it internally with Sean Locklear, in free agency or through the NFL draft.
LT Will Beatty: Must Stay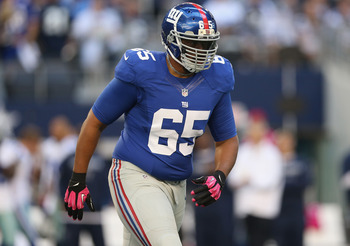 Ronald Martinez/Getty Images
Beatty had a surprisingly solid season after a disappointing 2011. Going against some of the best ends in the league, he held down an offensive line that ranked second in the NFL in adjusted sack rate and seventh in second-level rushing.
Beatty's deserving of his starting role come 2013, and with his contract expiring yesterday, the Giants would be wise to pursue him again.
K Lawrence Tynes: Must Stay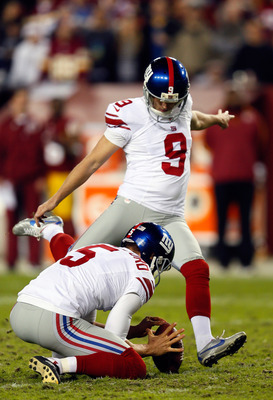 Rob Carr/Getty Images
With two NFC Championship-winning field goals to his name, there's no knocking what kicker Lawrence Tynes has done for the Giants.
Tynes struggled with establishing range this season but still drilled 33 of 39 field goal tries. His kickoffs stayed deep, and his consistency was surprising for the position (Jay Feely, Giants fans?).
A free agent, Tynes should see a short-term deal from general manager Jerry Reese.
CB Corey Webster: Must Go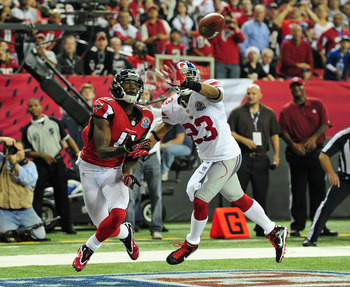 Scott Cunningham/Getty Images
On opening day, No. 1 corner Corey Webster was accountable for six receptions, 145 receiving yards and a touchdown from Dallas Cowboy Kevin Ogletree.
That was only the beginning.
Webster has been torched all year, most recently allowing a touchdown to Baltimore's Torrey Smith and big receptions to fellow Ravens Anquan Boldin and Dennis Pitta in Week 16. The veteran corner's looked like a rookie for most of 2012, biting hard on play fakes and stop routes and failing to keep pace with speedy wideouts.
With so much youth in New York's secondary, and with lauded corner Terrell Thomas returning from a nagging ACL issue, it's time for Webster to be on his way.
SS Kenny Phillips: Must Stay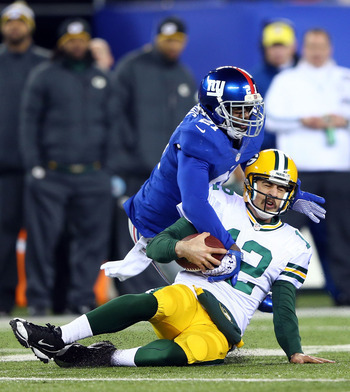 Al Bello/Getty Images
Kenny Phillips battled through the season with a sprained knee, and the emergence of ball-hawking safety Stevie Brown forced many fans to forget about the five-year pro. Now a free agent, the Giants can't allow him to walk.
Phillips is a playmaker in coverage and has proven himself in run defense, tallying 59 tackles and a forced fumble last year. Ranked consistently as one of the better strong safeties in the NFL, Phillips' return is vital to a volatile Giants secondary.
WR Ramses Barden: Must Go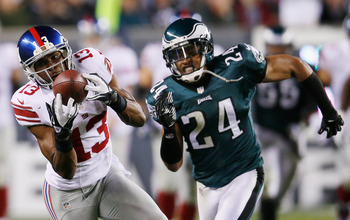 Rob Carr/Getty Images
It's a shame, really.
Barden, a second-round draftee in 2009, finally got the chance to prove himself this year. With wideout Hakeem Nicks shelved with a foot injury, Barden started against the Carolina Panthers in Week 3, churning out nine receptions for 138 yards.
Still, Barden struggled to stay active in New York's offense beyond the first month of the season, and the Giants already have four receivers in place for 2013 in Nicks, Victor Cruz, Domenik Hixon and Rueben Randle.
Barden's a free agent and will likely command more money than he's worth in a Matt Flynn-type negotiation. The Giants certainly don't need him.
LB Keith Rivers: Must Go
Elsa/Getty Images
Rivers is a free agent, and re-signing him would be a suspect move from the Giants' front office.
A top-10 draft pick back in '08, Rivers was bounced from the Cincinnati Bengals after failing to stay healthy. After dealing with a hand injury, he played 2012 in New York, finishing with 44 tackles.
Rivers doesn't make enough of an impact on the edge and is certainly nothing special in pass coverage. The Giants desperately need help at outside linebacker, and a risky option like Rivers is not the way to go.
TE Martellus Bennett: Must Stay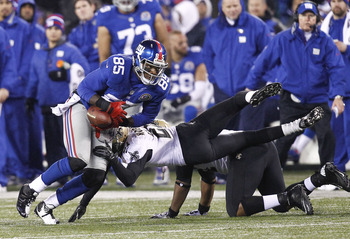 Jeff Zelevansky/Getty Images
Bennett began the season on a tear, recording touchdowns in his first three games as a Giant. Although he certainly cooled off, Bennett is still a physical mid-level option who out-performed expectations in run blocking.
The one-year experiment here certainly paid off. Bennett's an above-average tight end who fits into Eli Manning's system. Plus, it's tough to let such a colorful personality walk from the spotlight of New York.
RB Andre Brown: Must Stay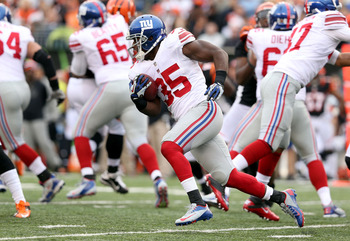 Andy Lyons/Getty Images
This one's wild.
Brown began the season on the verge of a roster cut and finished with eight touchdowns before landing on injured reserve. An exclusive-rights free agent, Brown can't negotiate with other teams, and the Giants have a steal of a third running back.
Perhaps the G-Men formulate a trio similar to 2007's mix of Brandon Jacobs, Ahmad Bradshaw and Derrick Ward.
With Bradshaw's injury risk and rookie David Wilson's inexperience, keeping Brown would be huge for the Giants.
DT Rocky Bernard: Must Go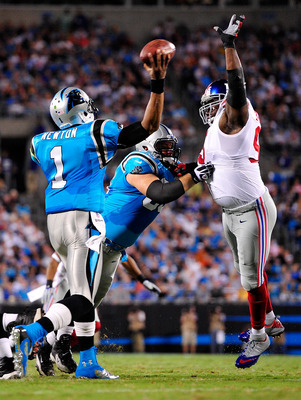 Grant Halverson/Getty Images
Bernard, an 11-year veteran with one sack in '12, is a free agent who simply doesn't provide enough beyond experience and leadership. New York's sleek defensive line doesn't need Bernard in the middle.
Fellow tackle Linval Joseph has blossomed into a bit of a star, making Bernard's re-signing unnecessary.
Keep Reading

New York Giants: Like this team?