New York Giants Mock Draft: Full 7-Round Projections at Regular Season's End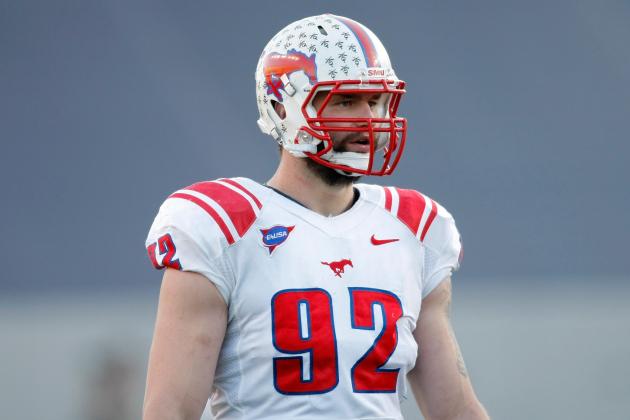 Brett Davis-USA TODAY Sports

Now that the New York Giants' season has come to a close, it's time to look forward to the 2013 NFL draft.
It's a no-brainer that the G-Men need to bolster their defense, as they ranked 28th against the pass and 25th against the rush, which ultimately cost New York a trip to the postseason.
Jerry Reese has already said Big Blue won't see too many changes (h/t Newsday), but if you know Reese and his drafting techniques, you know he's going to go after the best athletes he can to assure the Giants their best chance of making the playoffs in 2013.
That said, here's my seven-round mock draft for the Giants.
Begin Slideshow

»
If you watched the play of Corey Webster down the stretch this season or you care about the Giants' defense in any way, I think you'll agree with this pick.
Webster and the Giants' secondary were pitiful this season, ranking 28th in yards allowed (4,068) and tied for 19th, surrendering 26 passing touchdowns.
Safety Stevie Brown was a nice surprise for Big Blue, collecting eight picks at big moments for New York, but the Giants need help on the outside.
Webster will be 31 next season and Prince Amukamara can't stay healthy enough to stay on the field, which is why selecting David Amerson from N.C. State makes sense.
At 6'2", Amerson possesses great height and certainly has the talent, as he set the single-season ACC record for interceptions in 2011.
He's not the best corner in the draft, but he's the best the Giants can do with the 19th pick.
With Osi Umenyiora likely leaving the G-Men, New York will look to the draft to bolster its defensive line.
According to Ralph Vacchiano of the New York Daily News, Umenyiora knows it's time for an exit from the Giants:
I just feel fortunate to be able to play 10 years in New York in this city and that organization. It was a great run, a great ride. I think now is probably time to move on.


The 10-year defensive end will be looking for a big payday and the Giants likely aren't willing to hand it out, especially after a down season.
That said, Margus Hunt is a good fit for the Giants.
He's from New Jersey and had a big impact for the Mustangs this season, accumulating eight sacks and an interception, including two sacks against Fresno State in the Hawaii Bowl.
Oh, and he's also a sick Olympic discus tosser.
At 6'8", 275 lbs., Jerry Reese and the G-Men would be crazy not to draft Hunt if he's still on the board.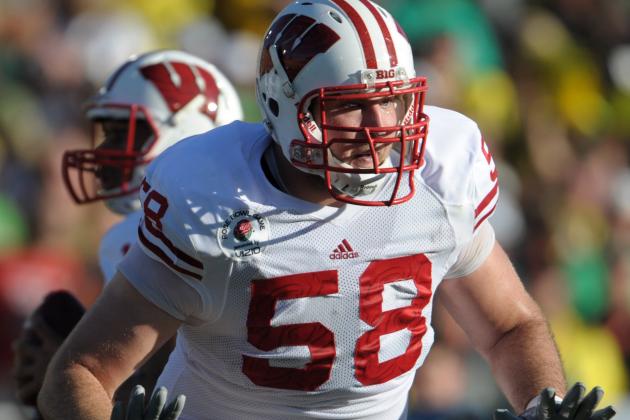 Kirby Lee-USA TODAY Sports

The Giants are in desperate need of a new offensive line.
Although Eli Manning was sacked only 19 times this season, he took plenty of big hits and was constantly under pressure, especially during the latter portion of the season.
New York ranked 14th in rushing and could have easily seen that mark finish higher with a healthy Ahmad Bradshaw and a better O-line.
It's time for the Giants to replace David Diehl, and while Wisconsin's Ricky Wagner may not be an immediate replacement, he's definitely a start.
Wagner helped lead the way for the nation's third-best rusher, as Montee Ball rushed for 1,830 yards and 22 TDs this season.
The 6'6" OT was selected to the All-Big Ten First Team this season and would be an excellent third-round pick for Big Blue.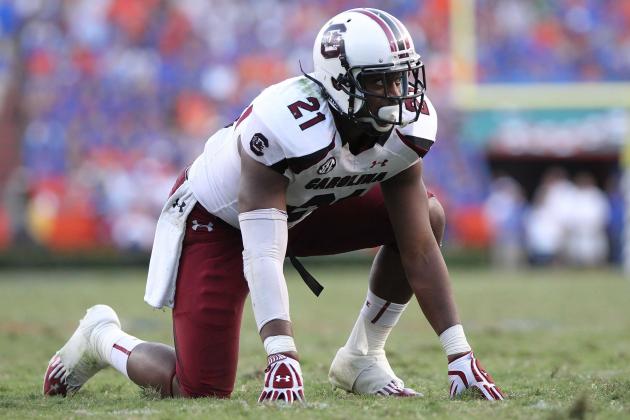 Kim Klement-USA TODAY Sports

If anything, the Giants need depth at outside linebacker.
Mathias Kiwanuka didn't exactly have a season to brag about and Michael Boley tailed off in the end after intercepting a pass in each of New York's first three games.
South Carolina's DeVonte Holloman could be the target of Jerry Reese and the Giants' brass due to his athletic ability.
Holloman switched from safety to the "spur" position, which is a hybrid of the safety and linebacker positions during his senior year, and the results showed.
The 6'2" defender compiled three interceptions and two sacks during his senior season as a Gamecock and would provide a nice option for the Giants on defense.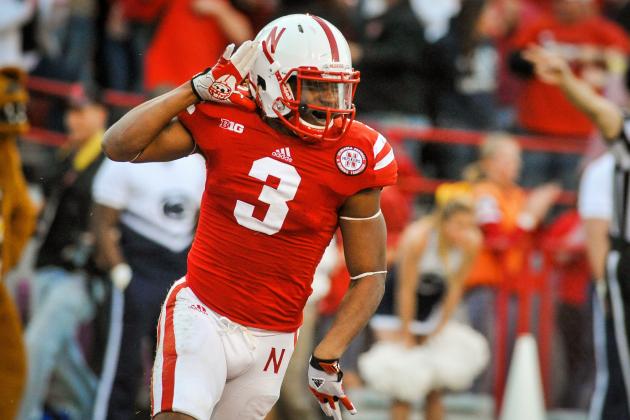 Eric Francis/Getty Images

Jerry Reese loves athletic players and it's no different with free safety Daimion Stafford out of Nebraska.
The 6'1" safety put together a solid season for the Cornhuskers, intercepting four passes and giving opposing offenses trouble.
Stafford possesses 4.5 speed (h/t CBS Sports) and isn't afraid to lay a lick on a receiver over the middle.
Antrel Rolle had a decent season, but he has been forced to play corner a lot due to injuries sustained in New York's secondary.
In order to provide more talent in the secondary, Stafford is a solid pick for the Giants in the fifth round.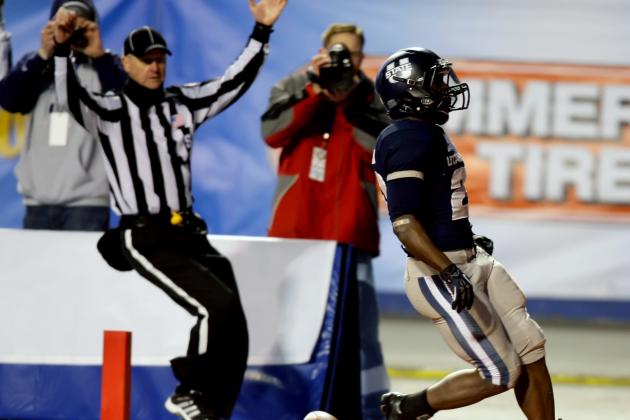 Brian Losness-USA TODAY Sports

Nagging injuries by Ahmad Bradshaw might force the Giants to utilize the draft for a running back for the second year in a row.
A guy like Kerwynn Williams fits the mold because he can get it done on the ground and in the passing game, which is what the Giants like to do with their RBs.
Williams rushed for more than 1,500 yards this season (No. 11 in the nation) and added 15 touchdowns on the ground as well as 45 receptions, 697 yards and five touchdowns out of the backfield.
He was a beast in the Famous Idaho Potato Bowl, gashing Toledo's defense for 235 rushing yards and three scores.
The speedy RB with 4.4 speed (h/t CBS Sports) could be someone similar to Darren Sproles and would undoubtedly add another dimension to the Giants' offense/running game behind Bradshaw and David Wilson.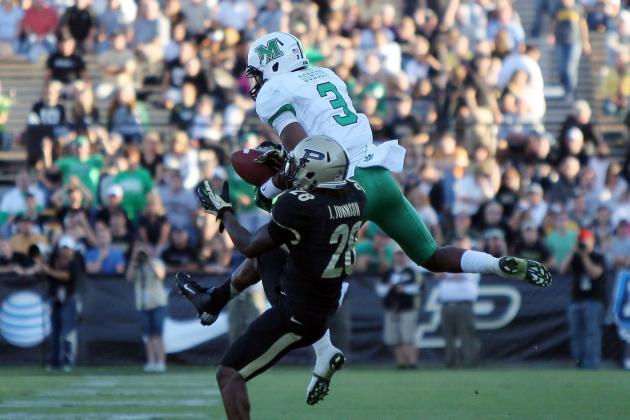 Pat Lovell-USA TODAY Sports

The Giants are built on defense and can't afford to have another poor defensive season like they did in 2012.
Cornerback play—among many other positions—was one of the main contributing factors to New York's down season, which is why I think they add depth in the secondary by drafting a corner in the later rounds.
Josh Johnson utilizes his speed and 5' 11" frame to the best of his ability, amassing three interceptions and a sack this season, including a 74-yard pick six against Marshall on Sept. 29.
It'd be nice to see New York stack up on defense in the draft and Johnson is a later-round guy who can help the G-Men do just that.
Follow me on Twitter: Follow @Pete_Schauer