New Year's Resolutions for the St. Louis Cardinals in 2013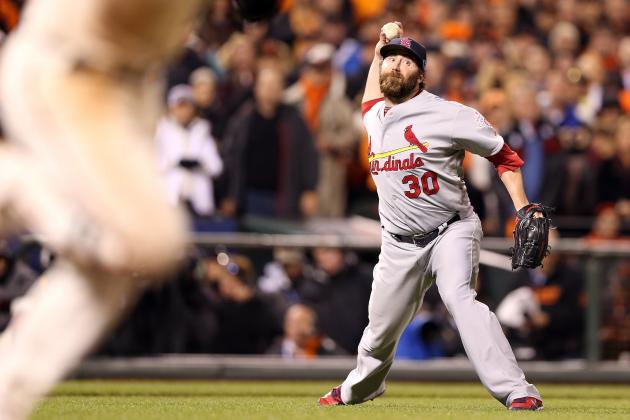 Christian Petersen/Getty Images

The St. Louis Cardinals began the offseason with a number of minor additions on their Christmas list. Among those were an additional left-handed reliever, a bench bat and a possible middle-infield backup.
They filled two of those three needs with Ty Wiggington and Randy Choate, but the other need is somewhat less pressing.
With the 2012 season fading away in the rearview mirror, it's time to begin looking at 2013.
There's more to looking forward than simply looking at possible trades and acquisitions. There are also various internal questions that need to be answered as the Cardinals continue to move forward with hopes of playing deep into October once more.
Begin Slideshow

»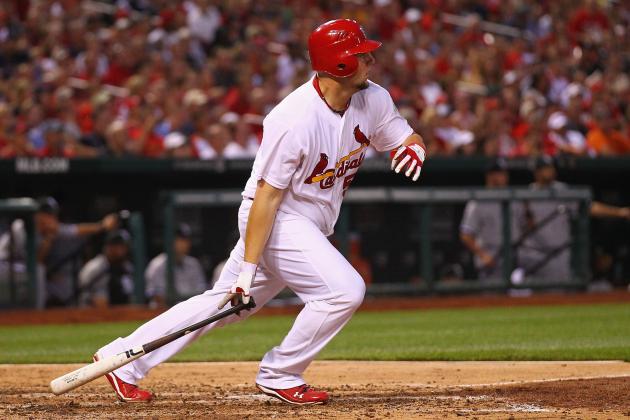 Dilip Vishwanat/Getty Images

Is he an insurance policy, the future at first base or a valuable trade chip?
In short, he has the solid potential to be all three.
While the Cardinals seem content with Allen Craig at first base, they have—at least so far—felt the need to hang on to first baseman Matt Adams.
Both players have the potential to be long-term sluggers. The problem is that they are both quite limited as to where they can play defensively.
GM John Mozeliak has noted on multiple occasions, including in the linked interview with 101ESPN of St. Louis, that he isn't comfortable bringing Adams up to sit on the bench, but that Adams has hit his ceiling in the minor leagues.
In the event of a Craig injury or extended slump, Adams could be a great insurance policy, but without consistent playing time at the major league level, he may struggle to ever reach his true capability.
The Cardinals feel good about Craig, but not so good that they are ready to send Adams elsewhere.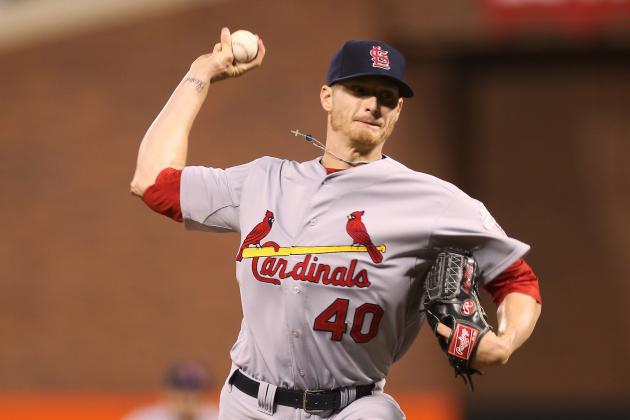 Christian Petersen/Getty Images

With a number of young pitchers moving up to the big league last year, the pitching staff has grown much younger.
Pitchers like Shelby Miller and Trevor Rosenthal got their first taste of the big show in 2012, but over the next two seasons they will see their roles expanded exponentially.
As Chris Carpenter's career begins to wind down and Jake Westbrook finishes out his one-year deal, Miller and Rosenthal will have a buffer year to get ready to be everyday members of the rotation.
In the meantime, they need to soak in every ounce of wisdom they can from Carpenter and Wainwright.
St. Louis' veteran pitchers have learned a lot of lessons over the years and have much to share with the team's youth that will make the youngsters' eventual shifts to the rotation that much easier.
Both Miller and Rosenthal have a lot of potential, and this next year of development will help shape their entire careers.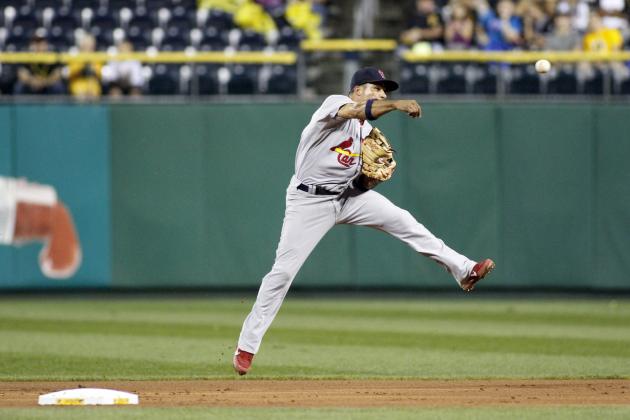 Justin K. Aller/Getty Images

This is one position that always seems to have a question mark.
Rafael Furcal has done a great job when he's healthy, but as he gets older, he will need more downtime to stay at the top of his game. Coming off of an elbow ligament tear, this could be the most physically demanding season of his career. Still, the Cardinals seem confident that he is their man in 2013.
This slide is not a jab at Furcal, but rather a look at the future beyond him.
The upcoming season will be the last of his two-year contract in St. Louis, and so it might be a good time for the Cardinals to begin thinking about long-term solutions at shortstop.
Pete Kozma and Ryan Jackson will be able to fill some gaps, but at least at this point, neither appears to be an answer to the Cardinals' questionable future at shortstop.
Whether they seek out a midseason trade or try their hands at the free-agent market next winter, St. Louis will likely have to make some type of a move.
There's always the possibility that they could add Furcal for another year, but that's not very likely.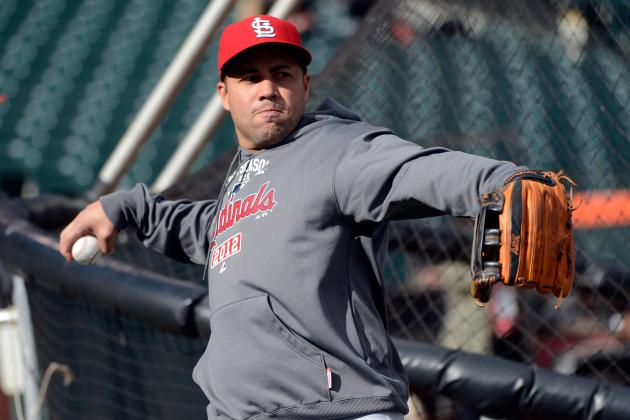 Thearon W. Henderson/Getty Images

There is little doubt that the slugging minor league sensation Oscar Taveras will soon begin his major league career.
He will most likely start the season at Triple-A Memphis, but how long he spends there will be up in the air. Taveras' assignment could last a full season, but in all reality there's a good chance that Taveras will be in St. Louis by the All-Star break.
While he doesn't need to be a temporary bench bat, spending some time alongside Carlos Beltran would be very beneficial to him.
Beltran is impressive in all aspects of his game and carries himself with a tremendous amount of class. He would be a fantastic mentor for Taveras as the youngster prepares to (most likely) fully take the reins in 2014.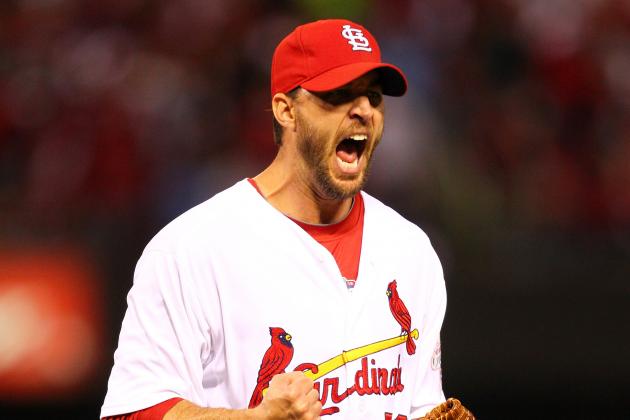 Dilip Vishwanat/Getty Images

If the Cardinals hope to keep Wainwright around, locking him up early is a must. He has said in the past that he is open to early negotiations, even during spring training.
With blockbuster pitcher deals coming from every direction in the last two years, his price keeps rising.
Currently in the final year of a six-year/$59.4 million deal, Wainwright's best career shot at a huge payday is just around the corner.
Wainwright has played for a very reasonable salary for the Cardinals for six years. While he may very well sign below market value, the Cardinals are going to have to pony up far more than they have ever paid a pitcher (and possibly a player) to keep him in St. Louis.
They seem to have a high value on him both as a player and as a positive member of the clubhouse, so there is little doubt that both sides would like to reach a mutually beneficial deal.