5 Philadelphia 76ers Who Will Step It Up in 2013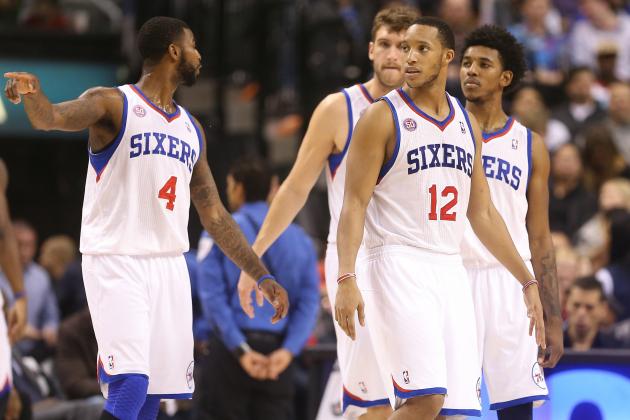 Tom Szczerbowski-USA TODAY Sports
Expect to see even greater things from these Sixers in 2013.
"Should old statistics be forgot, and never brought to mind?"
Those (mostly accurate) lyrics to "Auld Lang Syne" may have been rhetorical (yes, the question mark actually exists in the song) but, if posed to the Sixers at this time, the answer may be a resounding "hell, yes."
But like the song—traditionally, drunkenly and annually belted out around this time — the new year lends itself to new hope and renewed expectations.
Because a 14-15 record heading into the final couple of games of 2012 is probably not what the Sixers, nor its fanbase, expected fresh off a summer of considerable change. But when factoring in injuries to centerpiece players such as Andrew Bynum and, to a lesser degree, Jrue Holiday, plus early-season struggles by other key components adjusting to new roles, we're left with the reality that smacks us in the face as well as in the standings.
Considering the aforementioned, it is reasonable to expect at least several members of the team to take their game to another level. For some, it's a level that reflects how they have produced for much of their careers. For others, it may be a level indicative of recent trends.
But for all involved, it matters less how the following players will step it up as opposed to if they will. For these five in the slides ahead, they have the best chance to raise their game as we raise our glasses to celebrate the coming of 2013.
(Note: All statistics are updated as of Dec. 27)
Begin Slideshow

»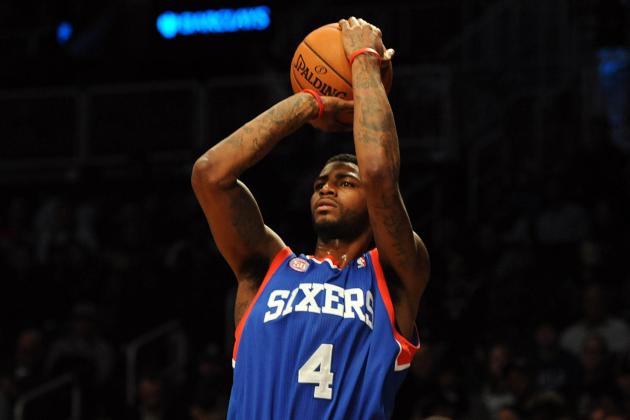 USA TODAY Sports

Stats: 8.7 PPG, .370 field goal percentage
Why will Dorell Wright step it up? Well, for one, it's quite difficult to fathom that he could sink even further than he had for the first quarter of the season, when his offense was downright offensive, connecting on barely a third of his shots from the field.
However, lately, it seems Wright can't go wrong.
Proving to be the master of efficiency when he's on his game, Wright erupted for season-high 28 points on just 11 shot attempts in a Sixers' win against the Grizzlies on Dec. 26. A week prior, in consecutive games on consecutive nights in Houston and Dallas, he went off for 20 and 25 points, respectively. Prior to that, he had a nine-assist outing against the Lakers and grabbed nine rebounds against the Pacers.
Wright has been in the league long enough to affirm that he can be a potent shooter and versatile swingman. The new year should reaffirm that he can still utilize those traits on a consistent basis.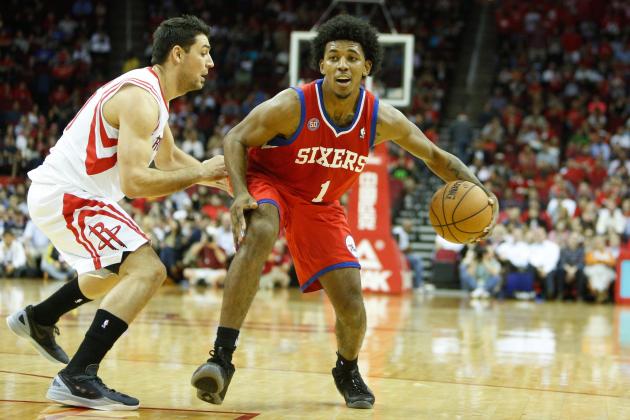 Thomas Campbell-USA TODAY Sports

Stats: 10.1 PPG, .410 field goal percentage
Similar to Wright, Nick Young has made his living in the NBA with his ability to hit the jump shot and provide instant offense, traits the Sixers lost when they allowed Lou Williams to leave via free agency.
Also like Wright, Young has significantly underachieved with his new squad thus far, but lately he has shown glimpses of what's possible if he can address his inconsistencies.
During his brief tenure with Washington, Swaggy P proved that he's capable of scoring in bunches, putting up 16.6 points per game in 40 contests last season before a trade to the Clippers and 17.4 in 64 outings the year prior for the Wizards. Therefore, bumping up the 10 per game average he has to date with Philly is a reasonable expectation.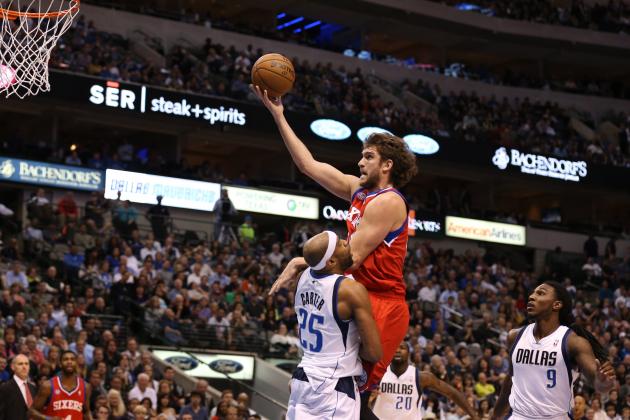 USA TODAY Sports

Stats: 9.4 PPG, 5.8 RPG
A couple of years back, the Sixers were perfectly willing to trade the defensively gifted but enigmatic Samuel Dalembert to the Kings to get the offensively gifted but equally enigmatic Spencer Hawes. The fact that he has alternately shown the ability to produce and remain invisible during games simply adds to the frustration.
However, after starting for most of his time in a 76er uniform, Hawes has been adjusting to a new role off the bench. He has also been given the freedom from coach Doug Collins to take more jump shots and has even shown the knack for hitting the occasional triple—no small feat for a man who stands at 7'1".
Furthermore, Hawes may finally get his wish to work primarily from the power forward spot if and when Bynum returns, thus creating a formidable "twin tower" scenario that opposing teams will have to respect.
But until then, if he can even come remotely close to replicating his 20-point, nine-rebound, five-block, three-steal performance against Memphis on Dec. 26, the push to get Bynum back on the court faster will certainly subside.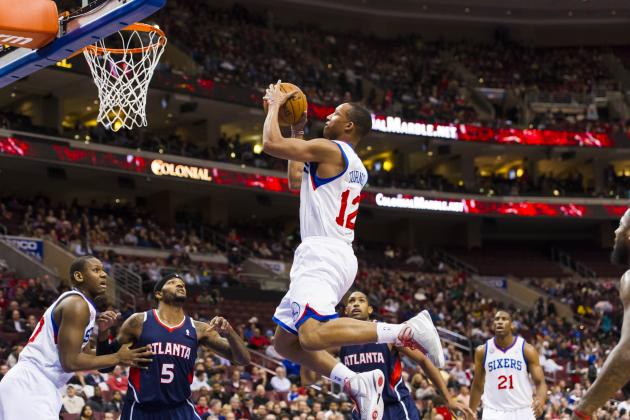 USA TODAY Sports

Stats: 14.8 PPG, 6.8 RPG, 4.3 APG
The maddening inconsistencies shown during Evan Turner's first two seasons in the league frustrated his coaches and fans alike to the point where people openly wondered if the former second overall pick may ever live up to his lofty expectations. And only in recent weeks (minus a hopeful blip on the radar screen against the Grizzlies) has the talented and versatile Turner begun to string together consistently impressive performances worthy of being selected where he was in the draft.
Perhaps the most striking improvement in his game? Hitting the three at a clip of more than 45 percent per contest, more than double the paltry 22 percent he put up last season and shattering his career-best of 32 percent he tallied during his rookie campaign. In fact, Turner has connected so frequently from the corners that Sixers' play-by-play announcer Mark Zumoff has affectionately christened those spots on the floor as "Turnersville."
Now that Evan's turning the corner and embracing the spotlight thrust upon him, the future is beginning to look equally bright for ET with a plateau nowhere in sight.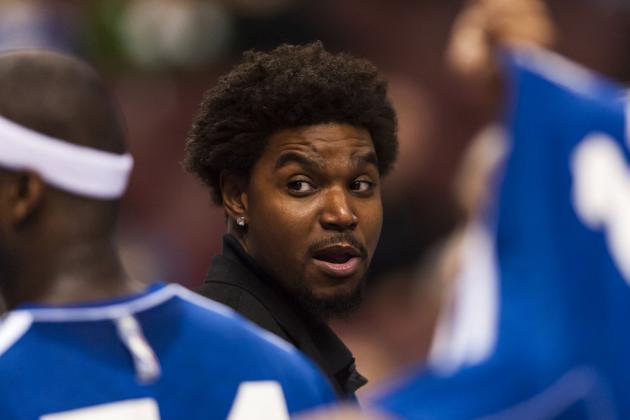 USA TODAY Sports

Stats: N/A
Okay, this might be cheating a bit, but hey, if Andrew Bynum gives the Sixers any type of production in 2013, that would technically be "stepping up." And figure that he will, as it is only in his best interest to do so.
Considering that he is entering the final year of his contract, there will be literally tens of millions of dollars on the line for Bynum to prove that he is healthy enough to still earn a long-term, max deal, be it from Philly or a comparative contract elsewhere.
Yes, like knocking down the spare in the 10th frame, his desire to put forth the necessary effort is questioned.
But money motivates—especially that much.