Liverpool's 15 Best Moments of 2012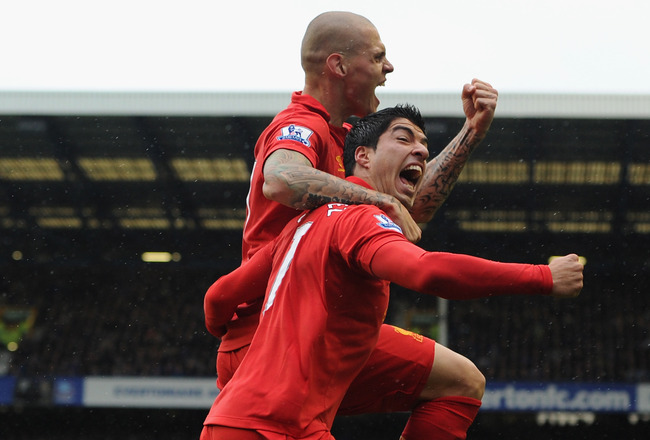 Chris Brunskill/Getty Images
As 2012 comes to a close, supporters of Liverpool Football Club can look back at the past 12 months and perhaps admit it has been an up-and-down sort of year.
The club has lurched from one transition season to another over the past three league campaigns, which doesn't make for good stability of course, but there is hope that the most recent managerial change will be the last one for some time.
Of course, on and off pitch, there have been plenty of newsworthy talking points around the club—some good, some not quite so much. Some downright poor.
In no particular ranking but rather in chronological order, here are Liverpool's top 15 moments of 2012—with hopefully another one or two to come against Stoke City and Queens Park Rangers in the closing days of the year.
January: Defeat of Manchester City in the League Cup Semifinal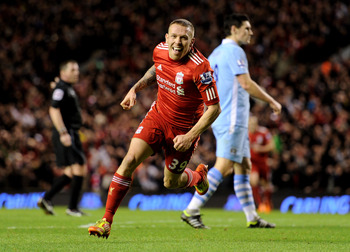 Michael Regan/Getty Images
Though the Reds had gotten their new year off to a rather dreadful start against the same opposition just eight days earlier, losing 3-0 in the Premier League, Liverpool went to the home of the soon-to-be-champions and won 1-0 in the League Cup semifinal first leg.
With a first domestic cup final since 2006 the prize on offer if Kenny Dalglish's men could find a way past Manchester City, tensions were understandably high.
City had plenty of possession, but the Reds matched them for effort and work-rate and sealed the first leg win with a Steven Gerrard penalty.
Two weeks later, the return leg took place at Anfield.
A great game ended 2-2, meaning Liverpool went through 3-2 on aggregate to the final at Wembley, thanks to another penalty from Gerrard and a fine goal from former City forward Craig Bellamy.
Tears in manager Kenny Dalglish's eyes at the final whistle told their own story of what getting back amongst major finals should mean for the club.
January: Dirk Kuyt Knocks out Manchester United in the FA Cup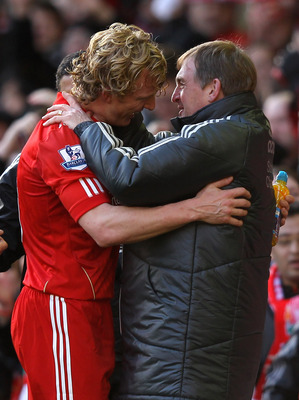 Alex Livesey/Getty Images
The domestic cups provided great entertainment for Liverpool fans early on in the year, as the Reds also got their FA Cup campaign up and running.
A tough fourth-round draw against Manchester United, who knocked the Reds out a round earlier the previous year, provided the best of a fine run all the way to the final.
Anfield was rocking for the clash, which Liverpool started brilliantly with a Daniel Agger goal, though United were level by halftime.
It looked as though the match would end in a draw and needing a replay at Old Trafford—only for Andy Carroll to flick a late long ball on towards Dirk Kuyt, who drilled in an emotional winner for the Reds.
February: First Trophy Since 2006 as Reds Win League Cup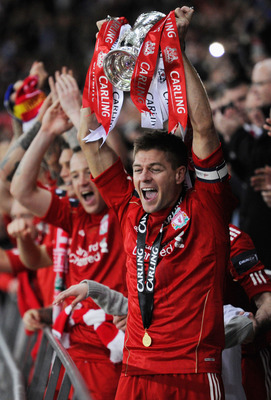 Pool/Getty Images
A month after the win over United, Liverpool were at Wembley for the first time since its renovation, with their last cup final in 2006 being played at the Millennium Stadium in Cardiff, Wales.
Dalglish's team were heavy favourites—against Championship side Cardiff City, incidentally—but were made to sweat it out, having fallen behind in the game and needing an equaliser from Martin Skrtel to force extra time in the final.
Dirk Kuyt grabbed himself another important goal, but in the last seconds of the added period, Cardiff scored their own equaliser to force a penalty shootout.
Just as in 2001, the Reds beat lower league opposition via spot kicks, with captain Steven Gerrard lifting the trophy after his cousin and opponent Anthony Gerrard missed the vital shot for Cardiff. In so doing, the Red Gerrard ended Liverpool's six-year wait for a trophy.
March: Steven Gerrard Hat-Trick Hammers Everton
Fast forward to March, and Liverpool's city rivals Everton were celebrating a decade under the leadership of manager David Moyes.
Steven Gerrard had no intention of honouring the celebrations, though, as he rattled in a derby day hat trick in a 3-0 demolition of the blue half of Merseyside.
A composed left-footed chip, a rocket of a right-foot effort and a close-range finish on the counter-attack gave the captain a perfect day, as the Reds took three points at Anfield.
April: Late Andy Carroll Headers Beat Blackburn Then Everton at Wembley
Mike Hewitt/Getty Images
Having failed to make the most of their cup successes and translate that form into the Premier League, Liverpool went into April merely hanging on the coat-tails of the teams chasing European spots instead of challenging them.
A massive Wembley derby beckoned as Liverpool faced Everton in the FA Cup semifinal, and striker Andy Carroll gave a glimpse of what was to come as he headed in a dramatic late winner at Blackburn Rovers the week before.
In a topsy-turvy game, Liverpool had their goalkeeper Doni sent off, saw Brad Jones save one penalty and concede another, and the Reds let a two-goal lead slip and almost lost the match before Carroll's late winner changed the mood in the squad entirely.
Back to Wembley, and the Reds fell behind to Everton in the semifinal, but forward pairing Luis Suarez and Andy Carroll won the day for the Reds, the latter with another late headed goal to send the ecstatic traveling Kop off to their second domestic final of the season and condemn Everton to more than a decade without a trophy under their celebrated boss.
April: Luis Suarez Hat Trick vs. Norwich City, Including Stunning Long-Range Goal
If Gerrard's Everton hat trick was special for the occasion, then Luis Suarez matched it six weeks later for sheer talent.
The Uruguayan's troika of strikes were a class apart for their unerring accuracy, audacity and—for once—clinical edge.
A well-taken left footed shot was clipped in from inside the box for the first goal after Liverpool had struggled to break down Norwich City beforehand, but from then onwards, there was only one winner in the game.
Suarez's second goal was maybe his best finish of the season, but is barely given a token nod of appreciation because of the third and final goal of the match, an Alonso-esque hit from near the halfway line.
May: Revenge Against Chelsea in 4-1 Anfield Win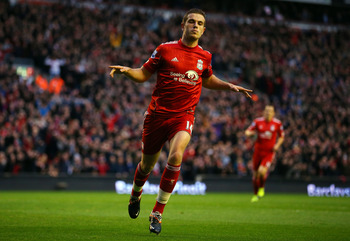 Alex Livesey/Getty Images
Liverpool lost out in their second cup final of the season after leaving it far too late to overcome their meek start against Chelsea in the FA Cup Final, but gained some measure of revenge by spanking the same side 4-1 at Anfield three days later.
Having secured their first trophy of the season and casting glances towards the Champions League final to come shortly afterwards, perhaps the blues were not overly concerned with the league match, though their starting lineup hardly indicated that was the case.
Daniel Agger, Jonjo Shelvey, Jordan Henderson and a Michael Essien own goal saw the Reds run riot, and though there was plenty of impressive attacking play on offer, the three points were tinged with regret and a rueful questioning of where this performance was at Wembley just days earlier.
July: Brendan Rodgers Appointed New Club Manager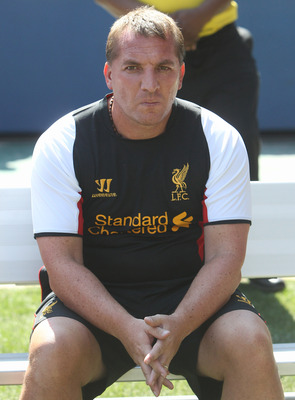 Tom Szczerbowski/Getty Images
After the dismissal of Kenny Dalglish as manager of the club, the search for a new boss ended on July 1 when Brendan Rodgers was appointed as the new man in charge.
Some supporters openly welcomed the former Swansea coach, while others indicated they would have preferred someone with a more proven record of competing at the top level of the game, but there was no doubting this was a sign of intent from the board.
Liverpool needed a direction on the pitch, a methodology to their play and how to try and win games. Regardless of opinion over whether it will enable him to be successful, Brendan Rodgers certainly brings that to the table.
Time will tell how successful Rodgers is, but it was important for the club to choose a direction and stick with it—and the kind of project the new manager wants to implement over the years means this was a very positive day for the club.
August: Luis Suarez Signs New Contract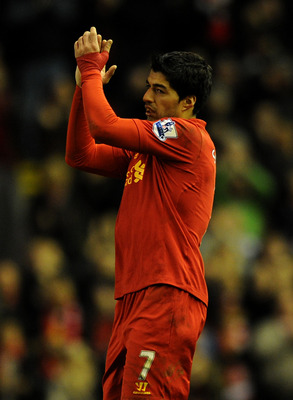 Chris Brunskill/Getty Images
Having spent part of the late summer on Olympic duty for his nation in London 2012, Luis Suarez returned to his club in early August and immediately signaled his intention to stay and help the club progress by signing a new long-term contract.
Juventus, Manchester City, Chelsea and perhaps other teams have all been known admirers of the tricky forward, and there is little doubt he is Liverpool's best player in the entire squad.
The renegotiating of his contract, therefore, was an integral step in securing not only Suarez's future, but that of the team and building it around him.
Playing better than ever in a Red shirt and top scoring so far this season indicates just what a big moment this was for the club.
August: Nuri Sahin Signs in on Loan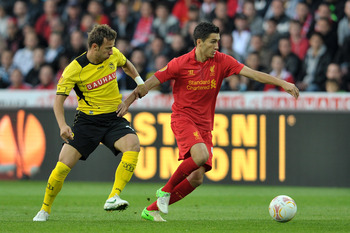 Harold Cunningham/Getty Images
This one hasn't quite panned out the way it was hoped, at least not yet, but there is no doubt that at the time of announcing the loan signing of Nuri Sahin, most fans were delighted at the news and hoped it signified a big step up in quality for the Reds.
The former Borussia Dortmund playmaker will spend the entire 2012-13 season with Liverpool on loan from Real Madrid and started the season in good form, though after tapering off somewhat, he has recently lost his place in the team.
Sahin has enormous quality on the ball and has maybe suffered through playing a different role for his team than the one he is used to, but will likely still play a big role in the team over the remainder of the season.
The Turkish international was probably the biggest profile signing of the summer for Liverpool, as Joe Allen, Fabio Borini and Oussama Assaidi all arrived on permanent deals.
September: Youth Players Announce Their Arrival on the Big Stage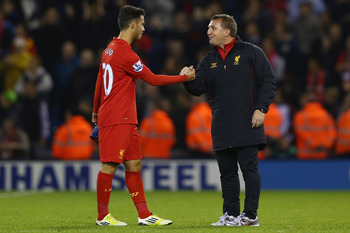 Michael Steele/Getty Images
Not a single moment so much as a collection of them, but the month of September saw early signs of the direction that Liverpool's first team will be heading over the coming seasons.
An injection of youth players, graduating through the club's own under-18 and under-21 programmes, gave a big boost to both the fans, the team and their younger colleagues still playing at youth level.
Suso, Raheem Sterling and Andre Wisdom were the big beneficiaries of Brendan Rodgers having faith in them early on in the season as they won their place in the team through impressive displays in the Europa League.
Against Norwich City all three started in the Premier League in a 5-2 win, and all three have had significant impacts on the team since then.
Other youngsters such as Jack Robinson, Adam Morgan, Conor Coady and Samed Yesil have all also been involved this season.
Notably in the Norwich City fixture, Luis Suarez netted another terrific hat trick to follow up to his extraordinary effort from earlier in the year on the same ground.
October: Daniel Agger Ends Transfer Talk by Signing New Deal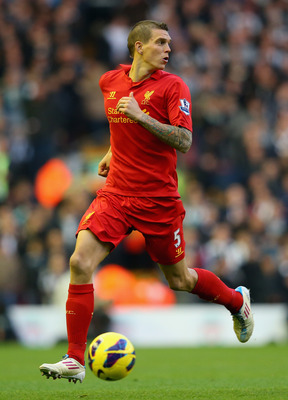 Alex Livesey/Getty Images
As Brendan Rodgers looked to raise funds in the summer to bring in his own players, there was some early speculation that central defender Daniel Agger might be one of those sold.
Thankfully for both player and team, and manager arguably, that never turned out to be the case, and in early October, the Danish star followed Suarez in signing a new long-term contract.
Agger is Liverpool's best defender by some distance in terms of both technical ability and his organisational attributes, and replacing him would certainly not be a mere matter of signing a new centre-back, even a very good one.
He brings out the best in his playing partner, Martin Skrtel, and is the starting point for many of Liverpool's extensive build-up phases in the game, leading from the back and bringing the ball up the pitch at pace.
Jonjo Shelvey and Skrtel himself also signed new contracts, but Agger's was, after that of Suarez, the biggest and best news for the club.
December: Win at Udinese Seals Europa League Progress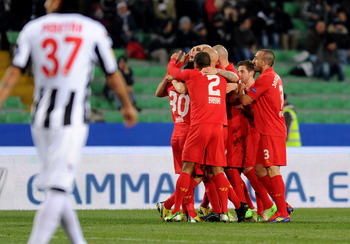 Dino Panato/Getty Images
The Europa League is alternately seen as a nuisance and a secondary competition by some fans, and by plenty of those within the game too.
Even so, it has proven its worth for Liverpool as several players have worked their way into the team by playing well in the competition, as well as giving a chance for those not in the team to get more game time for the season.
Travelling to Italy on the last match-day needing a win to progress to the knockout stages was not the ideal scenario for Liverpool, but the team did remarkably well to come back from Udine with a 1-0 win and seal the top spot in the group.
Not forgetting that this is also manager Brendan Rodgers' first European campaign, every win in this tournament will bring vital experience to the younger members of the squad who hope, in time, to make their mark for the team in the more illustrious Champions League.
December: Raheem Sterling Commits to LFC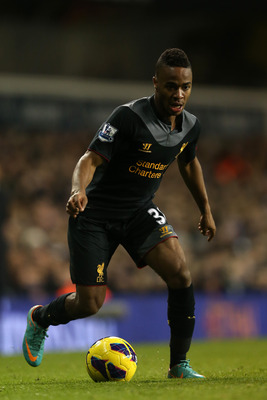 Julian Finney/Getty Images
Liverpool made it a hat trick of important contract renewals for the season less than a week ago when it was revealed that the hugely talented Raheem Sterling had committed to a new deal.
With the contract not able to be signed until the wide forward turned 18 years of age, talks had dragged on a little, and there was a growing concern in some quarters that he might not be willing to affirm his commitment to the cause—though Sterling himself rubbished such talk upon signing.
In addition to Suarez, Agger and Sterling signing new deals, Liverpool have also tied the likes of Martin Skrtel, Jonjo Shelvey and Suso down to new contracts, ensuring that the squad Brendan Rodgers is working with will only be broken up when he deems it necessary to move a player on.
December: 4-0 Win over Fulham Finally Highlights Liverpool Potential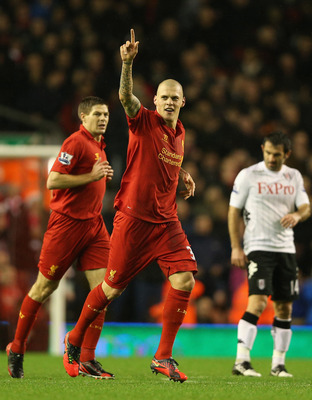 Clive Brunskill/Getty Images
Back on the pitch, perhaps Liverpool's best performance of the season and one of the most pleasing of the year came in their most recent outing, as they battered Fulham 4-0 at Anfield.
Skrtel, Gerrard, Stewart Downing and Suarez got the goals as the Reds finally put plenty of end product to their impressive play in the middle and final thirds, and a move up to eighth place in the Premier League table was the reward.
Of course, Liverpool have far greater aspirations than matching last season's finish. But with the top four just five points ahead, reinforcements on the way in January and players such as Lucas still working their way into the manager's system and style, there is plenty more to be positive about for the coming five months.
The win should justify supporters' faith in how Rodgers is setting up his side and should solidify in the minds of the players just what they are capable of; the big test now is to replicate that form on a consistent basis and continue closing the gap to the top few teams in the league.
Here's to a more consistent 2013 for the club with more goals, more good signings and plenty more "best moments!"
Keep Reading

Liverpool: Like this team?