NHL Lockout: 10 Christmas Gifts for the Hockey-Starved Fan in Your Life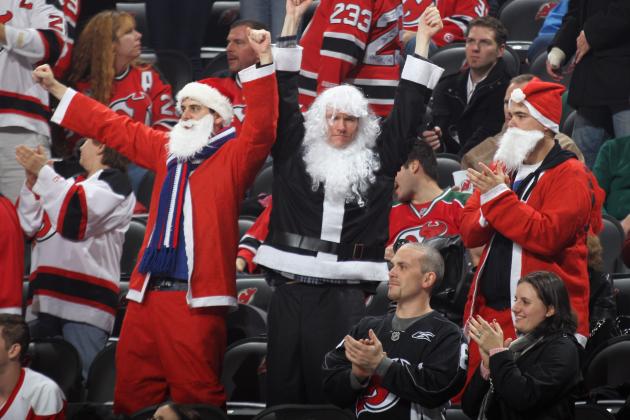 Bruce Bennett/Getty Images

'Tis the season for giving, and money should be no object for that special someone in your life who loves the National Hockey League.
How about the laws of space and time, though?
If you could indeed get absolutely anything in this world, here are 10 ideas sure to be on any hockey fan's wish list.
Begin Slideshow

»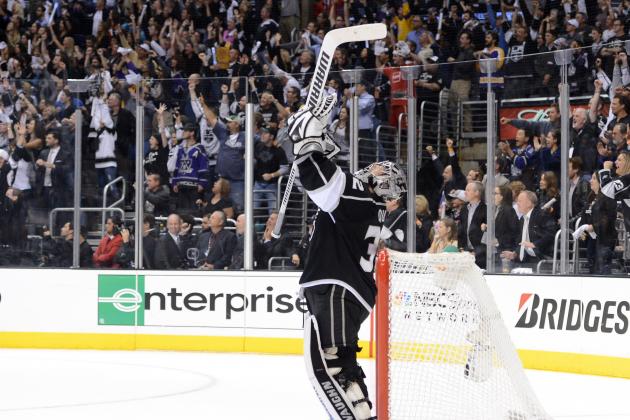 Harry How/Getty Images
Jonathan Quick of the Los Angeles Kings.
At the top of every NHL fan's wish list is for hockey to start up again.
Of course, with the league cancelling games through January 14 a few days ago and the Players' Association voting in favor of filing a disclaimer of interest (in order to dissolve the union), it's all becoming about as likely as Rick DiPietro keeping fit and healthy even without NHL hockey (via CBSSports.com).
That's tier-two German hockey, by the way, to all those who didn't follow the link.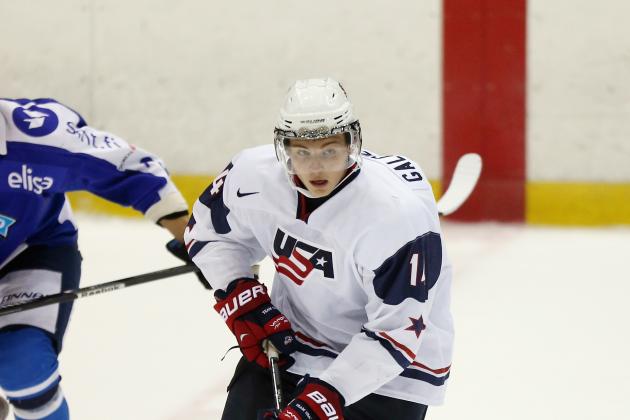 Bruce Bennett/Getty Images
Alex Galchenyuk of the Montreal Canadiens.
The World Junior Hockey Championship may be the last high-caliber hockey with actual NHL players (Canada's Ryan Nugent-Hopkins, for example) most fans are going to see for some time—you know, without flying to Europe.
So, here's a toast to an especially successful World Junior Hockey Championship, unless of course you're a fan of Latvia.
There are some things that even throwing out all laws of physics and probability can't bring about.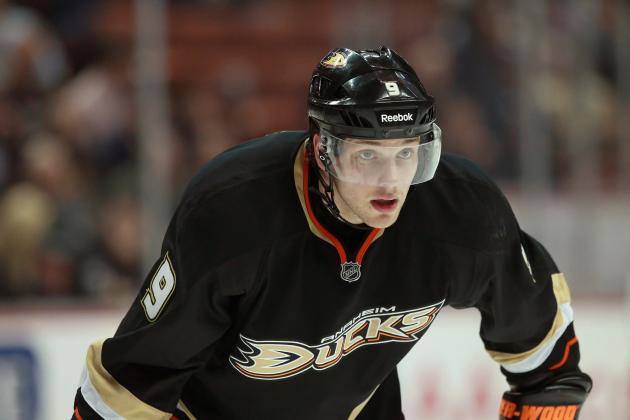 Jeff Gross/Getty Images
Bobby Ryan of the Anaheim Ducks.
Europe is pretty much the only place where fans can see their favorite NHL players, unless of course they're living in Oklahoma City, where Jordan Eberle and Justin Schultz are scoring at impressive paces for the Barons of the American Hockey League.
However, Europe? Reportedly much more scenic.
Sure, the hockey fan in your life may have to learn a few extra languages, but nothing says "I care" more universally than a plane ticket out of town.
Just ask Anaheim Ducks' Bobby Ryan.
Maybe, just maybe, Alexander Radulov had it right when he spurned the Nashville Predators not once, but twice, leaving the NHL to play in the Kontinental Hockey League.
I mean, face the facts:
Not only was Radulov initially welcomed to the KHL with open arms when he deserted the Predators after the 2008-09 season, but he was welcomed back after leaving to join the Predators' playoff run last season.
On top of that? CSKA Moscow deemed him vice-captain material, essentially rewarding him for his impeccable leadership with the "A" after signing the mercurial forward to a four-year deal this past summer.
Granted, the Red Army jersey is very spartan-looking and a relic of communist Russia, but capitalism is in part what got the NHL into this lockout in the first place…well, mostly owners being generally unwilling and unable to share the wealth yet paying guys like Scott Gomez an average of $7.36 million per season.
Not a problem in the KHL. Radulov makes a cool $9.2 million per season, but of course he admittedly scores more than one goal each calendar year.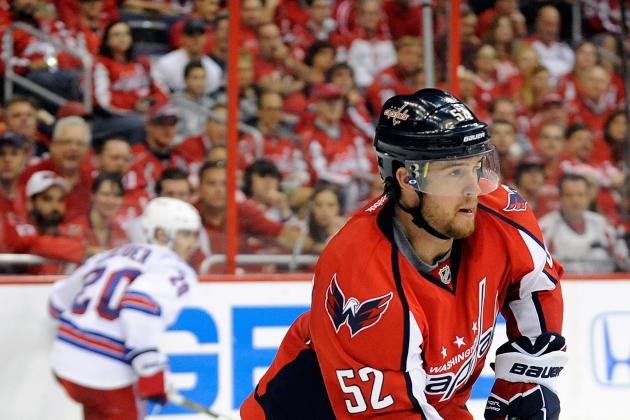 Greg Fiume/Getty Images
Mike Green of the Washington Capitals.
If your loved ones are still annoyingly insistent on remaining loyal to the NHL, give them instead a Mike Green jersey as a constant reminder of all that's wrong with the NHL, most notably "green," ridiculous contracts and things that are broken.
Interestingly enough, his No. 52 easily converts to dollar signs with just a few strips of duct tape.
Alternatively, if you're strapped for cash, just give them the duct tape. It fixes everything…well, almost everything.
For the uninitiated, The Hockey Sweater is a classic children's book that chronicles a young Quebecer's desire to own a Maurice Richard Montreal Canadiens jersey. However, he mistakenly gets sent a Toronto Maple Leafs one through a department store's mail-order catalogue.
Tragic.
It's a time-tested story that reveals just how deeply seeded hockey is as part of Canadian culture. It also offers insight into perpetual tensions between two disparate factions—French and English Canada in this case.
Perhaps the owners and players could use their own copies, that is if they can handle the reading level.
For your pleasure, here is a spoof of the movie version of the book by the Canadian television program, This Hour Has 22 Minutes.
Every hockey fan has that one moment in his life to which he can trace back his addiction to all things hockey.
It might be Paul Henderson's Summit Series-winning goal in 1972.
If you're a tad younger (and still Canadian), it might be Sidney Crosby's gold-medal-winning one at the Vancouver Olympic Games.
If you're a Toronto Maple Leafs fan, it might just be this cautionary tale, reminding all of us just why it's best not to get too emotionally involved with hockey. (There's also not much else to cheer about if you're from Toronto.)
In any case, what if you could allow that special someone to go back in time to that one moment and prevent himself from ever witnessing it?
Needless to say, he wouldn't be in this mess right now trying to figure out just what to do during the winter.
Problem solved. Out of sight, out of mind.
And, as an added bonus, your special someone can also make insane bank by winning lotteries and stuff.
Or instead stop countless disasters if he's above that sort of thing.
Nothing says stocking stuffer like arguably the best hockey movie ever made.
Miracle, based on the United States' gold-medal-winning hockey team at the 1980 Olympics, is a family film that highlights a love for hockey that transcends the NHL. The team in the film was made up of amateur players, only a select few of whom went on to enjoy professional careers.
It also serves to remind us of the situation in which we're all in, with an actual miracle required to get hockey back on the right track.
On the off chance that the movie is sold out at your local movie store, get Mystery, Alaska instead.
It's a comedic masterpiece with a title that reminds us just why players and owners are fighting tooth and nail over millions of dollars when they've already made their fair share…not to mention it is the location many fans have considered as the perfect setting for the next series of negotiations, minus the plane ride home.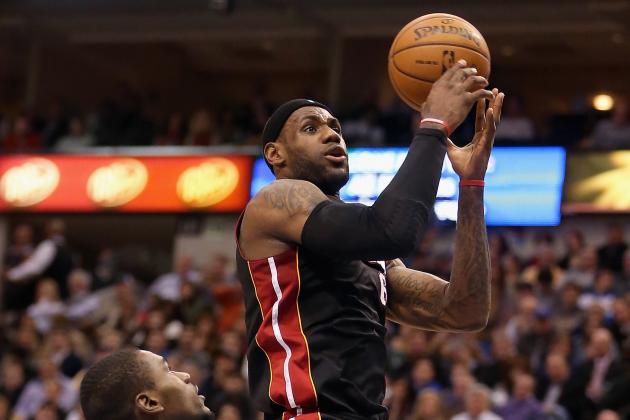 Ronald Martinez/Getty Images
LeBron James of the Miami Heat.
With little hope of the labor dispute being resolved this season, why not try turning your loved one on to another professional winter sport altogether? One that isn't all about money?
Unfortunately, one hasn't been created yet, but at least basketball just ended this nonsense and you're guaranteed eight more seasons of non-lockout action.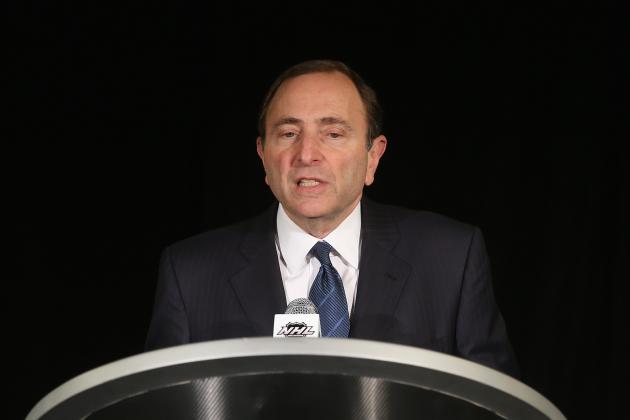 Bruce Bennett/Getty Images
Commissioner Gary Bettman of the NHL.
If you know someone lucky enough to work at the NHL (or unlucky enough to have worked there just prior to the lockout and the resulting layoffs), it would theoretically be easy to determine league commissioner Gary Bettman's email address.
Just follow the proper nomenclature, place Bettman's name in the right spot and voila!—a chance to share personal views, open a dialogue with him and intelligently discuss the lockout and its negative ramifications for the sport in North America.
And, if a presumably logical, concise argument as to just why the lockout sucks fails, which it likely will, why not take the opportunity to instead sign Bettman up for dozens of annoying newsletters just legitimate enough to make it through his spam filter?
Yes, the correct answer to this supposedly rhetorical question is that it's wrong and you shouldn't do it. Please note it may not even bother him in the least, considering he's probably become immune to all types of PR speak.