Arsenal FC: Power Ranking Gunners Players in 2012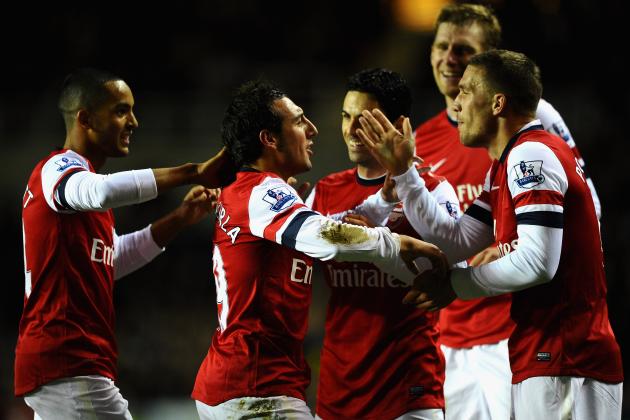 Laurence Griffiths/Getty Images

It has been a challenging year for Arsenal. They slumped at the start of 2012, with league defeats against Fulham and Swansea City.
There was an emotional high provided by Thierry Henry's brief return. The Gunners picked things up in February before nearly losing their Champions League position at the end of April and beginning of May.
A third-place finish ended the campaign on a positive note. However, the second half of the year brought more trouble for Arsenal.
There was an ugly parting of the ways with Robin van Persie. That was followed by several embarrassing failures in the league.
A recent improvement is testament to Arsene Wenger's resilience and the quality of his players. Here are the power rankings for the members of Arsenal's squad who played their parts in 2012.
The ranking is concerned only with current Arsenal players. It judges them based on the calendar year and not just the start of the 2012 season.
Begin Slideshow

»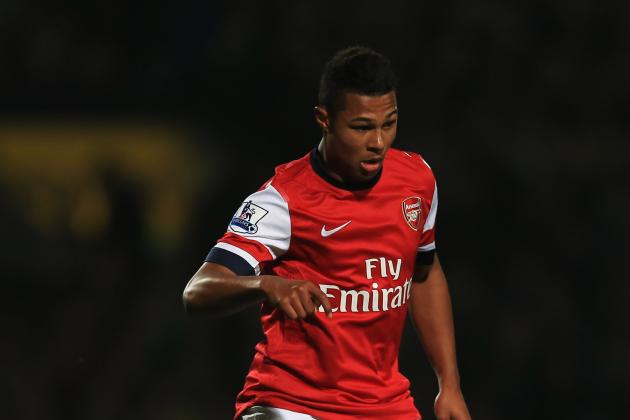 Richard Heathcote/Getty Images

No Arsenal list would be complete without a mention of some of the promising young talent coming through the ranks. A particularly exciting trio emerged in 2012.
They are German pair Serge Gnabry and Thomas Eisfeld and English starlet Jernade Meade. Gnabry has progressed further, earning a Premier League appearance against Norwich City in October.
He is a cat-quick attacking midfielder who seems to posses the technical capability Wenger loves. His compatriot, Eisfeld, is certainly not short of technique and creativity.
A natural central midfield schemer, Eisfeld has excelled for the reserves. Those performances saw him play a part in the thrilling Capital One Cup comeback against Reading.
Meade also played against Reading and didn't look out of place after slotting in at left-back. In only brief action, Meade already looks like the kind of forward-thinking, speedy fullback Arsenal use so well.
These youngsters did not qualify for a full ranking due to their limited first-team action. However, they have certainly shown potential and provide optimism for the near future.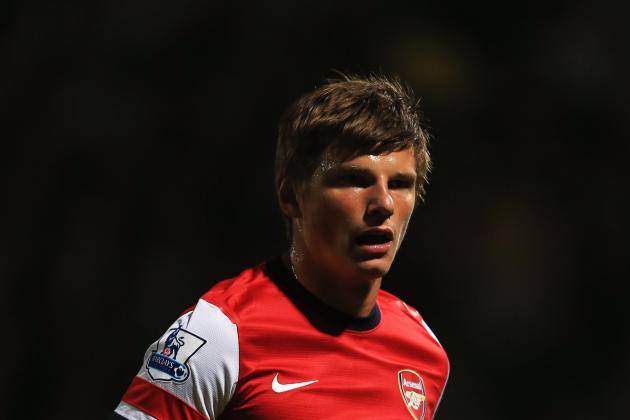 Richard Heathcote/Getty Images

Piling Arsenal's struggling fringe quartet together is about more than just convenience. The fact is, it's not easy to separate Andrei Arshavin, Marouane Chamakh, Sebastien Squillaci and Lukasz Fabianski.
None have distinguished themselves and have come to symbolise the worst aspects of Wenger's transfer dealings. They have all been poor when called into action and often visibly lacked commitment.
Arshavin is the most frustrating, simply because of his considerable natural talent. The mercurial and moody Russia international is as creative and dynamic as any attacker. That is, of course, when he feels like it.
As for Marouane Chamakh, he has shown that he can find the net when he is willing to make himself busy. Sadly, consistent effort is a rarity from Chamakh.
The ex-Bordeaux man is content to simply sulk his way through numerous one-paced, sluggish performances.
Unlike Arshavin and Chamakh, Sebastien Squillaci has rarely had bright moments in his Arsenal career. The French veteran initially looked like a smart, low-key signing.
However, it didn't take long to see the former Sevilla stalwart was never going to adapt to the pace of the EPL.
As for Fabianksi, he has been injured for so long it's easy to forget he's still part of Arsenal's squad. His only 2012 contributions were two FA Cup appearances against Aston Villa and Sunderland. He conceded four goals.
Ask most Arsenal fans, and they will name this quartet as the players they would most like to be rid of come 2013.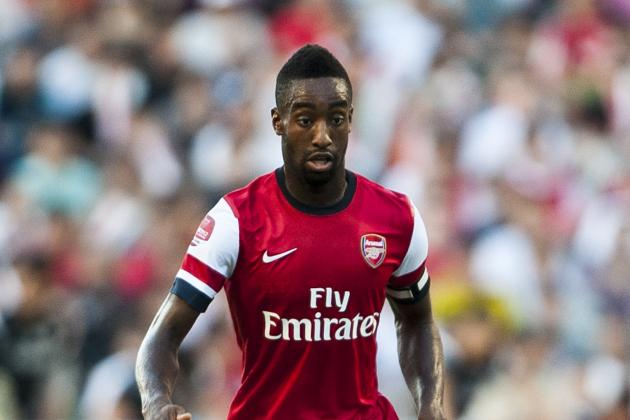 Victor Fraile/Getty Images

It's difficult to fathom exactly what has happened to Johan Djourou. The Swiss stopper was solid as a rock for Arsenal for most of the 2010-11 campaign.
It seemed he could provide the answer to Arsenal's struggles in central defense. However, an injury suffered against Manchester United in the FA Cup derailed Djourou's rise to prominence.
He hasn't been anywhere near the same player since. Djourou began 2012 filling in at right-back. He wasted no time proving to many, including this author, that he is no answer at the position.
He's ended 2012 performing in the Capital One Cup against Coventry City and Reading. His decline is sad to see, but there's no denying Djourou is very much frozen out of first-team consideration at Arsenal.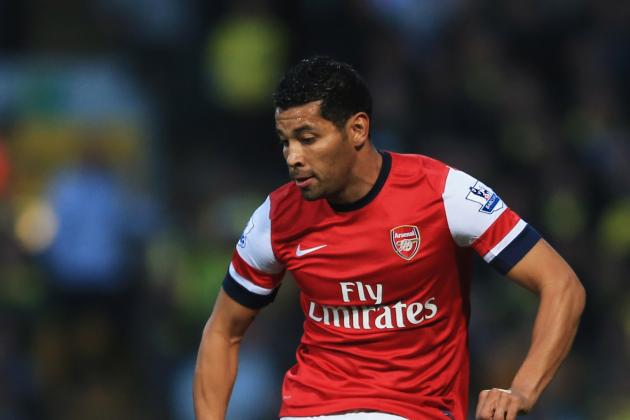 Richard Heathcote/Getty Images

Were it not Djourou's limited participation in 2012, Andre Santos would find himself propping up this power ranking. The Brazilian left-back has been abysmal more than once in 2012.
His defensive skill was never heralded, but Santos is a genuine danger to the Gunners when he plays. Just as troubling has been his lack of input in forward areas.
This was a player who made a bright start as an attacking full-back when he first arrived. Santos has quickly become a clumsy, tired-looking comic figure in 2012.
Except Arsenal fans aren't the ones laughing.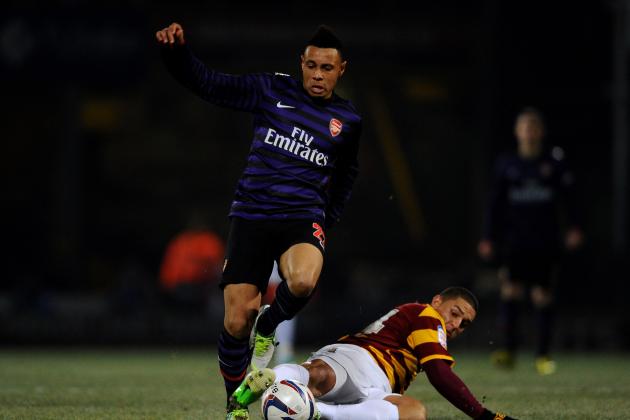 Laurence Griffiths/Getty Images

Francis Coquelin ought to have developed further by now. In fairness, the capable young Frenchman hasn't always been helped by where he has been played, or when.
In 2012, he has spent time as a makeshift right-back or as a late substitute entering midfield. A talented tackler and efficient passer, Coquelin is not always decisive when in possession.
He can dwell on the ball and doesn't yet possess the drive or force to impose himself in a crowded midfield rotation. A sterling performance against Coventry City in the Capital One Cup, showcased what Coquelin could do.
If he can produce more decisive contributions when given a chance, Coquelin could rank much higher on a similar list in 2013.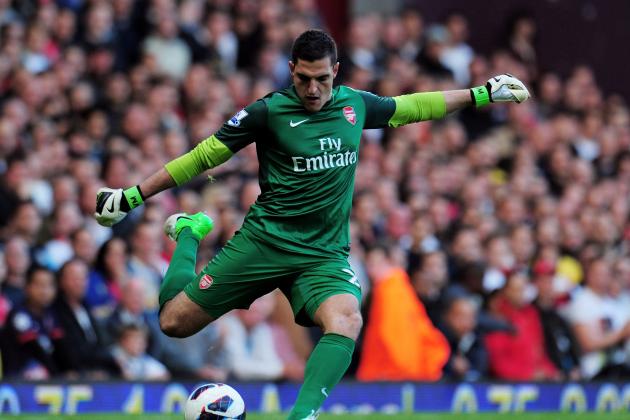 Shaun Botterill/Getty Images

As Arsenal's deputy between the sticks, Vito Mannone has enjoyed a moderately successful 2012. He began the new season offering a real challenge to Wojciech Szczesny.
The Italian shot stopper kept a couple of clean sheets in the EPL, against Stoke City and Liverpool. He was steady for his first few games with Szczesny out injured.
However, some frailty soon began to resurface in Mannone's game. It ultimately consigned him back to the bench.
He was culpable for goals against Manchester City and Norwich. That meant Szczesny was quickly put back in to start.
Mannone is a solid backup, but it's difficult to envisage him ever becoming anything more at Arsenal.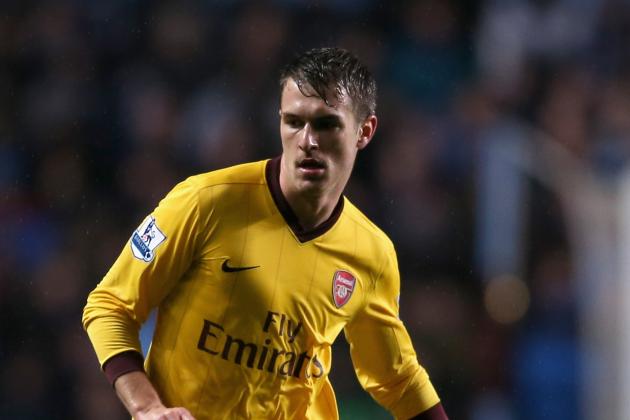 Julian Finney/Getty Images

Aaron Ramsey's ranking will be a contentious one. For some, he will be too low. For others, he won't be low enough.
In the interest of clarity, this author still admires Ramsey as a player. However, there's no denying he has never been the same since being savagely assaulted at Stoke City in February 2010.
The pre-injury Ramsey was a dynamic, daring midfield schemer. Post-injury, Ramsey has deteriorated into a tentative, plodding player.
Part of the reason is a lack of assurance. His confidence has clearly suffered from the quite frankly, terrible treatment he has received from sections of Arsenal's support.
Yet that can't hide the fact that Ramsey no longer plays bright, intuitive football. Can he rediscover his swagger?
This scribe believes he can, but it will take work and mean some more bumps in the road.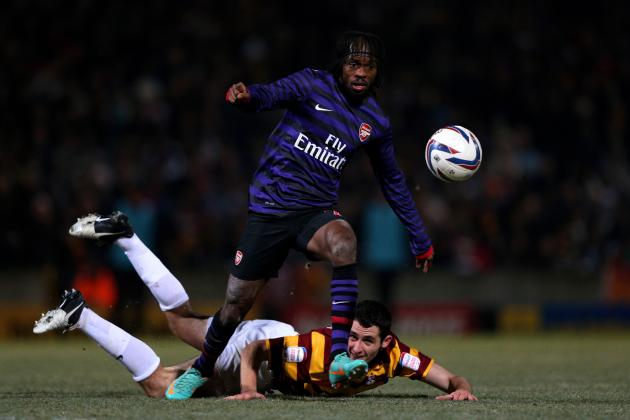 Clive Brunskill/Getty Images

A polarizing figure for the Gunners, Gervinho can frustrate and delight in equal measure. For most of 2012, he has frustrated.
The year didn't begin well for the Ivory Coast star. He missed a decisive penalty in the Africa Cup of Nations.
That miss destroyed his confidence, and Gervinho is truly a player who is all confidence. After starting his debut Arsenal season in fine form, Gervinho quickly became the focus of many fans' anger.
The start of the 2012-13 season appeared to change all that. A move to central striker, a position this author still believes better suits Gervinho, yielded positive early results.
Those results included seven goals and a greater degree of fluidity and incisiveness. Since then, in typical fashion, the wheels have again fallen off.
Gervinho has regressed and again resembles the clumsy, indecisive player he was at the start of 2012. His nadir came in Arsenal's shameful defeat to Bradford City in the Capital One Cup.
Now, even the mere sight of Gervinho is enough to send many Gunners fans into a rage. He can still be an important contributor at Arsenal.
However, Gervinho is fast running out of chances to develop a more composed, complete game.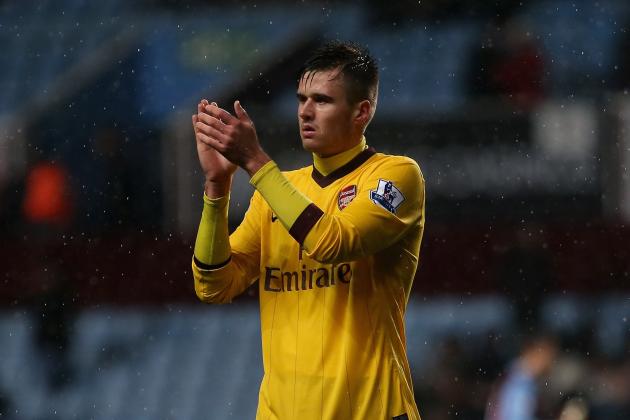 Julian Finney/Getty Images

For awhile, the abiding images of Carl Jenkinson were his numerous failings in Arsenal's 8-2 defeat against Manchester United. However, since that day of horror in August, 2011, Jenkinson has developed at an alarming rate.
Tenacious and smart, the England youth has become a dependable deputy to Bacary Sagna. Jenkinson is a rare thing in the modern game, a full-back who is a defender first.
Jenkinson has strength, decent tackling technique and can repel aerial threats. The only part of his defensive game that lets him down is a tendency to drift too far inwards and lose positional discipline.
Yet in typical Jenkinson fashion, he is improving in this area every time he plays. Arsenal fans have seen a lot of the former Charlton Athletic prodigy in 2012.
He filled in for Sagna at the start of this season and performed admirably. Not the most confident in possession, Jenkins is still willing to go forward.
He provided an assist for a crucial goal in Arsenal's first UEFA Champions League game against Montpellier. Jenkinson continues his fine progress and offers Arsenal potential defensive excellence for years to come.
All that at the cost of around just £1 million from the lower leagues. Yet there are still those who question Wenger's transfer acumen and claim he is loathed to promote young English talent.
What a world.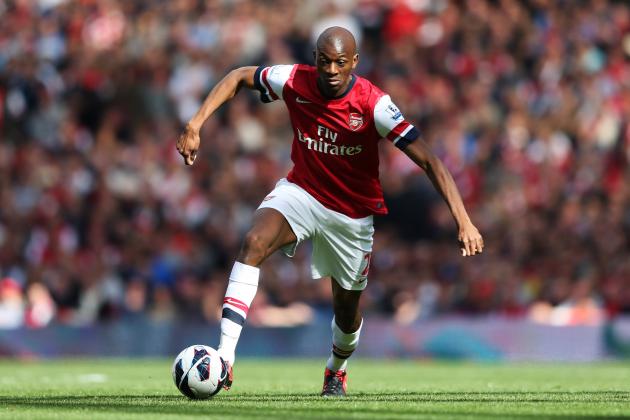 Richard Heathcote/Getty Images

Had he have played more minutes in 2012, Abou Diaby would be ranked much higher. A supremely gifted midfield powerhouse, Diaby has been excellent when fit.
Another unfair criticism leveled against Wenger is that he has never replaced Patrick Vieira. Yes he has; the only problem is that the replacement's career was almost wrecked in May 2006.
Diaby has never recovered from the senseless brutality he was subjected to on that day against Sunderland. Consistent niggling injuries have marred his rehabilitation from that initial broken ankle.
Anyone who doubts what Diaby can do should just consult his performances in late 2012. His dominant showing away to Liverpool in September evoked memories of Vieira's strength and drive.
You only need to consider what happened to Arsenal's form when Diaby limped off against Chelsea at the end of September. If he was available, Diaby would make the top five of this ranking.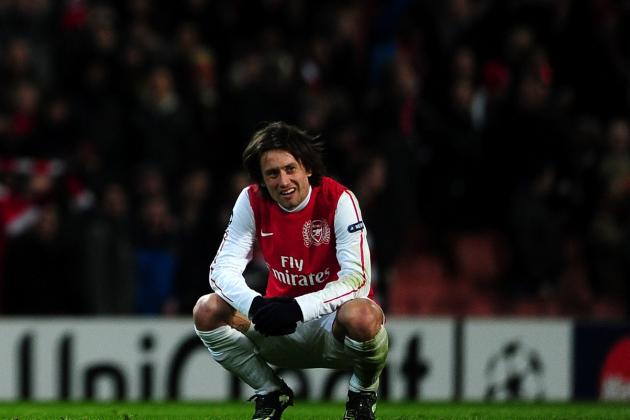 Laurence Griffiths/Getty Images

Savvy Czech playmaker Tomas Rosicky suffers from the same issue as Diaby. If he had played more often, the crafty veteran would merit a higher ranking.
When he has played, Rosicky has, for the most part, been excellent in 2012. He still makes quick decisions and always look to go forward, priceless attributes in an attacking midfielder.
Those qualities have been on display more than once this year. The way he dismantled Tottenham Hotspur back in February reminded Arsenal fans of what they miss when Rosicky is injured.
There was also his determined showing in May's 1-1 draw at Stoke City. Rosicky's sublime and precise cross for Robin van Persie's equaliser was one of the finest assists of the season.
He also carried the fight for Arsenal in their brave attempt to reverse a 4-0 deficit against AC Milan. A predictable injury at Euro 2012 has robbed Rosicky of the chance to prove his worth in a new-look midfield.
However, just like last season, it would be a mistake to bet against "Little Mozart" making an impact in this campaign.
Alex Livesey/Getty Images

Laurent Koscielny's 2012 can sensibly be divided into two distinct parts. The first half of 2012 mostly represents the good part.
Koscielny became a consistent performer at the heart of Arsenal's defense at the turn of the year. He changed the minds of many who had chided him since his low-key arrival from FC Lorient in 2010.
Koscielny played quick and defended with technique and intelligence. Despite playing alongside more than one defensive partner, Koscielny kept his performances at a high level.
At least he did, until the final month of last season and the start of this campaign. Back in May, Koscielny began to look shaky.
He seemed afflicted with the same penchant for rashness that has often plagued Thomas Vermaelen. Netting the winning goal in Arsenal's final game of last season, away at West Brom, put a gloss on a disappointing end for Koscielny.
His problems continued at the start of the new season. First, he lost his place to German giant Per Mertesacker.
Second, when Koscielny has been called into action, he has often endured a torrid time. He has become a magnet for own goals, and he directly contributed to Arsenal's 2-1 home to Chelsea in September.
Koscielny has had some nice moments in 2012, but an equal number of mistakes have undermined them. He has fallen down the pecking order, and with good reason.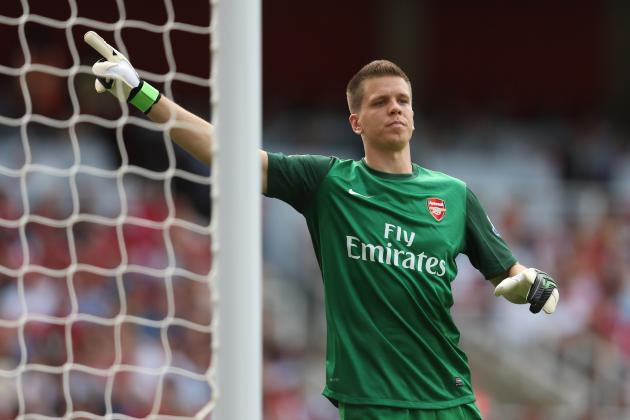 Julian Finney/Getty Images

Wojciech Szczesny remains an enigma as Arsenal's first-choice goalkeeper. Clearly talented, he is also prone to almost criminal lapses in concentration.
The Poland international has experienced a typically up-and-down 2012. At times, Szczesny makes you believe he is ready to join the ranks of the elite goalkeepers in world football.
At others, the casual and cocky shot-stopper seems set to add his name to the number of calamity 'keepers Arsenal have fielded in recent years.
There is no doubt that in one-on-one situations, Szczesny is excellent. Big, athletic and defiant, the Pole can usually be relied upon to rebuff a scoring attempt at close quarters.
However, from long range, his positioning is often lax, and his reflexes can be slow. Szczesny's judgement is also suspect when dealing with crosses, something his national side suffered through at Euro 2012.
The jury will stay out on Szczesny until he refines these aspects of his game and shows more consistency. If he can, he will be Arsenal's long-term solution at goalkeeper.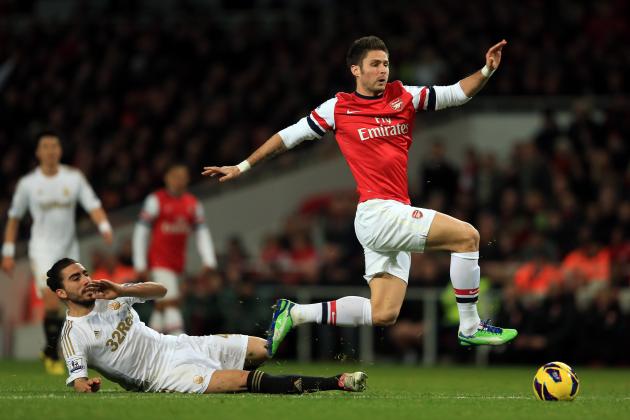 Richard Heathcote/Getty Images

Another enigmatic figure, Olivier Giroud hasn't convinced since arriving as a big summer transfer. The bullish, French target man has not inspired confidence he can be the prolific striker Arsenal crave.
That's not to say that Giroud hasn't had his moments. The ex-Montpellier star went through a purple patch in November that included four goals in three games.
However, they are part of just seven goals this season. Giroud hasn't found the net again since November 17 against Tottenham Hotspur.
He has been guilty of some appalling misses. It's not unreasonable to suggest he has cost Arsenal points due to his lack of quality in front of goal.
The opening day 0-0 stalemate against Sunderland leaps to mind as a prime example. Giroud's main problem is that he often seems to mistime his runs and actions.
He either arrives just too late onto a pass or too soon. He is also too static and lacks pace. It's a shame because he is capable of smart link-up play and has provided a number of assists.
Giroud can still bring a lot to the Gunners, notably aerial power. However, his presence in the team almost demands a less fluid style of play.
His teammates must channel their runs and distribution from wide areas to provide him with heading opportunities. It will be interesting to see if the tall Frenchman can get back into the first team.
Wenger's recent experiments with Theo Walcott as a central striker creates a style that is the antithesis of what suits Giroud.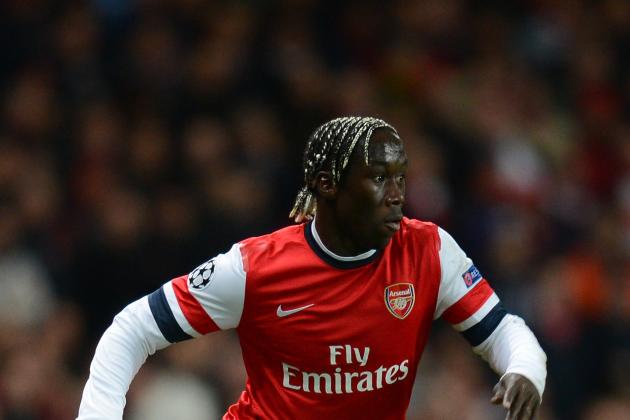 Mike Hewitt/Getty Images

Bacary Sagna hasn't been quite himself in 2012. It hasn't been a significant difference, but just enough to cause a drop in form.
Normally a model of consistency, Sagna has shown signs of fragility, particularly in late 2012. At times, Sagna is still the same powerful, buccaneering full-back he has been since 2007.
At others, he is so slow to track back that he almost seems offended by the idea he has to. There has also been a noticeable change in attitude.
Sagna publicly moaned about summer player sales. Coming from a senior member of the squad, this sent a terrible message. He's appeared to bicker with teammates on the field more than what could be considered showing a will to win.
Sagna's 2012 was interrupted by the broken leg he suffered against Norwich City in May. In truth, he simply hasn't been the same player since. Yet it doesn't have to stay that way.
Sagna's recovery speed is still a sight to behold. He also remains a quality player on the ball and a vital attacking outlet.
However, Arsenal need their once-excellent right-back to return to his dependable best in the new year.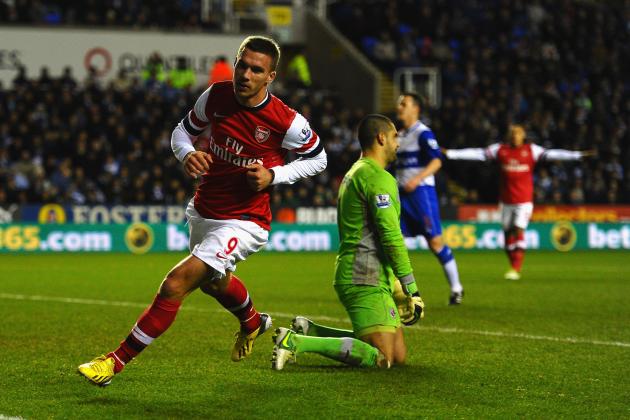 Laurence Griffiths/Getty Images

It may irk some to see Lukas Podolski ranked higher than others on this list. However, Podolski has performed better than many think during his short time at Arsenal.
That's not to say, the Germany international has been outstanding. In fact, he has been far from it. Yet the perception of Podolski's Arsenal performances is often an unfair one.
The problem begins with the fact that his reputation often exceeds his overall talent. Due to his international scoring record, many have mistakenly placed Podolski into the bracket of elite players.
The truth is, he probably belongs in a lower bracket. For instance, Podolski is not a player who will wow fans with dynamism or skill.
He is, however, an intelligent forward who has not always benefited from where he is played. This author doesn't have many major complaints against Wenger.
However, one of the few would certainly be that he too often forces players into positions he thinks they ought to fit. In his heyday, this worked well with the likes of Freddie Ljungberg, Lauren and of course, Henry.
However, in the near eight years since Arsenal last claimed silverware, the game and its players have changed. Players are no longer as willing to adapt to positional switches.
Many seem to crave the adulation that comes with being their team's main man. In the modern game, that means playing in a central area.
Podolski has rarely had that opportunity, yet has still produced some credible numbers. His eight goals are a decent return, and he also boasts six assists.
That is second on the team in both categories. That's not bad for a natural forward expected to act more as a winger in what is essentially a 4-5-1 formation.
Podolski also ranks alongside Theo Walcott as Arsenal's best finisher.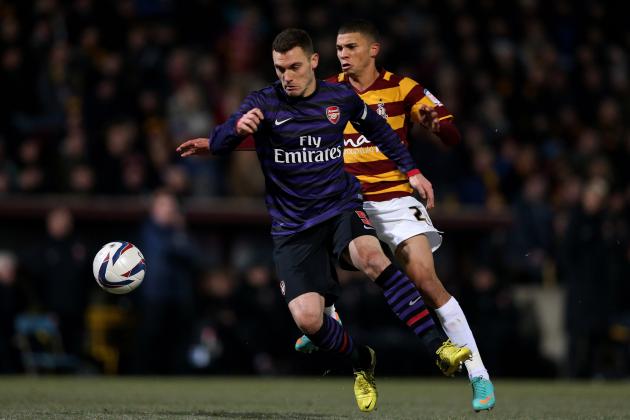 Clive Brunskill/Getty Images

Thomas Vermaelen could rank even lower were it not for some commanding displays to start the new season. Like most of the Arsenal squad, Vermaelen's 2012 has been disrupted by inconsistency.
The aggressive Belgian has always been a stopper who possesses more enthusiasm than defensive technique. That's part of the reason it's so easy to like Vermaelen.
Remember Arsenal's 2-0 preseason defeat to Manchester City in Beijing back in late July? Probably just barely.
The memory that does abide from that exhibition contest was Vermaelen's determination. With barely minutes remaining, he attacked City's back four in trademark style.
As pointless as it may have seemed, it was also heartwarming to see Vermalen trying like that, even in a preseason game. He can always be relied upon for effort and played like a fearless captain to start the season.
However, Vermaelen soon descended into a series of shaky performances. His reckless decision-making still gets him and Arsenal into too much trouble that could be avoided.
He was especially woeful in May's 3-3 draw with Norwich City. Watching the Premier League international defender being embarrassed by Bradford City, was also particularly galling.
Vermaelen is a fighter, but not a reliable defensive presence. His drive and commitment are still important qualities for Arsenal, but he must soon rediscover his early-season solidity.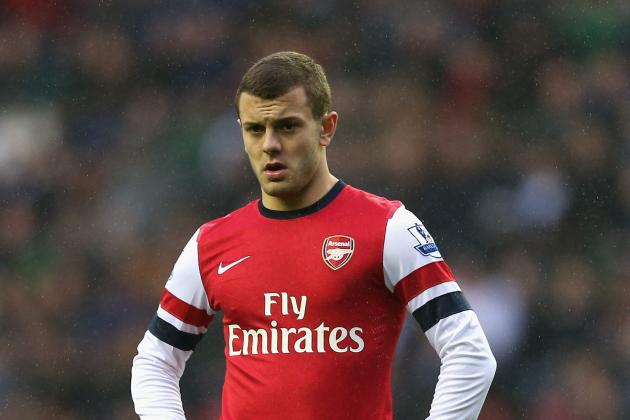 Clive Brunskill/Getty Images

After being robbed of an entire season due to injury, Jack Wilshere has been outstanding since his return. Any doubts this author may have had about his eventual role in the team have been eased.
That's because Wilshere has been a more dynamic, attacking force since coming back into the team. He is occupying advanced roles more often and exerting a greater influence on Arsenal's forward play.
In his first full season, Wilshere was more of a halfway line player, content to efficiently control possession. He is now much better as a true attacking midfielder.
An example came in Arsenal's recent 5-2 thrashing of Reading. For the Gunners' fourth goal, Wilshere occupied a position just behind the forward line and just in front of the Reading defense.
He needed only one touch to deftly place the ball into the path of Podolski, who slid a pass across to Santi Cazorla. The way Wilshere found the space, his deft and clever contribution, were all reminiscent of Cesc Fabregas.
In other words, Wilshere is starting to live up to the No. 10 shirt he now adorns. He was Arsenal's outstanding player in November's 1-1 draw at Everton.
He was also the only member of Arsenal's squad to emerge with any real credit from the shambles at Bradford. Since his return in late October, Arsenal have won seven times in all competitions. That includes five EPL victories.
His limited action after so long injured prevents Wilshere from being ranked higher. His initial comeback performances, save for a tired showing against Wigan Athletic, still provide plenty of optimism.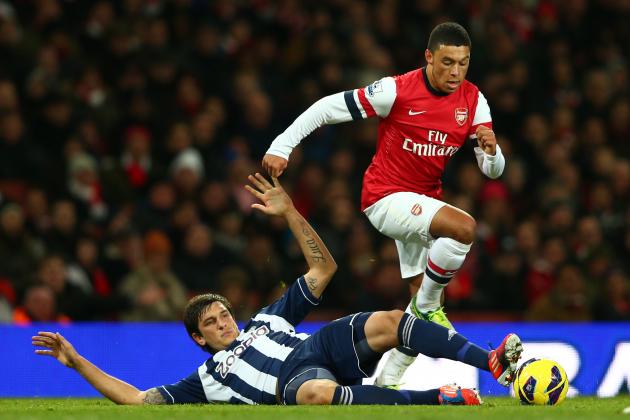 Clive Mason/Getty Images

It has been a remarkable year for Alex Oxlade-Chamberlain. Another young English talent Wenger gambled on, Oxlade-Chamberlain took a very quick route to the first team in 2012.
His breakthrough moment came in a 2-1 home defeat to Manchester United in late January. Oxlade-Chamberlain dominated United that day.
His speed, touch and direct style proved simply too much for the Red Devils. So much so that when he was substituted, several Arsenal fans showered Wenger with abusive chants.
Of course, those same fans should have reminded themselves where they were standing and who put them there. The more important thing was that Oxlade-Chamberlain had proved he belonged against top-level competition.
Next, he scored two in a February demolition of Blackburn Rovers. After scaring the opposition as a wide player, Oxlade-Chamberlain delivered arguably his best performance in a central role.
That came against European football royalty AC Milan in the UEFA Champions League. Oxlade-Chamberlain dominated the Serie A giants from central midfield.
This writer is still unsure about which position suits Oxlade-Chamberlain best. That's a nice problem for Wenger to have.
There's little doubt the former Southampton prodigy has the talent and potential to excel in either role. Oxlade-Chamberlain has broken into the Arsenal first team faster than his compatriot and fellow ex-Southampton starlet Theo Walcott.
He is now a key figure and is ending 2012 as a vital part of a new-look attacking trio.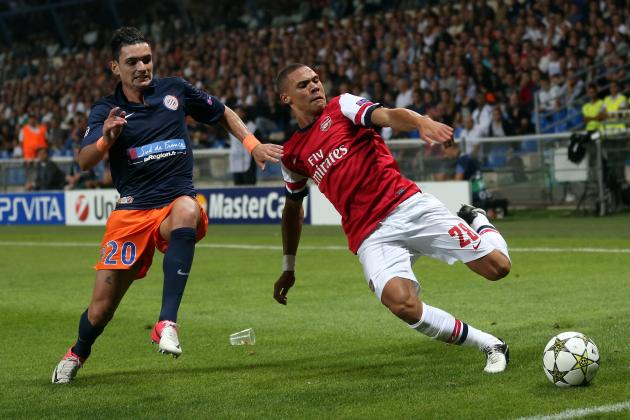 Julian Finney/Getty Images

Kieran Gibbs has shown considerable improvement in 2012. He is now firmly established as Arsenal's left-back of the present and no longer just a prospect for the future.
Based on his performances this year, Gibbs' future should involve succeeding Ashley Cole as England's first choice. The 23-year-old has become better in every area.
He is more composed and confident in possession. As a result, Gibbs now offers a superior attacking threat than his predecessor, Gael Clichy.
Defensively, Gibbs is now a more willing and precise tackler. The one area where is must improve is positioning.
Gibbs has a tendency to tuck too far inside too often. This is something that he has still guilty of, as he has shown in recent games.
However, given how far he has developed, Gibbs merits his high ranking. The player signed from Wimbledon in 2007 for nominal fee has become a dependable figure in Arsenal's defensive structure.
However, there's still probably plenty of people willing to complain that Wenger won't promote English youngsters.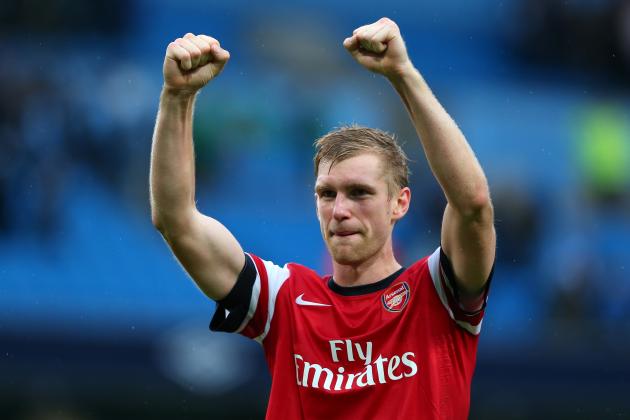 Alex Livesey/Getty Images

It's no coincidence that Arsenal are keeping more clean sheets since Per Mertesacker became a regular fixture. The towering Germany international recovered from a tough start to 2012 to become indispensable at the heart of Arsenal's defense.
Unfairly criticised and mocked by many when he first joined the club, Mertesacker took time to adapt. He was chided for his infamous lack of pace.
However, there are plenty quality defenders who suffer from the same deficiency. They make up for it with smarts and anticipation. Mertesacker certainly belongs in that category.
He is an intelligent defender with a natural instinct for the flow of play. That quality often compensates for his laboured mobility.
As well as he reads the game, Mertesacker is also an exceptional tackler. He is precise and decisive and will often emerge from a collision with the ball at this feet.
It still irks that Wenger dropped the composed cerebral defender for Arsenal's September home game with Chelsea. Many reasoned that Mertesacker might be exposed by Chelsea's quick attackers.
Just one week before, Mertesacker had offered a fine example of how he can repel fleet-footed attackers, against Manchester City. The former Werder Bremen stalwart was Arsenal's outstanding performer. He consistently frustrated the likes of Sergio Aguero, no slouch in the pace department.
Mertesacker exudes a calmness Arsenal's defense frankly can't get enough of. Yes, he will still lose a footrace, and watching him recently trail behind Wigan's Arouna Kone was a painful experience.
However, Arsenal have kept eight clean sheets in all competitions this season. Mertesacker has been present for all of them.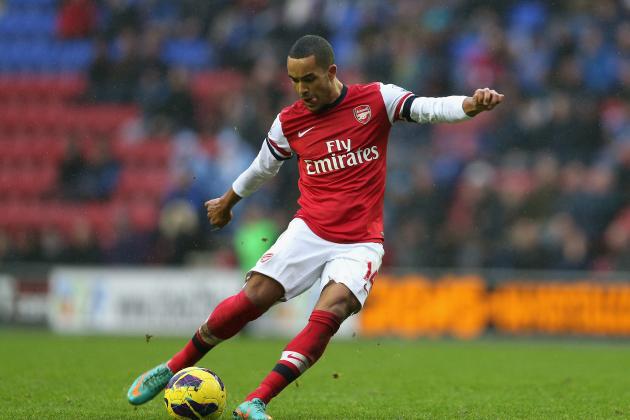 Clive Brunskill/Getty Images

Whatever his motivation is, Theo Walcott has been outstanding for Arsenal for most of 2012. He has improved his scoring output and delivery in decisive areas.
His contract negotiations still drag on, however. That's despite Walcott starting the last two game in his preferred position, central striker.
Whether plays in the middle or out wide, Walcott still needs to improve his work rate and range of movement. That's because he is capable of being a true match-winner for the Gunners.
He started 2012 continuing to provide scoring chances for van Persie. After ending that season with his finest goal tally at Arsenal, Walcott has been prolific in this campaign.
He currently leads the team with 11 goals and seven assists. If Walcott is truly serious about developing into an elite central striker, he must sign a new deal and stay under the tutelage of Wenger.
If he does, Walcott will be one of the most feared attackers in the game in no time at all, if that's what he really wants.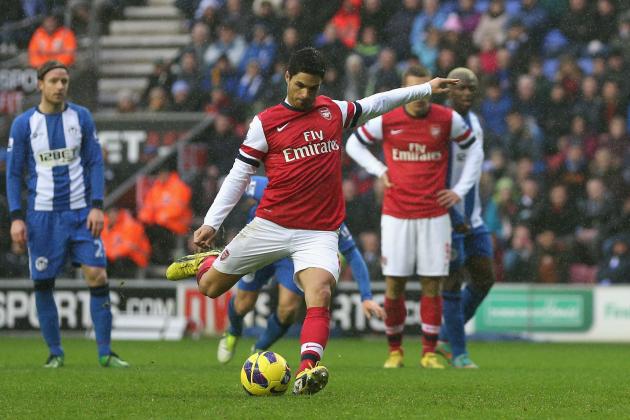 Clive Brunskill/Getty Images

What a signing Mikel Arteta has been for Arsenal. Technically-astute and decisive, Arteta has become the most influential player for the Gunners.
Even last season, when van Persie was scoring freely, it was no coincidence that Arsenal usually lost with Arteta missing. The stylish, savvy veteran has been everything Gunners fans hoped for.
A cultured passer, the ex-Everton star has surprised many with his tenacity and determination. In no time at all, Arteta has established himself as a vital leader.
Much like Mertesacker in defense, Arteta has brought an intelligent calm to what was once a frenetic Arsenal midfield. Like most of the team, Arteta hasn't always been at his best in this new season.
However, when Arsenal have won, or just needed a decisive contribution, Arteta has rarely been found wanting.
Memo to the Spanish national team: It doesn't matter how many talented midfielders you have. Give this man a cap immediately, even if you have to stage a game just to do it.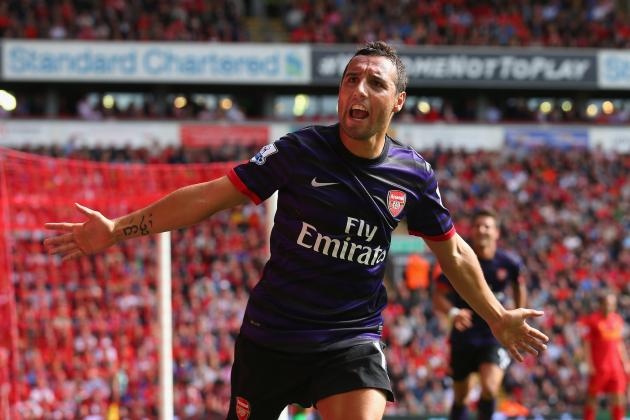 Alex Livesey/Getty Images

Even though he only arrived in the summer of 2012, Santi Cazorla deservedly tops this power ranking. He has proved to be an outstanding acquisition by Wenger.
He has given Arsenal what they sorely missed last season: a creative schemer, blessed with some magic. In fact, Cazorla clearly stockpiled a healthy amount of wizardry before signing for the Gunners.
This author has been an admirer of the diminutive playmaker since his days with Villarreal. However, even fans of his have to be impressed by just how good Cazorla has been for Arsenal.
Any moments of creative inspiration or flair have come from the former Malaga man. His touch, control and ball skills with both feet are truly a joy to watch.
Those who have seen him live will agree that Cazorla alone is worth the price of admission. And remember, this is Arsenal, so we're talking some pretty hefty admission prices.
Cazorla combines the best elements of Cesc Fabregas with the threat Samir Nasri posed when he was in the mood.
He has already contributed seven goals and five assists and countless moments of pure class. It almost seems churlish to demand more from Arsenal's creative hub.
However, as this is the time of year for asking for things, how about roughly 15 goals and 12 assists? If Cazorla delivers that by the end of the season, maybe Arsenal's trophy cabinet will finally get a new addition.
Thanks for reading.