Ranking WWE's 10 Worst Storylines of 2012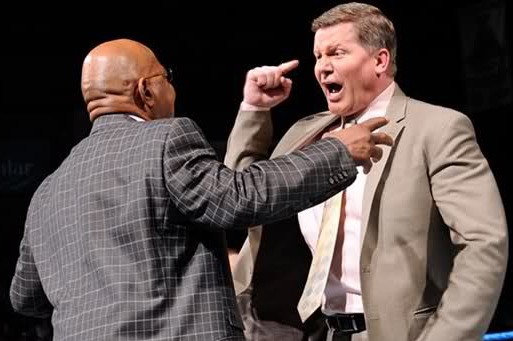 Photo courtesy of WWE.com
The WWE had a lot of fantastic matches this year, but it had just as many terrible feuds and storylines.
Throughout the course of 2012, we were forced to watch some of the most poorly booked angles and rivalries the company has put on in quite some time.
If we're just being honest with ourselves, we could probably come up with a list of hundreds of bad booking decisions made by WWE creative this year. But that would just be too depressing.
Instead, we'll focus on some of the bigger storylines of the year and examine why they simply didn't work.
After all, plenty of 2012 angles,for whatever reason, just haven't clicked...or made sense.
Here are what are, in my view, the 10 worst WWE storylines of 2012.
Begin Slideshow

»
After his match with John Cena at Extreme Rules, the WWE needed to find a creative way to write Brock Lesnar off of TV.
Instead, the company had Lesnar "quit" the WWE. Twice.
He left the WWE via a Paul Heyman promo back in May, and then after his SummerSlam match with Triple H, he quit the company yet again. Only, this time he did it via a terrible promo on Tout.
The WWE could have come up with a boatload of ways to write Lesnar off of TV and done so in an entertaining fashion. Instead, it used the same exact reason each time.
Not only did that show the laziness of the creative team, but it was yet another example of the WWE putting far too much emphasis on social media.
Lesnar quitting the WWE via Tout? Awful idea.
The "scandal" involving AJ Lee and John Cena was really never a scandal at all.
The basis of it has been that AJ resigned as Raw GM because she supposedly broke the rules by having an "inappropriate" relationship with Cena. Yet the WWE completely ignored the fact that Vickie Guerrero has done the same thing with both Edge and Dolph Ziggler.
As if it's not bad enough that the angle doesn't really make sense, the way it's been presented on TV has been pretty juvenile.
The secret videos, the voicemails, the kisses—it's like watching a bad soap opera, and what's even worse is that this angle has come right after TNA's infamous Claire Lynch storyline.
The WWE is looking like it has ripped off TNA, and it's doing so in a manner that isn't particularly creative or entertaining.
The one good thing about this angle is that it's led to Ziggler and AJ being paired together. Beyond that, it's been a train wreck.
No one will ever forget the never-ending feud between Sheamus and Alberto Del Rio, but for all the wrong reasons.
This World Heavyweight Championship rivalry essentially started right after WrestleMania 28 in April when ADR returned, and though it was on and off, it didn't end until Night of Champions in September.
That means that the rivalry lasted for more than five months, and here's the sad thing about it: It went absolutely nowhere.
Del Rio was never viewed as a credible threat to the strongly booked Sheamus. Yet he inexplicably kept getting title shots.
Every time Sheamus beat Del Rio on pay-per-view, which he did four times (three times in single matches), we expected the feud to end, but it simply kept going.
There was never one point that this rivalry was especially entertaining or that it did anything for either guy. ADR came away from it looking like a fool, and Sheamus' World title reign suffered big time because this feud took up about 80 percent of it.
For all the time invested in Sheamus vs. Del Rio, you'd be hard-pressed to find a worse rivalry in 2012.
When we asked for the return of stables, perhaps we should have been a little clearer.
We got a stable, but it's not what anyone ever would have imagined. It's the 3MB, babbbyyyy!
For some odd reason, the WWE pulled the trigger on this trio back in September, putting Heath Slater, Jinder Mahal and Drew McIntyre together as a "band" of wannabe rock stars.
Although the group is, perhaps unintentionally, hilarious, it's probably one of the worst stables ever. Yes, ever.
Even if the trio can be pretty funny at times, it is nothing more than a group of jobbers who were randomly thrown together because they have nothing else to do.
Mahal might be the most terrible fake rock star in history, and he doesn't really fit in well with Slater and McIntyre, who can actually pull off the rock star gimmick pretty well.
Although the 3MB is used primarily for comedic purposes these days, it's hard not to question the sanity of whoever came up with the idea to form this group.
It was doomed from the start.
John Cena's rivalry with John Laurinaitis and The Big Show over the summer led to some of the lowest points of 2012.
This angle resulted in a number of terrible moments, including Cena vs. Laurinaitis at Over the Limit in what was easily one of the worst PPV main events in WWE history.
Before that happened, though, we were forced to watch Big Show beg Laurinaitis to save his job in what was an incredibly awkward segment on Monday Night Raw. That, of course, led to Show's super predictable heel turn and yet another feud with Cena.
How many times have Cena and Big Show feuded now? About 25?
Following Big Show's turn, he faced Cena in a steel cage match at No Way Out, a bout that was probably even worse than you would expect it to be.
Big Show and Cena have never really clicked when in the ring together, and that didn't change here.
Their No Way Out match was awful, and it was the culmination of a horrible angle that I'm not sure anyone had any genuine interest in.
Natalya is arguably the most talented Diva in the WWE, but no one's talking about the great matches she had in 2012.
Instead, they're talking about how horrible she was used this year. More specifically, they're talking about her infamous "farting" gimmick.
Earlier this year, Natalya was saddled with a gimmick in which she couldn't control her flatulence.
We would see her appear in random skits, segments and even matches where she uncontrollably passed gas and then acted embarrassed about it.
Is this real life?
Especially with the Divas division in shambles like it has been this year, Natalya should have been the main focus of the division as the WWE tried to rebuild it.
But nope, she was forced to have farting problems and be paired with The Great Khali instead.
Unbelievable.
This angle only played out over one Raw episode, but it was just too stupid to ignore.
We've all wondered for years now who the infamous anonymous Raw general manager was, and back in July, the WWE decided to finally reveal the identity of the person behind the laptop computer.
Santino Marella went on a Sherlock Holmes-like quest to find the anonymous Raw GM (who was guest hosting the show), and he was finally able to.
The big reveal? Hornswoggle.
After years of speculation, we finally found out who the GM was, but it seemed like we would have been better off never knowing. After all, revealing Hornswoggle as the anonymous GM was a big slap in the face of the fans.
It was basically the WWE's way of saying, "We never really knew who the anonymous GM was going to be in the first place, so we'll say it's Hornswoggle just to piss you off."
Thanks, WWE. You made my day.
At Night of Champions, Kaitlyn was supposed to challenge Layla for the Divas Championship, but she was replaced by Eve Torres after she was attacked and suffered an ankle injury.
This led to perhaps one of the least intriguing "who done it?" mysteries in WWE history: Who attacked Kaitlyn?
In what was a terribly written and horribly acted angle, Kaitlyn went on a quest to find out who attacked her. It would ultimately be revealed that Eve got Aksana to wear a wig and attack Kaitlyn so that she could win the Divas title at Night of Champions.
By this point, I had lost any and all interest in this storyline, mainly because it was, simply put, brutal to watch an angle that was atrocious in every aspect.
There was never a point that this Kaitlyn/Eve cellphone/iPad drama was even remotely interesting, but guess what?
The rivalry between Eve and Kaitlyn is still going on, which just goes to show you how far the Divas division truly has fallen.
One of the WWE's biggest problems is that it devotes far too much TV time to authority figures.
The prime example: The feud between Teddy Long and John Laurinaitis.
On the road to WrestleMania, the WWE ignited a feud between the company's two GMs.
The heels threw their support behind Laurinaitis, the faces threw their support behind Long and this ultimately led to a match between Team Teddy and Team Johnny at WrestleMania 29. The GM of the winning team would control both shows.
The WWE spent months building up this rivalry between two non-wrestlers when the GM position ultimately means absolutely nothing, and it could have used all that wasted TV time for a feud between two actual wrestlers instead.
This angle wouldn't have been so bad if it didn't wind up being completely pointless, but that's exactly what happened.
Laurinaitis only lasted a couple months as the GM of both shows, and Long never left TV. In fact, he's still got a big presence on SmackDown to this day.
Essentially, the WWE spent several months building a rivalry between two non-wrestlers that served no purpose whatsoever.
Couldn't the 10 wrestlers in the Team Teddy vs. Team Johnny match just have had a Money in the Bank match instead?
When Kane returned under his mask in December 2011, it was supposed to reinvigorate "The Big Red Monster."
But his initial feud with John Cena turned out to be a complete and utter mess.
At the core of this rivalry was Kane's desire to get Cena to "embrace the hate" from the fans or, in other words, turn heel. To do so, Kane targeted Cena's buddy, Zack Ryder, and Ryder's crush, Eve Torres.
What started off as excitement surrounding Kane's return, however, quickly transformed into dread over the most poorly booked WWE storyline of 2012.
The "embrace the hate" storyline was far too cheesy (remember when Ryder and Eve were changing the tire?), the matches between Kane and Cena sucked and the rivalry changed Ryder from an upper midcarder and breakout star to an absolute joke of a jobber.
There was never any payoff to this rivalry as Ryder never got his revenge on Kane, and the feud between Kane and Cena was nothing more than a placeholder feud to keep Cena busy until his WrestleMania match with The Rock.
Although the idea behind the "embrace the hate" storyline was likely to get more fans to cheer for Cena, the only positive out of it was Eve's heel turn.
Other than that, the "embrace the hate" angle was like watching a bad horror flick every Monday night for a few months.
Drake Oz is a WWE Featured Columnist for Bleacher Report. Follow him on Twitter!