NASCAR: Previewing the Most Highly Anticipated Sprint Cup Debuts of 2013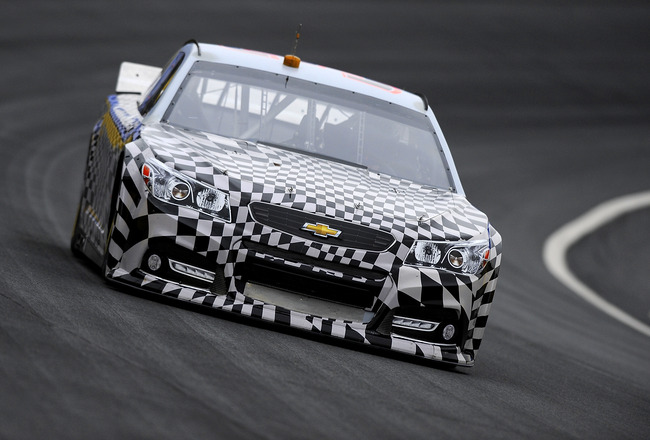 Jared C. Tilton/Getty Images
NASCAR is an ever-evolving work in progress with its annual silly season moves and inevitable changes implemented by the sanctioning body. The results from 2012 will play out when they debut in 2013.
Changes involve not only NASCAR as a whole, but the owners, teams and drivers. Moves to new teams have been made by those who pilot the cars, and the crew chief roulette wheel stopped spinning.
The 2013 season will see changes with the on-track product and decisions made by those who own the race teams.
Each season promises to be more exciting with a higher level of competition, and more ways to amp up the fan interest in the sport whether through attendance at races, television, online or social media.
Fans have some interesting debuts to follow in the 2013 season. This slideshow will highlight the ones that should draw the most attention.
The Generation Six Car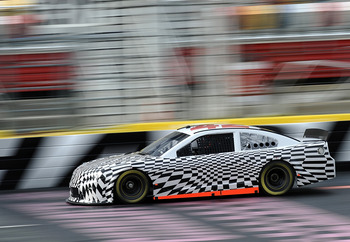 Jared C. Tilton/Getty Images
The infamous COT model for the NASCAR Sprint Cup Series has been replaced by a new model known as the generation six or G6.
The lighter, less aero-dependent Chevrolet SS, Ford Fusion and Toyota Camry promise to allow the driver to have more control over the car.
It is expected the racing will be tighter which hopefully will translate to a more exciting show for the fans and happier drivers.
Some drivers adjusted well to the COT. Jimmie Johnson won five consecutive championships with it, while drivers like Dale Earnhardt Jr. could never truly adapt.
The 2013 season should see some interesting dynamics so far as which teams do the best job with setting up the car and which drivers really embrace the car.
This is a major change within the sport, and we can only hope the new car lives up to the hype. It has already accomplished the goal of brand identity, and that is a very good thing.
The car has been tested with positive feedback from drivers. The next test will be the second week of January in Daytona followed by the official debut of the G6 during Speedweeks at Daytona.
Matt Kenseth Joins Joe Gibbs Racing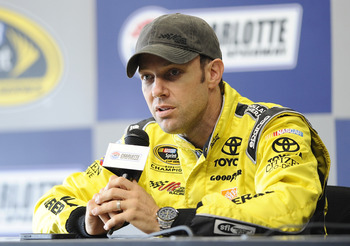 Jared C. Tilton/Getty Images
Matt Kenseth will make his official debut as the driver of the No. 20 Toyota for Joe Gibbs Racing at Daytona in February.
He has been spotted sporting his bright yellow driver's suit representing Dollar General who looks to be the primary sponsor for most of the season. The remainder of the season will see Kenseth behind the wheel of a red No. 20 sponsored by the 'Husky' line of tools for Home Depot.
Kenseth, the 2003 Cup champion, will be considered a leader at JGR which should have a positive impact on his teammates and their performance.
This driver surprised the NASCAR world when he announced his departure from Roush Fenway Racing, the place he called home for 15 seasons. Change is supposed to be good, so we shall see how this move plays out in 2013.
Penske Moves to Ford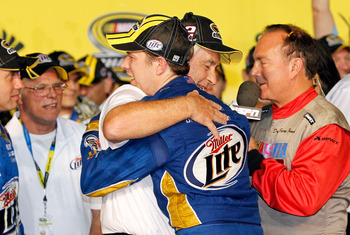 Tom Pennington/Getty Images
Despite the fact Roger Penske got his first Cup title with Brad Keselowski wheeling a Dodge in 2012, the decision was made for his organization to make the move to Ford for the upcoming season.
With Penske Racing being the primary Dodge team, the decision to align with Ford was to hopefully have sufficient support to become more competitive and win championships.
Ironically, his first Cup championship came with Dodge who was forced to withdraw from the sport. Penske Racing had its own engine department, but will likely be using Roush-Yates horsepower.
After finding such success with Dodge and Keselowski this past season, we can only wait and watch to see if the big move to Ford will bring Penske Racing another strong season.
Joey Logano Joins Penske Racing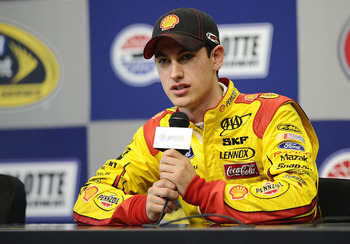 Jared C. Tilton/Getty Images
Joey Logano, 22, has driven for Joe Gibbs Racing for the four full seasons he has driven in the NASCAR Sprint Cup Series. The 2013 season will see him behind the wheel of the Penske Racing No. 22 Ford.
Logano was expected to become a young superstar in Cup racing for JGR, but he was perhaps moved up from the Nationwide series a bit too soon at the age of 18.
He did win a race during 2009 which made him the youngest driver to win in NASCAR's top series. Logano always seemed to be in the shadow of his teammates at JGR. He has two career Cup wins.
Logano made the decision to jump ship when he was offered the prestigious ride in the Shell/Pennzoil No. 22 at Penske Racing. The change in 2013 might be just what this driver needs.
Danica Is a Cup Racer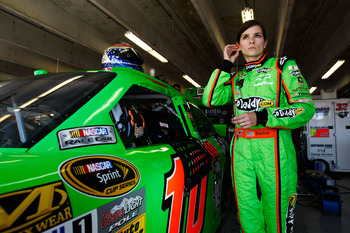 Jonathan Ferrey/Getty Images
Danica Patrick drove part-time in NASCAR's second-tier series during 2010 and 2011. This past season she drove the No. 7 Nationwide Chevrolet full time, finishing 10th in the point standings.
Patrick also drove her No. 10 GoDaddy.com Cup car in 10 races that her boss, Tony Stewart, felt would be the most difficult tracks for her. The mission was to gain seat time in the car at those tracks.
Patrick had some incidents that took her out of competition, and she finished most races off the lead lap. The driver did show improvement during the 10-race stint.
The 2013 season will see Patrick behind the wheel of the No. 10 Stewart-Haas Racing Chevrolet for the full season in the Sprint Cup series. She will officially debut her Chevrolet SS at Daytona.
Patrick still has much to learn with the new car as she makes the trek to all the tracks on the circuit. Her goals are modest with a finish in the top 20 being considered pretty good.
This driver will be watched closely by the media as well as those who support her and those who don't. Just having the celebrity status that she brings to NASCAR is good for the sport.
Hopefully the upcoming season will be the start of success for Patrick as a racer in the Cup series.
Earnhardt-Ganassi Racing Moves to Hendrick Horsepower
Jared C. Tilton/Getty Images
Chip Ganassi and Felix Sabates were confident heading into the 2012 season that the massive changes they had made were going to dramatically improve the performance of their two teams from the 2011 season.
Things did not go quite as they expected from the time Juan Montoya, driver of the No. 42, crashed into a jet dryer during the Daytona 500.
For Montoya and teammate Jamie McMurray, the season was lackluster at best with them finishing 22nd and 21st in the standings respectively.
Pretty much the only thing left to change was the engine program. For 2013 they are making the switch from Earnhardt-Childress horsepower to Hendrick Motorsports power plants.
If this last big change doesn't make for a more productive season with McMurray and Montoya, then perhaps some of the problem might be behind the steering wheel of the race cars.
Ricky Stenhouse Jr. Going Big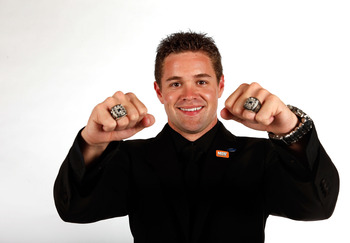 Chris Trotman/Getty Images
Ricky Stenhouse Jr. is stepping up to the big leagues in 2013 as he takes over Matt Kenseth's former Cup ride at Roush Fenway Racing.
Stenhouse will drive the No. 17 Ford full-time next season. He has been able to retain Best Buy, Zest and Fifth Third sponsorship. His crew chief, Scott Graves, worked with him during four races in 2012.
This driver was a bit too rough on his equipment when he began driving a Nationwide car for Jack Roush. His boss had him sit out some races in 2010, but he came back as Rookie of the Year.
The following two seasons saw Stenhouse win back-to-back NASCAR Nationwide championships. Now he steps up to the top series with expectations that he will become a superstar one day.
The first year may have some challenges, as often happens when a driver moves up to a higher series. This should be a strong team and wins may be difficult in 2013, but it is sure to come in the future.
Will Jimmy Fennig Save Carl Edwards?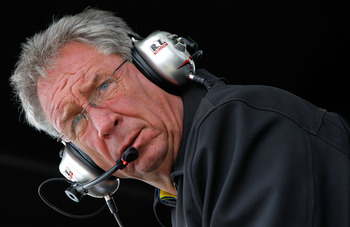 Tyler Barrick/Getty Images
Jimmy Fennig was Matt Kenseth's crew chief at Roush Fenway Racing. He guided the driver of the No. 17 Ford to three wins in 2012 along with 13 top-five finishes and 19 top-10 finishes.
With Kenseth leaving for Joe Gibbs Racing, Fennig was moved to the position of crew chief for Carl Edwards, who failed to win a race in 2012, with a 15th-place finish in the standings.
Fennig is an old-school veteran crew chief who doesn't want to be in the spotlight. He has worked with drivers Mark Martin, Kurt Busch, David Ragan and Kenseth since joining RFR in 1996.
Edwards is supposed to be the star of Roush Fenway Racing, but the 2012 season saw him falter. If the driver of the No. 99 is to find his way back to Victory Lane, it may take Fennig's experience to do it.
Kurt Busch Is Full-Time at Furniture Row
Jerry Markland/Getty Images
Kurt Busch continues his comeback tour as the driver of the No. 78 Chevrolet for Furniture Row Racing based out of Colorado.
Busch left Phoenix Racing with six races remaining in the 2012 season to replace Regan Smith in the 78 car. He finished ninth or better in the last three races of the season.
Busch has battled the demons that have caused emotional incidents which have gotten him in one mess after another with his teams and NASCAR. Such outbursts caused his departure from Penske Racing at the end of 2011.
This driver has a great deal of talent along with the 2004 Cup championship. His fiery personality has caused problems, but there is no doubt he can wheel a race car.
Furniture Row uses Earnhardt Childress engines. Busch's crew chief is Todd Berrier, a veteran from Richard Childress Racing.
This is one more chance for Busch to prove he is worthy of a ride with a top-tier team. He should easily be a contender for wins during the upcoming season having a reasonable chance to make the Chase.
Can Tony Eury Jr. Put New Team on the Map?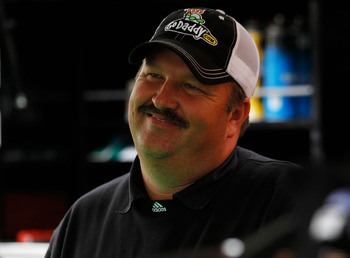 Todd Warshaw/Getty Images
Tony Eury Jr. has always had some association with an Earnhardt. His last gig was co-owner of JR Motorsports and crew chief for Danica Patrick's No. 7 Nationwide team.
Eury departed JR Motorsports shortly after his father, Tony Eury Sr., left the organization during September of the 2012 season.
Swan Racing will debut as a new NASCAR Sprint Cup team at Daytona with David Stremme driving the No. 30 Toyota.
The team was formed by owner Brandon Davis with Steve Hmiel as competition director and Eury assuming duties as crew chief.
Davis intends do be in the game with each race having no intentions of becoming a start and park operation. This will be a chance for Eury to prove just what he can do with the young Cup team.
Davis bought the team formerly known as Inception Motorsports, and it is named after his company known as Swan Energy Inc.
Eury has always been in the spotlight because of his connections to Dale Earnhardt Sr. and Dale Earnhardt Jr., so it will be interesting to watch this team's performance in 2013.
Keep Reading