7 Keys to Los Angeles Clippers' Record Winning Streak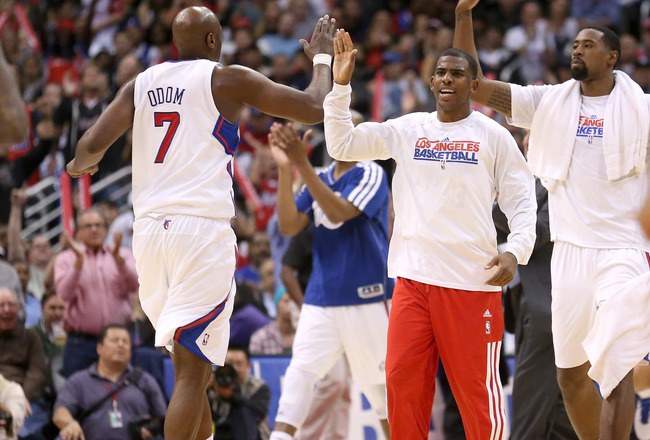 Stephen Dunn/Getty Images
Lob City Back in Action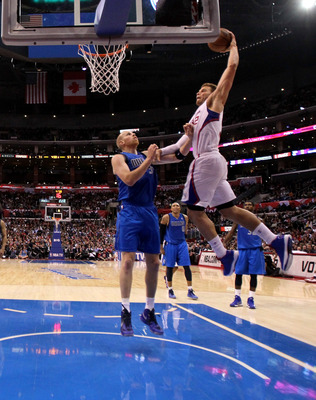 Stephen Dunn/Getty Images
This season, high-flying passes from Chris Paul to Blake Griffin and DeAndre Jordan have brought Clippers fans to the arena.
They are also resulting in wins.
The bulk of this success is due to Griffin's continued success at finishing at the basket. Griffin leads the league in dunks this season with over two per contest.
But none of the action would be possible without great dishes.
Chris Paul is averaging over nine assists per game, while backup guard Eric Bledsoe is averaging close to three assists.
"Lob City" began as a hit sensation to bring fans into Staples Center, but now the Clippers are using their slams as a legitimate part of the offense to score points and keep teams honest on the defensive end.
Matt Barnes Increasing Role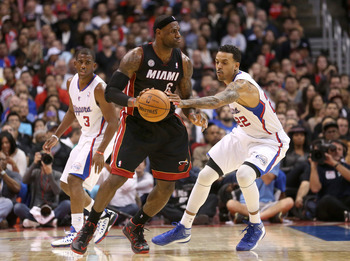 Stephen Dunn/Getty Images
When the Los Angeles Clippers decided to reload their bench, free-agent forward Matt Barnes was a major afterthought in the eyes of fans.
Two months later, Barnes is a growing presence on the Clippers. He has pushed this team from being a playoffs participant toward becoming an elite championship contender.
During the 12-game streak, Barnes has logged 25 minutes per contest and averaged 12 points, four rebounds and 1.5 steals per game.
Barnes has always been a great defender, but an increased focus on three-point shots and a newfound sense of dedication make him a dangerous player. The 6'7" small forward can score in the fast break with ease while also pressuring the best scorer on the opposing team each and every night.
Road-Winning Ways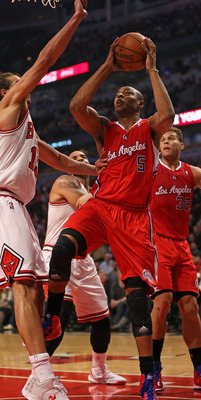 Jonathan Daniel/Getty Images
The Los Angeles Clippers have been a notoriously poor road team in their franchise history.
Built upon momentum and high-paced play, the 2012 Clippers started the season 3-3 on the road compared to an impressive 12-3 home mark.
During this recent 12-game winning streak, the Clippers have taken their winning ways on the road. The Clippers finally cracked over .500 on the road in 2012 after winning in Utah, defeating a Jazz team that has only lost two games at home all season.
In a weeklong East Coast swing, the Clippers defeated the Chicago Bulls, Charlotte Hornets, Milwaukee Bucks and Detroit Pistons.
The Clippers are playing with the same intensity and fearlessness on the road as they do in the friendly confines of Staples Center.
Defense...Defense...Defense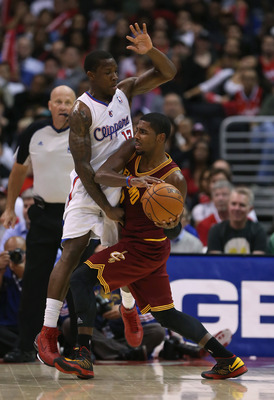 Jeff Gross/Getty Images
Coach Vinny Del Negro's defensive-minded principles from his previous years in Chicago have translated in Los Angeles this season.
The Clippers are allowing only 92 points per game this season, the fourth-lowest total in the league. The team has stated on numerous occasions the importance of defense on every night.
Shooting comes and goes, but great defense keeps the team in every ball game.
Over the 12-game winning streak, the Clippers have allowed more than 100 points only once while limiting teams to an average of 81 points per contest.
Give a bulk of that credit to DeAndre Jordan and Lamar Odom, who have developed this season from being poor defenders to above-average basket protectors.
Losing Weight, Gaining Confidence
Stephen Dunn/Getty Images
Lamar Odom's growing presence for this club can be linked to his fitter condition on the floor. Odom, who now stands at 230 pounds, looks light on his feet and is back in his sixth-man-of-the-year shape.
This increased confidence has affected Odom's performance in all aspects of the game.
He is beginning to shoot instead of passing off easy shots, using his lethal lefty drive to score the ball.
Odom has posted over five points per game in his last 12 contests. On the glass, the 6'10" wing man is collecting more than seven rebounds per game during the streak.
Finally, Odom is beginning to show a charisma on the floor that gives him confidence to fight for loose balls and play with no hesitation.
This allows Del Negro the flexibility to play Odom at the three, four or five position for large minutes.
Picking Your Pocket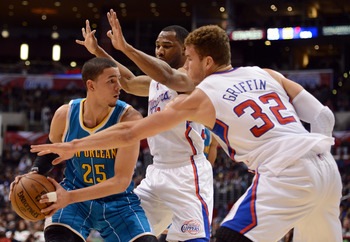 Harry How/Getty Images
The Clippers are picking their opponents' pockets clean this season, averaging more than 10 steals per contest. During the winning streak, the Clippers lead the league in steal differential with a plus-five steals rating per contest.
Some argue poor defense; others say great anticipation. Regardless, this team is forcing turnovers at a terrific clip. Whatever the reason, stealing the ball has developed into an integral part of the Clippers game plan.
The leader in this department is Chris Paul, who averages more than 2.5 steals per contest. Forcing turnovers fuels the Clippers' high-tempo offense, making easy opportunities for slam dunks and other fast-break points.
Times Are Changing in Los Angeles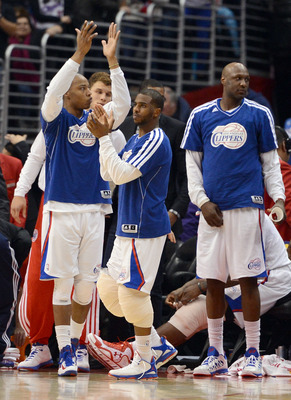 Harry How/Getty Images
Balance is key in the NBA, and the Clippers' loaded bench has given the starters valuable rest this season.
At the same time, stars Blake Griffin and Chris Paul have also taken on the leadership role in pivotal times to avoid the setback loss to a lesser opponent.
During the last 12 games, the Clippers have not relied on a single savior, with leading scorers interchanging between four players.
Whether Jamal Crawford shoots the lights out, Blake Griffin slams the house down or Chris Paul puts on a passing clinic, the Clippers have been playing with house money for the past month.
Del Negro must also receive credit for trusting his bench, especially after overplaying his starters a season ago. The Clippers have been the most exciting team in Los Angeles, and with this franchise-record winning streak, they have amassed a good deal of winning pedigree.
Keep Reading

Los Angeles Clippers: Like this team?