WWE Tribute to the Troops: Top 7 All-Time Highlights of the Annual Show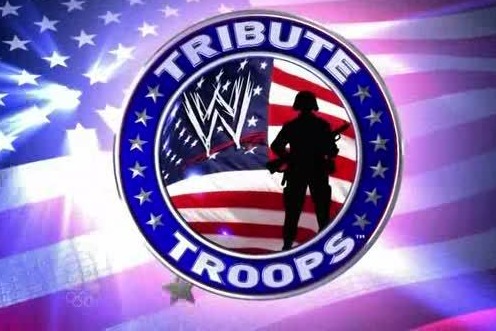 Photo courtesy of WWE.com
Wednesday's airing of WWE Tribute to the Troops on NBC will mark the 10th time that Vince McMahon's company has held a special show for the United States' servicemen and women. Not only is the concept behind it a great one, but Tribute to the Troops has offered several memorable moments over the year as well.
The 2012 edition of the event will take place in Norfolk, Va. and it promises to entertain the troops as well as all the fans watching at home. Since Tribute to the Troops has always taken place close to Christmas, many of the best moments have involved Santa Claus and various other things related to the holiday season.
Generally speaking, Tribute to the Troops is a lighthearted show that features the faces going over almost exclusively. Also, there are plenty of comedic segments mixed in, so it is unlike what we're used to seeing on shows like Raw and SmackDown. Since Tribute to the Troops doesn't have any storyline significance, though, it has always been an easy show to enjoy without worrying about what it means for the wrestlers involved.
Without further ado, here are the top seven moments to take place over the 10-year history of Tribute to the Troops. Hopefully there are many more added to the mix as well in the coming years.
Begin Slideshow

»
One of the best aspects of Tribute to the Troops is getting the troops themselves involved in the action. Never was that more apparent than in 2006 during the Master Lock Challenge. During that time, Chris Masters would often hold a segment in which he would challenge wrestlers to break his full nelson, and until Tribute to the Troops, nobody had ever done so successfully.
Masters first put the Master Lock on Santa Claus and seemed to put St. Nick out of commission. After making quick work of Santa, Masters challenged someone from the audience to test their luck. Solider Jose Avila was ultimately chosen, and things didn't look good for him, as the powerful Masters had the move cinched in.
Just as Avila was ready to pass out, Santa reemerged and removed his garb to reveal that he was actually JBL. The former WWE Champion attacked Masters from behind, which caused him to loosen his grip. Avila slipped out and became the first person to escape the Master Lock.
As Masters looked on at Avila's celebration in shock, JBL decided to put an exclamation point on things, as he hit The Masterpiece with a Clothesline from Hell. Masters was being made to look invincible back in 2006, so Avila's triumph in the Master Lock Challenge was somewhat of a shock and an extremely memorable highlight.
Coincidentally, 2006 wasn't the first time that JBL donned a Santa suit. While he was quite giving, like the real Kris Kringle when he helped a soldier escape the Master Lock, JBL wasn't so jolly just one year earlier. JBL was dressed in a camouflage-inspired Santa suit and was being referred to as "Bad Santa." Appropriately, his foil for the event was "Good Santa."
As has been the case many times over the years, "Good Santa" was played by Mick Foley. Since JBL and Foley weren't seeing eye-to-eye, they decided to settle things at the 2005 edition of Tribute to the Troops in a No Holds Barred match. It was a back-and-forth affair with plenty of funny spots, and it resulted in both Santas losing their disguises.
Unsurprisingly, "Good Santa" came out on top, as Foley pulled Mr. Socko from his Santa suit and applied the Mandible Claw on JBL. A lot of fans don't enjoy some of the comedic things that Foley does nowadays, but the Santa vs. Santa bout was perfect for a feel-good event like Tribute to the Troops. Also, St. Mick standing tall was a great sight.
There have been a ton of Tribute to the Troops moments involving Santa Claus, but the encounter between Foley and JBL was one of the best.
For the most part, Tribute to the Troops is treated like a house show by the WWE in that the matches and results have little to no relation to what we usually see on television. Because of that, it is extremely rare to see a title on the line at Tribute to the Troops. In fact, it has only happened once in the 10-year history of the event, as John Cena defended his WWE Championship against Chris Jericho in 2009.
It was probably the most important match ever at Tribute to the Troops to that point, and that remains true today. The contest itself was well-wrestled, and both men put forth their best effort. As has always been the case, Cena stood tall to close the show, as he defeated Jericho to retain his title. There was one aspect that prevented it from being higher on the list, though.
Since Tribute to the Troops is taped and airs at a later date, there tend to be continuity issues once in a while. The 2009 edition had a major problem, as Cena had dropped the title to Sheamus at TLC prior to Tribute to the Troops being shown on television. So, when Cena was shown defending the title against Jericho, he had already lost it to The Celtic Warrior in actuality.
The match was good despite the fact that the outcome was blatantly obvious, but perhaps that is why we haven't seen a title on the line at Tribute to the Troops since. Whatever the case, Cena and Jericho definitely helped make Tribute to the Troops 2009 a memorable one.
Since John Cena has been the most visibly supportive WWE superstar when it comes to the United States Armed Forces over the years, it should come as no surprise that he occupies one of the top spots on this list.
Back in late 2007, Cena was nursing a torn pectoral muscle and hadn't been seen in quite some time, but he made a surprise appearance at Tribute to the Troops in order to spread some Christmas cheer.
"Santa Claus" was in the ring with Vince McMahon and had some less-than-flattering things to say about the WWE Chairman. Santa called Mr. McMahon old and hurled plenty of insults his way, which eventually prompted Vince to snap. McMahon pulled Santa's hat and beard off to reveal that Santa was, in fact, the leader of the Cenation.
Despite one of his arms being in a sling, Cena got Vince up on his shoulders and delivered an Attitude Adjustment to his boss. Cena then celebrated with various divas, and they proceeded to toss gifts to the troops in the crowd. The fans would have been excited to see Cena regardless, but the fact that he wasn't expected to show up made it even better.
On a side note, Cena's Tribute to the Troops appearance was a precursor to what he would do the following month. Despite most believing that he wouldn't return to action for several months, Cena was a surprise entrant in the 2008 Royal Rumble at Madison Square Garden and went on to win the match in spectacular fashion.
Most wrestling fans would agree that John Cena is the unquestioned face of the WWE's current product, while "Stone Cold" Steve Austin was the flag bearer during the Attitude Era. Although the start of Cena's WWE career and the end of Austin's weren't very far apart at all, the two icons have had very little interaction with the exception of the first Tribute to the Troops in 2003.
In the main event, Cena defeated Big Show and began to celebrate for the servicemen and women. Cena's party was interrupted, however, by the familiar sound of glass shattering. The Texas Rattlesnake made his way to the ring, and it was clear that he was out for blood. As has always been the case with Cena, though, he wasn't about to back down.
When Austin got in Cena's face, Cena broke out his signature "you can't see me" hand signal. Austin mocked it and flashed a familiar gesture of his own as he gave Cena the double-barrel salute and knocked him silly with a Stunner. Austin wasn't done, though, as he waited for Big Show to stagger to his feet and hit him with a Stunner as well.
Austin then closed the show the same way he had so many times before. Stone Cold cracked open a couple "Steve-weisers" and put on an old-fashioned beer blast for the soldiers in attendance. Even if we never see Austin and Cena do battle in a real match, we'll always have that moment.
Tribute to the Troops has traditionally been known more for fun, comedic segments and celebrity involvement rather than great matches, but Shawn Michaels and Triple H tested that thought process in 2005. At the time, the two longtime friends were engaged in a bitter feud, and they decided to settle the score in the first and only Boot Camp match.
The bout was essentially a No Holds Barred match that saw HBK and Triple H battle all around the makeshift arena in Bagram, Afghanistan. Michaels and Triple H have had plenty of matches against each other, and while there were better ones than the Boot Camp match, it was a high-level contest for a show that generally doesn't focus on great wrestling.
Michaels ultimately came out on top after a slugfest, as he catapulted Triple H into the turnbuckle and finished him off with Sweet Chin Music. Since most Tribute to the Troops matches are fairly quick and insignificant, this particular one deserves high praise because it would have been considered good on Raw, SmackDown or even a pay-per-view.
It was a match that had a decidedly Tribute to the Troops flavor, and it featured two of the greatest superstars in WWE history, so there is a lot to like. Even if Tribute to the Troops lasts for 50 more years, I'm not sure there will ever be a bout as good as this one.
Since 2012 marks the 10th edition of Tribute to the Troops, it's only fitting that the top moment in the event's history happened in the inaugural year of 2003. Also, it makes plenty of sense for that particular highlight to feature arguably the biggest star in WWE history. The first Tribute to the Troops certainly kicked off with a bang.
It was originally branded as Christmas in Baghdad, and Vince McMahon opened the show by addressing the soldiers who were present. Vince welcomed the troops and appeared to be in a great mood until Santa Claus showed up. Santa didn't have a present for him, and McMahon said that Santa had passed by his house many times when he was a little kid, so he demanded that he leave the ring.
McMahon then snubbed an attempted handshake from Santa and attacked him from behind. Vince hilariously told the fans that he would kick Santa's ass, he would kick their ass and he would kick whoever's ass he wanted. Vince's triumph was short-lived, however. Santa removed his costume, and it was revealed that he was actually being played by "Stone Cold" Steve Austin.
As Vince's longtime rival, Austin had no issue executing a Stunner on the WWE Chairman and then drinking a few beers. Austin and McMahon were the backbone of the WWE for so many years, so it was certainly appropriate that they were the ones to begin the Tribute to the Troops tradition.
Follow @MikeChiari on Twitter and listen to him on Ring Rust Radio.