5 Reasons Michigan Can Handle SEC-Tested South Carolina in Outback Bowl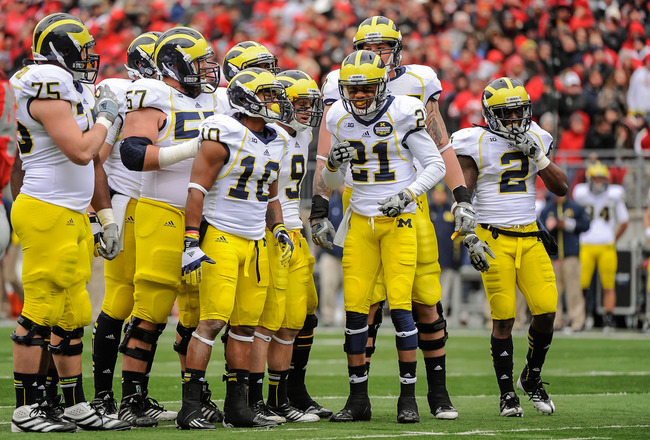 Michigan will be able to easily handle South Carolina.
Jamie Sabau/Getty Images
The Michigan Wolverines come into the Outback Bowl as underdogs against the South Carolina Gamecocks. But, the Wolverines will handle the SEC-tested Gamecocks on New Year's Day.
The Wolverines made a change at quarterback midway through the season, mostly due to an injury suffered by Denard Robinson.
However, it was the best thing for the Wolverines as Devin Gardner helped Michigan win three of its last four games.
So, how will Michigan beat South Carolina exactly? Here's a look at five reasons why the Wolverines will win easily.
No Running Game for South Carolina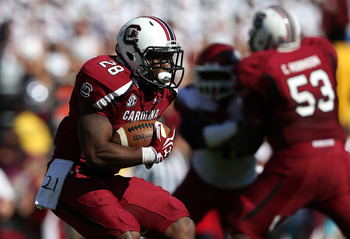 The Gamecocks have felt the loss of Marcus Lattimore.
Streeter Lecka/Getty Images
When Marcus Lattimore suffered that horrific leg injury, Gamecocks nation held its collective breath.
Not only because of seeing the pain on Lattimore's face, but also realizing there's not much of a running game anymore.
For all the talk of Mike Davis and Kenny Miles, neither even compares to Lattimore.
With that said, Michigan is allowing 156 yards per game on the ground. But, that was against teams that had decent running games, which included a good running quarterback.
South Carolina has a good running quarterback in Connor Shaw, but who else does he have back there?
Denard Robinson's Last College Game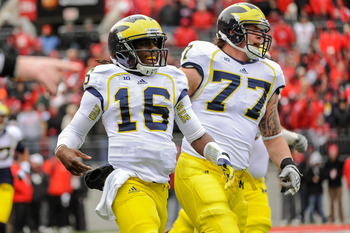 Denard Robinson will play his last college game Jan. 1.
Jamie Sabau/Getty Images
We all knew Denard Robinson wasn't a great quarterback. He was an exciting one, though.
While Robinson won't be behind center against the Gamecocks, he'll still be in the backfield as a running back.
For the year, Robinson has 1,166 yards rushing, including 220 total yards in two games exclusively at running back.
It's Robinson's last game for Michigan. There's no way he's going to let the Wolverines fall.
Michigan Secondary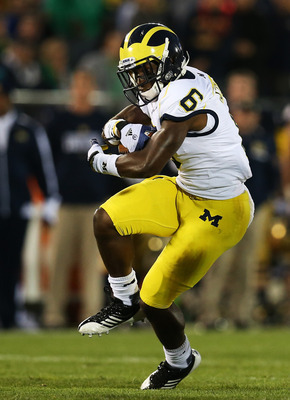 Michigan's secondary has been the second best in the country.
Jonathan Daniel/Getty Images
Michigan's secondary has been stout all season.
The Wolverines allowed 155.3 yards per game through the air, which ranks second in the country. They also rank sixth in completions allowed per game (14.4).
Needless to say the Wolverines are very stingy with the yardage and number of completions they give up.
Shaw is going to have to throw the ball with the lack of a running game.
This is where Michigan can take over the game by forcing early turnovers.
South Carolina Hasn't Been Tested Since Mid-October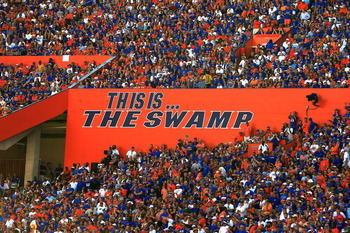 Oct. 20 was the last time South Carolina was tested.
Chris Trotman/Getty Images
The SEC naturally has a tough schedule.
However, South Carolina had it easy the last part of its season.
The Gamecocks finished the year with games at home against Tennessee, Arkansas and Wofford, before playing Clemson on the road.
As we saw with the Volunteers and Razorbacks this year, they weren't much to deal with. Wofford is a good FCS school and Clemson is in the ACC...enough said.
It's been since Oct. 20 (when Florida pounded South Carolina) that the Gamecocks have had a true test.
Michigan's been tested its last few times out, including a heartbreaking 26-21 loss to Ohio State.
Devin Gardner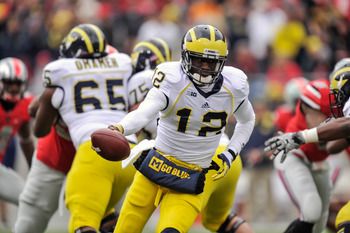 Devin Gardner has thrown for 1,005 yards in four games.
Jamie Sabau/Getty Images
Devin Gardner is averaging 251.25 yards passing in the four games he's played.
His highest total was a 314-yard, three-touchdown performance against Iowa.
Gardner has been a breath of fresh air at quarterback for the Wolverines as he's mainly a pocket passer.
He sees the field and gets rid of the ball quickly, doing everything you ask a quarterback to do.
Gardner steeped into the role of quarterback in a big way for the Wolverines and doesn't have fans missing Robinson.
He helped turn what could have been a 6-6 season into an 8-4 season. It doesn't sound like much, but at least nobody is calling for Brady Hoke's job at the end of this one.
Keep Reading

Michigan Wolverines Football: Like this team?