Boston Red Sox: Bold Predictions for Each Hitter in Boston's Starting Lineup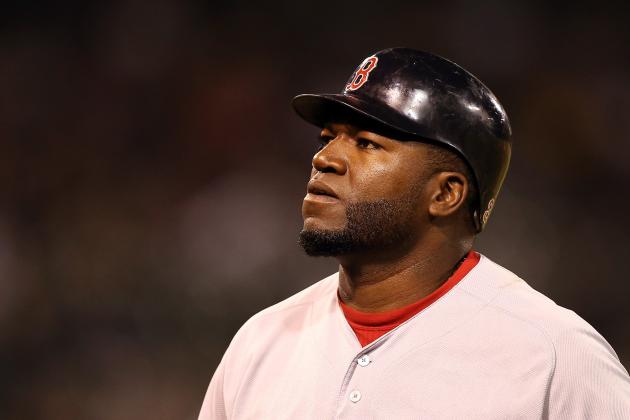 Ezra Shaw/Getty Images

The Boston Red Sox had their fair share of surprises and disappointments in 2012—more on the side of disappointments, though—as the club finished in the cellar of the American League East.
Although their win-loss record doesn't reflect anything positive from last season, don't forget that Boston was still solid in several offensive categories. The Red Sox scored the eighth-most runs, had the 10th-highest batting average and the 12th-highest slugging percentage.
Injuries to Jacoby Ellsbury, Dustin Pedroia, David Ortiz and Will Middlebrooks never gave former manager Bobby Valentine the opportunity to field a consistent lineup. Boston ended up using 143 batting orders, and the most common was only put to use four times.
General manager Ben Cherington has made a couple of changes to his team's offense in order to try to compete for a playoff spot in 2013. Those changes include signing backup catcher David Ross, outfielders Jonny Gomes and Shane Victorino, and agreeing to terms with catcher/first baseman Mike Napoli—although that deal has yet to be finalized and announced.
Boston now has a core group of players who can help it on the field as well as in the clubhouse. There's no reason to believe that the 2013 lineup can't be one of the best in baseball.
Here are projections of what that lineup could look like, including a bold prediction for each player.
Begin Slideshow

»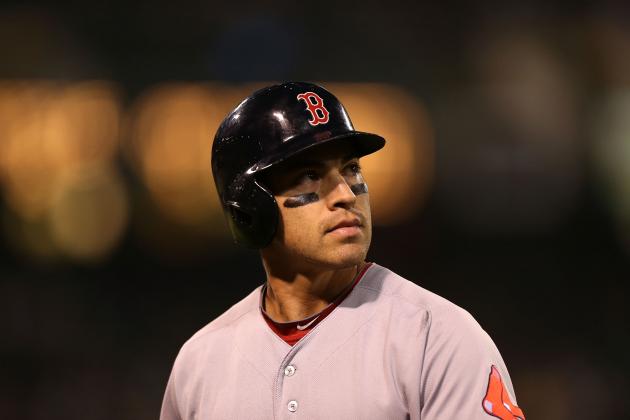 Jed Jacobsohn/Getty Images

A separated shoulder derailed Jacoby Ellsbury's season early on in 2012 and made it more than difficult to try to replicate the numbers he was able to post a year earlier.
Ellsbury finished second in the 2011 AL MVP voting after hitting .321/.376/.552 with 32 home runs, 105 RBI, 119 runs and 39 stolen bases.
Last season, Ellsbury hit .271/.313/.370 with four home runs, 26 RBI, 43 runs and 14 stolen bases in just 74 games.
It's impossible to determine whether Ellsbury would have put up similar numbers since he was injured for the majority of the season. But if he was able to do it once, there's at least a chance that he'll be able to do it again.
One reason to believe that Ellsbury will again hit for power instead of contact next season is because he will be entering the final year of his contract, after which he will become an unrestricted free agent. A great year makes it more likely that Ellsbury will earn himself a hefty long-term contract in free agency.
The key to Ellsbury hitting like an MVP again is staying healthy. Even though some of his injuries were uncontrollable, he needs to play in as many games as possible. Over the past three seasons, he's only played in more than 100 games one time. That can't happen in 2013.
If Ellsbury can play in at least 140 games, there's a good possibility that he hits at least 20 home runs. Another 20 home-run season would look good on his resume at the end of the season, but 30 would look that much better.
He's already done it once and should be able to do it again.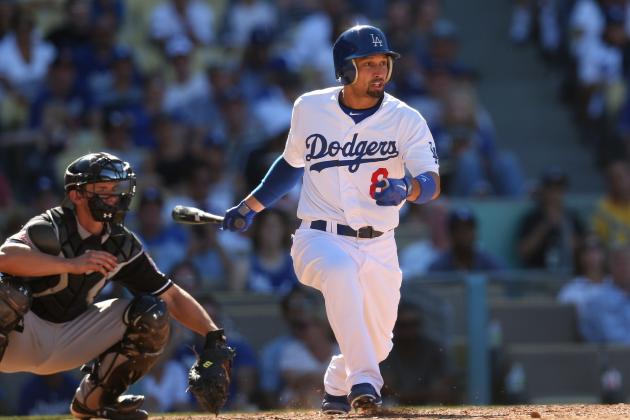 Stephen Dunn/Getty Images

The Boston Red Sox will employ Shane Victorino in right field in 2013, signing the Flyin' Hawaiian to a three-year, $39 million deal this offseason.
Victorino has spent his entire nine-year career in the National League, playing for the San Diego Padres, Philadelphia Phillies and, most recently, the Los Angeles Dodgers. He may not have a lot of experience against American League teams—or teams in the AL East for that matter—but he has made the most of his chances.
Here are Victorino's career slash lines against Boston's AL East foes (via Baseball-Reference):
Baltimore Orioles (9 Games): .313/.436/.625/1.061
New York Yankees (9 Games): .344/.400/.563/.963
Tampa Bay Rays (9 Games): .182/.379/.182/.561
Toronto Blue Jays (23 Games): .305/.402/.427/.829
As you can see, with the exception of the Rays, Victorino has great numbers against the teams he'll be facing most often in 2013 and beyond. And despite the relatively small sample size against the Orioles and Yankees, it's apparent that he has sustained success against the Blue Jays.
Even though these teams have all made moves to improve their pitching staffs, it's worth noting that Victorino does have decent numbers against R.A. Dickey and good numbers against Josh Johnson—two former NL East aces who have made their way north of the border to Toronto.
Hitting consistently against the other AL East teams will be a true advantage for Boston if Victorino can keep up his past success and could end helping the Red Sox bring home the division crown in 2013.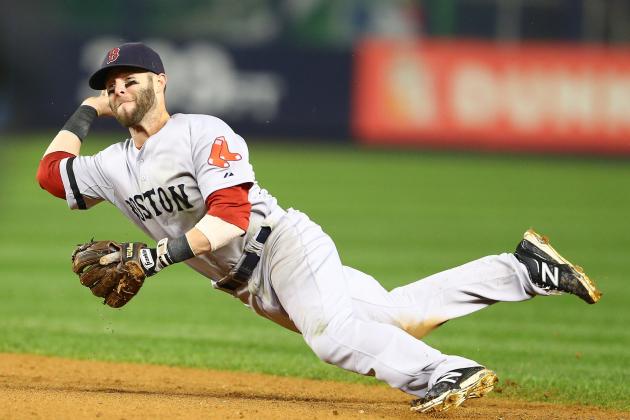 Al Bello/Getty Images

In 2008, Dustin Pedroia hit .326/.376/.493 with 118 runs, 213 hits, 54 doubles and 17 home runs. Those numbers helped him win the AL MVP award.
Pedroia has been able to put up similar numbers since then, but has only received MVP votes once—in 2011 when he finished ninth in the voting.
A thumb injury didn't help Pedroia's cause in 2012, but he was still able to hit close to .300 with 15 home runs, 65 RBI and 81 runs.
With the thumb problem potentially gone, Pedroia should be 100 percent healthy going into the 2013 season and ready to help the Boston Red Sox play for a spot in the postseason. Playing at an MVP-caliber level should secure the Red Sox an opportunity to play in October.
Detroit Tigers third baseman Miguel Cabrera won the coveted award last season by winning the Triple Crown. Although Pedroia could have a great season in 2013, it's hard to say that he'd be able to put up similar numbers to Cabrera;s in 2012.
But by finishing toward the top in nearly every offensive and defensive category, Pedroia could end up adding a second MVP trophy to his collection.
In 2008, Pedroia didn't lead the league in any of the three Triple Crown categories. Instead, he led the league in runs, hits and doubles. He didn't have an astonishing number of home runs or RBI.
For Pedroia to have a legitimate chance at winning the 2013 MVP award, he needs to hit at least .320 with an OPS near .875. He also needs at least 20 home runs, 90 RBI, 200 hits, 110 runs and 45-plus doubles. Those numbers would at least put him in contention.
Although defense isn't usually a big factor in the MVP vote—at least not in 2012 where Los Angeles Angels outfielder Mike Trout was significantly better than Cabrera in the field—having solid numbers at second base wouldn't hurt Pedroia's chances.
If the Red Sox are going to make the playoffs in 2013, they'll need an MVP-like year from Pedroia.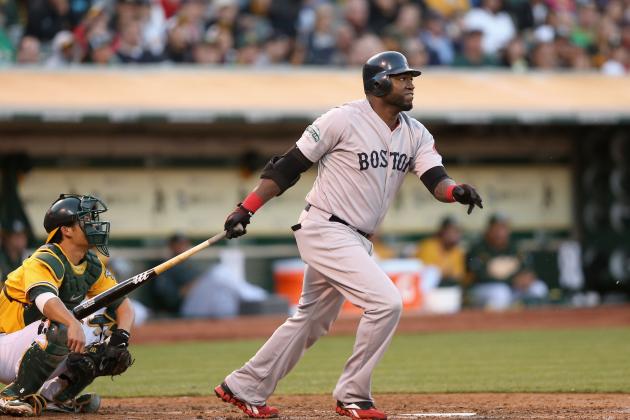 Ezra Shaw/Getty Images

The Boston Red Sox were without the services of David Ortiz for a big chunk of the 2012 season. An Achilles tendon injury allowed Ortiz to play in just 90 games, and only one after July 16.
Boston didn't seem too concerned about the injury, however, as it re-signed Ortiz this offseason to a two-year deal worth $26 million.
Injuries have only derailed Ortiz twice in his Red Sox career—this past year and in 2008 when he had troubles with his left wrist that caused him to miss 45 games.
But as a 36-year-old who is a primary designated hitter—but could play first place if he absolutely had to—how concerned should the Red Sox be about Ortiz's most recent injury?
Peter Abraham of The Boston Globe reports that as of Dec. 8, Ortiz wasn't completely healthy.
"At this point, not yet," Ortiz said on Friday when asked if he was working out like he normally would. "Very soon."

Spring training starts Feb. 12 for pitchers and catchers, and a few days later for position players. Will Ortiz be ready? "I hope so. Hopefully," he said.
This Achilles tendon injury put a damper on Ortiz's season as it continued to nag him and prevented him from playing down the stretch. Based on Ortiz's comments about his recovery, it seems that this problem could drag into the 2013 season as well.
If Ortiz doesn't come into camp 100 percent healthy, that could mean that his season debut would be delayed.
It's worth noting that Ortiz did not have surgery on his Achilles tendon. He instead has had cortisone shots and let it heal on its own. I'm not a doctor, but I could foresee Ortiz rounding second base on a hit to the right field gap and re-aggravating the injury, thus missing considerable time for the second consecutive season.
Jeff Gross/Getty Images

Despite hitting at least 20 home runs in each of the last six seasons, Mike Napoli has never driven in more than 75 runs in his career.
That's an interesting statistic considering that Napoli has played for two of the most successful teams—the Los Angeles Angels and Texas Rangers—who have had plenty of stars hitting ahead of him in the lineup. From whatever reason, he just hasn't been able to bring them home when they're on base.
When the bases are clear, Napoli is a career .271/.358/.549 hitter with 93 home runs and 93 RBI (via Baseball-Reference). When there's at least one man on base, Napoli is a career .243/.354/.455 hitter with 53 home runs and 287 RBI. That's nearly a 100 percentage-point drop in OPS compared to when there's no one on base.
In order for Napoli to drive in a considerable number of runs—let's say around 80 in 2013—he needs to focus on getting hits when those in front of him are in scoring position. He has a career OPS of .835 with runners in scoring position. That value has been up and down over the course of his career, but it was at least .921 over the past two seasons.
The question remains as to whether Napoli is even capable of driving in at least 80 runs since he hasn't in the past. He's hit behind players such as Elvis Andrus, Ian Kinsler and Josh Hamilton over the past two years—all who are relatively good at getting on base—but he hasn't done a great job at driving them in.
Napoli will likely have Jacoby Ellsbury, Shane Victorino, Dustin Pedroia and David Ortiz hitting in front of him, all of whom are also all pretty good at getting on base. So will he be able to hit them home?
Napoli has taken advantage of Fenway Park over the course of his career—driving in 33 runs in 38 games—and the Red Sox can only hope that he can continue on a similar path once he's playing there regularly.
NOTE: The signing of Mike Napoli has yet to be announced by the Boston Red Sox, making the deal unofficial as of Dec. 25. For more information regarding the situation, please read the analysis of ESPN Boston's Gordon Edes.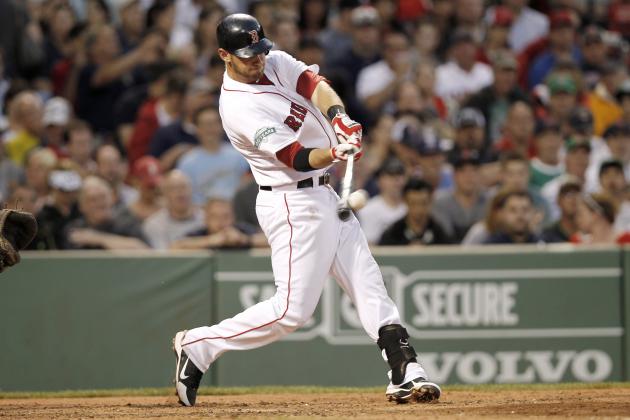 Winslow Townson/Getty Images

Kevin Youkilis was the Boston Red Sox third baseman on the All-Star Game ballot last season, not Will Middlebrooks. That was because Middlebrooks was recalled from Triple-A in May, a time where all those on the ballot had already been submitted.
2013 will be a different story, though, as Middlebrooks is guaranteed to be on the ballot for the first time in his young career.
Middlebrooks was sidelined for a portion of the season with a wrist injury, but still had a productive first season in the big leagues. In 75 games, he hit .288/.325/.509 with 15 home runs, 54 RBI and 34 runs.
Even if he had stayed healthy, it would have been tough to argue that he was worthy of the American League Rookie of the Year award that was won by Los Angeles Angels outfielder Mike Trout.
For now, however, let's focus on making it to the All-Star Game in 2013.
Middlebrooks will have plenty of competition to make the AL roster. Detroit Tigers third baseman Miguel Cabrera will probably be a lock for starting third baseman after winning the AL MVP last season, and last season's starting third baseman Adrian Beltre of the Texas Rangers also has a good shot at making the team.
Other candidates include Tampa Bay Rays slugger Evan Longoria as well as Baltimore Orioles youngster Manny Machado, among others.
That's quite a group of third basemen that Middlebrooks will have to outplay in the first half of the season to make the team.
But it is definitely a possibility. Middlebrooks already has a chunk of experience in the majors, and after resting for the past couple of months, he should be all ready to go by the time Opening Day rolls around.
From there, he has to put up great numbers and Red Sox Nation has to fully support him in his quest to play at Citi Field in New York on July 16.
Tom Szczerbowski/Getty Images

Jarrod Saltalamacchia had a very interesting season behind the plate for the Boston Red Sox last season, but don't expect the small successes he had to continue.
Saltalamacchia only hit .222 last season, but seemed to be doing better than he actually was. That's because of the 90 hits he had, 25 were home runs.
One of the best things about Saltalamacchia was that he was good at hitting for extra bases. Among catchers with at least 400 plate appearances, he placed third in isolated power (via FanGraphs)—a formula that divides extra bases by number of at-bats.
Of those catchers, however, Saltalamacchia had the highest strikeout rate and one of the lowest walk rates (via FanGraphs). I would conclude that most teams would like their catchers to have high walk rates and low strikeout rates, but that clearly isn't the case with Saltalamacchia.
Comparing the two full seasons that Saltalamacchia has played for the Red Sox, they're extremely similar. Taking into consideration that he played in 18 more games in 2012, he really only had more home runs than the previous season. Nearly every other statistic remained virtually the same.
Saltalamacchia also did this with a lot of job security. Former backup catcher Kelly Shoppach wasn't a threat to overtake him as the starter and prospect Ryan Lavarnway wasn't ready for a promotion just yet.
Now there will be a ton of pressure on Saltalamacchia as Lavarnway is now ready, the Red Sox have signed David Ross to assist and Mike Napoli might be another option Boston could use behind the plate. Saltalamacchia is no longer the guaranteed starter.
That being said, his lack of security could bring out the best or the worst in him.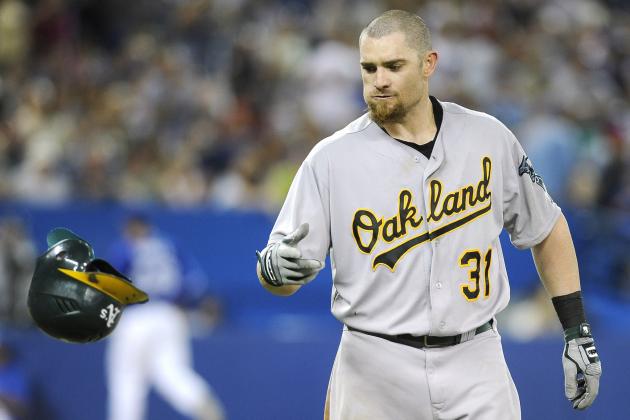 Brad White/Getty Images

Jonny Gomes has struck out at least 100 times in a season six times—the most coming in 2007 when struck out 126 times in 107 games for the Tampa Bay Devil Rays
For whatever reason, Gomes tends to strike out quite a bit. He has a career strikeout percentage of 27.1, which would be deemed nearly ''awful'' by FanGraphs. For those who don't click the link, ''awful'' is lowest on the totem pole.
Just last season, Gomes averaged at least one strikeout per game with the Oakland Athletics, or about once per three plate appearances—striking out 104 times in 333 plate appearances over 99 games.
To put that into perspective, Gomes had the fourth-highest strikeout percentage among hitters with at least 300 plate appearances last season (via FanGraphs)—behind Adam Dunn, Bryan LaHair and Justin Maxwell. That's not good, no matter how you look at it.
That's not to say that Gomes wasn't facing good pitching last season—because he did face some elite pitchers on the Texas Rangers, Los Angeles Angels and Seattle Mariners—but he wasn't frequently facing the AL East.
The Tampa Bay Rays had the best pitching staff in baseball last season—in terms of ERA—the New York Yankees are always dominant, the Baltimore Orioles have young talent and the Toronto Blue Jays have vastly improved their staff compared to last season.
The point is that the AL East is a difficult division for hitters and there's a chance that Gomes will fail to make a smooth transition, which could lead to even more strikeouts.
Gomes was considerably worse against right-handed pitching than left-handed pitching last season (via FanGraphs) in nearly all categories, including strikeout percentage. And that was without frequently having to face R.A. Dickey, Josh Johnson, Jeremy Hellickson and Hiroki Kuroda.
Even if Gomes only plays 99 games for the second straight year, his strikeout rate is going to skyrocket.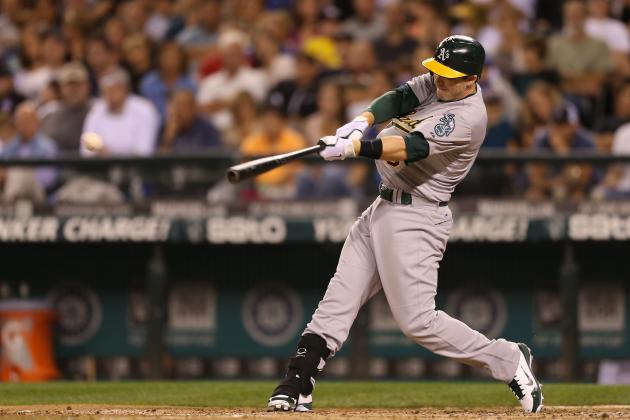 Otto Greule Jr/Getty Images

The Boston Red Sox insured themselves at shortstop this offseason with the signing of former Arizona Diamondbacks and Oakland Athletics shortstop Stephen Drew.
The acquisition allows Jose Iglesias—the previous lead candidate to be Boston's starter—to get more experience in the minor leagues and provides a sturdier bridge before prospect Xander Bogaerts is ready for a big league promotion.
Paying Drew $9.5 million for one year of service may seem high, but the Red Sox were in a tough spot and he was one of the few solutions. That does not mean that he's guaranteed to be the starting shortstop for the entire season, and I would expect a change around the All-Star break.
Boston could make a switch at short for a few reasons; the first being health. Drew has been bumped and bruised a few times in the past, but nothing has been more serious than a fractured ankle that kept him out of the second half of 2011 and the first half of 2012.
Drew did play 79 games between Arizona and Oakland last season, but he didn't return as the player he once was. In 2010, Drew had an OPS of .810. In 2011, his OPS was .713. Then last season, he had an OPS of .657—the lowest of his professional career.
The decline in production over the last couple of years is a cause for concern. Drew can be useful at times, but if Iglesias can start the season hot at the plate in Triple-A, expect a quick move.
Boston was basically ready to hand Iglesias the job before it took another look at his past numbers and saw how terrible he was offensively. In 25 games with Boston last season, Iglesias only had a .118 batting average. Despite his impeccable defensive skills, the Red Sox aren't ready to make him into an everyday player in MLB.
Don't forget that Pedro Ciriaco should still be the backup to Drew once the season begins. Ciriaco started last season in the minor leagues after a tremendous spring training, but eventually got a shot at the majors. Ciriaco excelled early on, but faded as the season wore on.
The last way that the Red Sox make a switch is if Bogaerts excels in the minor leagues and they feel the need to rush him to Boston. Bogaerts has been incredible since he started in Boston's minor league system and is on the fast track to a major league promotion.
If Bogaerts can continue his offensive surge early in Double-A and also in Triple-A—and depending on Boston's potential playoff contention—the Red Sox could look to him as their shortstop.