UFC: Power Ranking the 20 Best Submission of the Night Performances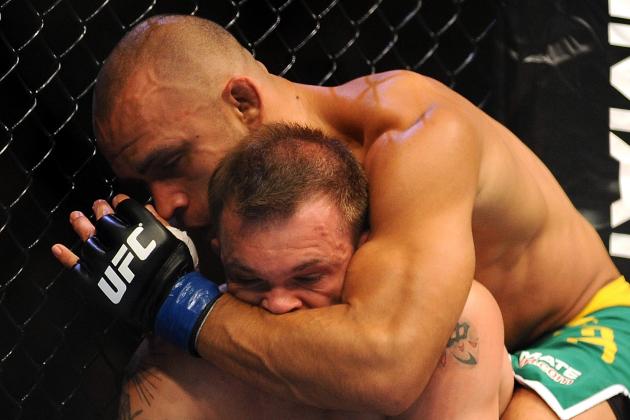 Matt Roberts/Getty Images

A fantastic submission is more impressive than a great knockout.
Both have their place in the sport of MMA, and both have caused me to spill my beer, jump off my couch and scare my neighbors with barbaric screams on several occasions, but the thing that makes a perfect submission so awesome to me is its complexity.
I can go out in the street, get in a fist fight and maybe knock somebody out cold (I could also get knocked out cold, of course).
Most everybody can ball up their fist and swing it in the general direction of an assailant.
However, not everybody can wrestle an assailant to the ground, establish a dominant position and then submit him/her with a fancy submission.
This example has obvious flaws (what about a wheel kick—not everybody can do that!), but my point here is that a submission, in general, takes more skill to pull off than a knockout. You never really get "lucky" with a submission; you either know how to do it and pull it off, or you don't.
To honor this sweet science of smooth submission, I present to you the finest "Submission of the Night" performances in UFC history.
As a note, the first such award was given out at UFC Ultimate Fight Night 4 when Dan Christison caught Brad Imes with a third-round armbar. So, any submissions before this date were not considered for the list.
Enjoy!
Begin Slideshow

»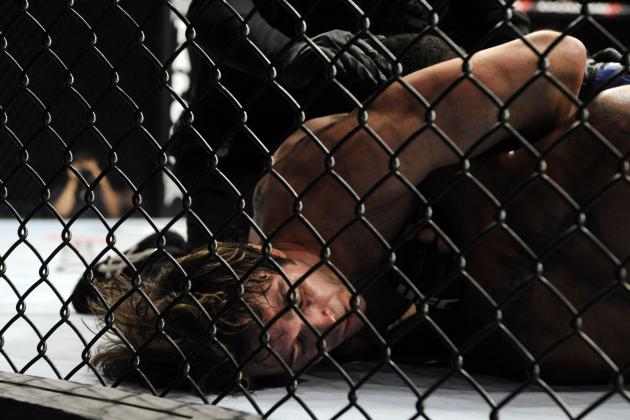 Rafael Suanes-USA TODAY Sports

When Cody McKenzie took on Aaron Wilkinson at The Ultimate Fighter 12 Finale, everybody knew what the Alaskan could do.
His nine straight wins via guillotine choke leading into this bout comprised an absolutely ridiculous streak, and to make this even more unbelievable, each stoppage occurred in the first round.
Gee, I don't know if this makes much sense to you too, but I think I probably wouldn't shoot a takedown early in the fight against Cody McKenzie! His striking is pretty awful, and his best chance at victory occurs if you put your neck anywhere near his lanky arms.
Well, Wilkinson apparently couldn't figure this out, as he fell victim to the storied McKenzitine in—you guessed it—the first round.
Cody McKenzie has a phenomenal guillotine, even better facial hair and the kind of personality that makes you want to chill out and throw back a cold one.
He seems to be a cool dude, but as a fighter, you pretty much have to watch out for one thing, which makes the fact that he can ever hit this technique at a professional level that much more impressive to me.
For his efforts, McKenzie kicks off our list at No. 20.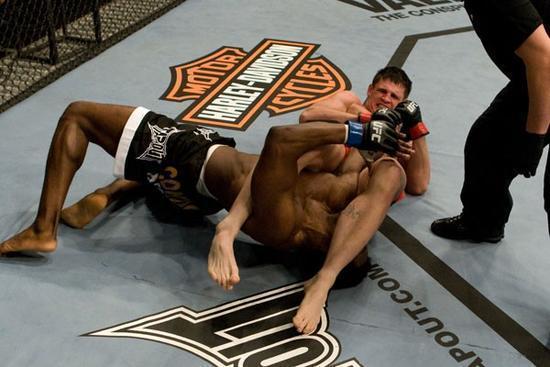 CREDIT: fanpop.com
This one was nasty, folks.
Both Steve Cantwell and his UFC: Fight For the Troops opponent, Razak Al-Hassan, have fallen off the MMA map recently, but the two certainly had their four minutes of fame here.
For Cantwell, the fame was for all the right reasons, and for Al-Hassan, the fame came as a result of his arm getting bent at a 90-degree angle.
He probably should have tapped, huh?
Joe Nicholson-USA TODAY Sports

Scott Jorgensen is pretty damn good.
He's one of those fighters who can beat 90 percent of his division but seems to falter against the top dogs, and there's nothing wrong with that.
Losing to Dominick Cruz and Renan Barao is nothing to be ashamed of, after all.
At UFC on Fox 5: Henderson vs. Diaz, Jorgensen was in top form. His wrestling was stifling, and he overpowered his opponent en route to an impressive victory.
What was so awesome about this particular submission was its timing; Jorgensen took Albert's back late in Round 1, cinched up the rear-naked choke and forced the tap with just one second left on the clock.
Poor Albert probably couldn't hear the 10-second blocks with his brains beings squeezed out of his head...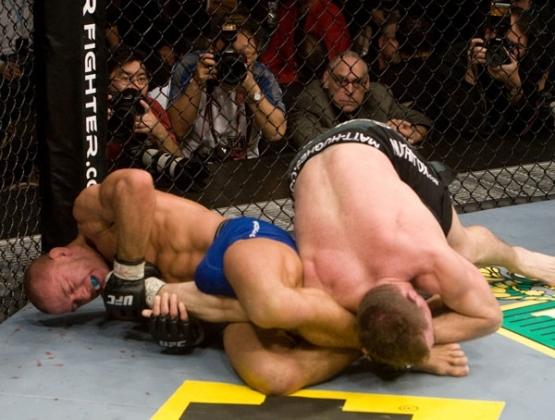 CREDIT: yourmma.tv
The UFC 79 rubber match between Georges St-Pierre and Matt Hughes was a good 'un.
Matt Hughes defeated the then-green GSP at UFC 50 via armbar, but the Canadian sensation bounced back in their second encounter with a dominating TKO victory.
The trilogy ended as it began—with an armbar victory—except it was GSP ripping the tendons this time.
Well played, eh?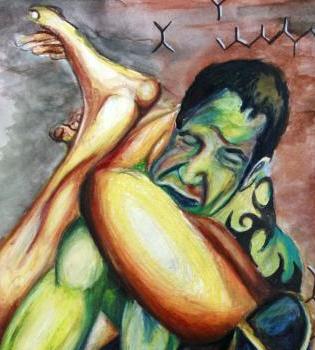 CREDIT: Michael Cook/fineartamerica.com
Not only was this one an awesome submission—it was an awesome fight (and that's an awesome picture, isn't it?).
Taylor rocked Davis early in their UFC 75 encounter, and the end appeared near for "The Irish Hand Grenade."
As Taylor pounced to finish the fight, however, he fell right into Davis' web of limbs, where he was promptly forced to tap out due to a deep armbar.
The submission was Davis' sole "Submission of the Night" performance, and it stands as one of my personal favorite submissions in UFC history.
CREDIT: mmafighting.com
This point has been beaten to the ground (kind of like that phrase), but at UFC 153, Antonio Rodrigo Nogueira proved that Brazilian jiu-jitsu does, in fact, work.
After his opponent, Dave Herman, mentioned before the fight that BJJ doesn't work, Nogueira seemed extra determined to force a tap.
With a picture-perfect armbar in the bout's second round, he did just that.
A proud day for BJJ, indeed.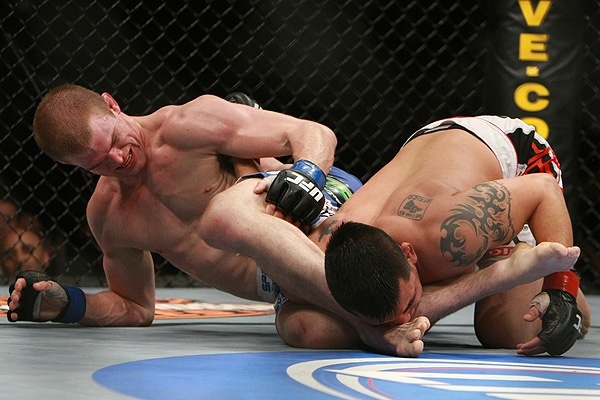 CREDIT: mmafight.com
Chalk this one up on the "cringe-worthy armbars" list.
At UFC Fight Night: Maynard vs. Diaz, lightweight standout Evan Dunham found himself locked in a tight battle with former The Ultimate Fighter winner Efrain Escudero.
Dunham undoubtedly knew the scorecards were close, but he made sure none of that mattered as he nearly ripped Escudero's arm off with one of the nastiest armbars in recent memory.
To his credit, Escudero hung in there longer than he should have, a tough, if not ill-advised, showing.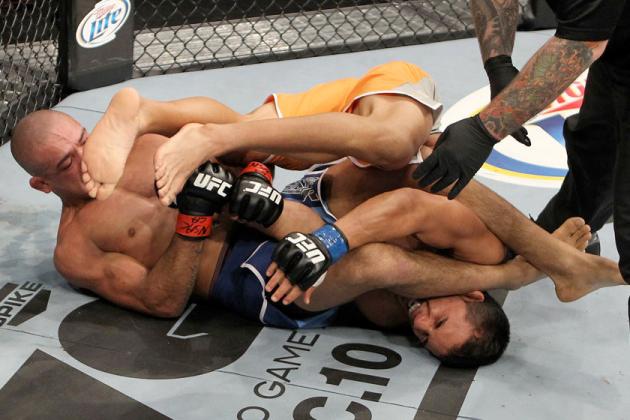 CREDIT: fightday.com
Refer to the Marcus Davis vs. Paul Taylor slide and substitute Dennis Bermudez for Taylor and Diego Brandao for Davis.
That pretty much summarizes this The Ultimate Fighter 14 finale war, and it stands as one of the best one-round fights in UFC history.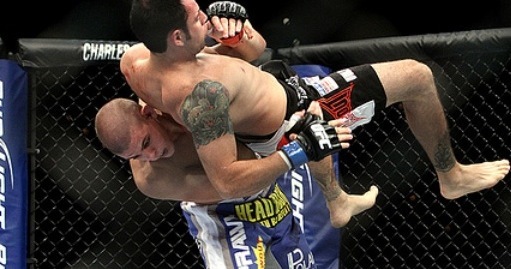 CREDIT: cagepotato.com
Joe Lauzon has a ridiculous six "Submission of the Night" bonuses, so to choose one, I simply went with my gut and chose what I felt was his most impressive performance.
At UFC 118, Lauzon absolutely massacred his opponent, Gabe Reudiger, for the bout's short duration.
In two minutes, Lauzon rocked Ruediger with punches, he slammed him, he tossed him around and he secured a deep armbar that left his opponent with the ever-unpleasant "tap or snap" proposition.
Ruediger chose the former, and Lauzon pocketed another "Submission of the Night" bonus for his efforts.
This was as one-sided as a fight gets, and it is arguably Lauzon's most perfect Octagon performance to date.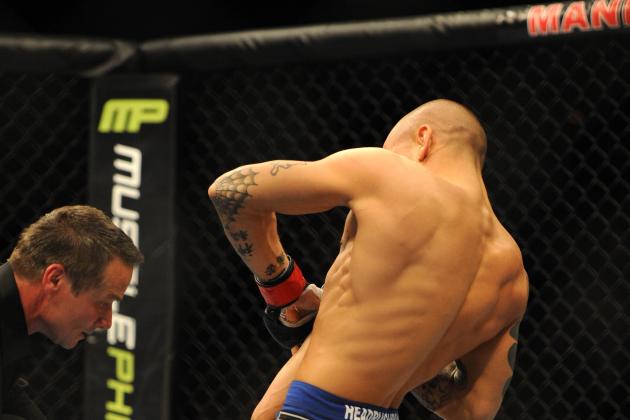 Kelvin Kuo-USA TODAY Sports

Long before Nick Diaz won rounds 1,2 and 5 at UFC 143 (or whatever rounds you nut jobs say he won), Dustin Poirier was calmly collecting the neck and arm of Max Holloway simultaneously.
After an impressive display of grappling aptitude, Poirier found himself in a mounted triangle early in Round 1.
When this didn't produce the tapout he desired, he took Holloway's trapped arm and bent it at a disgusting angle that left the young featherweight with no choice but to tap out.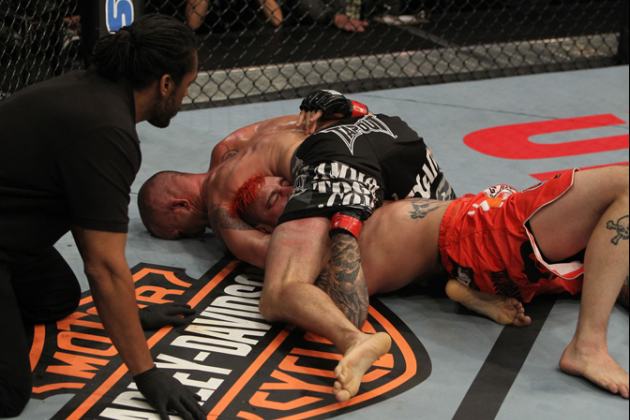 CREDIT: prommanow.com
Yes, I have a man-crush on Chris Lytle, but then again, don't we all?
We knew his UFC Live: Hardy vs. Lytle matchup against outspoken Brit Dan Hardy would be Lytle's final Octagon appearance, but we had no idea it would end so perfectly.
After winning the first two rounds of the fight through superior striking, it appeared Lytle was going to cruise to a safe unanimous decision victory and close out his career on a high note.
Dan Hardy inexplicably shot for a takedown near the bout's conclusion, though, and Lytle took that note up to Minnie Riperton levels of high by quickly securing a guillotine choke and forcing Hardy to tap out.
The perfect ending to an incredible career—oh gosh, I'm tearing up.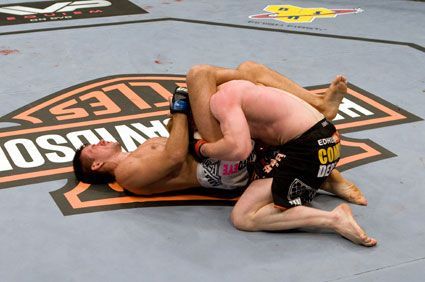 CREDIT: demianmaia.com
Former middleweight title challenger Demian Maia began his UFC career at UFC 77 by submitting Ryan Jensen via rear-naked choke in under three minutes.
He followed that up by submitting Ed Herman at UFC 83.
And then he tapped Jason MacDonald at UFC 87.
Nate Quarry was next at UFC 91.
Mr. Submission Defense himself, Chael Sonnen, came last in this string of submissions at UFC 95 when he was caught by his three-sided friend, the triangle.
Needless to say, Maia has some skills on the ground, and four of these five submissions earned him "Submission of the Night" honors. Really, choose any you'd like; they were all dominant, and they all proved that you do not want to go to the ground with this animal.
His bout with Quarry stands as the lone performance in this run that did not get him bonus money, though, and he would have certainly snagged that too if it wasn't for another particularly impressive work of jiu-jitsu on that night.
Don't worry, kind reader, we'll get to that later...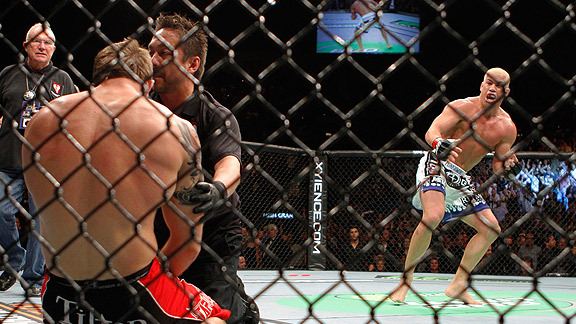 CREDIT: 411mania.com
Normally, I hate Tito Ortiz's over-the-top celebrations, but this one was absolutely warranted.
The 36-year-old Ortiz was essentially being fed to the proverbial wolf in this matchup, and the younger, more explosive Ryan Bader figured to have his number wherever the bout would go.
Bader had dynamite fists and a wrestling pedigree that is nearly unmatched in the light heavyweight division.
Ortiz, on the other hand, was on a five-fight skid without a victory, and he was, well, old and washed up.
Or so we thought.
"The Huntington Beach Bad Boy" clipped Bader with a punch early and immediately suffocated his wounded foe with a tight guillotine choke that forced the tapout in the very first round.
This was a huge upset at the time, and we were all reminded, if only briefly, just how dominant Ortiz can be.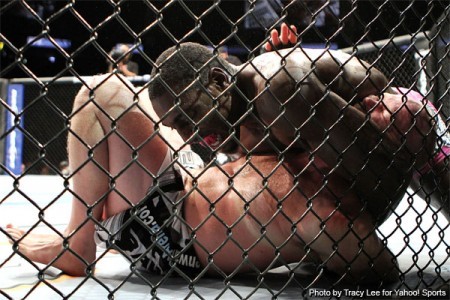 CREDIT: Tracy Lee/Yahoo! Sports via mmamania.com
I'm not the biggest fan of this submission (probably because I love Tim Boetsch, sue me), but there's no denying the epicacity (yes, I just made that word up) of Phil Davis' Mr. Wonderful at UFC 123.
The Mr. Wonderful was the first of its kind in UFC history, and that alone puts it high on the list. Add in the fact that Davis snagged it against a very strong and game Boetsch, and it's clear this was a pretty awesome moment for the young Davis.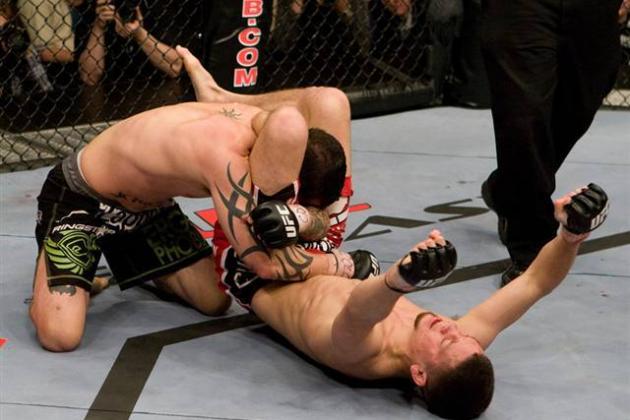 CREDIT: fightpassport.com
Nate Diaz's triangle choke victory over Kurt Pellegrino at UFC Fight Night: Florian vs. Lauzon was simply spectacular.
The execution, the technicality, and, of course, the unnecessary bragging by Diaz made this one of my all-time favorite submissions, and if that didn't sell you on it, you can check it out for yourself for free on ye ole faithful YouTube.
Enjoy that.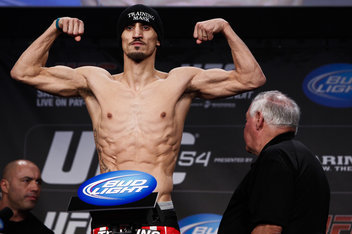 CREDIT: mmafighting.com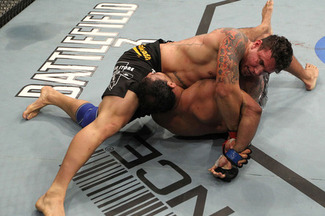 CREDIT: fightingwords.ca
Both Frank Mir's kneebar victory over Brock Lesnar at UFC 81 and his kimura win over Antonio Rodrigo Nogueira at UFC 140 earned him "Submission of the Night" and "Submission of the Year" honors.
Not bad, huh?
While these are Mir's only two "Submission of the Night" distinctions, there is no doubt in my mind he would have more if the bonuses existed for his entire career.
Of his eight submission victories inside the Octagon, four came before such an award was established, so it is not a stretch to think that he could easily have four or five to his credit instead of his current two.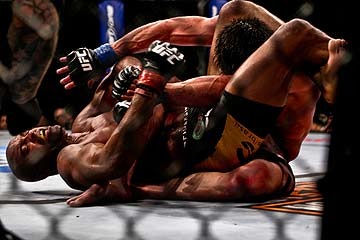 CREDIT: mma.sbnation.com
In case you are very, very new to the sport, allow me to break this one down for you.
The greatest mixed martial artist of all time, Anderson Silva (that's him on the bottom), was manhandled by arrogant and abrasive title challenger Chael Sonnen for 23 minutes at UFC 117.
Silva was the greatest champion in UFC history, but his aura of invincibility was slowly, but surely, going down the drain at the hands of Mr. Sonnen.
However, in one of the most heart-attack-inducing moments in MMA history, Silva threw up a last-minute triangle attempt...and he got it.
Sonnen tapped, the world clapped, my disinterested dog napped and I fapped.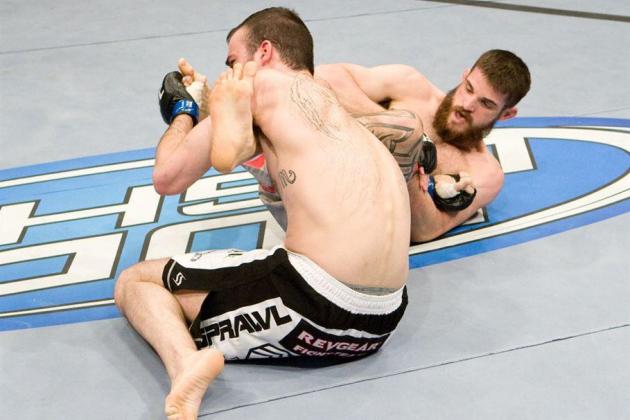 CREDIT: mmafrenzy.com
Remember when I mentioned somebody one-upping Mr. Demian Maia at UFC 91?
That man was Dustin Hazelett.
Hazelett won two "Submission of the Night" bonuses in his UFC career, and they were both absolutely magnificent.
His armbar against Josh Burkman at The Ultimate Fighter: Team Rampage vs. Team Forrest Finale is probably the finest armbar in UFC history, and his whatever-the-hell-that's-called against Tamdan McCrory remains one of my favorite submissions of all time (for the record, it went in the books as a reverse armbar).
Hazelett may not have been the best fighter ever, but he definitely provided some of the most spectacular moments of ground mastery, and for that, I thank him.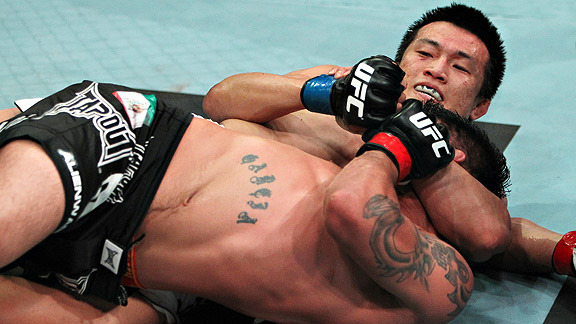 CREDIT: curtisandcowatches.com
It's almost too cliché to choose, but Chan Sung Jung's twister over Leonard Garcia at Ultimate Fight Night 24 really was that cool.
It was the first (and still the only) twister in UFC history, and it forced the tap with just one second left in Round 2 of what was already an exciting fight.
I'll be the first to admit I'm not quite as big of a fan of "The Korean Zombie" as the rest of the MMA world, but you have to give credit where credit is due, and credit is definitely due in this case.
The twister was awesome, it was original and it has not been duplicated since.
For that, Mr. Zombie, you have earned top honors.
Well played.
For fans of heavy metal, MMA or general absurdity, Follow @HunterAHomistek.