UCLA Basketball: Ben Howland's Christmas Wish List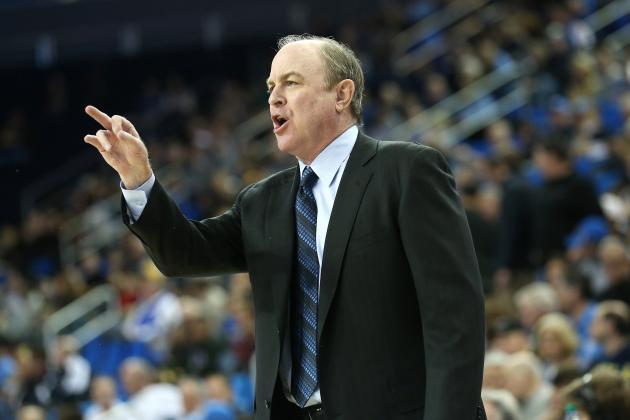 Stephen Dunn/Getty Images

UCLA cruised to victory over Prairie View A&M on Saturday by a comfortable 42-point margin (95-53) padded by freshman Shabazz Muhammad's season-high 25-point performance.
In what has been a rocky start for the UCLA Bruins, this was a defining win for momentum and team morale, but before you get out of your seat and begin leading an 8-Clap, let's put it all in perspective, Bruins fans.
Let's keep in mind that this was Prairie View, who was 3-4 in Division-I nonconference games with an RPI ranking of 170 approaching Saturday night's game. This was a team that resorted to dealing a low blow to Jordan Adams and cutting Shabazz Muhammad off from the basket with a dangerous flagrant foul when it was down in the game.
Regardless of how crummy the opposition was, UCLA displayed the same weaknesses that have lingered for the entire season. There were improvements, but there are nevertheless some major flaws that set off alarms much louder in Pauley Pavilion than Ben Howland's echoing cry for his team to move off the ball on offense.
As the Bruins approach their final three nonconference games, which culminate with a tough matchup against No. 12 Missouri, they'll hang their stockings on the mantel this year and hope that good ole St. Nick leaves them something special this Christmas—a new pair of those trendy headphones, or maybe some enthusiasm or even some good old-fashioned UCLA pride.
No one is setting out more cookies and milk in hopes of a generous visit from Santa this Christmas morning than head coach Ben Howland, whose seat on UCLA's bench has become unbearably warm.
Coach Howland doesn't want a lot this Christmas. He needs it.
Begin Slideshow

»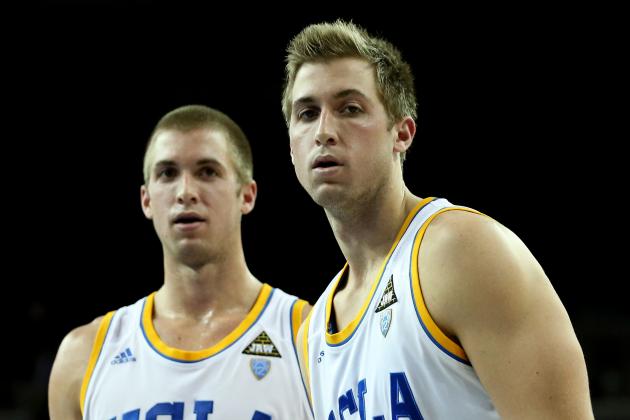 Stephen Dunn/Getty Images

The UCLA Bruins starting lineup is comprised of three freshmen who are very talented but are in need of guidance that they unfortunately haven't received from their upperclassman teammates.
Ben Howland can bark orders at his players all he wants but his commands often fall on deaf ears, which isn't conducive to UCLA's overall success. However, the dynamics of this team would be greatly altered if Coach Howland had a team leader who could serve as a buffer between him and his players
The few upperclassmen that are regular players—Travis Wear, Larry Drew II, and David Wear—have yet to assume leadership roles, which may be explained by the fact that they are all North Carolina transfers who are in their first and second years with the Bruins.
As the Bruins starting point guard, Drew, the team's sole senior, has taken the most leadership on the team, but it hasn't been enough to have a substantial impact on the team.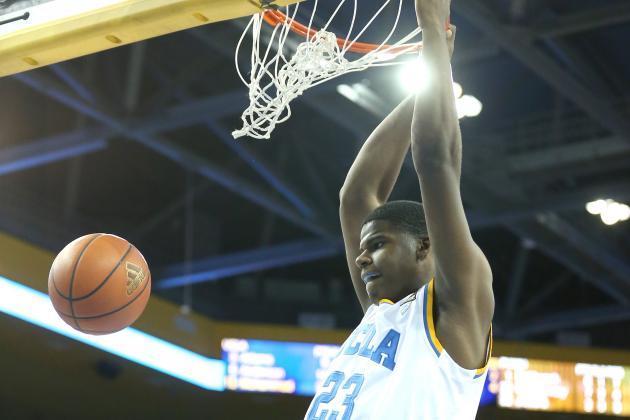 Stephen Dunn/Getty Images

The recent departure of junior center Josh Smith is ultimately positive for UCLA but it has left the team short on big men and thus more reliant on freshman Tony Parker, who is one of the UCLA Bruins' budding stars.
While Travis Wear will continue to be Coach Howland's starting forward and his twin brother David will continue to be the Bruins' sixth man, Parker brings an intensity and physicality that the Wear brothers have yet to display.
Parker exhibited vast potential in the Bruins' game against Prairie View, in which he posted nine points in 18 minutes; however, the 6'9" freshman has still yet to be tested against tough competition.
Although Coach Howland has a deep affection for the Wear twins, he needs Tony Parker to blossom quickly in order for UCLA to increase the depth of its bench.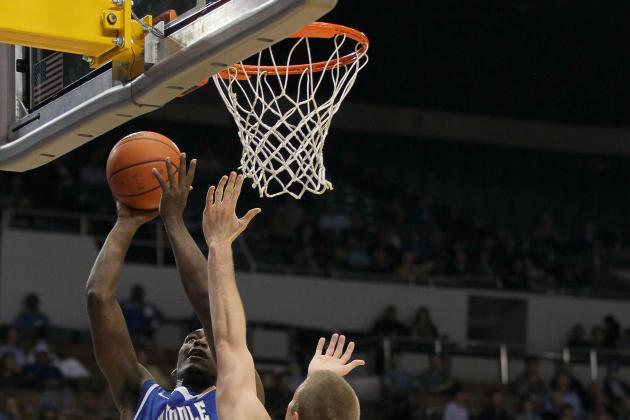 Stephen Dunn/Getty Images

Despite the improvements that Travis and David Wear have made this season, including more confident and accurate jump-shots, the two 6'10" junior forwards have exhibited the same lackluster physicality that they did in their first season at UCLA last year.
If the Wears are unable to amp up their physicality, especially on defense, the UCLA Bruins will be easily outmatched in the paint as they were last season and will prove no contest for the nation's top teams.
Coach Howland can forget about winning the Pac-12 or breaking back into the national conversation if the two aren't able to capitalize upon their size soon. If such is the case, he may be forced to resort to starting more-aggressive freshman Tony Parker over Travis Wear.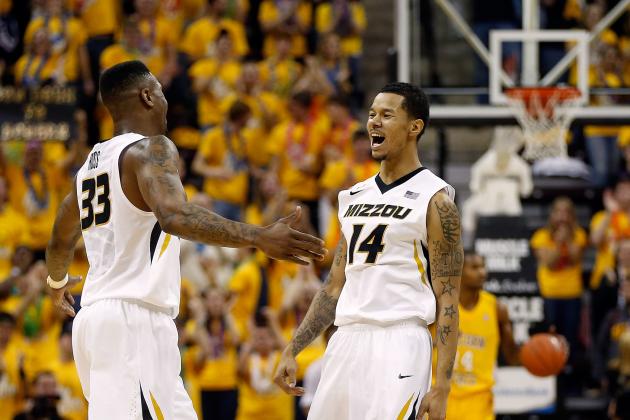 Jamie Squire/Getty Images

High on Coach Howland's list this Christmas is a victory over No. 12 Missouri in UCLA's final nonconference game on December 28.
Not only would it be a great win for the UCLA Bruins heading into their first Pac-12 game against Cal, but it would also quiet the critics—at least temporarily—who have been calling for Howland's head amid UCLA's rough start to the season.
Coach Howland's team has faltered against its toughest competition this season (Georgetown and San Diego State), which would make a win over Missouri a significant accomplishment for the squad.
Elsa/Getty Images

Coach Howland may have to search from within for this one, as it seems as though UCLA's lack of enthusiasm emanates from him, judging from the past few seasons.
Whether it be that he has simply lost touch with his players (or never possessed such an important aspect of coaching) or that this specific group of UCLA Bruins players is not motivated to play, UCLA will never live up to its fullest potential if the players don't have the motivation to give it their all every game.
This perceived lack of enthusiasm may also be rooted in the Bruins' deficit in fitness that they have displayed all season. Whatever the source may be, UCLA has to play basketball like it means it or it will be caught in the dust of strong Pac-12 teams when conference play commences.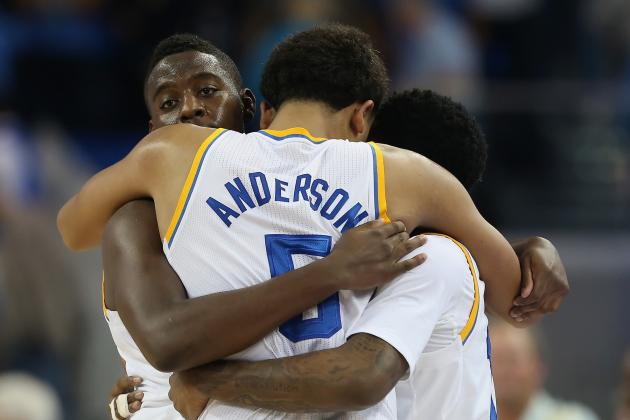 Jeff Gross/Getty Images

As talented as this team is, it lacks unity, which is a byproduct of the aforementioned voids of leadership and enthusiasm.
Coach Howland understands that in order for his Bruins to make their stake in the Pac-12 and make a solid NCAA Tournament run, they must be a unified group. From Shabazz Muhammad to Larry Drew II, every player has to be on the same wavelength in order for this team to shine.
A coach is vital in accelerating or aiding team unification, so once again, Coach Howland might be wishing for self-transformation this Christmas. Santa will have to be creative in wrapping that one.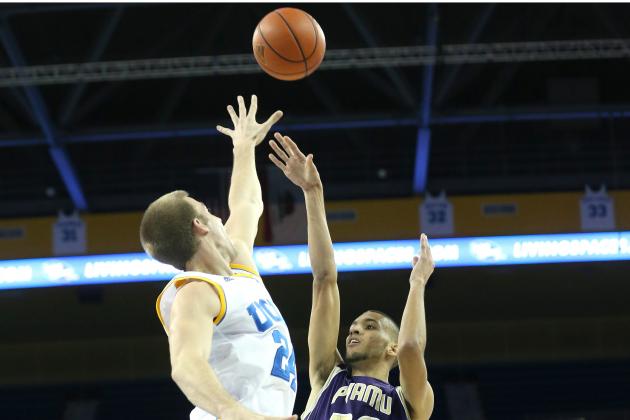 Stephen Dunn/Getty Images

It's the name of the game and what Coach Howland used to pride himself on until his teams proved inept in it: defense. Just as last season, UCLA has struggled on the defensive end and lost close games because of it.
Coach Howland has struggled to enact an effective defensive system this season and has alternated between a 2-3 zone and man-to-man, which have both exposed the UCLA Bruins' lack of unity and fitness.
Even though the Bruins held Prairie View A&M to 53 points in a blowout win while testing out a man-to-man defense, there were many holes in the defense, mostly due to miscommunication, that will undoubtedly be exposed in conference play.
Coach Howland understands that this team can't achieve any success without defense, which is why this is No. 1 on his list this Christmas. He promises to be good next year if you'd just give him this one thing, Santa.