Arsene Wenger: Is the Arsenal Manager the New Rafa Benitez?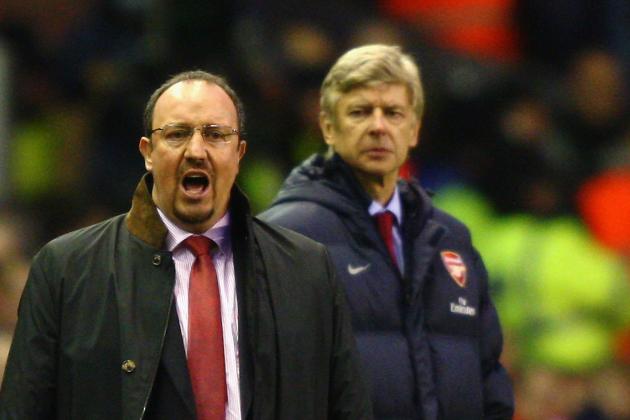 Clive Brunskill/Getty Images

Stop throwing stuff at me. Stop it. Give me a chance to explain myself!
Arsene Wenger is under sustained pressure for arguably the first time in his Arsenal tenure. A mixed run of results combined with being knocked out of the Carling Cup by League Two Bradford has left some people asking the question: Is it time for Wenger to go?
Despite leading Liverpool to second in the league in the 2008-2009 campaign, Rafa Benitez found himself out of a job at the end of the following season. Mixed results and a disillusioned fanbase meant that the Spaniard was shown the door.
Are there comparisons to be made between the two men?
Begin Slideshow

»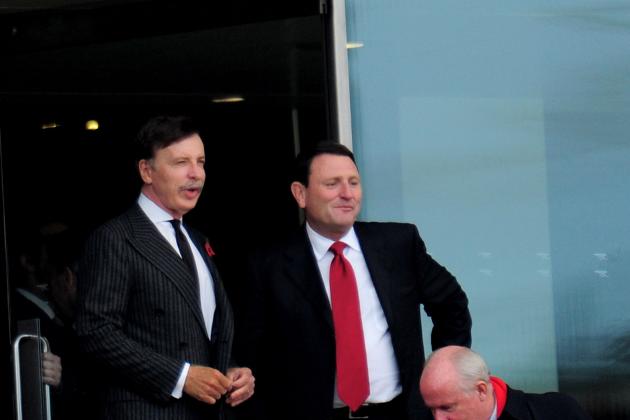 Shaun Botterill/Getty Images

OK, so Stan Kroenke and Alisher Usmanov haven't quite got to the point that they are no longer talking to each other, but it's fair to say that all is not well in the state of Arsenal.
Hicks and Gillett were seen by Liverpool fans as being blood-sucking vermin who slowly destroyed the soul of the club. They were not interested in building stadiums or winning trophies; they just wanted a profit, whatever the cost.
Stan Kroenke may not be quite so militant, but he isn't far off.
Arsenal continue to sell their best players (Samir Nasri, Cesc Fabregas, Robin van Persie) without bringing in suitable replacements. But as long as they operate at a profit, their major shareholder won't be too concerned.
This pursuit of profitability led Alisher Usmanov to release a letter on behalf of Red and White Securities Limited earlier this year. A letter which, though he claimed he was trying to do the opposite, destabilised the board in the eyes of the fans.
The Arsenal boardroom isn't yet ready to "go to the mattresses" in the spectacular way that Hicks and Gillett did at Liverpool. But they're getting close.
At Liverpool, Rafa Benitez was like a child mature beyond his years, trying to keep things civil between two warring parents in the middle of a bitter divorce. Eventually, it took its toll, and when he wasn't allowed to get on with managing the football side of things, it all began to unravel.
Wenger is starting to have that same worn-down look in his eye that Rafa had towards the end. When Benitez left Liverpool, it was clear just how important to the club he really was. Will we see the same with Wenger?
Victor Fraile/Getty Images

Prior to his becoming Chelsea manager, most Liverpool fans would talk of Rafael Benitez with unabashed reverie. His Champions League win and 2008-2009 title challenge meant that he was forever and always the hero of Anfield Road.
But the truth is that by the end of the 2009-2010 season, fans were split about Benitez's ability to take Liverpool forward.
Perhaps they had been sold a lie by Christian Purslow about just what was going on behind the scenes. Maybe they felt he'd taken the club as far as he could and it was time to bring someone else in to freshen things up.
Whatever the reason, Reds fans were no longer on the same page, and Rafa couldn't count on their collective support. It felt very much as if Benitez had lost the dressing room, as the old cliche goes, and not everyone was convinced he could find it again.
Fast forward two and a half years, and some Arsenal fans are asking similar questions of Wenger. Has he lost the dressing room? Are his tactics growing stale? Has he taken the club as far as he can?
There is no arguing about the fact that Arsene Wenger is a world-class manager. And despite what Chelsea fans and some members of the media might have you believe, the same can be said of Rafa Benitez.
But just like the Spaniard at Liverpool, it seems as though the Frenchman might just be getting to the end of the line.
When the fans no longer chant your name with the same vigour they used to, you know the clock is ticking.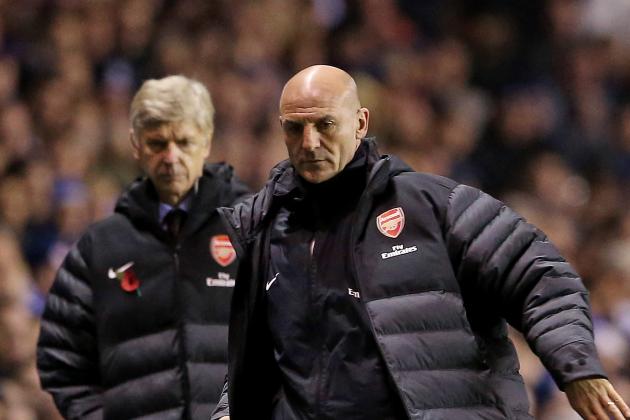 Scott Heavey/Getty Images

When Pat Rice left Arsenal at the end of last season, the big question was, who would take his place?
Steve Bould's appointment as Wenger's new No. 2 was designed to be a match made in Heaven. Bould's solid defensive thinking aligned with Wenger's more attacking verve would surely lead to a return of winning ways.
But reports emanating from Arsenal's Colney HQ suggest that things are less than cordial between the pair.
Arsene, like Rafa, is a control freak. They both like to be in charge of every aspect of their team, from training and tactics through to travel and diet. They take advice from experts, of course, but they know what they like and they like what they know.
Wenger's lack of trust in Bould seems to have the same edge to it that Rafa Benitez's relationship with Pako Ayesteran took on before the Spaniard's assistant left the club.
Admittedly in that instance Rafa and Pako at least got on quite well in the first place. The fallout came because Ayesteran started to make eyes at other teams, hurting Rafa's pride as well as breaking his trust.
But the simple fact is that when a manager doesn't get on with his No. 2, the players get caught in the middle.
Some Arsenal players are reportedly asking for more defensive-based training sessions, with Bould the obvious candidate to lead them. Arsene, though, isn't particularly keen, leaving Bould out in the cold this Christmas.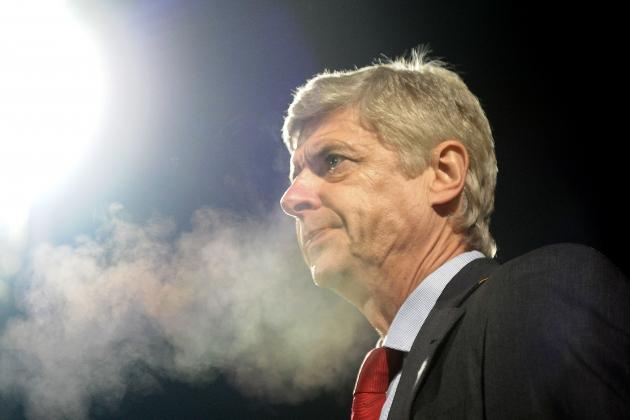 Laurence Griffiths/Getty Images

Xabi Alonso is a player most Liverpool fans still hero worship. Scorer of the third goal in THAT Champion's League Final, the midfield maestro remains one of the stand-out signings of the Benitez era.
But a mediocre 2007-2008 campaign from the Spaniard led to Rafa wanting him out to be replaced by Gareth Barry. That move never materialised, but both men knew their time together was drawing to an end. Benitez had made up his mind: Alonso had to go.
Benitez's stubbornness doesn't stop there. Since being appointed Chelsea manager, we have seen a man convinced of his own abilities. He is confident that his tactics and style of play will be the answer for Chelsea and will stick to his guns, even if he shoots himself in the foot whilst doing so.
It's an admirable trait, and his previous successes at Valencia and Liverpool show that he is right to have faith in himself.
Just like Arsene Wenger.
The Arsenal manager also has faith in his own abilities. He is confident that his tactics will win out at the end of the day and believes that Arsenal's passing style remains the way to victory.
As for his attitude to transfers, for Alonso, read Fabregas. Or Nasri. Or Van Persie. Or, by the looks of things, Walcott.
The man they call the Professor won't take any messing about in the transfer window. If someone wants to go, then he'll help them pack their bags, but only for the right price.
Yes, Arsenal have been here before under Wenger. Their start to the season last year was equally as indifferent, and losing 8-2 to Manchester United certainly didn't help.
But they always looked like they could kick on and keep their heads above the water.
This year, though, they don't seem quite as likely to get the run of results they need to creep back in to the top four.
Sometimes in football, things go stale. Rafa Benitez was the glue holding a rapidly declining Liverpool together, a fact that was only properly noticed once he was no longer there.
If Wenger goes, will Arsenal rise once more with a new leader at the helm or fall apart like a Rich Tea biscuit in a boiling mug of tea?
More importantly, how much longer will it be until we find out? Lose to Reading tonight, and the patience of the Arsenal fans might just be stretched to breaking point.