Three Reasons Dos Santos vs. Velasquez Will Become a Classic UFC Trilogy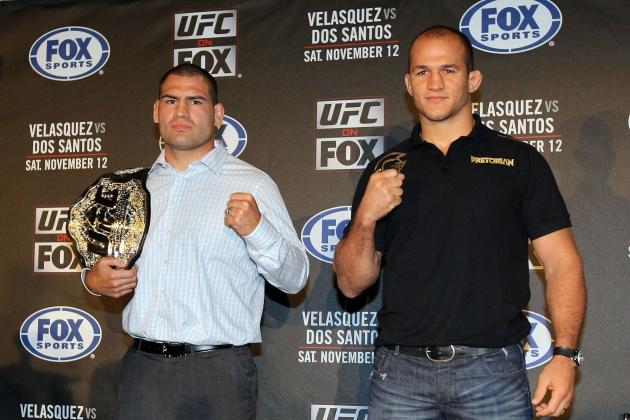 Victor Decolongon/Getty Images

Some of the most storied rivalries in UFC history got squashed in grudge matches. The completion of trilogies like Chuck Liddell vs. Randy Couture, Georges St. Pierre vs. Matt Hughes, and Frankie Edgar vs. Gray Maynard, each helped establish today's Zuffa-owned UFC while paving the way for potential rubber matches between superstars like heavyweight champ Junior Dos Santos and former heavyweight kingpin Cain Velasquez.
But a rematch between Dos Santos and Velasquez didn't even seem imminent after Cigano dispatched of the former Arizona State University wrestler in just 64 seconds at the first installment of the UFC on Fox in February 2011. Velasquez, however, needed just one outing, albeit a gruesome and bloody one, to persuade the UFC brass to give him another crack at Dos Santos and the belt he once wore for just over six months.
Regardless of who prevails in the rematch, two things seem inevitable: Velasquez will show his true colors and put on a much better show this time, and the loser will remain a significant force in the heavyweight division.
The following are four reasons the Dos Santos -- Velasquez saga will grow into a classic UFC trilogy.
Begin Slideshow

»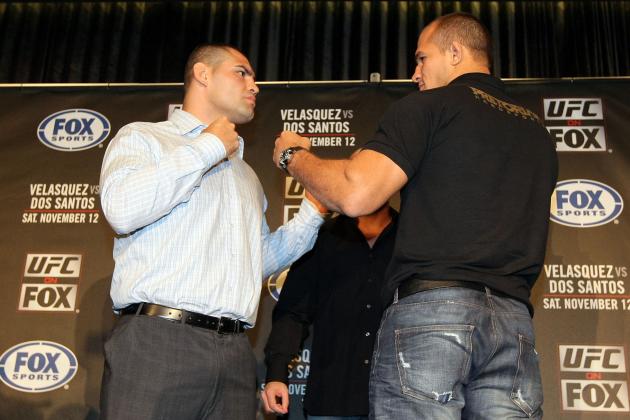 Victor Decolongon/Getty Images

Just as Velasquez has achieved stardom by perpetually flooring and mauling his opponents, Dos Santos has made his mark by fine-tuning his takedown defense in an effort to impose a Chuck Liddell-esque game plan. They've taken different approaches, but both men have managed to utilize their respective departments of wrestling expertise to dictate where their fights transpire.
While Velasquez has competed in just 12 professional tilts, nine of which have come in the UFC, he's landed 13 more takedowns than Cigano, who has racked up 16 pro bouts, including nine in the UFC. In fact, since his first scrap in the UFC in April 2008, Velasquez has become one of the UFC's most prolific and efficient takedown artists, executing 71 percent of his attempts (16-of-22) and averaging 6.61 floorings for every three rounds he fights.
In contrast, Dos Santos has finished just 3-of-4 career takedown attempts and has stuffed 88 percent of his opponent's shots, including attempts from top-notch grapplers like Shane Carwin, Frank Mir and Roy Nelson.
And like countrymen and UFC featherweight champ José Aldo, Dos Santos uses his extraordinarily flexible hips to keep the fight standing, a place he can enact a game plan that's more tailored to his strengths. Just ask Carwin, Mir and Nelson, among others, and they'll tell you how difficult grounding Cigano has become.
Being on bottom against Velasquez or trying to strike with Cigano from a distance pose different threats to any of their potential challengers. Anyone who's willing to play to the strengths of Velasquez or Dos Santos will quickly realize that it's a costly mistake.
Six months after Dos Santos took the belt from Velasquez, Cigano was slated to face former Strikeforce, K-1 and Dream champion Alistair Overeem, but the Dutch kickboxing specialist tested positive for elevated levels of testosterone and received a nine-month suspension in April.
Because the only other worthy contender, Daniel Cormier, was still signed with Strikeforce, the UFC approached Frank Mir, a former heavyweight champ with a worn-out chin, to take on arguably the most heavy-handed fighter in the UFC. Dos Santos exposed Mir's fragile jaw with a second-round knockout, making the main event at UFC 146 in May seem like a gross mismatch.
With Overeem temporarily out of the picture because of a scheduled fight with Antonio Silva at UFC 156 and Cormier still under contract with Strikeforce, few obvious challengers remain for the winner of the Dos Santos vs. Velasquez fight.
Following Travis Browne's setback to Silva at the UFC on Fox 5 in October, Fabricio Werdum became the only contender who could prove worthy of challenging Cigano or Velasquez in the near future—that is of course if he can avenge one of his five career losses in a likely rematch against Antônio Rodrigo Nogueira.
If Overeem and Werdum each happen to fall in their next fights, light heavyweight champion Jon Jones might be the only man left on the planet who could test Dos Santos or Velasquez.
The fact that Dos Santos and Velasquez will meet for a second time in a title fight in the UFC speaks volumes to the drastic measures they each take to physiologically and psychologically peak for fights.
Although they've built reputations as finishers, with both men finishing seven of their nine UFC foes, both Dos Santos and Velasquez have proven that they train to go the distance in five-round wars. Dos Santos did it twice by brutalizing Roy Nelson and Shane Carwin for unanimous decision wins in back-to-back fights at UFC 117 and UFC 131, and Velasquez did it by whipping Cheick Kongo for a unanimous decision nod at UFC 99.
Dos Santos and Velasquez have teamed up with two of the most renowned teams in the business to ensure that they walk in the cage in peak physical and mental shape.
Dos Santos has formed a tight alliance with the Nogueira brothers (Antonio Rodrigo and Antonio Rogerio), two of the most talented and savvy Brazilian fighters in mixed martial arts history. The guidance of the Nogueira's has certainly rubbed off on Cigano, and like the twin brothers he's followed into the business, Dos Santos whips himself into stellar cardiovascular and mental shape. It's because of these measures that Dos Santos not only possesses the gas tank to brawl for a 25-minute title fight, he also has the cognitive discipline to develop and execute an intricate game plan.
Velasquez also has a great stable of peers to sponge off and evolve alongside at the American Kickboxing Academy. Standouts like Cormier, Mike Kyle and Muhammed Lawal, among others, have helped Velasquez mature from an All-American college wrestler to a champion mixed martial artist. And like Dos Santos, Velasquez has adopted qualities from each of his teammates, all of which have helped him transform into a dangerous fighting machine.