The Ultimate Fighter 16 Finale Results: The Real Winners and Losers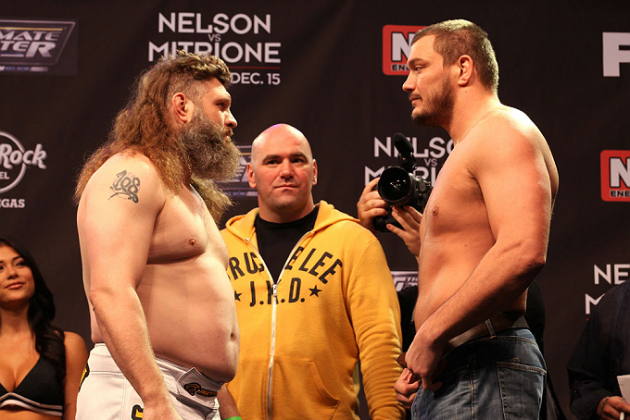 Photo Credit: UFC/Zuffa
In a night filled with many impressive finishes, The Ultimate Fighter 16 Finale held an entertaining collection of fights across six different weight divisions.
Most important of all was the main-event matchup featuring TUF 10 competitor and TUF 16 coach Roy Nelson, a standout personality in the UFC roster for his size and attitude.
In what would've been a massively important fight for his division, Nelson was originally scheduled to face former interim heavyweight champion Shane Carwin.
Unfortunately, Carwin's constant injuries caught up to him, causing fellow TUF 10 alumnus and former NFL player Matt Mitrione to step in on short notice.
Further down the card, there was a good bit of drama between Melvin Guillard and Jamie Varner, along with more solid performances from the TUF finalists and two more heavyweights.
As usual, we're here to break down those fights along with everything else on the card, separating the real losers from the real winners of The Ultimate Fighter 16 Finale in Las Vegas. Click along as we recap the entire event for you at Bleacher Report MMA.
Begin Slideshow

»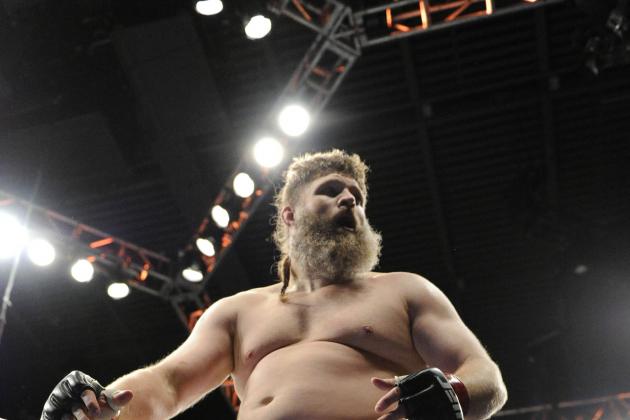 Josh Holmberg-USA TODAY Sports

No matter how many barbs Dana White throws Roy Nelson's way, the TUF 10 winner just keeps on truckin'.
Nelson and his beard endured a rough onslaught of kicks to put down Matt Mitrione, stringing together a heavy combination that finished the Blackzilian member.
That gives Roy Nelson his second set of back-to-back wins on a 5-3 UFC record, with his only losses coming at the hands of elite company like Frank Mir and champion Junior dos Santos. Sorry, Dana, but Nelson may never drop the weight and cut his beard.
But as long as he keeps knocking out heavyweights and entertaining the crowds, it's hard to tell that man to do anything he doesn't want to do. But can "Big Country" keeping climbing up to a title shot?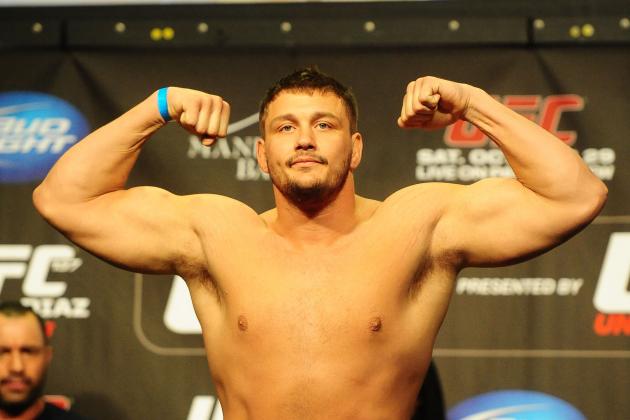 Mark J. Rebilas-USA TODAY Sports

Mitrione has spent the last month or so going under and over the proverbial bus, first for declining a Strikeforce fight with Daniel Cormier but stepping up to fight Roy Nelson on short notice.
Although the Blackzilian member was looking good with leg kicks and strong grappling, Roy Nelson eventually found Mitrione's chin, slamming him right on the jaw with a heavy knockout uppercut-and-hook combination.
Did losing his mouthpiece factor into the loss?
Maybe, but the fact remains that Mitrione is now on a two-fight losing streak—and his public spat with still Dana White isn't not too far in the past.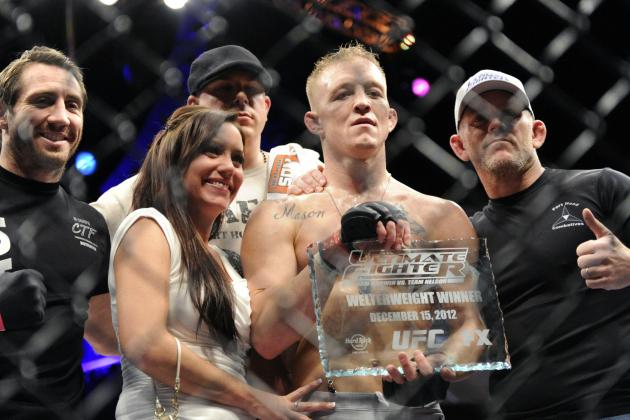 Josh Holmberg-USA TODAY Sports
Pictured: Colton Smith (center)
Although he insisted it wouldn't be a problem, Ricci simply couldn't deal with Colton Smith's massive size advantage and grappling game despite a significant reach advantage.
Where was the confident Tristar Gym fighter who insisted that Smith simply was not in his league?
Smith was all over Ricci from the start, threatening him with various submissions and takedowns en route to a heavily one-sided decision victory for the six-figure TUF 16 contract.
Still, Ricci fought a good fight, nearly turning everything around with a Hail Mary armbar attempt late into the third round.
Colton Smith, on the other hand, looked very much like the bad guy in that odd early exchange, taking advantage of the situation to press the attack against his wounded rival and punch him in the throat.
Don't forget, this isn't the first time those questionable tactics have occurred. Smith also faked a glove-touch in his TUF qualifier and sneak-attacked his opponent to get into the house in the first place.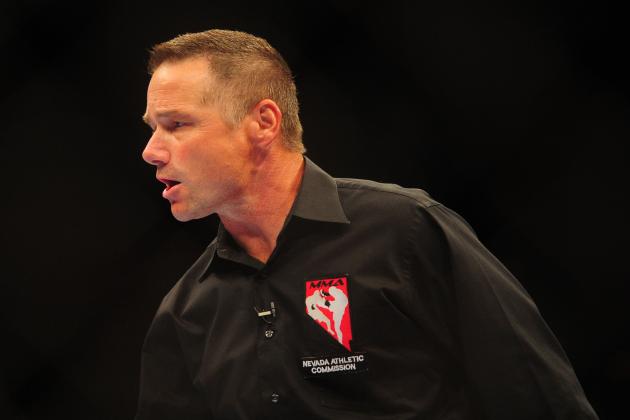 Mark J. Rebilas-USA TODAY Sports

Early in Round 2, Mike Ricci got hit with a visible low blow that probably should've warranted a break in action.
Unfortunately for Ricci, Mazagatti didn't indicate whether or not to continue fighting, leading to a surprise attack from Colton Smith that could've ended the fight.
Even UFC color commentator Joe Rogan wondered aloud what Mazagatti was doing, noting that the low blow was even more obvious in the instant replay.
Just chalk it up as another bad moment for MMA officiating, and likely just another growing stomach ulcer for UFC frontman Dana White.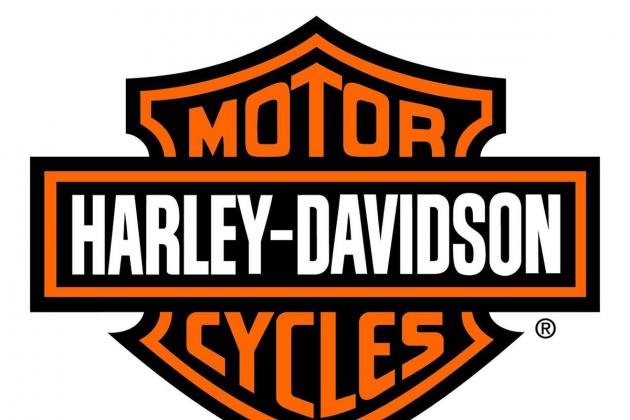 TV advertisers were probably stoked when the Melvin Guillard vs. Jamie Varner fight fell apart, because that definitely upped the amount of commercials on the TUF 16 Finale broadcast.
Personally, all that overexposure means I couldn't hate cell phone carriers and motorcycles any more than I do right now.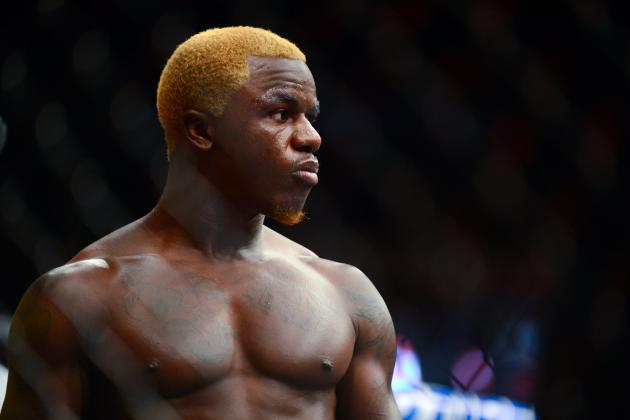 Ron Chenoy-USA TODAY Sports
Pictured: Melvin Guillard
Before the prelims were even over, news broke that Jamie Varner had fallen ill, causing his fight with Melvin Guillard to be scratched. Whether it was nerves or something else, it was enough for NSAC director Keith Kizer to call off the bout.
Though both fighters will get paid for showing up to the event, it's hard to call anyone a winner in this situation, especially since they looked to be potential frontrunner for "Fight of the Night" on the card.
Even worse, Guillard trashed Varner on Fuel TV, implying that Varner faked his illness to avoid fighting him due to a greasing concern.
Guillard then stated Varner had lost the right to ever fight him, only to be told by interviewer Heidi Androl that Dana White had already moved the fight to UFC 155. Talk about awkward.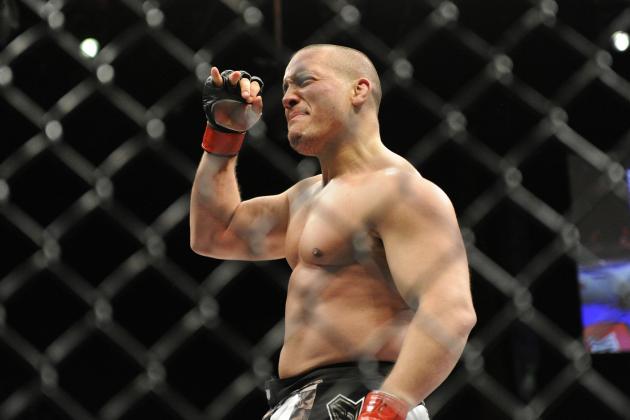 Josh Holmberg-USA TODAY Sports

Pat Barry may never be a UFC champion, but he's established himself as a worthy measuring stick for the rest of the heavyweight division.
Even though his admitted weakness is anything involving the ground game, Barry stayed calm under the threat of submissions, getting the fight into the second round where he could end it with a massive overhand punch.
There's still some work to do for Barry, though.
While his personality and heartfelt interviews help him stand out in the UFC roster, he's still 5-5 in the promotion overall, with losses against quite a few fighters he frankly should have beaten.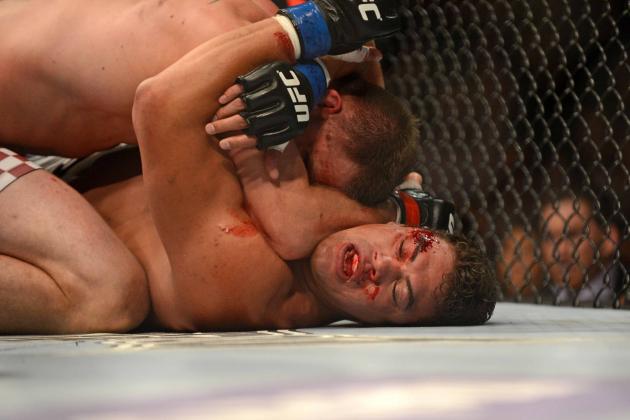 Ron Chenoy-USA TODAY Sports

Things aren't looking good for del Rosario, who's now facing a two-fight losing streak after a 10-fight undefeated stretch.
While the Stipe Miocic loss was forgivable and competitive, Pat Barry isn't exactly the pinnacle of the heavyweight division. Nonetheless, Barry is also a very effective measuring stick.
So what's next for del Rosario?
Whatever it is, a readjustment on his cardio training should be at the top of the list. Out of the three times that del Rosario has gone into the second round during his career, he's lost twice.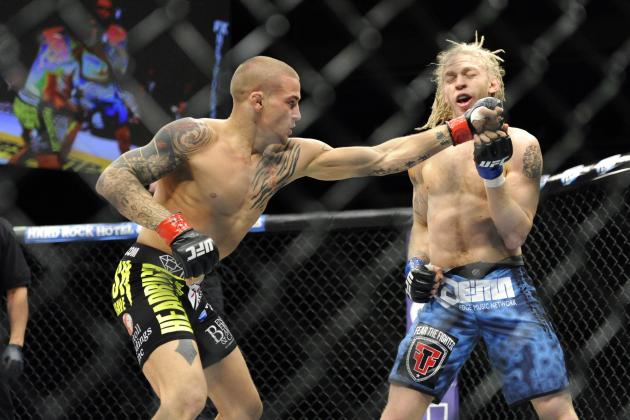 Josh Holmberg-USA TODAY Sports

In one of the most thrilling single-round fights of the year, Ultimate Fighter winner Jonathan Brookins came within inches of stopping Dustin Poirier.
With Poirier's back against the cage, both fighters slugged it out on the feet in a brilliant exchange of strikes, throwing caution to the winds and going for the finish right at the start.
Poirier showed flashes of brilliance, counter-punching and grappling his way through two more brawls, eventually trapping Brookins in a textbook D'arce choke to win the fight.
Dana White and the UFC couldn't have asked for a better opening to the shortened main card—it's just too hard to call anyone a loser in a performance like that.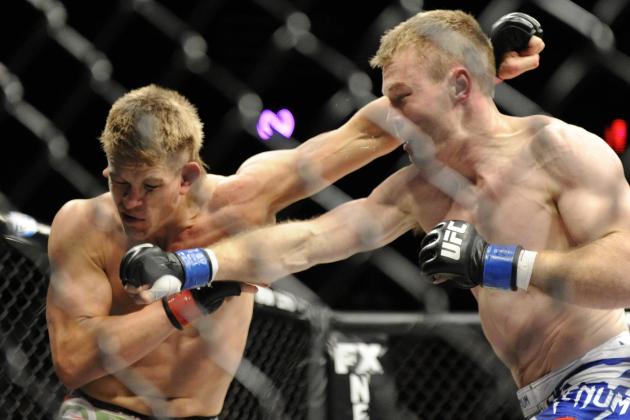 Josh Holmberg-USA TODAY Sports
Pictured: Mike Pyle (left)
After 13 years as a professional, the former Welterweight WEC Champion is seeing a nice resurgence as a UFC fighter. Of course, Pyle has always been a solid talent.
One tight Thai clinch spelled doom for opponent James Head, as Pyle poured on the punishment en route to a particularly impressive TKO stoppage. Even if he looks like a bleached Miguel Torres, Pyle has clearly remained an elite talent.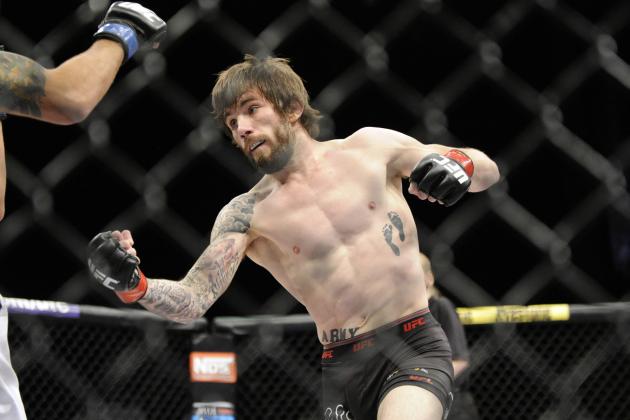 Josh Holmberg-USA TODAY Sports

Bedford flawlessly executed his game plan against Marcos Vinicus, picking his shots on the feet and controlling things on the ground long enough to gauge the danger.
Despite a hard blow to the groin, Bedford answered back with a furious blitz of strikes, decisively finishing the bout with a kick to the body followed by several punches.
That moves Bedford to a 3-0 streak, and a gaudy 8-1 in his last nine fights.
Not too shabby for a former Ultimate Fighter competitor—that could put him a lot closer to title contention, or if he cuts more weight, a potential rematch against the man who eliminated him, John Dodson.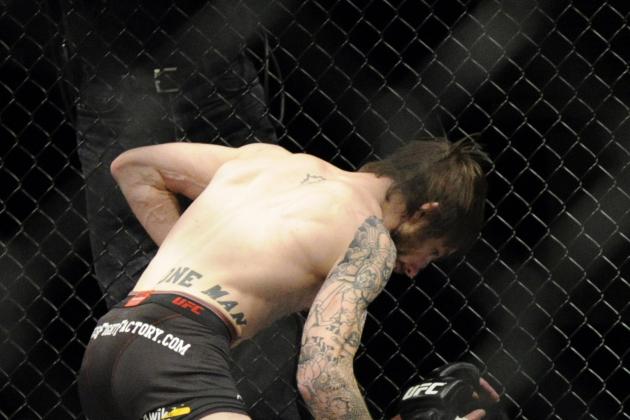 Josh Holmberg-USA TODAY Sports
Pictured: Marcos Vinicius (right)
Most Ultimate Fighter competitors aren't created equal, and Vinicius proved to be far less than Johnny Bedford in their two-round preliminary fight.
From the first round, it was clear that Bedford had an edge in the striking game, fearlessly closing the distance on several occasions and hurting the Brazilian with sharp shots.
One powerful blow in Round 2 spelled the end for Vinicius, which is ironic considering that he previously won "Knockout of the Night" at UFC 147 in Brazil.
Vinicius is 1-1 in his UFC career now, but expect him to stick around in the company for now thanks to his lopsided record and prior win against Wagner Campos.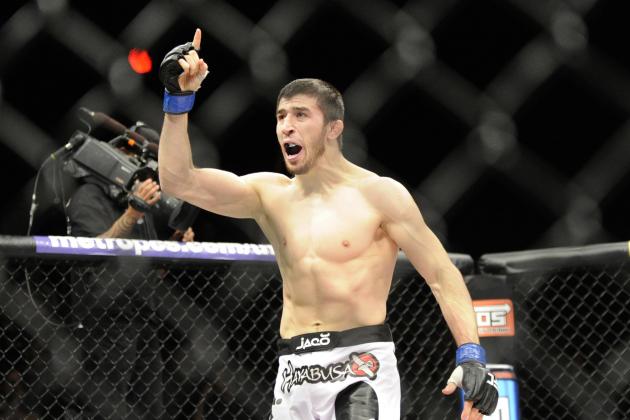 Josh Holmberg-USA TODAY Sports

Khabilov made a spectacular UFC debut at the expense of Vinc Pichel, nailing big suplex after suplex on his hapless foe.
It was a combination of height, power and elevation that eventually put Pichel to sleep, wowing the crowd at the Hard Rock Hotel and Casino.
Absolutely brilliant.
If Khabilov's grappling and striking game proves to be as effective as his suplex slams, the M-1 Challenge veteran has a bright future ahead of himself in the UFC.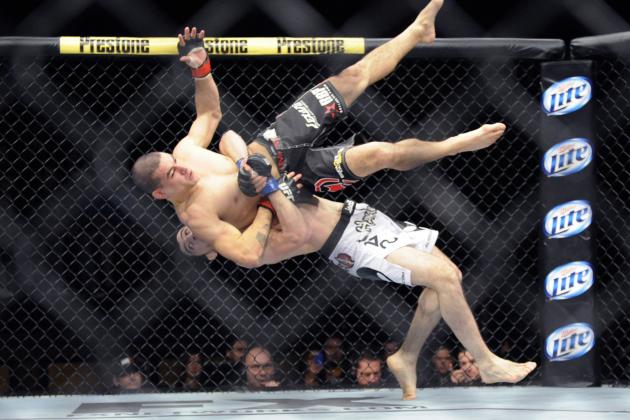 Josh Holmberg-USA TODAY Sports

Poor Pichel was never really in the fight, getting controlled by Russian Sambo master Rustam Khabilov en route to a KO finish.
Any fans of Nate Diaz watching this fight may have horrible flashbacks to the Stocktonian's fight against Rory MacDonald, as Pichel was mercilessly suplexed into utter oblivion, eventually getting knocked clean out.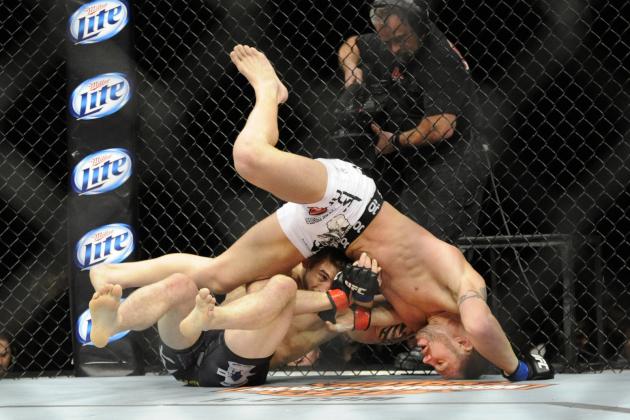 Josh Holmberg-USA TODAY Sports

In a superb show of grappling prowess, Waldburger turned a blitz of strikes into a chain of tight submission defenses. Starting with a solid guillotine choke, Waldburger snaked his legs up and sealed a picture-perfect triangle submission that put Nick Catone to sleep.
That gets Waldburger back into the win column after a tough loss against Brian Ebersole, which looks even better after he got thoroughly controlled by Catone in the first round. With 13 career submission wins, it's hard to believe Waldburger isn't a jiu-jitsu black belt.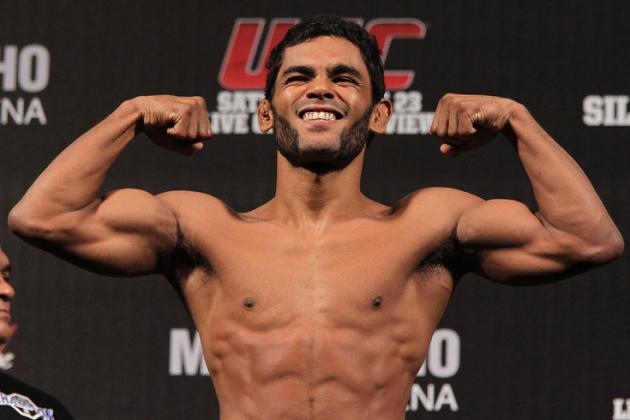 Photo Credit: UFC/Zuffa
Hugo "Wolverine" Viana hurls punches like baseball pitches, throwing his entire body weight into his destructive hand-blasts.
Cutting down to bantamweight has proven to be a wise decision for the Brazilian bomber, who chopped down Reuben Duran with a beautiful fight-ending haymaker that literally spun Rueben around mid-fall.
But as amazing as the knockout was, you've got to appreciate Duran's chin.
This fight could've been over much earlier in the round, but Duran absorbed multiple knockout blows, at one point even daring Viana to give him more punishment. Unwise, but still very gusty.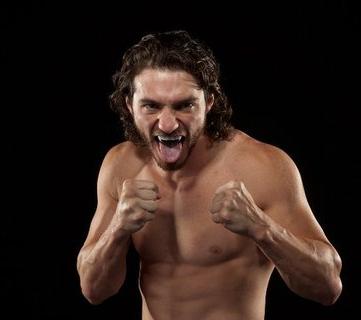 Photo Credit: UFC/Zuffa
It's a shame that Rio couldn't finish TUF 15 due to injury, but his UFC debut more than made up for it on a thrilling submission win with seven seconds left in the fight.
Rio continuously hunted for a finish in an extremely close match with fellow TUF: Live competitor Jon Cofer, despite his corner telling him that he was winning rounds. Definitely a wise move on Rio's part, who was arguably losing.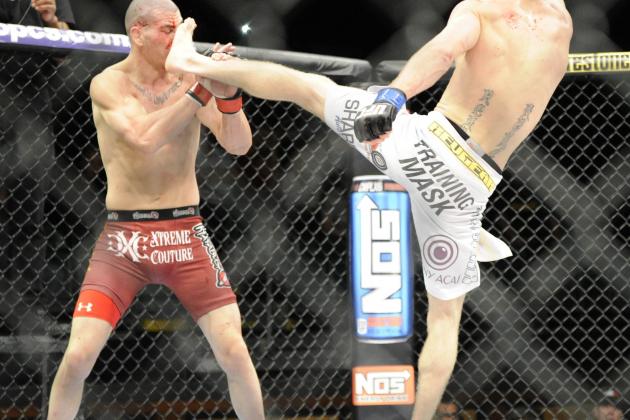 Josh Holmberg-USA TODAY Sports
Pictured: Tim Elliot (right)
Elliott must have a switch hidden in his head. Once opponent Jared Papazian hit him low with an illegal knee, Elliott turned into a completely different fighter.
Taking Papazian down the mat, Elliott spent the rest of the three rounds unleashing some heavy ground-and-pound striking. By the end of the incredibly one-sided decision, Papazian was coated in his own blood, likely splattering some on cageside officials.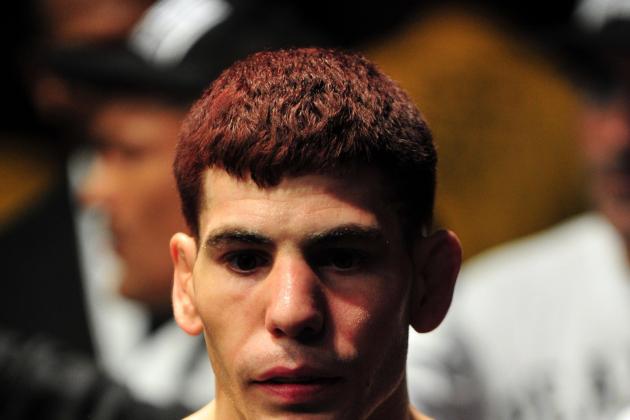 Don McPeak-USA TODAY Sports

For shame, Papazian.
Losing a decision like that has to be hard on a fighter, but it sounds even worse when you're docked points for a low blow on top of losing a 10-8 in the third round.
But there was something else to make the loss sting just a little more for Papazian.
After the final bell, he showed some particularly poor sportsmanship by trying to confront Elliot, causing the referee to forcefully separate them. Poor form from Papazian—as if move that would've somehow erased the brutal beatdown that he just suffered a few seconds ago.