South Carolina Football: 5 Biggest Roster Holes for Gamecocks to Fill in 2013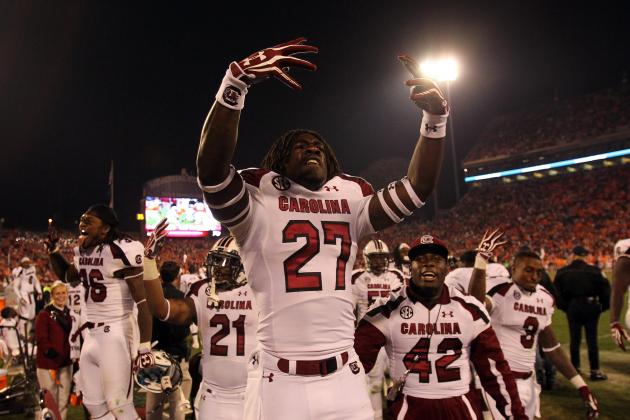 Streeter Lecka/Getty Images

I'm not a huge Counting Crows fan, but this time of year I'm always reminded of the lyric "A long December and there's reason to believe, maybe this year will be better than the last."

Of course the song's frame of reference is definitely not college football, but for the fans of the South Carolina Gamecocks, like all teams, sitting through the long December of waiting before the January bowl season certainly leaves more than a little thought that, yes, maybe (and hopefully) this upcoming year will be better than the last.

Holes. It's all about plugging holes in the roster between graduation and transfers of key personnel. "Next man up." You get the idea.

Certainly where the Gamecocks won't be lacking is at quarterback between returning senior Connor Shaw and rising junior Dylan Thompson. The offensive line isn't in bad shape either with virtually all the current starters coming back with the exception of one (who does happen to be a key member of the team).

If there is to be a posturing about a list of holes to fill for the Gamecocks, it will definitely center around the reorganizing of a defensive unit that, on the whole, has been well recognized as one of the best in the country (currently ranked 12th in FBS) and been a key ingredient to South Carolina's success this year.

That said, let's take a look at some of the key positions the Gamecocks will need to fill for the 2013 season.
Begin Slideshow

»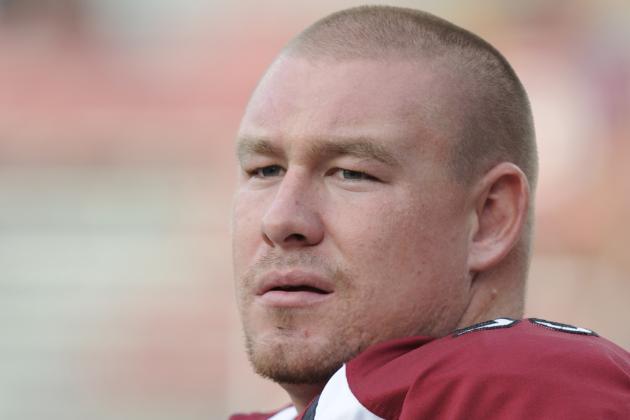 Mary Ann Chastain/Getty Images

On the whole, the offensive line for South Carolina came into 2012 as a pretty young group that went through a couple of reshuffles throughout the season. The line had to find the right combination upfront to create openings in the running game and pass-protect for Connor Shaw and Dylan Thompson.
Fortunately, most of those guys (if not all) will be back for 2013 to build upon the experience gained this year.
That is, except for senior center T.J. Johnson...
If there was a living embodiment of Bob Seger's song "Like A Rock," it has been Johnson over the years for the Gamecocks. Coming into 2012, Johnson had started all 40 games he had played for Gamecocks and only needed seven starts this season to surpass Cliff Matthews as the all-time leader in South Carolina history.
Needless to say, Johnson has been a leader up front for the Gamecocks in creating protection for the running and passing game, and his absence in 2013 was certainly be a big hole to fill.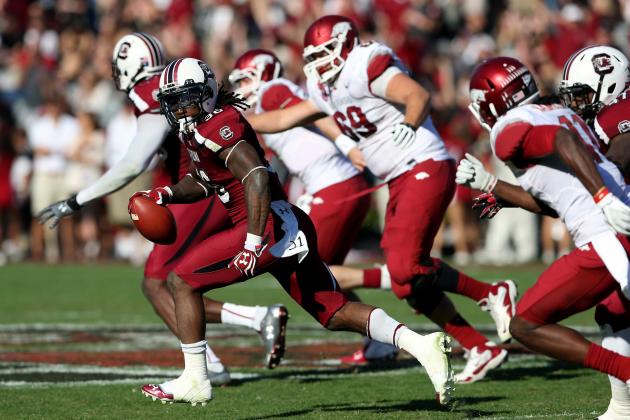 Streeter Lecka/Getty Images

"Who hits harder than D.J. Swearinger? NOBODY!"
The senior safety/cornerback turned 2012 into his own personal rendition of the band Body Count's self-titled track with the devastation he laid against opponents all season long.
Totaling 71 tackles and one interception this season, Swearinger's standout game was against Arkansas back in October when he had 13 of those 71 total tackles against the Razorbacks and his lone interception on the year, which he returned 69 yards for a touchdown.
Certainly, the SEC has scrutinized Swearinger for his hits at times this season (this monster against UAB caused him to be suspended for the game against Missouri), but without a doubt he has been a critical part of the defensive backfield.
If nothing else, it's simply Swearinger's presence the Gamecocks will miss the most when filling that hole next season.
Currently on the depth chart (courtesy of rivals.com), the Gamecocks have sophomore Kadetrix Marcus behind Swearinger at safety, so Marcus could be their next man up in 2013. "On with the body count?"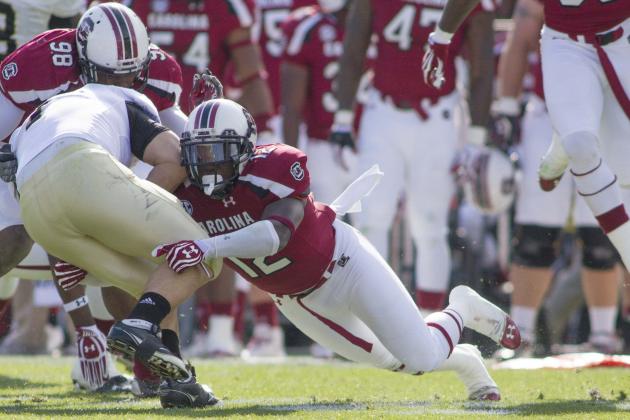 Jeremy Brevard-USA TODAY Sports

The Gamecocks will have Jadeveon Clowney back for probably one last season, but they'll be losing another major leader on the team in fellow defensive end Devin Taylor.
Taylor had been a key part of the South Carolina defense even before Clowney came on the scene last year, but with the meteoric rise of his sophomore teammate, Taylor found more than his share of open alleys to the opponent's backfield due to the double and triple teams on Clowney.
Coming into 2012, Taylor had already posted 116 tackles (27 for a loss) and 15.5 sacks in his career at defensive end and has only added to that coming into the bowl game against Michigan on January 1st.
Besides Taylor, though, Aldrick Fordham is also a senior and has also been a key defensive end and tackle for the Gamecocks, posting 4.5 sacks himself this season. Also at defensive tackle and graduating is Byron Jerideau.
Taylor, Fordham and Jerideau have all been key contributors up front for the Gamecocks, especially in the red zone, where South Carolina is ranked 15th in the country. Their departure leaves some critical holes around the center piece, Clowney.
They already have plenty of talent in place and currently on the depth chart in Kelcy Quarles and Chaz Sutton, but they've also got some highly touted recruits coming into the fold in 2013 such as 4-star rated DT Kelsey Griffin out of Georgia.
Critical holes but a lot of good talent to fill in with in 2013.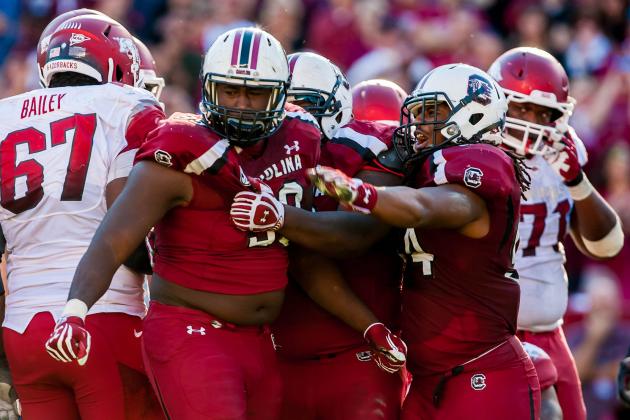 Jeff Blake-USA TODAY Sports

With a total of five seniors, the Gamecocks' linebacking corp will need the most attention on the defensive side in the spring and the build to the 2013 season.
Shaq Wilson, Reginald Bowens and DeVonte Holloman are the starters entering the Outback Bowl against Michigan and, like their defensive line counterparts, have been key contributors this season to the 12th-ranked Gamecocks' defense.
No doubt, it is a little daunting to see that kind of upheaval on paper, which certainly can leave the question of "how good can next year's starters be?" in relation to the current crop of heavy hitters in Wilson, Bowens, and Holloman.
The answer is they likely won't be immediately, as the Gamecocks will have many young faces stepping up from the current depth chart including Cedrick Cooper.
But, to their credit, they have also landed some timely recruits for the 2013 season in the from of 4-star rated (and No. 2 ranked by rivals.com) Larenz Bryant and the 3-star rated combination of Mohamed Camara, David Johnson and Gerald Turner, which is tremendous groundwork for the future.
Lorenzo Ward blazed into his first season as South Carolina's defensive coordinator like Clint Eastwood's "Gunny" Highway (cigar not confirmed) and revamped a Gamecocks defensive unit that became one of the top defenses in the SEC and all of FBS with a group of dynamic hard chargers and aggressive tacklers. Now comes the challenge of having to fill the gaps and repeat again in 2013.
Based on this year's results, it should be very fun to watch come next fall.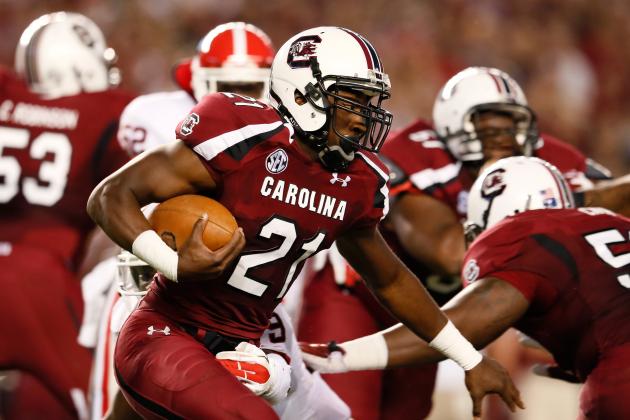 Kevin C. Cox/Getty Images

The biggest gaping hole left on the South Carolina roster has to be in the big shoes to fill of Marcus Lattimore, who recently declared, despite a knee injury that would have kept him out of the 2013 season anyway, his intent to enter the NFL draft.
Lattimore's stats don't do the young man justice as he became the heart and soul of the Gamecocks over his career in Columbia and became a huge reason South Carolina achieved the level of success it did (including an SEC East Title) in recent years.
Without a doubt, the contributions of No. 21 will be missed in 2013, but the same can also be said for Kenny Miles, who plays his final game for the Gamecocks on January 1st in the Outback Bowl. Miles has been as good a go-to guy as South Carolina could ask for over the last two seasons when Lattimore's season was cut short due to injury.
With the departure of Lattimore and Miles, the Gamecocks will turn to Mike Davis, who has been able to get some playing time this season due to Lattimore's injury, along with Brandon Wilds and Shon Carson, who themselves have been sidelined with injuries for all of 2012.
Between Davis, Wilds, and Carson, there is a tremendous amount of talent for South Carolina to be effective in the running game in 2013, but without a doubt it is the most critical hole for the Gamecocks to fill, especially in creating a healthy balanced offensive attack to compliment both Connor Shaw and Dylan Thompson.
This really was a toss up between running back and linebacker over which one was a bigger hole to fill because you can make the argument either way.
But what really sold me to put the hole Davis, Wilds, and Carson have to fill next season at the top is the fact that Steve Spurrier has worked furiously over the last few years to make the running game viable for South Carolina instead of relying on a pass-heavy offense, which has definitely yielded success for the Gamecocks.
Granted, Lattimore is a very special player that doesn't come around often and honestly can't be replaced, but the groundwork laid between him and Miles has become a critical blueprint for the Gamecocks to have success in 2013 and beyond.
The next step to an SEC Championship begins with the Gamecocks filling the gap at running back, and it will be interesting how Davis, Wilds and Carson carry that torch come next fall.