Seattle Seahawks vs. Buffalo Bills: Live Score, Highlights and Analysis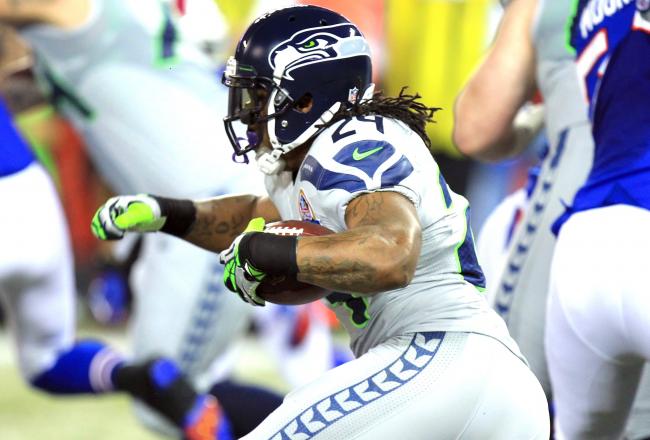 Final Score: Seattle 50, Buffalo 17.
The Seattle Seahawks were expected to notch a huge win over the Buffalo Bills. Possibly not as lopsided as the game became, but an important win all the same.
Seattle has now scored 50+ points in two-straight games. They entered the season with just two such games in their history and now their offense has done it in consecutive weeks.
Sidney Rice was a go for the Seahawks today with a bad foot and played very well. He came up short getting both feet down on a touchdown reception attempt, though.
The real story of the game was Russell Wilson. He engineered several impressive scoring drives, capping one off with a touchdown pass to Zach Miller to go along with three first-half touchdown runs.
Wilson isn't quite up to Robert Griffin III's production, but he's proving he should be a serious contender in rookie of the year voting. With Kirk Cousins surpassing any throwing output of RGIII this season, some may begin to wonder how much of the Washington Redskins' passing game is Griffin.
If the New England Patriots can secure a win over the San Francisco 49ers on Sunday night, Seattle will host the 49ers to establish a leader in the NFC West next Sunday night.
Darin Pike is a Featured Columnist for Bleacher Report, covering the NFL and the Seattle Seahawks.
Thank you for all that tuned in today. I'll be back later to add NFL videos as they become available.
The Bills (5-9) travel to Miami to face the Dolphins (6-8) on Sunday.
Seattle (9-5) hosts the 49ers on Sunday Night Football. That game could decide the NFC West.
For those that want to downplay Seattle's recent two games based on the competition, the Arizona Cardinals secured a 38-10 win over a strong Detroit Lions offense today. The Bills also held tight with the St. Louis Rams last week, dropping a 15-12 fight.
The Seahawks are in complete control of making the playoffs. They are 6-0 at home this season and will attempt to clinch at least a wild card next weekend.
FINAL: Seahawks 50, Bills 17. Seahawks improve to 9-5 on the season and will play their final two games at CenturyLink Field. #SEAvsBUF

— Seattle Seahawks (@Seahawks) December 17, 2012
They'll need help to win the NFC West, but if the New England Patriots beat the division-leading 49ers later tonight then Seattle will control winning the west. Add in a loss for the Packers in their final two games and Seattle would secure a first-round bye.
Instead of focusing on what is happening with Seattle's offense and Russell Wilson, the media will have something else to discuss this week.
Wow. The Seahawks just fake punted it on Bills up 30. Chan Gailey looked like he swallowed his tongue.

— Rich Eisen (@richeisen) December 16, 2012
4th Quarter, 2:00
The Seahawks decided to be concerned with running up the score with Matt Flynn in the game.
Pete Carroll is already going to come under fire for the fake punt attempt. Why not let Flynn get a few passes under his belt?
This game should certainly help Russell Wilson's claim for Offensive Rookie of the Year.
One also has to wonder if Robert Griffin III's status took a hit. Kirk Cousins threw for more yards than Griffin has this season.
Is RGIII just part of the system?
I'm not sure the last time an NFL team has put up 50 points in consecutive weeks, but I'm sure ESPN Stats and Information is working on it. But as Danny O'Neil points out, this is a huge milestone for the Seahawks.
The #Seahawks scored 50 points just twice in the first 36 seasons. They've now done it twice in two weeks.

— Danny O'Neil (@dannyoneil) December 16, 2012
Offering a dissenting opinion on Seattle's fake punt:
Eric Toh Contributor I
Touche'.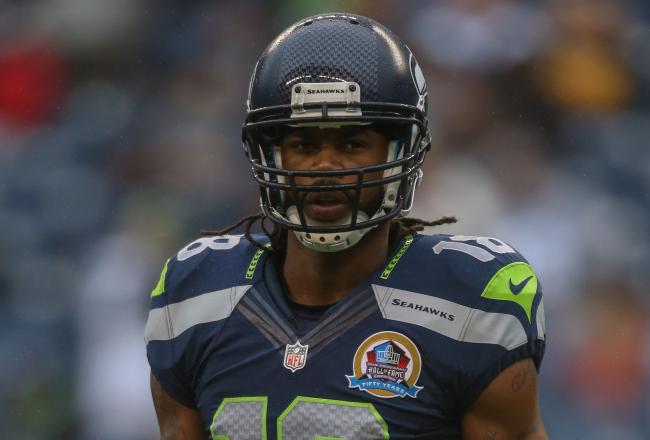 3rd Quarter, 10:00
That was a beautiful catch by Sidney Rice, but he wasn't even close to getting his feet down. What were the officials watching to call that a touchdown?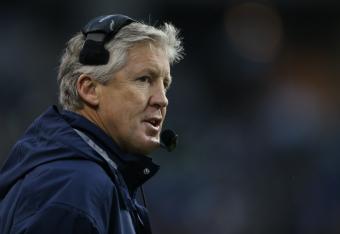 I don't understand the fake punt call. Just after I defended Seattle not running up the score last week, they tipped their hand on one of their trick plays when it wasn't needed. Now they are throwing the ball to Sidney Rice.
Call off the dogs and get the starters out of the game, Pete.
In case you missed it, here is a video clip of Wilson's first-half highlights.
The Seattle Seahawks have scored 105 points over the last seven quarters. Is it possible that there is something to the Mayan calendar?
It would figure that as soon as the team begins to look dominant that something would get in their way.
But I'm not sure what else can stop this offense right now. We'll find out next week with the San Francisco 49ers pay a visit to the CLink.
Well...it could have been worse. Leon Washington's punt return was called back on a pair of penalties that weren't needed.
I'm actually surprised Matt Flynn didn't check in for this possession. Look for him to play the fourth quarter, though.
3rd Quarter, 3:54
Well, Bills fans, at least that possession didn't end in a turnover. It almost did...
There were some spurious accusations that Seattle ran up the score last week. I found it odd, given Wilson played just one possession in the second half and most of their skill position starters were on the bench before the fourth quarter started.
It will be interesting to see if similar comments are made after this game.
Here we go again @seahawks defense making us run up the score #GoHawks #12thman

— Ryan Feltmann(@ryfelt9) December 16, 2012
The spark is understandably gone for Buffalo. They'd been returning the ball from the end zone, but that kneel-down is a fairly strong symbol of their attitudes right now.
The Bills are catching Seattle at a bad time.
There isn't a clean picture, at least not one we've seen on the broadcast, but it appears as though Thomas made a clean catch. The ball is clearly in his hand shortly after initial contact.
Thomas has just three interceptions this season but has had a lot of opportunities. He struggles hauling in the ball when he gets his hands on it.
If upheld, that pick-six was the proverbial nail for the Bills.
Wow. Just, wow...
Earl Thomas makes a few great moves to get into the end zone, but did he catch the ball clean?
Steven Hauschka is able to push that one through the uprights, but the story on that possession was the Bills' defense keeping the Seahawks from advancing the ball.
The game is getting out of hand but at least they kept Seattle from finding the end zone.
Wow. Clemons has certainly responded, posting a strip similar to the one last week against the Arizona Cardinals.
This is an opportunistic defense that believes they'll eventually make a big play if they don't allow a big play by the opposing team.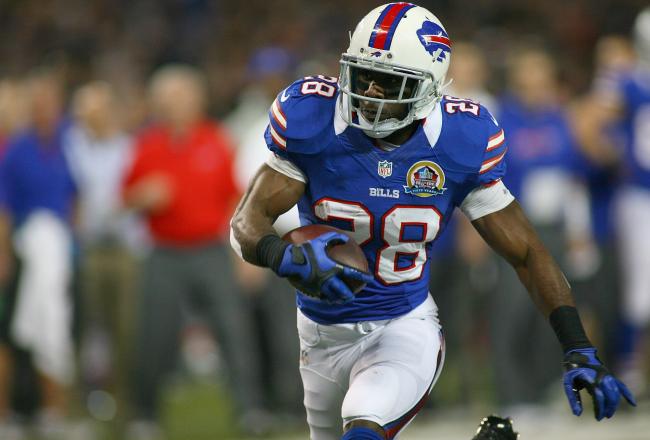 It is impressive how the Bills can hand off to Spiller and it is almost the same as a passing play.
In the interest of full disclosure, I made the tough decision of sitting Peyton Manning in favor of Russell Wilson today. I was nervous about the call, but saw Wilson as having a higher ceiling in this game.
Russell Wilson 3 rushing TDs, 4 total TDs in 1st half for @seahawks ... @espnfantasy owners REJOICE!!!

— NFL on ESPN (@ESPNNFL) December 16, 2012
Beast Mode delivers again! Touchdown, Seahawks.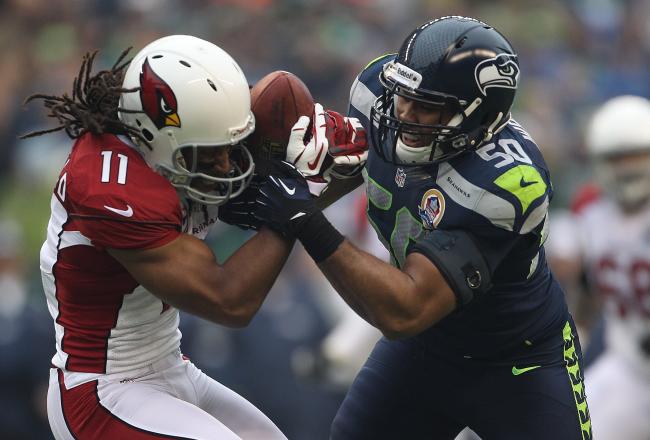 That turnover isn't getting overturned. K.J. Wright with the pick!
This article is
What is the duplicate article?
Why is this article offensive?
Where is this article plagiarized from?
Why is this article poorly edited?

Seattle Seahawks: Like this team?