Handing Out Golden State Warriors First-Quarter Awards
Mike Ehrmann/Getty Images

The Golden State Warriors play with a team-first mentality. That is the biggest reason they find themselves at 15-8 with their best player sidelined.
Yes, Mark Jackson has the Warriors playing selfless team basketball. Still, this is the NBA, and real winning takes real talent. Without some "big-time players" making "big-time plays" (as coach Jackson would say), the Warriors would be, at best, hovering close to the .500 mark.
At the first-quarter mark of the season, here are my awards to individual Warriors. Let's celebrate the players who have made Warriors fans believe again.
Begin Slideshow

»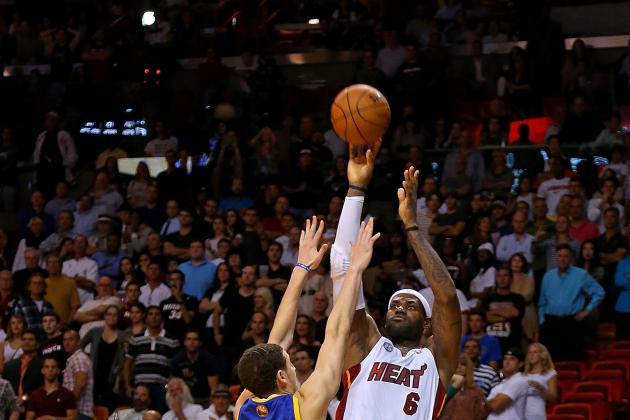 Mike Ehrmann/Getty Images

Before overreacting to Klay Thompson being called the team's best defender, allow me to present four disclaimers. First, the Warriors' best defensive player is Andrew Bogut. Second, their second-best defensive player is Brandon Rush. Third, their best healthy defensive player is Draymond Green. Finally, their second-best healthy defensive player is Festus Ezeli.
Having said that, Thompson has made the largest defensive impact this season. The second-year Warriors shooting guard has stepped into a starting lineup spot that was occupied by Monta Ellis for the previous five seasons, and his play has highlighted both Ellis' shortcomings on defense as well as Thompson's own strengths.
Thompson has the height (6'7) to cover almost any type of wing player and has the quickness and wingspan to keep ball-handlers in front of him. After a rough start to the season, Thompson has shown a commitment to defense and defensive toughness that Ellis never displayed, and his strong perimeter defense has helped everyone else on the court stay in position.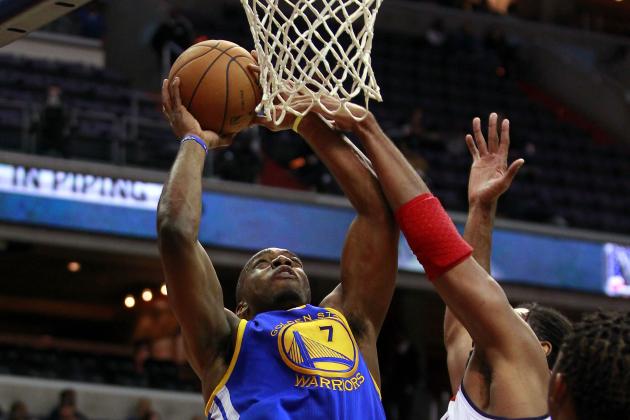 Geoff Burke-USA TODAY Sports

One thing the Warriors did have going for them last season was a strong bench. Ekpe Udoh, Klay Thompson, Brandon Rush and Dominic McGuire combined to form a scrappy, quick, strong defensive unit that would often outshine the Warriors' starting five.
The Warriors then traded Udoh, let McGuire walk, made Thompson a starter and appeared to replace them with a couple low draft picks.
Then came the acquisitions of Jarrett Jack and Carl Landry. The two former New Orleans Hornets have led an elite Warriors bench unit, possibly the best in the NBA. This despite Brandon Rush's devastating ACL tear two games into the season.
Landry's play has been especially vital. He's dominated the offensive boards (4.2 offensive rebounds per 36 minutes), scored with efficiency (55 percent shooting, 17.6 points per 36 minutes) and gotten to the line (6.8 attempts per 36 minutes, 80 percent shooting). Landry has helped bring the Warriors from the league's worst rebounding team a year ago to fourth best this season.
Landry gets the nod above Jack for these reasons, as well as the fact that he's the Warriors' only capable big man off the bench.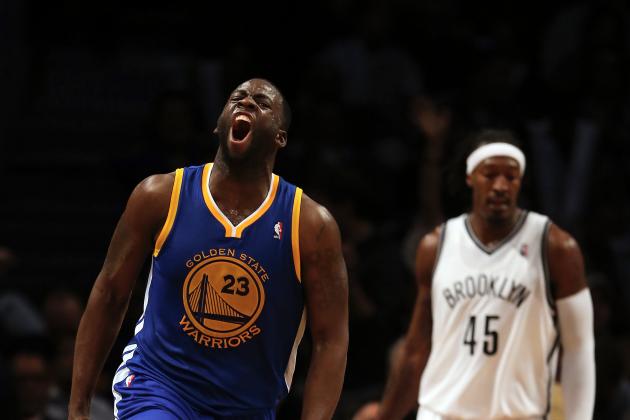 Elsa/Getty Images

This is a tough call, and that isn't because the Warriors don't have any productive rookies. Rather, they have three.
Festus Ezeli and Harrison Barnes are both members of the Warriors' starting lineup. Ezeli is the team's best interior defender and a strong rebounder, while Barnes is the team's most athletic player and also a plus-rebounder.
Draymond Green was drafted after both of these guys. He earned his spot in the rotation after both of them. He comes into the game after both of them. None of this matters to Draymond, and that's what makes him the best of the bunch.
The 6'7 rookie forward gets on the glass, defends with tenacity, creates turnovers, can make the pass or the shot on offense and has a basketball I.Q. unmatched by most veterans.
While he may not have a natural position or the pure skill to become an all-star, Green is already one of those guys that every great NBA team needs. The Bruce Bowen. The Shane Battier. The Tony Allen. That he's a rookie means that he could very well surpass all of these players by the time his career is over.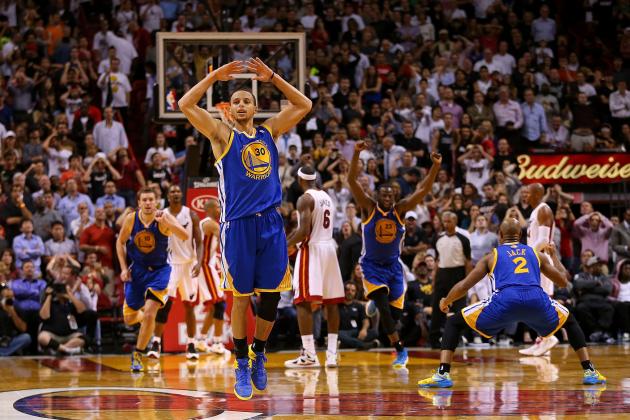 Mike Ehrmann/Getty Images

Stephen Curry was a very good player before the 2012-13 season started. If he wasn't, the Warriors probably wouldn't have handed him a four-year, $44 million contract despite his history of right ankle injuries.
Still, Curry's game was not fully developed, and with the money the Warriors committed to Curry, they were paying for potential as much as proven talent. So far in 2012-13, that potential has come to fruition.
Curry is as knock-down a shooter as ever, draining 43 percent of his threes and 89 percent of his free throws. Where he has really developed is in his passing ability—he's averaging 6.5 assists per game—and his defensive ability, as Curry is playing tighter, more physical and smarter on the Warriors' end.
Most importantly, Curry has become a leader in the absence of Monta Ellis. The 24-year-old point guard has been tough, playing through injuries and getting to the line more than ever. He's been clutch and vocal, and has played with swagger.
Curry has always been good, but he's on the verge of becoming great.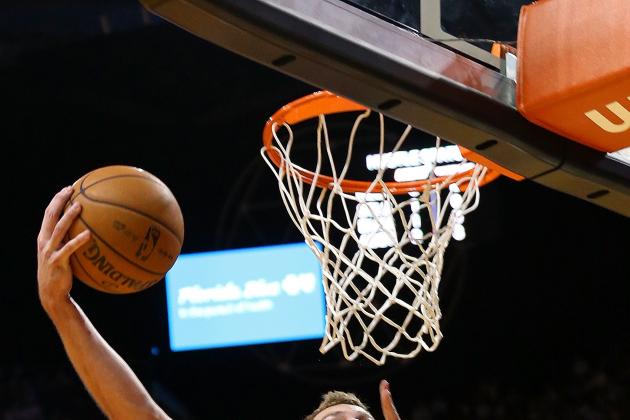 Mike Ehrmann/Getty Images

First, the obvious: David Lee is averaging 19.2 PPG and 11.5 RPG. Add both numbers together, and there isn't a frontcourt player in the NBA with as high a total.
Lee is as consistent as he is good. His 14 double-doubles are third most in the NBA. The only scorer above him with a better field goal percentage is LeBron James, and the only players in the NBA with a better efficiency rating are James, Kevin Durant, Kobe Bryant, Anderson Varejao and Tim Duncan.
Ok, but everyone knew Lee could do this, right? Doesn't this only mean he's finally living up to his five-year, $80 million contract? Isn't he still a major liability on defense and just a stat sheet-stuffer on a bad team?
No, no, no and no. Mark Jackson has Lee playing a level of defense he never has before, where he's not a stopper but no longer a matador either. Lee isn't just putting up points because no one else can—he has to compete with Stephen Curry and Klay Thompson for shots, along with Carl Landry for minutes. Plus, he finishes in more ways, from more spots and with more hands, than just about anyone.
Sure, Lee's stat sheet is certainly stuffed, but the Warriors are winning because of it. His rebounding ferocity has made Golden State a premier rebounding team in the NBA. His passing skills have been instrumental to a smooth Warriors offensive attack, and his ability to score through double-teams and get to the line has made him a go-to-guy in every big moment.
His mental toughness, relentless battling attitude and veteran leadership—along with his absurdly productive game—is probably the biggest reason why the Andrew Bogut-less Warriors find themselves at 15-8 and in the thick of the Pacific Division race.
Lee isn't just earning his money, he's looking like one of the league's more expensive bargains .