Raiders Trounce Chiefs in 15-0 Shutout: Postgame Comments and Analysis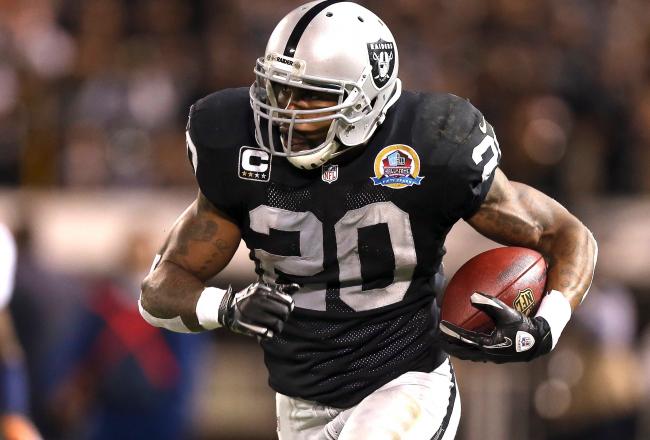 The Oakland Raiders—as well as 11 other teams—have had the Kansas City Chiefs' number in 2012.
A premium was placed on offensive-line stability, and the teams' effectiveness resided at opposite ends of the spectrum.
Carson Palmer ultimately fell three yards shy of the 4,000-yard single-season milestone. But he did enough to allow Sebastian Janikowski to determine the game's fate. More times than not, the Raiders chalk up victories in that scenario—they did so again today.
Oakland's backfield tandem of Darren McFadden (110 yards) and Mike Goodson (89 yards) nearly eclipsed 200 yards rushing.
Janikowski converted five of his six field-goal attempts, accounting for the contest's only source of points.
The Raiders defense suffocated Jamaal Charles, holding the elusive tailback to 10 yards on the ground in nine attempts.
Kansas City failed to move the chains a single time in the first half. And while Brady Quinn started to find a rhythm in the latter half of the game, mistakes up front prevented the Chiefs from tacking points on the scoreboard.
Next Sunday, the Kansas City Chiefs (2-12) will host Andrew Luck and the Indianapolis Colts (9-5) in Arrowhead's final game of 2012. The Oakland Raiders (4-10) will fly to the East Coast and clash with Cam Newton's Carolina Panthers (5-9).
Season statistics provided by Pro-Football-Reference.com. Today's box score provided by ESPN.
Twitter Timeline
First Quarter
Raiders stall at the 2 and settle for Janikowski's 20-yard field goal. Raiders 3, Chiefs 0 with 1:44 left in the first.

— Raiders RapidReports (@CBSRaiders) December 16, 2012
Second Quarter
Janikowski has now kicked 41 FGs of 50 yards or more in his career, 3rd all-time in NFL history.

— OAKLAND RAIDERS (@RAIDERS) December 16, 2012
Sebastian Janikowski's third FG of the game is a 57-yarder at the half to give the Raiders a 9-0 lead.

— Sports Illustrated (@SInow) December 16, 2012
Halftime
The Chiefs had 17 total yards and 0 first downs in the 1st half against the Raiders (30th ranked yardage defense).

— Bleacher Report (@BleacherReport) December 16, 2012
Third Quarter
A soccer game has broken out in Oakland. Fourth FG of the day for Sebastian Janikowski. #KCvsOAK

— NFL Fantasy Football (@NFLfantasy) December 16, 2012
Fourth Quarter
Janikowski 41-yard field goal good and he now leads Chiefs 15-0

— Vic Tafur (@VicTafur) December 16, 2012
RAIDERS WIN! Final from Oakland: Raiders 15 Chiefs 0. First shutout since 2002! Thanks for following along here on Twitter.

— OAKLAND RAIDERS (@RAIDERS) December 17, 2012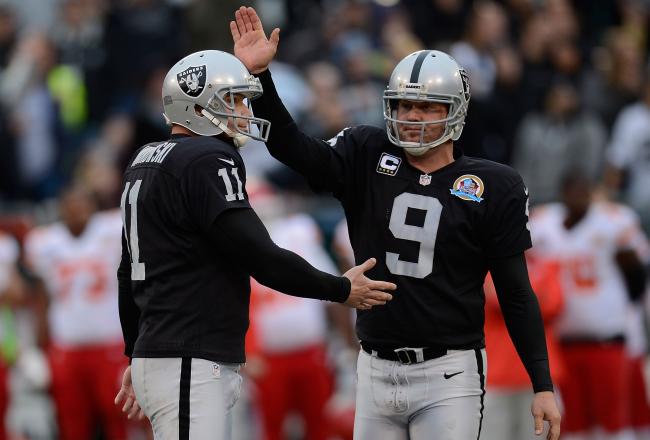 :15, fourth quarter:
Oakland drains the clock and douses Kansas City's wounds with salt by dealing a shutout.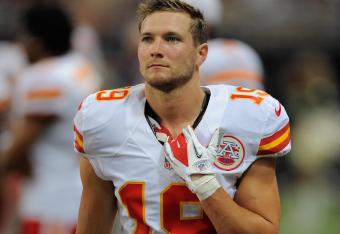 3:48, fourth quarter:
That 4th-and-1 failure falls on the shoulders Brady Quinn.
Devon Wylie, who is only competing in his fourth game of 2012, was all by his lonesome after running a corner route.
4:34, fourth quarter:
Denarius Moore has been sidelined with cramps:
Denarius Moore with leg cramps...return is questionable

— Paul Gutierrez (@PGutierrezCSN) December 16, 2012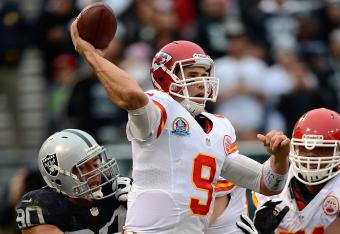 9:37, fourth quarter:
A swarm of black jerseys converge on Quinn nearly every time he drops back.
This is the worst Kansas City's offensive line has looked in 14 weeks of football.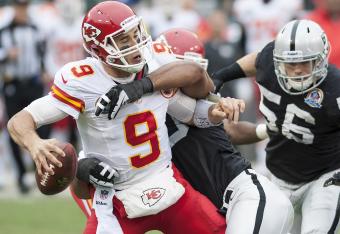 11:07, fourth quarter:
Offensive-line play has been the determining factor this afternoon.
Palmer's jersey mirrors how it looked in pre-game introductions. He hasn't been sacked one time today.
On the other hand, Quinn has been victimized for four sacks, and Kansas City's offensive line has created a trend of committing untimely penalties.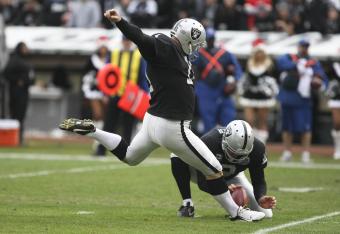 13:32, fourth quarter:
Both clubs' MVPs—Sebastian Janikowski and Dustin Colquitt—reside on special teams.
Fortunately for Raiders fans, their guy's leg produces points.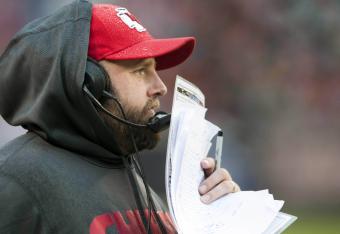 2:31, third quarter:
Kansas City was four yards away from the Oakland end zone, and Brian Daboll chooses to air it out.
And on fourth down, Quinn begins clapping his hands to signal for the snap with four seconds left on the play clock. Ryan Lilja has a brain freeze, and the Chiefs receive a delay of game flag.
Wow.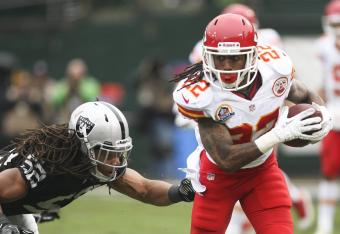 4:00, third quarter:
The Chiefs just chained together two first downs.
[Checks off another sign of the apocalypse.]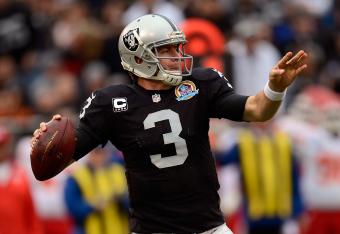 6:38, third quarter:
Oakland's offensive line is abusing Kansas City's front seven and dictating the line of scrimmage.
Palmer's jersey is stainless.
9:00, third quarter:
McFadden is gashing Kansas City's front seven.
No. 20 is currently 17 yards away from the century mark.
Bold prediction: He will reach it.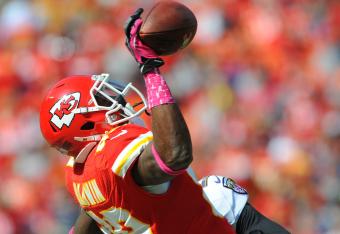 12:02, third quarter:
Kansas City's first-round pick of a year ago, Jon Baldwin, has yet to be targeted in today's game.
Jamar Newsome, who was promoted from Kansas City's practice squad in late November, has been thrown to four times.
It goes without saying that that's a recipe for disaster.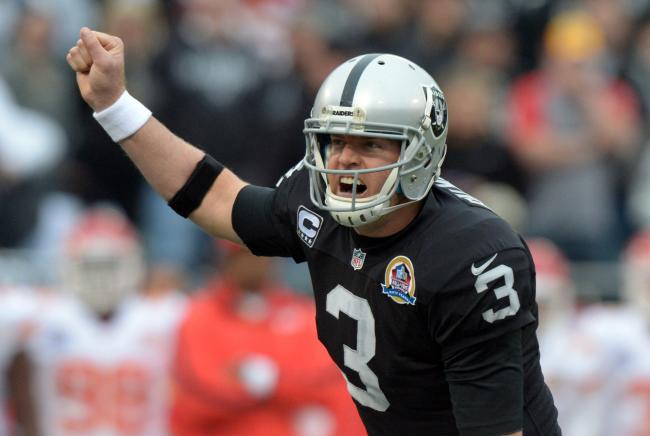 Halftime:
Another two quarters, another half of the Chiefs playing like the Little Giants.
Kansas City's offense has failed to move the chains once.
#Chiefs' fewest first downs was four, in 1979, in a monsoon of rain. So far today, they have no first downs in a monsoon of suck.

— Sam Mellinger (@mellinger) December 16, 2012
The Raiders defense duplicated the effectiveness of its Week 8 effort against Jamaal Charles. A 42-yard sprint for the Chiefs running back was negated by a holding penalty on Jon Asamoah.
A number of drops have also plagued Kansas City, and the offense has sorely lacked any spark with Dwayne Bowe sidelined.
Chiefs have now played 7 quarters without Dwayne Bowe the last 2 years. Results: 0 points, 218 yards total offense.

— SaveOurChiefs (@SaveOurChiefs) December 16, 2012
Carson Palmer started to come alive in the latter portion of the first half, posting 111 yards before halftime.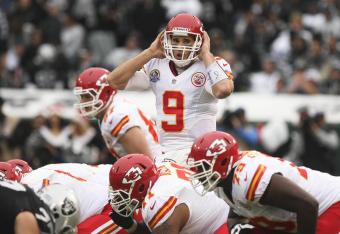 1:03, second quarter:
Janikowski uncharacteristically misfires wide left, but Kansas City's offense fails to capitalize on favorable starting field position.
Pin the blame solely on Jamar Newsome for the Chiefs' last incompletion.
Quinn's back-shoulder lob was on target, but Newsome had a delayed reaction and watched the ball slice between his hands.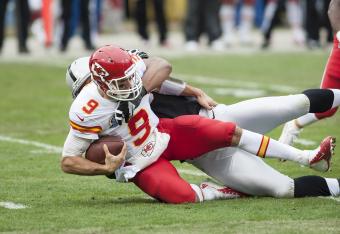 2:00, second quarter:
Thus far, this game has been an insult to the word "offense."
Quinn has passed for 28 yards, while Palmer has thrown for 44.
Charles had a 20-plus-yard rush called back on a holding penalty, and his total yardage on the ground (negative two) is preceded by a minus sign.
McFadden has managed 57 yards on 16 attempts, but Oakland's offense continues to stall once it passes midfield.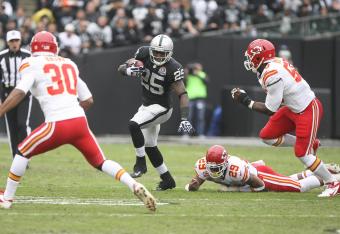 6:08, second quarter:
Mike Goodson just treated Javier Arenas like a 197-pound backpack.
What initially looked to be a two-yard gain resulted in a nine-yard exhibit of brute strength as Goodson carried Arenas.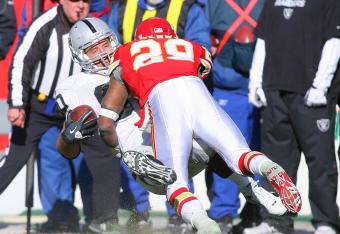 8:01, second quarter:
Coming off of 2011's season-ending ACL tear, Eric Berry is slowly but surely returning to his 2010 form (in which he received Pro Bowl honors as a rookie).
Kansas City likely just avoided a 10-point deficit after Berry harpooned through the line and upended McFadden on 3rd-and-1.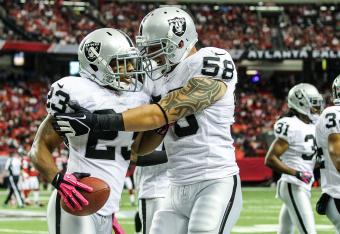 11:42, second quarter:
Dexter McCluster broke off his route, ending in an interception for Joselio Hanson.
Regardless, McCluster was blanketed by defenders. Quinn would have been better served checking down or lobbing it out of bounds.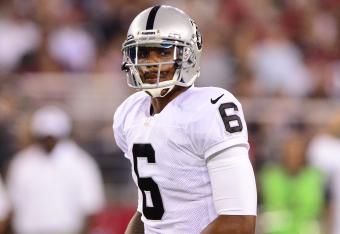 13:24, second quarter:
The Raiders open the second quarter with Terrelle Pryor under center.
Quarterbacks coach John DeFilippo praised Pryor earlier this week, saying, "The kid hasn't let up (since training camp) in terms of work ethic and those things." He added, "He's progressing nicely" (via MercuryNews.com).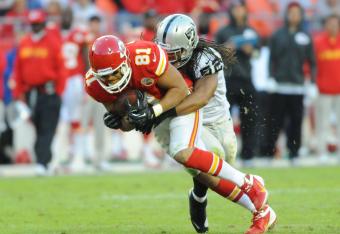 :20, first quarter:
Following a Sebastian Janikowski field goal, the Chiefs offense responds with another three-and-out.
Philip Wheeler is on the cusp of becoming a perennial Pro Bowler in years to come. Coming into today, he was responsible for 97 tackles and two forced fumbles.
He just pounced on Brady Quinn for his third sack of the season.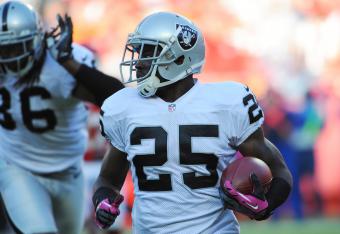 4:27, first quarter:
Oakland's backfield is beginning to find its groove.
Darren McFadden and Mike Goodson have already combined for 48 yards on 10 carries.
6:17, first quarter:
Update on Brandon Flowers:
Flowers has chest injury

— Adam Teicher (@adamteicher) December 16, 2012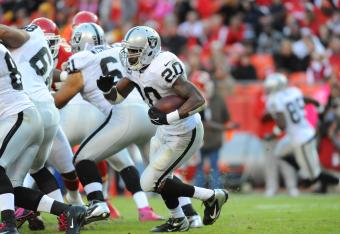 8:00, first quarter:
McFadden's 15-yard gallop has been the only noteworthy offensive play of the day.
Thus far, Charles only has one yard on two carries.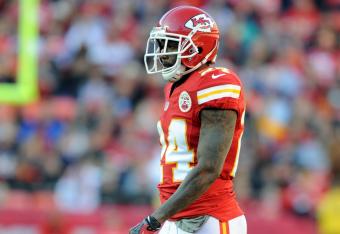 10:01, first quarter:
Brandon Flowers—who was already bothered by a hamstring injury entering today's game—didn't take the field for Oakland's second drive.
The stars are in alignment for a 300-plus-yard passing day for Palmer. Starting safeties Eric Berry and Kendrick Lewis are banged up, safety Abram Elam didn't suit up and Brandon Flowers is currently sidelined.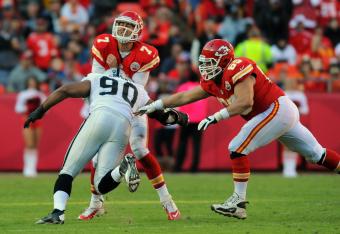 12:10, first quarter:
Both offenses looked sluggish in their afternoon debuts. Neither could establish a rushing attack.
Branden Albert's absence has already made an impact, as Desmond Bryant smothered Brady Quinn for today's first sack.
This article is
What is the duplicate article?
Why is this article offensive?
Where is this article plagiarized from?
Why is this article poorly edited?

Kansas City Chiefs: Like this team?