Top 10 Lightweight Title Fights in MMA History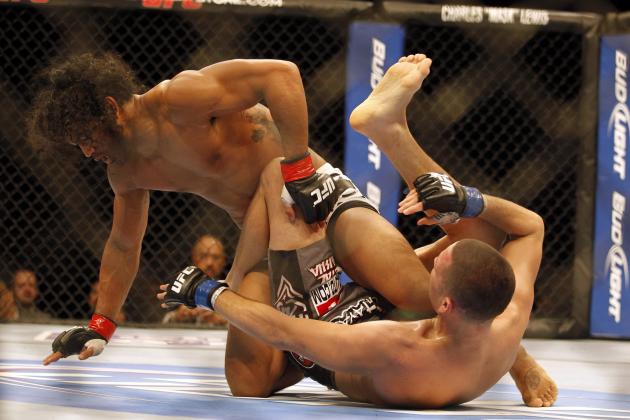 Joe Nicholson-USA TODAY Sports
The UFC's latest lightweight title fight has many of us looking back on other great lightweight title fights.
So this past Saturday, we saw another chapter added to the legend of Benson Henderson. In a dominating performance, Henderson defeated Nate Diaz and let the world know that he intended to keep his lightweight belt for a very long time.
With that development, many of us have been looking back on other great moments in the lightweight division and, naturally, that leads us to looking at title fights. So what are the greatest bouts where the belt was on the line?
What are the fights that made us love this division, and who are the great fighters who have reigned over a weight class that is widely considered the best in the sport today? Find out right here, as we whittle things down to the Top 10 Lightweight Title Fights in MMA History.
Begin Slideshow

»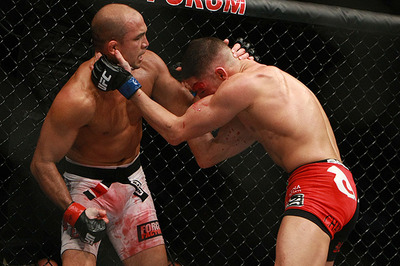 In perhaps the most impressive performance of his career, Penn made a tough Diego Sanchez look like an amateur. Photo c/o Sherdog.com.
BJ Penn is the single greatest lightweight fighter of all time. Diego Sanchez is widely regarded as one of the most exciting fighters in MMA history. It's a no-brainer that this ends up as one of the best lightweight title fights ever.
This fight was, perhaps, the greatest performance of Penn's UFC career. For five rounds, Diego Sanchez pressed the action, swinging for the fences and grinding on Penn in the clinch. Penn, though, demonstrated his elite striking, and landed loads of punches and elbows, battering "Nightmare" badly.
Sanchez kept on coming, though, until Penn landed a head kick that nearly scalped Sanchez, opening a huge cut on his forehead that forced Herb Dean to wave the fight to a close. It was a testament to the greatness of Penn, as well as the toughness of Sanchez.
While it was an interesting bout that showed off the greatest aspect of either fighter, its lopsidedness keeps it from being higher on this list. Still a great way to kick things off, though.
Check it out on the UFC's Latino YouTube channel right here.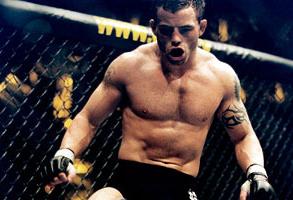 Jens Pulver ended up out-grappling a very ground-savvy BJ Penn when they fought at UFC 35. Photo c/o FCFighter.com.
So you like technical ground battles? This is the fight for you.
Their credentials? Jens Pulver was one of the best wrestlers in the lightweight division. BJ Penn was probably the best Brazilian Jiu-Jitsu practitioner at 155 lbs at just 20 years old (and he also had hair, if you can believe it).
Their strategies? Jens Pulver would use his heavy hands to pressure Penn, setting up his accurate, measured ground-and-pound. BJ Penn would look for single-leg takedowns, advance position on the ground and go for submissions.
The results? Pulver stuffed most of Penn's takedowns, and effectively shifted from the sprawl into Penn's guard, controlling him for minutes at a time, effectively eating up rounds. While Penn would nearly make Pulver tap to an armbar after dominating him throughout the second round, that was the closest he got to ending the fight.
The fight would go to decision, with Pulver being awarded a majority-decision win, and giving Penn his first loss at lightweight. It would be the start of their bitter rivalry, which would become the centerpiece of The Ultimate Fighter Season 5.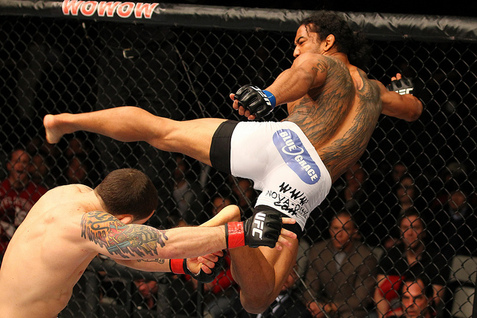 Ben Henderson got the better of a high-energy bout with Frankie Edgar. Photo by Al Bello/Zuffa LLC/Zuffa LLC via Getty Images.
Frankie Edgar, after two exciting title fights with Gray Maynard, was finally poised to jump into the mainstream. To assure this, he was booked to headline UFC 144, the promotion's much-hyped return to Japan. The guy to spoil Edgar's coming-out party? Former WEC lightweight champion Ben Henderson.
Much had been made about Frankie Edgar's comparably small size in the lightweight division. Bendo, though, was the first to capitalize on this.
The first round went precisely as Edgar would have wanted. He slipped Bendo's powerful punches and kicks, avoided his clinch and scored a takedown.
The second round was a complete stalemate until, with 13 seconds left, Henderson landed a perfect upkick that smashed Edgar's nose, rocked him badly and opened a huge cut. He climbed atop a turtling Edgar and landed big elbows until the horn sounded.
From there, Henderson took control of the fight, out-landing Edgar and neutralizing his wrestling. Edgar showed his big ol' Jersey heart and kept fighting through the pain, but it was not enough.
Bendo had his hand raised as the new lightweight champion to top off a great night of fights. Watch the bout again here!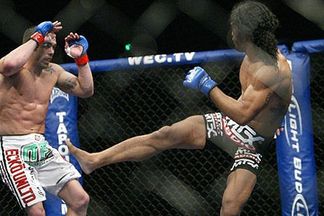 Ben Henderson delivered a perfect knee and jumped into a guillotine choke to become the WEC's undisputed lightweight champ. Photo c/o Sherdog.com.
After Ben Henderson beat Donald Cerrone to become the interim lightweight champion (more on that later!), it was time for a big title unification fight. Varner was under fire from fans for supposedly ducking Donald Cerrone, and fans were somewhat disappointed that the bout had not come to pass (yet).
Still, Varner and Henderson were two exciting fighters. Varner combines his really underrated boxing game with some strong wrestling. Henderson has his generally excellent grappling on top of a taekwondo black belt. With two fighters very willing to brawl, but still solid grapplers, it was a fight that basically guaranteed fireworks.
The first round was all Jamie Varner. The champ found his range early, kept Henderson pressed against the cage with a front headlock for a long while, and landed some huge knees.
The second was all Ben Henderson. Henderson landed numerous body kicks and some big punches, and demonstrated some excellent counter-striking skills as Varner tried to press the action, but ultimately got worked over by "Smooth's" longer range.
In the third round, Henderson started to take control of the bout, landing several big body kicks and keeping the champ at arm's (foot's?) reach. Varner was flustered by this and, unwisely, shot in for a big takedown. Henderson landed a huge knee that curdled his opponent and slapped on one of the fastest guillotine chokes you've ever seen. He jumped up, wrapped his legs around Varner, and let gravity do the hard part.
Varner quickly tapped to what has since become one of Henderson's biggest highlights. With this, Henderson became the undisputed WEC lightweight champ and one of the biggest stars in the promotion.
Check out the fight on the UFC's YouTube page for Bendo right here.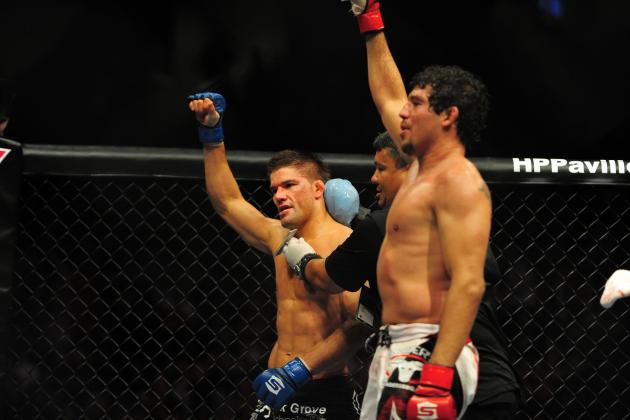 Gilbert Melendez and Josh Thomson was a five-round slugfest, and one of Strikeforce's best fights.
While Bendo vs. Varner was a great fight, from this point on, we're taking a pretty big step up in terms of sheer excitement.
So much of Gilbert Melendez's career in Strikeforce has been a question of motivation. One of the few fights Melendez very clearly wanted was his rematch with Josh Thomson.
The two fought in 2008, with Thomson on the good end of a unanimous decision, receiving the Strikeforce lightweight belt for his trouble. Melendez would not be without a belt for long, as he beat Rodrigo Damm to become the Strikeforce interim champion (Thomson, at the time, was recovering from a broken ankle), then unified it by beating Thomson in the rematch. With that, the stage was set for a highly-anticipated rubber match that did not disappoint.
For twenty-five minutes, Melendez and Thomson were in a downright brawl, on par with even the more-famous Chan Sung Jung vs. Leonard Garcia. While either fighter has a solid ground game, Melendez a solid wrestler with his training under Cesar Gracie, and Thomson a Brazilian Jiu-Jitsu black belt, they were quite comfortable spending the whole fight standing.
They punched. They kicked. They traded knees. They rocked. They got rocked.
Melendez ended up proving himself to be the more accurate striker, landing bunches of jabs and leg kicks. This ultimately was enough to get him the nod from the judges, but Thomson still ended up half of one of the best Strikeforce fights ever.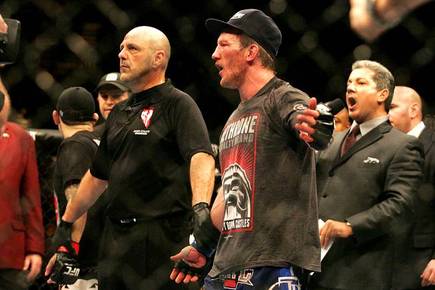 Gray Maynard and Frankie Edgar were both disappointed by the split decision draw at UFC 125. Photo c/o LasVegasSun.com.
Probably the most widely reviled judgment that was spot-on correct, Edgar's second fight as the lightweight champion against rival Gray Maynard was one for the ages.
The fight initially started off as one of the most lopsided beatdowns we've seen in the Octagon. Maynard rocked Edgar with a straight left that left the champ literally somersaulting across the cage. He punched Edgar to the ground again and again as he tried to roll, squirm, scramble and push Maynard away. Eventually, they clinched tightly, giving Edgar enough time to recover.
From there, it was a great demonstration of either fighter's striking style. Edgar slid around the cage, peppering Maynard with punches and leg kicks. Maynard maintained the center of the Octagon, and swung for the fences. Both fighters got the opportunity to show off their solid wrestling, with a couple of submission attempts and some big takedowns.
In the end, the fight went to the judges who, correctly, decided that both fighters were winners (and that the real loser was Anthony Pettis) declaring the fight a split-decision draw. It was the second tie in a UFC lightweight title fight, and put the division on lockdown as the two waited for a highly-anticipated rematch.
You can check an old video of the fight on the UFC's mobile page here.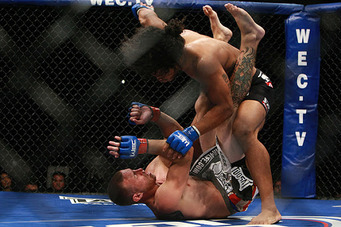 At WEC 43, Ben Henderson and Donald Cerrone engaged in the greatest submission battle in MMA history. Photo c/o MMARatings.com.
Ben Henderson and Donald Cerrone are two of the most exciting, most well-rounded lightweights in MMA today. This is the fight that made them stars.
As you know at this point, Henderson and Cerrone are capable of doing just about anything in the cage. When the two met for the first time, no matter how unreasonable the expectations could have been for this fight, these two delivered on it.
Ben Henderson has recently been working over his opponents using his excellent wrestling, Donald Cerrone has one of the strongest submission games in MMA today. That, really, is what defined this fight.
Henderson took Cerrone down fearlessly. Cerrone, on reaction, would quickly attempt a submission. Any kind of submission. Triangle chokes, armbars, D'Arce chokes, leg locks, kimuras. Cerrone used every weapon in his arsenal and Bendo, in an almost absurd display of skill (or, perhaps, double-jointedness), avoided each one, and advanced his position for some brutal ground and pound.
It was an amazing demonstration of submission skills against submission defense. In the end, Bendo got the nod and became the WEC's interim lightweight champ. The fight got awarded Fight of the Night, and was commonly labeled the 2009 Fight of the Year.
Check it out on UFC.com right here.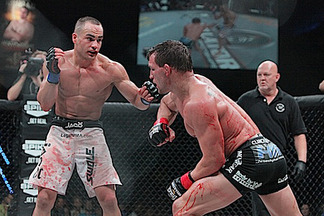 Eddie Alvarez vs. Michael Chandler is easily the greatest lightweight fight in Bellator history. Photo c/o Sherdog.com.
Eddie Alvarez is, and perhaps always will be, the poster boy of Bellator. He fought in the promotion's very first event, and still remains with them today (for now, at least). When he was beaten by Michael Chandler, his only loss in the promotion, it was a legitimate shock.
The fight itself, though, was marvelous.
From the very beginning, the fight was a war. In the opening seconds, Chandler clipped Alvarez with a left that had his opponent stumbling. He forced him to the cage and unleashed a Chuck Liddell-like tidal wave of punches.
Alvarez recovered quickly, though, and the two started brawling from there, until Chandler again rocked Alvarez, who was mercifully saved by the bell.
The pace didn't slow after a lightning-quick first round. They exchanged huge punches, big knees and, whenever they clinched, went for submissions. It would have been a nightmare for the judges to score, and Michael Chandler decided to do them a big favor.
Halfway through the fourth round, Chandler landed a huge overhand right that put Alvarez on the mat. Alvarez would recover fairly quickly once again, but Chandler advanced to mount position on the ground. Alvarez went stomach-down, allowing Chandler to sink in a rear-naked choke that forced a tap from the champ.
It was a great end to a fight that proved to be one of the best in MMA history. If you have yet to see it you can check it out here, on the official Bellator YouTube channel.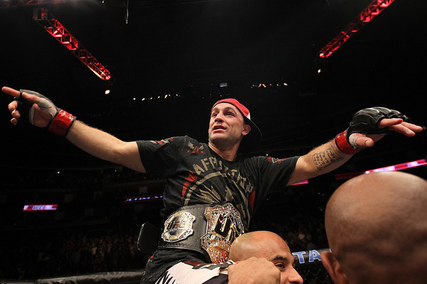 Edgar shocked many when he knocked out Gray Maynard in their threematch. Photo by Nick Laham/Zuffa LLC/Zuffa LLC via Getty Images.
Edgar takes up yet another spot on this list in his threematch with Gray Maynard. The decisive finish to Edgar vs. Maynard III was billed as the best trilogy in modern MMA, and it lived up to all the hype attached to it.
The fight, once again, started off with Frankie Edgar getting dominated by Maynard. He got rocked early once again, and Maynard pounded his face to the point where almost any other lightweight would call it quits.
Not Edgar, though. "The Answer" would battle back again, surviving the early barrage and working Maynard with his slippery boxing and takedowns. Rounds 2 and 3 passed with both fighters getting their licks. Then came the fourth round.
Edgar seemed to finally find his range, landing straights and big leg kicks freely. With just over a minute left, Edgar shot for a takedown. As Maynard sprawled, Edgar slipped in an uppercut that had his opponent stumbling. Then he threw a big right hook that landed flush. Then another.
Maynard fell to the ground on all fours. Edgar stayed on him, landing a load of lefts that would force the ref to call the fight.
It was a climactic end to a fight that proved to be one of the best in lightweight history. Check it out here on one of the UFC's official YouTube channels.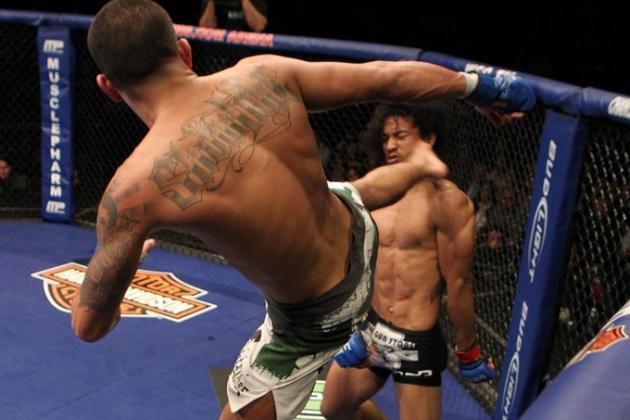 Anthony Pettis' "Showtime Kick" is one of the greatest moments in MMA history. Photo c/o ESPN.com.
You probably saw this coming.
The build-up to this fight on its own was guaranteed to make it special. WEC 53 was the final event for the promotion as it prepared to be absorbed by the UFC.
It featured a stacked card that kept delivering, including a crazy lightweight fight between Bart Palaszewski and Kamal Shalorus, a sweet submission victory for Donald Cerrone and a bantamweight title fight between Dominick Cruz and Scott Jorgensen.
All three fights were solid, and set the stage perfectly for the exciting main event.
Ben Henderson and Anthony Pettis are two taekwondo black belts with big kicks and serious submission skills. It was a sure-to-be-exciting fight that would be the greatest example of what the WEC had to offer. It did not disappoint.
The two flew back and forth across the cage, swapping big punches and big kicks, engaging in fast-paced ground exchanges and just generally showing off how talented they are. It was as tight as a title fight could be until Anthony Pettis pulled off his now-legendary "Showtime Kick," jumping off the cage and landing a kick squarely on Bendo's chin.
Fans leaped out of their seats, shouted "oh, $*%#!" and were dumbstruck by what they just saw. Henderson would survive to the round, but the big kick was enough to tip the scales for the judges, making Anthony Pettis the last man to hold the WEC lightweight belt.
It capped off one of the most exciting cards ever, and easily sits as not just the best lightweight title fight ever, but probably the single greatest battle of lightweights of all time.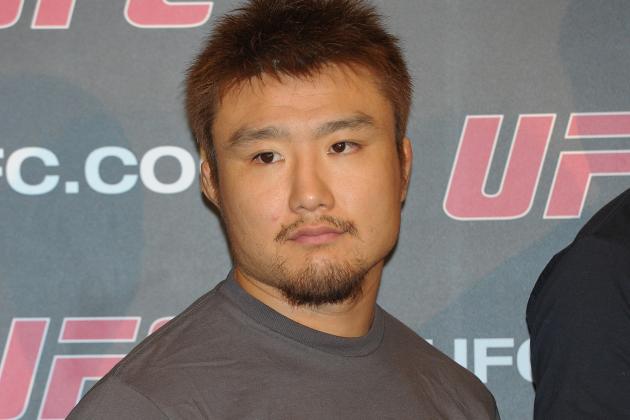 Koki Nagahama/Getty Images
Takanori Gomi didn't quite make the list, but is still one of the lightweight division's greatest figures.
Whenever we do a "Top 10" list here at Bleacher/Report, we obviously have to make some agonizing cuts. What's more, when you're looking over things as individually unique as fights, you sometimes have to tailor your picks to avoid repetitiveness (for example, this list could very easily have been made up entirely of submissions), or to pay homage to specific fighters (for example, the BJ Penn vs. Diego Sanchez was partly included simply because it'd be wrong to have Penn's only appearance on the list be his loss to Jens Pulver).
So what're some great fights that slipped through the cracks? What are some of the best things we've seen in lightweight title history?
The biggest upsets we've ever seen were probably the two bouts between BJ Penn and Frankie Edgar. The original bout was, honestly, a horrible job by the judges (seriously, one of them actually scored it 50-45) and the second bout was just terribly lopsided. Having Edgar appear three other times, I feel, makes up for it.
Probably the single most savage knockout is a relatively obscure one, a Sengoku bout between Mizuto Hirota and Satoru Kitaoka. Hirota actually ended up getting a front headlock in the fourth round after a trying ground battle. Kitaoka went to the ground...but unfortunately for him, most Japanese promotions don't have rules against knees to the heads of grounded opponents.
With that, Hirota jarred Kitaoka around the cage with knee after knee and did so much damage, Kitaoka couldn't even stand after the fight. English commentator Michael Schiavello actually said that Kitaoka "got pwned". What a n00b, amirite?
Sweetest submission would probably be...well...anything from Shinya Aoki. His arm-snapping hammerlock on Mizuto Hirota (yeah, the same Mizuto Hirota), though not actually a title fight (it was a Dynamite!! super-fight between the lightweight champs from Sengoku and Dream), is one of the scariest things we've ever seen in the cage. His middle-finger afterward was one of the un-classiest things we've ever seen in the cage.
Also, just have to give general shout-outs to Eddie Alvarez and Jamie Varner. They have some big wins but they only show up here as losers. Also, general commendations to Takanori Gomi. Sorry, guys!
Want to complain? Feel free to write a comment.