Oakland Raiders: What If They Could Restart 2012 Season?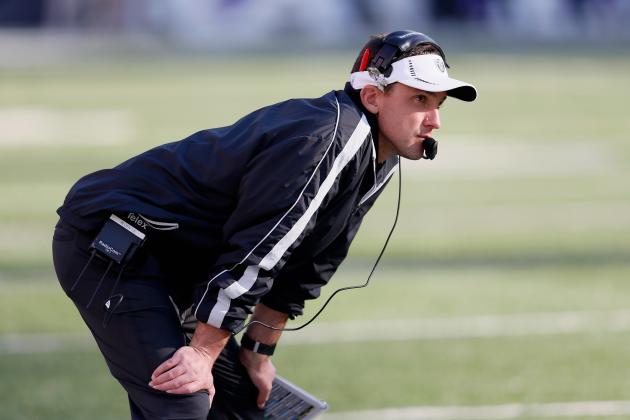 Rob Carr/Getty Images

Alright, so it's a dream scenario, and one that is (almost) never financially possible. But in a sense this space is designed for dreaming.
So imagine this setting: the Oakland Raiders have the opportunity to cut anyone they want without any sort of financial ramifications. Any players they want to keep would need to be retained at their current price.
For replacements, Oakland would need to scour the free agent market and the draft (using its actual salary cap and draft picks). So it's not like they could cut Carson Palmer and sign Tom Brady—their options would be any quarterback expected to be available this offseason.
So with that in mind, who do you keep? Who do you cut?
What follows is our position-by-position analysis of who survives and who starts looking for work.
Begin Slideshow

»
Thearon W. Henderson/Getty Images

Who to keep: Carson Palmer, Terrelle Pryor
Who to cut: None
Free agent: Matt Leinart
No better place to start than the position that will bring up the most controversy—quarterback. In particular, the debate will center around Carson Palmer and the $28 million owed to him over the next two seasons.
To those who disagree with my assessment and think that Palmer should be cut, my question is this: who could possibly replace him?
The one thing that is clear in my mind is that Palmer is by far Oakland's best option over the next two seasons and the price tag of $14 million a year isn't terrible.
Put another way: I'd rather pay Palmer $14 million a year than sign Matt Moore for a third of that.
As for the people calling for Pryor to get the nod? Take a deep breath. Pryor is at least one more year away from being NFL ready—and that's assuming he'll ever be ready.
In my mind, keeping Palmer allows Oakland to be competitive in the near future. Long term, he's obviously not the solution, but he has shown this season that when Oakland becomes competitive, he's capable of bearing the load.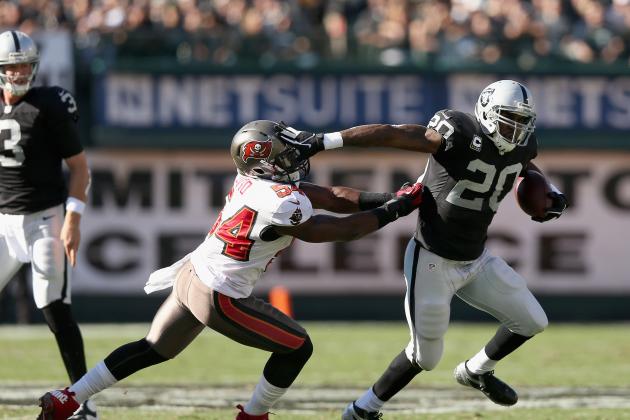 Ezra Shaw/Getty Images

Who to keep: Darren McFadden, Marcel Reese, Taiwan Jones
Who to cut: None
Free agents: Mike Goodson, Jeremy Stewart
Like quarterback, the running back position carries a bit of controversy with the oft-injured (and recently ineffective) Darren McFadden atop the list.
The pros for keeping McFadden include his relative inexpensiveness, earning just more than $11 million over the next two seasons. If McFadden is an elite running back, that's a bargain. If he can't stay on the field, however, it's a gross overpayment.
With a new offense and blocking scheme, I'm willing to chalk his tough season up to factors outside his control and give him the benefit of the doubt. If he struggles again in 2013, however, and can't stay healthy once again, Oakland may need to reconsider their commitment.
As for backups, Reese proved in McFadden's absence what a valuable asset he has become as a feature back and a fullback. Owed just more than $1 million next season, keeping him as insurance is a no-brainer.
Jones, who remains on his rookie contract, has yet to contribute in any way. But since he is owed right around the minimum for the next couple of seasons, there's no reason to give up on him now.
Thanks to the emergence of Reese, I can't see either Goodson or Stewart finding their way back to Oakland next season.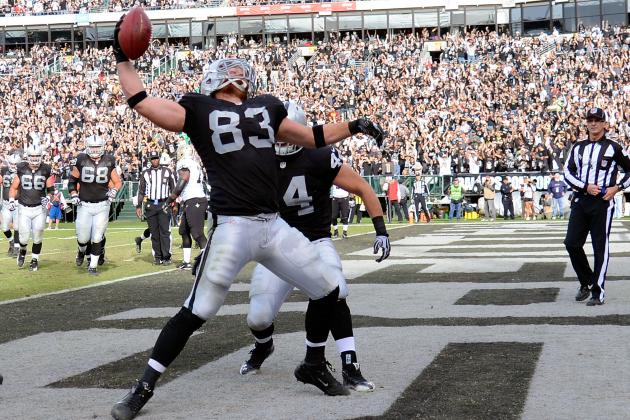 Thearon W. Henderson/Getty Images

Who to keep: Denarius Moore, Rod Streater, Juron Criner, David Ausberry, Richard Gordon
Who to cut: Darrius Heyward-Bey
Free agents: Brandon Myers, Derek Hagan
While I advocated strongly for bringing Hagan back last season, I think he has been replaced by the younger Streater and Criner in 2012, and so I think his time in Oakland should come to a close.
As for Myers, the Oakland tight end has emerged as one of this season's most pleasant surprises and should be retained without a doubt.
As for the players that Reggie McKenzie would be making a decision on in our dream scenario, I think the toughest cut so far goes to DHB.
While Heyward-Bey has continued to progress nicely in Oakland, establishing himself as an NFL-quality receiver, his performance is far from justifying the massive contract he signed as a rookie. DHB is owed $7.7 million next season, making him the second-highest-paid player on the roster.
While a restructured contract is a real possibility, in a scenario where the options are simply keep or cut, I think DHB is an obvious candidate for removal.
Fortunately for Oakland, the trio of Moore, Streater and Criner is owed less than $2 million next season.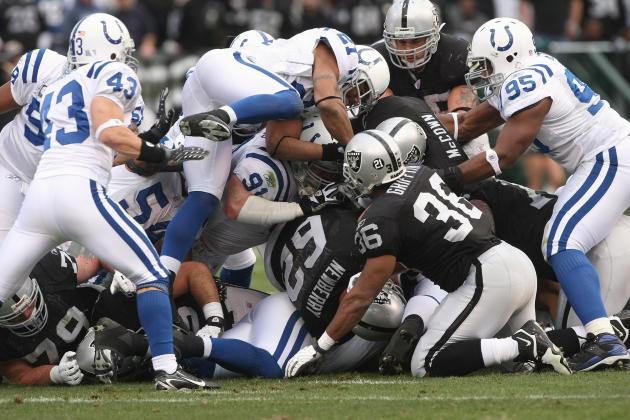 Stephen Dunn/Getty Images

Who to keep: Stefen Wisniewski, Jared Veldheer, Tony Bergstrom, Lucas Nix
Who to cut: Mike Brisiel
Free agents: Cooper Carlisle, Khalif Barnes
Fortunately for Oakland, one of the positions that has caused the most problems this season is also the one in which they have the least long-term investment.
The only player to cut would be Brisiel, the newly signed free agent who has struggled this season, despite being a veteran of the zone-blocking scheme. Brisiel is owed more than $15 million over the next four seasons.
One bright spot among this group is the youth in Oakland, which could make for a bright future.
Veldheer and Wisniewski have proven that they can be successful in this league, and they provide a relatively stable base for Oakland to build on. Both Bergstrom and Nix are rookies this season, and so while they're cheap, they also have the chance to continue to develop.
Oakland needs a lot of help in this group, and it could be one of the biggest offseason targets of general manager Reggie McKenzie.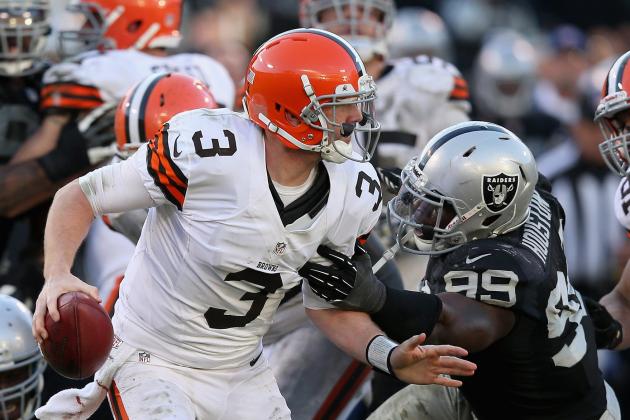 Ezra Shaw/Getty Images

Who to keep: Lamarr Houston, Jack Crawford, Christo Bilukidi
Who to cut: Richard Seymour, Tommy Kelly, Dave Tollefson
Free agents: Matt Shaughnessy, Desmond Bryant and Andre Carter
As soon as Reggie McKenzie got to this point in the roster, I could imagine his eyes lighting up in our dream scenario as he saw the piles of money that could be more effectively spent moving forward.
Trivia question: Who has the highest salary on the Oakland Raiders for 2012?
Answer: Tommy Kelly.
Has anything about Tommy Kelly screamed, "I'm worth being paid more than anyone else on the roster?"
Answer: Not a chance.
Alongside Kelly's $6 million contract (which includes $13.5 million over the next two seasons) is Richard Seymour's $30 million owed through 2016.
Now, if either of those players was as effective as he was once was, I could see the value in keeping him. As it has been, however, neither has been consistently effective, and both are part of Oakland Raiders history worth forgetting: the past five seasons.
Both guys are notorious for dumb penalties, something Oakland is trying to shake, and getting rid of both would send a clear message that the Oakland culture is changing.
On the "keep" side is Lamarr Houston, one of the brightest spots on an otherwise dismal defense this season.
Under contract for one more season, Houston is beginning to shine. If given more opportunity next season, he could blossom into a star.
the trio of Moore, Streater and Criner is owed l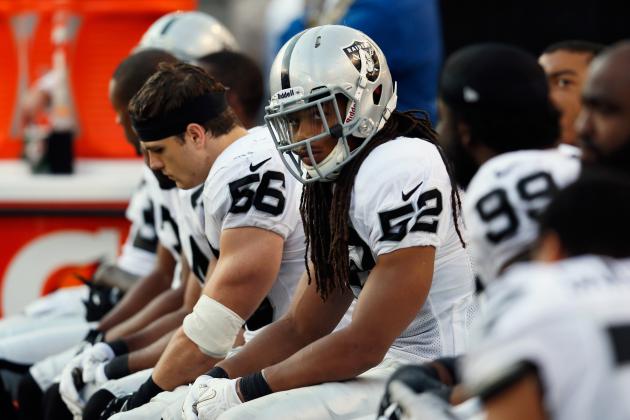 Rob Carr/Getty Images

Who to keep: Miles Burris, Keenan Clayton

Who to cut: Rolando McClain

Free agents: Phillip Wheeler, Omar Gaither, Kaelin Burnett

In easily the least difficult decision to make in this exercise, the Raiders would do well to part with embattled linebacker Rolando McClain.
Sure, it would be nice to receive some sort of compensation back for the former top-10 pick. But at this point, Oakland should be content simply shedding the dead weight.
Outside of McClain, there are some bright spots.
First is rookie Miles Burris, who has played well despite some inconsistency. Alongside Burris has been the defensive MVP (although it's not much of an honor on this team), Phillip Wheeler.
Wheeler has been an excellent pickup by McKenzie, and it's safe to say that I'm sure Oakland would love to bring him back next season on something more than just a one-year deal.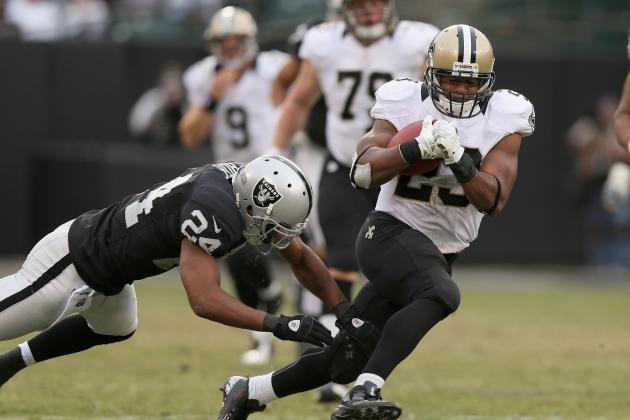 Ezra Shaw/Getty Images

Who to keep: Chimdi Chekwa,

Who to cut: Tyvon Branch, Michael Huff, Coye Francies,

Free agents: Matt Giordano, Joselio Hanson, Mike Mitchell, Phillip Adams, Brandian Ross
Well, if there's one area that most needs overhauling, it's the defensive backfield. Because of that, it's safe to say that few of these guys deserve to stick around.
Obviously, the tough decisions come with Tyvon Branch and Michael Huff.
Branch, who is owed $15 million over the next three seasons, has been a disappointment this season after just signing his extension this year.
Huff, on the other hand, has been a disappointment since arriving in Oakland, and that feeling has continued throughout his transition to corner.
Some of these guys are assuredly playing for a job over the next few weeks, especially guys like Chekwa and Adams. But for the most part, I think Oakland would do best to simply clean house.